In my last post I talked about how you can Setup your G Suite Account. If you haven't already, please read because this post if of no use if you don't have a working G Suite account. OK, assuming that your G Suite accounting is ready and you are sending and receiving emails normally (yay !), you might be wondering how to get your old emails to the new GMail Inbox ? Even when I migrated, this was the question on my mind and looked for a lot of resources for migrating existing web mail emails to G Suite. So here's how you can migrate your existing emails to G Suite.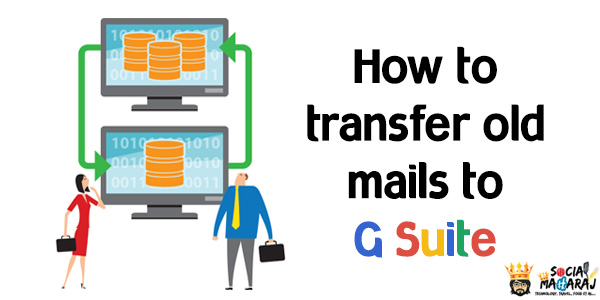 Migrate Existing Emails to Gmail
To be able to migrate your existing emails to gmail, you will need to have the IMAP mail server details and login credentials handy for every user before your being this step. Follow the below steps to migrate existing email to G Suite:
Login to your G Suite account as the admin
Navigate to Data Migration Service (Click on the hamburger on top left and scroll down to Data Migration)
Under that, select Email and click next. It will ask you to provide your email provider. Since we are migrating email from web mail, we choose None / Can't find my provider

Data Migration in G Suite Settings. Courtesy: Zapier

Next you will enter the IMAP server name in the field
Provide the username and password for the email account and click Connect
If the connection is successful, it will take you to the next page where you can choose your gmail user to whom all these web mail emails will be transferred to

Entering IMAP settings. Courtesy: Hotgator

Click next and sit back and relax. The process takes quite some time to transfer all your emails – inbox, drafts, sent – depending upon the size of emails
See, migrating existing email to Gmail is very simple. If things are done correctly, it doesn't take much time to move all the emails from your existing web mail to G Suite. With this, all your emails are sitting on Google Servers as all your new emails are coming to Google Servers as well. So you have technically migrated all your email to Google servers ! Pat on you r back for getting this done !
End of GSuite Gyan Series
That's all on my G Suite post series. I started with Why should choose Google Apps G Suite over Webmail then showed you How to Setup G Suite and this post dealt with How to Migrate existing email to G Suite. I had gone through the similar process some time back and I thought to document it so that it might help someone ! If you feel that I deserve a pat for this one, so share /comment on the post. If you have a suggestion / feedback, do mention in the comments or tweet to me @Atulmaharaj