One of the things that I regret not doing while I was in Delhi few years ago was visiting Ajmer, Leh and most of the mountains up there. I feel that it was probably the best time and place to visit these places. Nevertheless, the joy of travelling long distances to reach these destinations is unmatched. I mentioned in my last post that I along with my friends planned a short road trip from Jaipur to Ajmer. We visited the world-famous Dargah Sharif. Since Pushkar isn't too far from Ajmer, we added it to our list too. So here's Pushkar in a nutshell.
Pushkar – the camel town
Pushkar is known around the world for its annual fair called as Pushkar Mela. And fortunately the fair was on when we visited Pushkar. Unfortunately it was to start late in the evening and we had a couple of hours on hand in noon. Pushkar is flocked by many foreigners, just like Gokarna in the south. The town with its narrow streets sees a lot of tourists coming in leading up to jammed roads. Since we went by car, parking was a serious concern as we couldn't find one easily. It took us good time to find one spot.
Bramha Temple – amidst a busy market
The famous Bramha temple is located in the middle of a market which is heavily crowded. Since the visit wasn't planned, we were aware of the timings. And unfortunately we saw shut doors at the temple. A notice there read that the temple remains closed from 1pm to 3pm. Without being dejected, we walked across the colourful market of Pushkar towards the Pushkar Lake. Thanks to Google, navigating the town was a breeze.
Pushkar Lake
After navigating through narrow alleys, you finally reach at the Pushkar Lake as a lot of beggars welcome you there. This is a closed lake and as expected the water was dirty. But as per religious beliefs, there were hundreds who were taking a dip in the lake as the Pundits chanted the mantras. Like any other religious place, you aren't supposed to go in with slippers. And like every other place, there was a way to by pass this. Once you enter the lake complex, walk straight and take a left to take a long walk around the lake. Also the lake is too hot in the afternoon, ideally visiting the lake in the early hours or evening should be fine.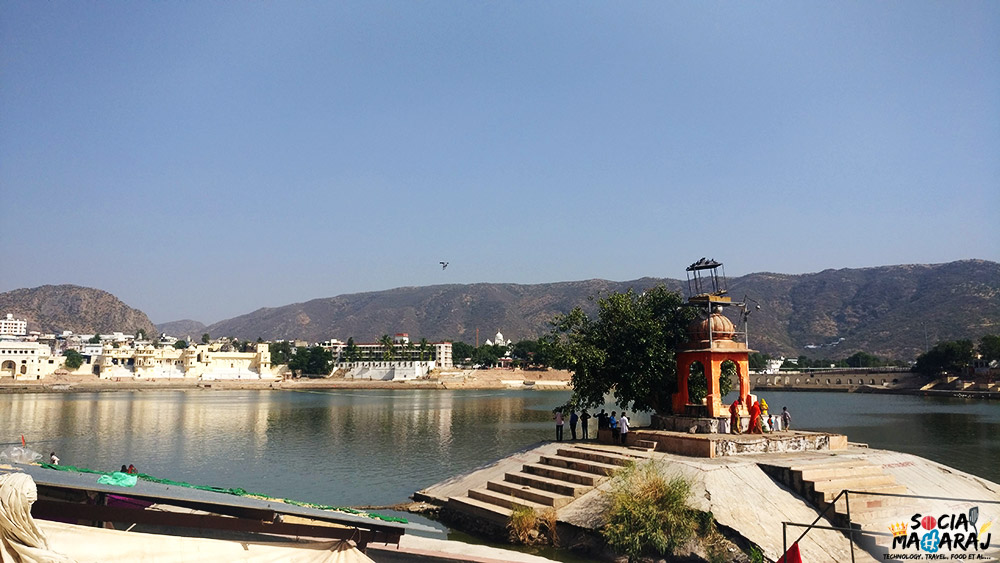 That's Pushkar for you
With about 2 hrs on hand, this was best we could do in Pushkar. If I had more time on hand, would have loved to explore the town more and visit the Pushkar Mela. We had a some hot chai there and started for our journey to Khwaja Moinudeen's Dargah famously known as Dargah Sharif in Ajmer. That was Pushkar for you in a nut shell. If you feel I could have done anything more in 2 hrs, please mention in the comments below or tweet to me @Atulmaharaj