What is the first thing that comes to your mind when you hear Hyderabad ? City of Pearls, Land of the Nizams, Charminar, Mecca of Biryani are some of the things that are synonymous with Hyderabad. The city with its rich culture and legacy of Nizams is still one of the most visited places in India. Charminar is the first stop for anyone coming down to Hyderabad. People visit the Charminar, click photos (holding the Charminar with their hands), shop for bangles in the nearby Laad Bazaar and that's it. But wouldn't it be nice if you actually time travelled to learn more about the heritage of the city ? I did the same thing today. Like any other localite, I had been to the Charminar a couple of times, but today it was different – A Heritage Walk – my first ever. Today's Hyderabad Heritage Walk was organised by RuddBuddy who are well-known in organising immersive experience &  micro tours.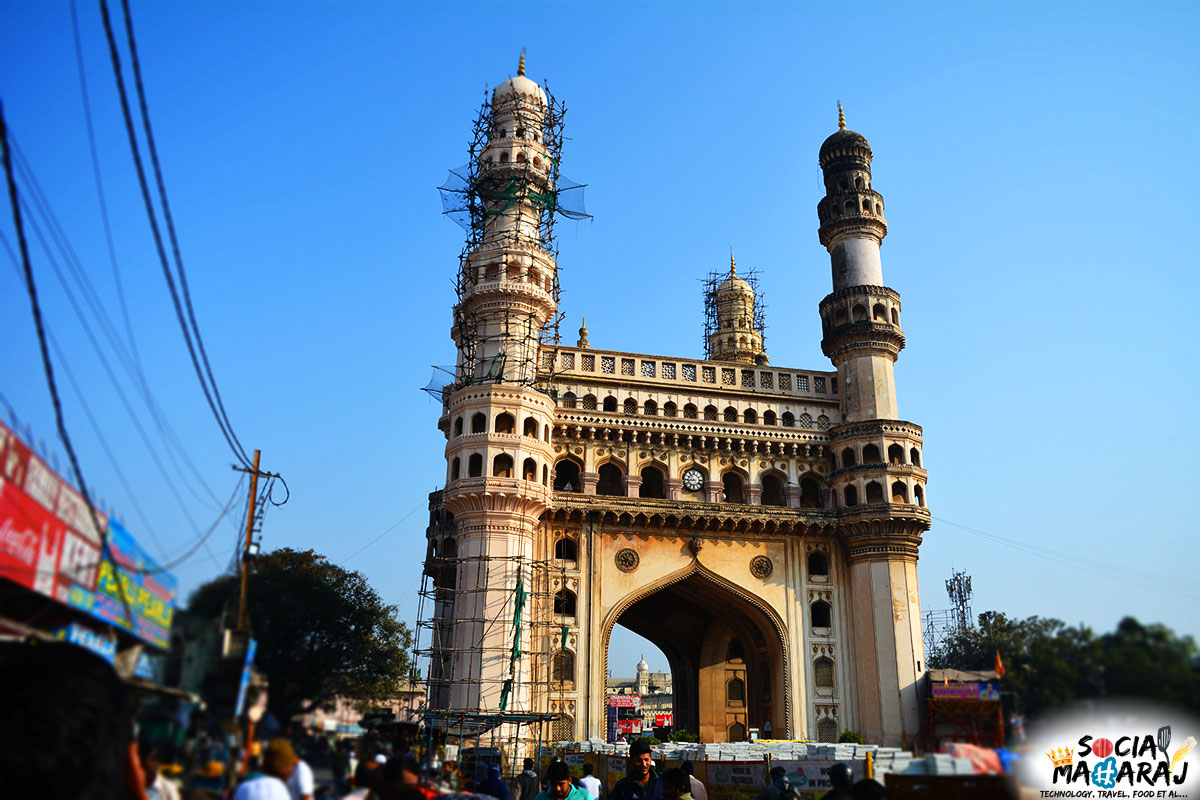 Why a Hyderabad Heritage Walk ?
I'm sure this question would have popped up in your mind – What's the difference between a normal walk and a heritage walk ? There's a lot of difference. And today's Hyderabad Heritage Walk was my first ever heritage walk. When you visit a city, you are often going by the tourist plan that your guide would have made. Or probably the reviews & photos on various travel forums online. However, in my opinion, the best way to explore a city is by exploring the local culture. And that's where Heritage Walks pitch in. For instance, if you are in Hyderabad did you know (or your tourist guide) ever told you that the Charminar has a different design of each side ? That's some new right. That's exactly what Heritage Walks are all about. Sharing my experience of the Hyderabad Heritage Walk by RuddBuddy.
Hyderabad Heritage Walk – Informative & Feasty Walk
I was with 5 other people who were up for this unique experience. The starting point was the famous Nimrah Cafe opposite Charminar (review on this in future posts) Our guide for the day was Navin who's a photographer who left the corporate rat race and is now following his passion. He's well aware of the area and shared a lot of things. We start our walk from the Charminar and walked towards the Laad Bazaar. And I had no idea the story behind those small alleys, tiny doors and shops of there. We then went on to see the grand entrance to the Chowmahalla palace – which is now a shopping complex. Wish the government took better care of this.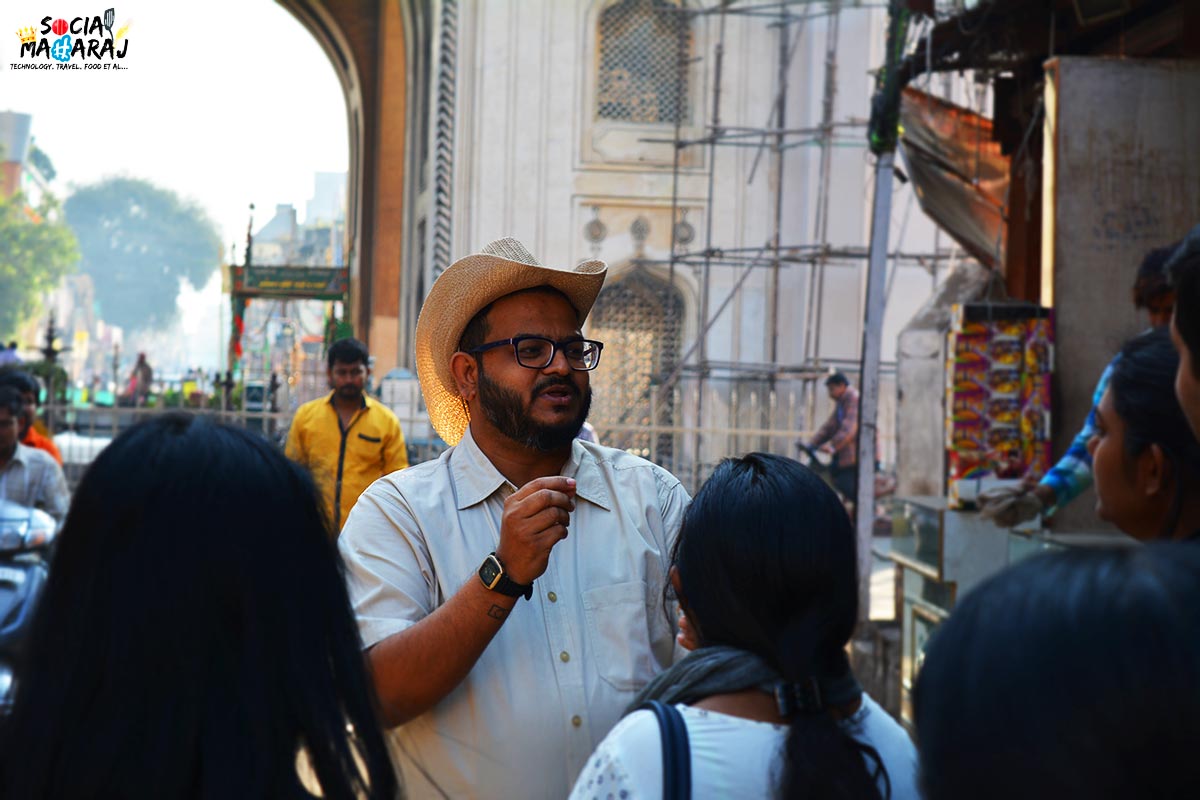 Walked towards Murgi Chowk (It exists !), visited a local bakery who was serving piping hot naans and nahari. One thing that I noticed today is that the laad bazaar lane is predominantly a Muslim area, while the lane just behind it houses the rest. And mind you this is something that has been right from the time of Nizams. It truly shows the true culture of Hyderabad. Walked through the lanes to reach Mitti ka Sher and Marwari Gali. Since most of us were hungry by now, we walked to the famous Govind Bandi (review in future posts). It's not next to Charminar, so you will take some time to locate it. We had their famous Dosa and Masala Idli. If you are on a diet or are health conscious, forget it for a day and indulge in the buttery dosas and idlis.
Why was the Charminar Built ?
Post our brunch we walked to a tomb of a famous Sufi Saint – Naqshband E Deccan. The history behind this tomb is pretty fascination. This is the only tomb (that I've seen) till that actually is not a tomb. In fact the body is covered only with sand and hence often called as Reti Dargah (Sand Dargah) The tomb which is difficult to reach, as one has to cross many lanes to reach was built by Fifth Nizam.
After the spiritual walk, we went to Char kaman (Four Gates) that surround the Gulzar Houz. It's best to stand at the fountain to get a glimpse of all the four gates that surround the Houz. The mystery / theory of why the Charminar was built was unfolded here by Navin. (I won't let the cat out of the bag now) We then walked towards the Charminar Kaman. You will notice that there are a couple of shops in the kaman itself. What if I told you that these shops still pay a rent of just 4Rs ($0.06) per month ! The reason is that these shops were designated by the Nizams and their legacy continues even today. See in the photo below ?
A Walk to Remember with RuddBuddy
As I mentioned earlier, this was my first ever heritage walk and I truly enjoyed it. It was quite an informative walk for me as I learnt a lot of stories behind the iconic structures. Charminar will never be the same, the next time I go there. The Hyderabad Heritage Walk is organised pretty well in terms of the route and places. Navin was patient enough to answer our queries and didn't rush while we clicked photos. Overall it was a good experience with RuddBuddy. They do a lot of other heritage walks in Hyderabad – Golconda Fort, Qutub Shahi Tombs to name a few. And not only Hyderabad, they have their foot in offbeat destinations like Hampi too. To know more about them, visit their website here.
If you are a history lover and like digging into it, the Hyderabad Heritage walk is perfect for you. My today's walk was a part of blogger's connect activity so everything was on the house. However the experience I've shared here is honest. If you want to know more about my experience or have any queries, mention in the comments below or tweet to me at @Atulmaharaj. (Follow me on Instagram for latest updates ;))