"Kab Tak Giney, Hum Dhadkane, Dil Jaise Dhadke Dhadakne Do, Kyun Hai Koi Aag Dabi,  Shola Jo Bhadke Bhadakne Do…"
These are the lines from one of my favourite songs, Dil Dhadkane Do from Zindagi Na Milegi Dobaara. For anyone who doesn't understand this, these lines loosely translate to why should you count your heartbeats and suppress the fire(passion) within you. Let it out, follow your passion. The song is apt for anyone who is willing to break away from the mundane routine to follow their passion and dreams. Most of the people I meet today, dream of travelling abroad. Either for studying abroad, working abroad or simply for leisure. Some plan to get that MS or MBA degree to get a good job while those working seek exposure and obviously a fatter pay cheque. And why not, most of the foreign destinations are very advanced and provide a lot of opportunities which one might not get here in India. Some of the loved destinations include the United Kingdom, Australia, New Zealand, Canada and of course the United States. Most of my friends have migrated to different parts of the world for higher education. And that shows how studying abroad for Indian students just got easier.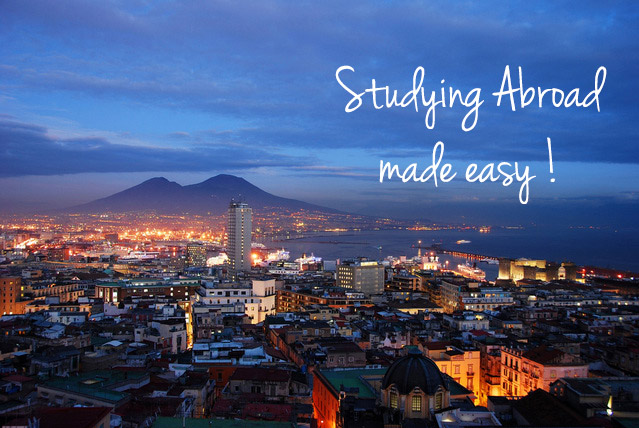 Benefits of Studying Abroad
I wouldn't be wrong in saying that there a lot of opportunities when your are studying abroad. One of the great things that I really like about the education system there is that you are allowed to take any subject – even unrelated from your field too. So let's say I'm doing MS in Data analytics, I can take up a law subject too or music perhaps. Studying abroad surely provides great exposure. Be it life in general or in your professional / student life. Being on your own you more often than not, you learn valuable life lessons which will help you life long. When you are working abroad or studying abroad, you meet people from various countries. You often spend a lot of time with them and share a special bond. It can help you to network with people from various related / unrelated fields who could be willing to help you out in future. After all, your network is priceless.
Hurdles on the way – lots of them
Studying abroad for Indian students isn't an easy affair. There are a lot of hurdles on the way even before you sit on the flight to your favourite destination. I won't be talking about all of them, but the generic ones that I've come across based on the experiences of my friends.
Financial Crisis
Financing your education abroad isn't easy at all. Only if you receive a scholarship or have deep pockets, it becomes relatively easier study aboard. Studying abroad requires a good sum – and not much of it goes towards tuition fees. The cost of living is relatively higher there as compared to India. If you want to study at  Ivy League colleges or in private/state colleges in big cities, the entire budget can go up by few lakhs. However, I would say, financing your education shouldn't be a hurdle if things are planned at early stages.
Homesickness – first time travellers
Most people when they travel abroad for studying or working for the very first time in their lives, often feel homesick. And in such situations, if the person is well off, he/she can often travel to their home. But this isn't the case normally. However if the person can't travel or adjust to the surroundings, it affects their performance – at work or at college. Being focused and getting used to the surroundings can often help you with this.
English Tests – the Stepping Stone
Almost all the countries / colleges require you to clear an English language test even before you apply to them. So ideally this is the stepping stone to realising your dream of studying abroad. If you are working, this bit is taken care of by your employer but if you are on your own, you often have to prepare for a lot of tests. But which English test to appear for studying abroad for Indian students ? There's TOEFL, IELTS and the Pearson Test for English or PTE. Confused ? Worry not. Today I'll talk about PTE and how #DefinitelyPTE is a great English Language Test option and how it can help you fulfil your dream of studying abroad.
#DefinitelyPTE Benefits of the Pearson Test for English
Pearson is a well-known name when it comes to education. Be it publishing quality books for students or providing the Versant English test for working professionals. They bring in a lot of expertise backed by sheer number of years they've spent in the industry. And that is one reason why the Pearson English Language Test is becoming a popular choice for students who aspire to study abroad. So which is the best – IELTS vs TOEFL vs PTE. There are a lot of benefits of the PTE over IELTS and TOEFL.
Wide Acceptance – Studying, Immigration or PR
Pearson Test for English is widely accepted across the globe. Some of the prominent universities like the University of Queensland in Australia, London Business School in London and Harvard University in the US accept PTE scores. Also to add to this, countries like Australia and New Zealand fully accept these score for immigration purpose.
Quicker Results
Whenever you give a test, you want to see the results immediately. Whether it's a simple MCQ test in class or the international English tests. Both IELTS and TOEFL take a minimum of 10 days to publish the results. But with PTE, the results are out in just 5 days ! Lightning quick isn't it ? The tests are available for 24 hours a day, 7 days a week with results available in just 5 days.
Single Day Test
The Pearson Test for English is a single day test and takes about 3 hours to complete the test. Most of the other tests are also single day tests but often require you to visit the centre on a different day for the face-to -face interview session. PTE eliminates this as it doesn't have any human intervention.
Accurate Results
Since there is human intervention in other English language tests, the results can be biased at times. It totally depends on the person taking the interview. If it's your day, you might ace it. Else. Amen. With PTE, since there's no human intervention and the computers are designed to be accurate which ensures that your scores are reliable, accurate and unbiased. See a sample report here.
Abundant Test Centers & Practice Tests
The last thing you want for your English language exam is to travel miles to your test centre. But with PTE, they have numerous test centres across India. This ensures that you focus more on exam preparation rather than worrying about the travel. Who knows, the building next to your house might have an exam centre too 😉 Not only the test centres by PTE provides a lot of practice test options which will help you ace your exams and fulfil your dreams of studying or working abroad.
Fulfil your dream of studying abroad with #DefinitelyPTE
"Kab Tak Giney, Hum Dhadkane, Dil Jaise Dhadke Dhadakne Do, Kyun Hai Koi Aag Dabi, Shola Jo Bhadke Bhadakne Do…" so follow your passion of studying abroad and fulfil your dreams. With English Test from Pearson, the stepping stone of applying to universities becomes a lot easier. I have personally appeared for their Versant test and had a wonderful experience. I'm sure anyone who wishes to study or work abroad would take up this test. You see how studying abroad has become easier for Indian students ! Have your already taken this test ? Why not share your experience here ? Share your thoughts in the comments below or tweet to me at @Atulmaharaj