Not often do I have a group of people with me who are pure vegetarians. Be it my friends or colleagues at office. The group of non vegetarian people are always more. But then just like every cloud has a silver lining, there are times when there's an all-vegetarian group. It was during last weekend when I met a couple of bloggers with whom I've been in touch only online for close to 2 years now. So the meeting was special. And fortunately it was an all vegetarian group. And when it comes to pure vegetarian, I always suggest Ohri's Jiva Imperia or De Thali. However, we wanted to try something new this time. And because it was going to be a pure vegetarian affair, we decided to visit A'La Liberty in Banjara Hills. So here's a review of pure vegetarian dinner at A'La Liberty.
Subtle Ambience with good music
I had heard about A'La Liberty is a good place for vegetarians but wasn't able to go there. Hence we zeroed in on this place. Located at the road opposite Virinchi hospital, the restaurant is quite easy to locate, thanks to the big boards all over the building. The restaurant is on the first floor, and your are welcomed with the people's choice awards certificates. Since we were the first to enter the restaurant, the place looked quite spacious and we go to choose our tables. Since we were a bunch of bloggers, we saw content first and food later 😉 We choose a table with good light so that we could get good photos. Apart from that the setup is quite good, their playlist was good too. Overall a good ambience which can get crowded after 8pmish. (Didn't know there are so many vegetarians in Hyderabad)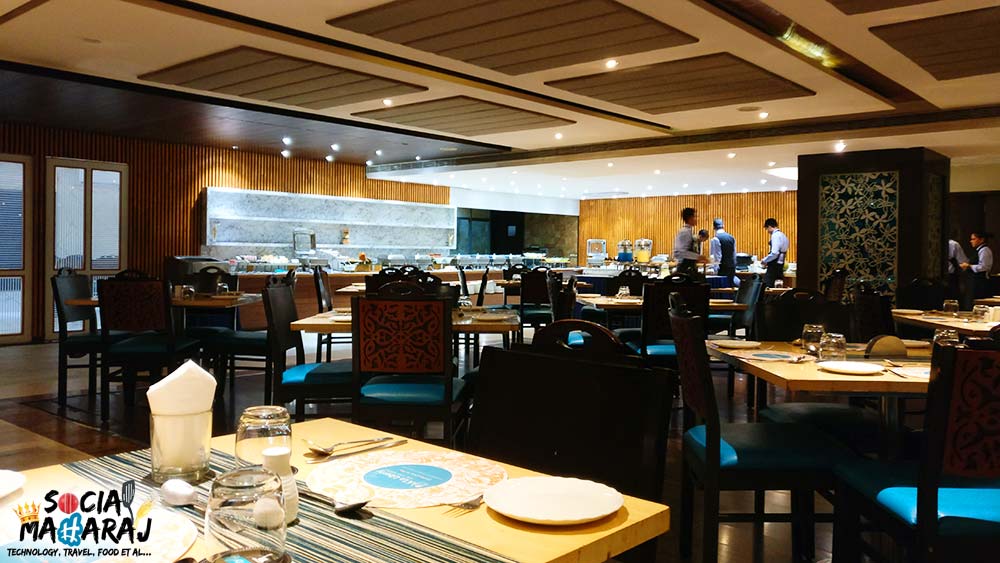 A La Carte of Buffet ? Choice is yours
A'La Liberty serves both Buffet as well as A la carte. The dinner buffet starts only at 7. We did have a look at the buffet and it did have the variety but we stuck to a la carte. The menu wasn't quite expansive, maybe because it was a pure vegetarian restaurant :/ Anyways, we ordered Corn and Pepper Spring Rolls for starters, White Sauce Pasta was recommended by Zomato so that was there too. In main course there was Paneer and Shahi Dal Makhni along with Naans and Rotis. For rice we decided to go south-east and order Garlic Fried Rice. Baked Rasgulla and Ice Cream Brownie for desserts.
Starters & Pasta
The service wasn't to slow neither too fast. Also the staff is courteous however some of them seemed confused/unaware when we wanted to redeem our Zomato Gold coupons. However thanks to Mr. Bala, the manager there who ensured things were smooth. Soon our order arrived at the table. The first in line was the Spring Roll. It was an exciting combination of strong, freshly ground pepper with corn and cheese. If you love pepper, you should try this. Next was the white sauce pasta and that was too good. Served with two pieces of garlic breads and loaded with veggies, this was exactly how I imagined.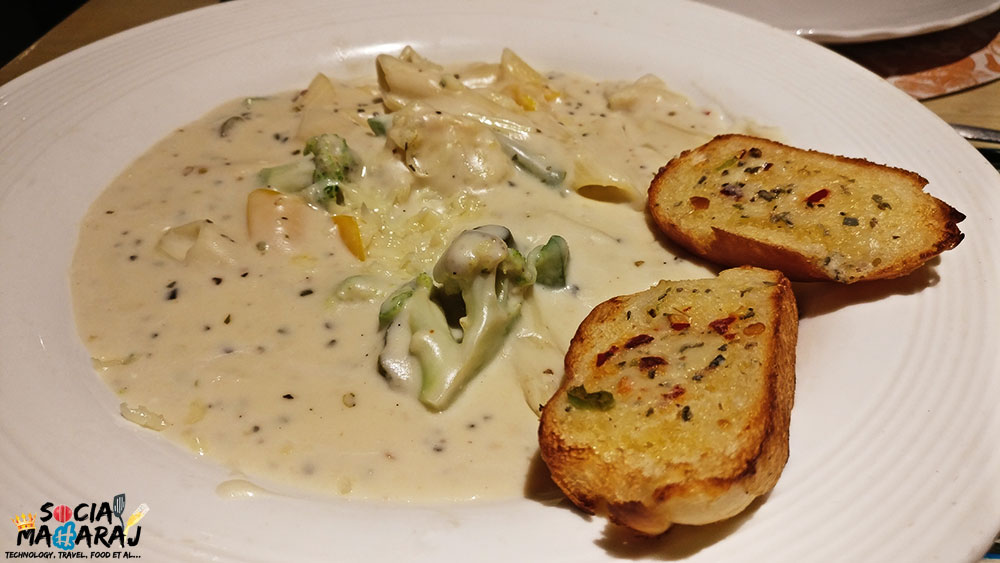 Balanced Main Course
Once we were done with the starters, the main course were brought in. I'd say that the food looked very colourful and delicious. The Paneer curry was oragish while the Dal Makhni was loaded with cream. The Paneer was very soft and tender and the gravy was very balanced. It's perfect for someone who doesn't eat too much spicy food. The Dal Makhni was good too, not the best that I've had till date. It was creamy and tasty, just how I like it. However, the one at Taj Vivanta still remains the best for me. Nevertheless, A'La Liberty knows their food and all the preparations were good.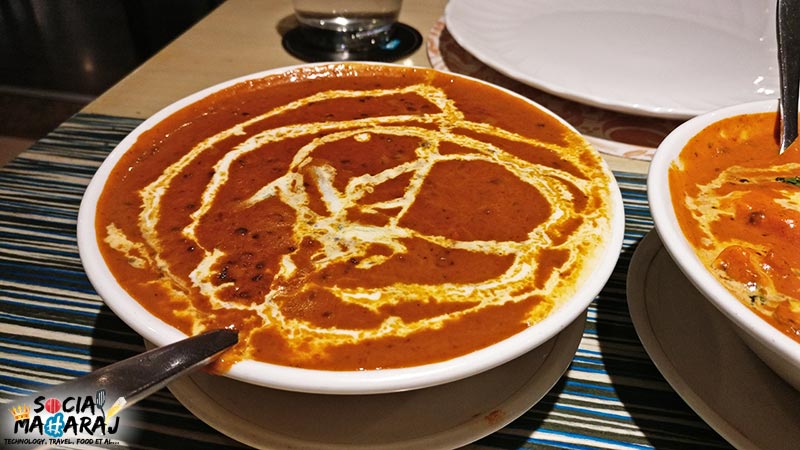 Ever had a baked rasgulla ?
So before we ordered this, we had a food lesson on Rasgulla, Rasmalai and Gulab Jamun from the manager. For me the thought of a Rasgulla being baked and still being white was alien. Hence I was quite excited to have that. When it arrived at the table, the Rasgulla was white but did have the occasional brown tinge thanks to the baking. The entire dish was in a rabri sort of gravy. It was sightly on the sweeter side for me, but it was a good on taste.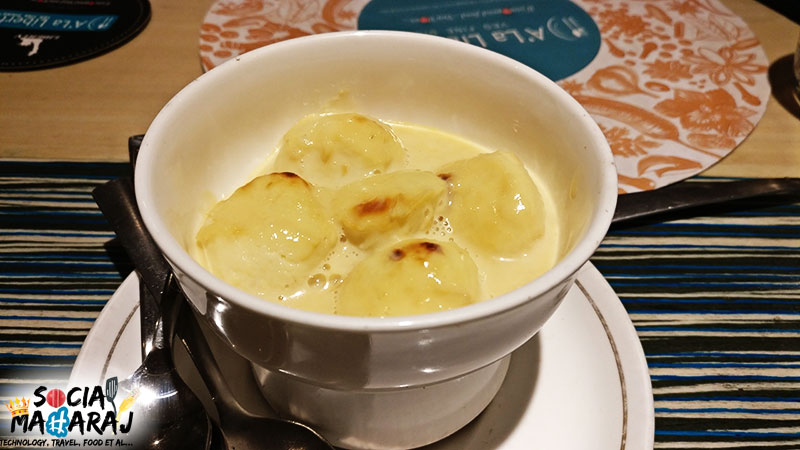 Final Verdict: Great Service and Good Vegetarian Food
The best time to visit A'La Liberty is probably before 7:30pm else you might have to wait for your turn. They do have the seating place outside but that isn't enough (at least on weekends) Though the menu isn't expansive, the items have good looks and taste. The service is quite good and the staff is courteous. However the coupon redeeming process did take a while. Apart from that, A'La Liberty is a great place for vegetarians. I'm surely visiting the restaurant some time soon to try their buffet. Have you been there already ? What are your thoughts on this ? Liked it ? Disliked it ? Think I missed anything ? Whatever it is, mention in the comments below or tweet to me at @Atulmaharaj