The battle of supremacy among various firms on the internet have been dragged to alleys. No more the competition to gain customers is online, the idea is about going hyper-local. The more penetrated you are the more successful you will be. That's exactly what the food delivery platforms are following. What earlier were just one or two players in this market, today we have a handful of them. From the biggies like Swiggy, Zomato and Foodpanda to newer entrants like UberEats. I've used all of them numerous times and have also shared my experience.You can read my comparison between Zomato and Swiggy, Swiggy and Foodpanda. These are some of the top rated and read posts on the blog.
Haven't tried Swiggy Yet ?
Click here and use code T4XD29 to get some amazing first time discounts !
The two Food deliver apps that are installed on my phone are Swiggy and Zomato. Swiggy being the first preference most of the time. Both these platforms have a lot of exclusive restaurants and are coming up with offers to woo the customers. Be it Zomato's Treats or Swiggy's latest Swiggy Super. It's been some time that I've been using Swiggy Super, so thought to share my experience. How Super is Swiggy Super ? My review of Swiggy Super subscription.
What is Swiggy Super ?
Swiggy Super is a subscription based service that stated recently. It is available for a month and 3 months plan at Rs 99 and Rs 149 respectively. Under these plan Swiggy claims of lots of benefits like Free Delivery, Surprise Treats and No Surge fees. As said I am a regular Swiggy customer and have opted for Swiggy Super. It's been almost a month since I've been using this. I'm currently on the Rs 149 plan for 90 days which I thought would be good for starters and experience the subscription. Most of the things mentioned under the Swiggy Super membership have some or the other underlying condition. What are those ? Read on to find out the hidden things that Swiggy didn't tell you upfront.
Free Delivery on Swiggy Super – Conditions Apply
The Free Delivery that Swiggy promises under its Swiggy Super program carries a conditions apply tag. One of the major reasons I took the service was for the free delivery considering that there are instances when I order very few items. To my surprise, the Free Delivery isn't actually free. There is a cap for it too. It was last time when I ordered 15 rotis from a nearby restaurant, I saw a bill of Rs 75 which should have been 40 ideally. Why ? Delivery charges of Rs 30 was added. Upon careful inspection of their Terms and Conditions, I learnt that Free Deliver on Swiggy Super is only for orders with a minimum value of Rs 99. (Whispers, Sahi khel gaya pencho) So if too like me are planning to take the Swiggy Super subscription for free deliveries, I'm sure you know what to do now.
Surprises ? Nothing as yet Swiggy Delights launched
Swiggy Delights Update: As of January 2019, Swiggy Delights is available in Hyderabad and you can read more about it here.
Swiggy Super also mentions that there would be surprise treats on every order. Something similar to Zomato's Treats. The day I purchased it, it mentioned that this will be rolled out 'soon'. Well, it's been a month and I haven't seen any update on it yet. I expect a small item like a dessert on my orders, but haven't seen them yet 🙁 Thus, I don't know how much time it will take to be rolled out. About the surge fee bit, there hasn't been any rain in Hyderabad recently so there isn't any surge fees at all. If I ever get it, I'll update this for sure.
Is Swiggy Super worth ? Should you buy Swiggy Super ?
Well, I would say you can wait for it be more beneficial. Being in the initial stages yet, the subscription program needs to offer more. I'm sure most of us have orders around Rs 200. And in such cases, one often is well above the minimum order limit. So the Free Delivery funda isn't quite right. Until unless they remove the minimum order Rs 99 cap from their T&C. There also isn't any special treat on your regular orders yet. Further the surge fee might be helpful in few scenarios but not all. Apart from coloring your location icon in black and orange, I haven't seen much benefits from this. However the prices have been marginally lower than normal, I don't see something solid in this as yet. Hoping for the folks at Swiggy to strengthen this and provide more benefits for the buck.
Update Dec 2018: Giving Swiggy Super one more chance
I'm seeing that many people are reading this post and hence thought to update it. My Swiggy Super subscription expired last week and I decided to renew it one more time to see if there's any improvement. Well, just a day after the renewal I ordered from Swiggy and frankly didn't find any difference. I ordered the same items, from the same restaurant to the same address from two different accounts – One Swiggy Super another regular account. And guess what, there was absolutely no difference between both of them ! See the side by side picture for yourself.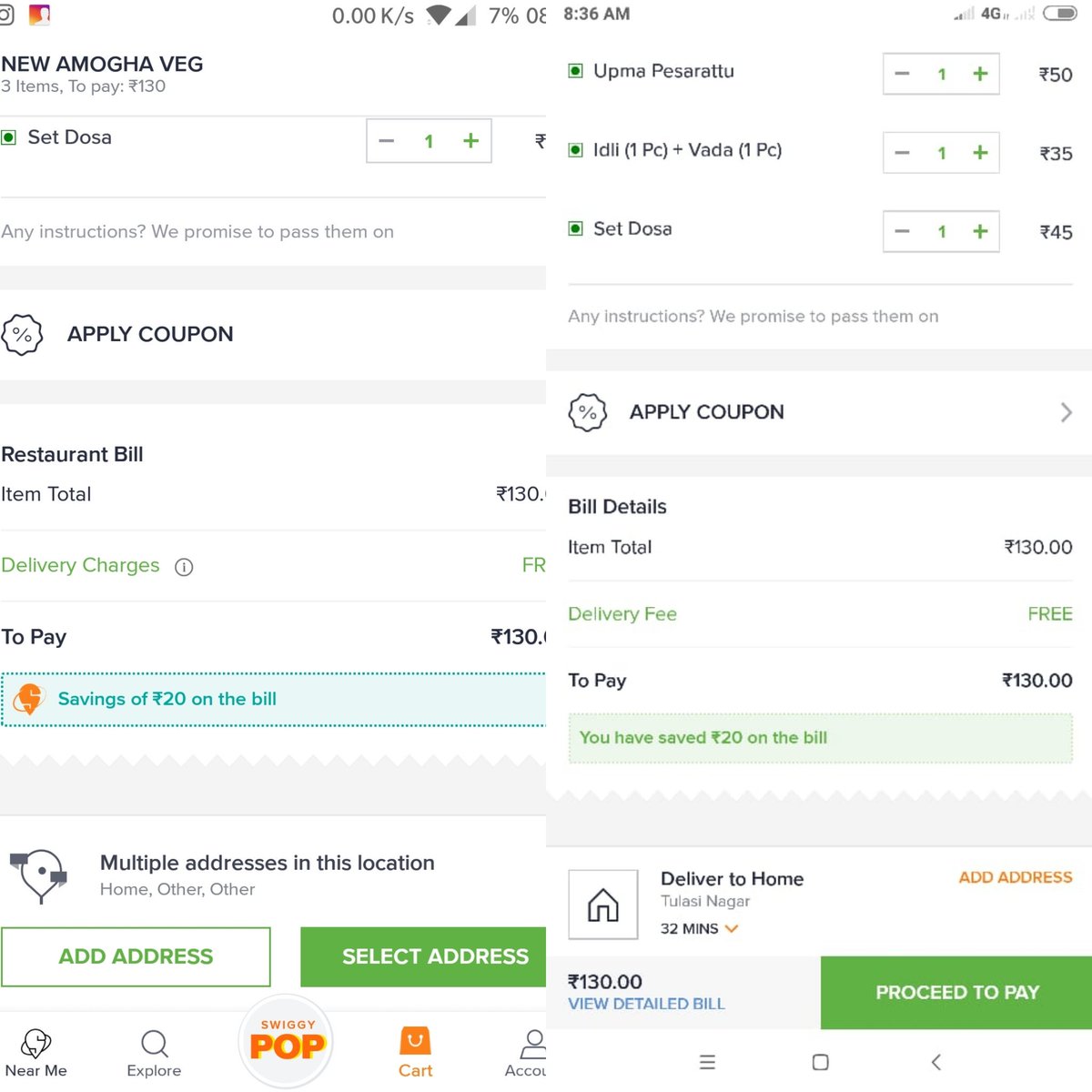 I tweeted this image just after ordering to see what the folks at Swiggy had to say. And as expected I got a response saying "We're working on it" What I'm actually trying to do here is that on every order, I'd compare the final prices from both accounts just to see whether there's any benefit or not. One thing that I can vouch for is that, I can very well break-even the cost of the subscription in terms of the "20Rs savings" if I order 6 times. I'm sure you'll be able to do that too. But the question is "Is Swiggy Super still worth ?"
That's all I had to say on this. What's your take ? Do you think Swiggy Super is a great deal or a stale one ? Mention your views in the comments or tweet to me at @atulmaharaj