This has taken some while to be up on the blog. Reason ? Well they say that first impression is the last impression. And I don't want to be make any snap judgements. And for that very reason I held back this post. However, later on I realised that there's no harm in posting it. At least it will help people learn about the variation in food / service at the restaurant. By this you would have probably guessed how my experience would have been.
I was told to visit this restaurant for quite some time not. Had friends and relatives asking me to visit Flechazo and I had been delaying it. Reason ? Either I didn't have company or it was too far from my office/home to go and eat. However, it was a couple of weeks back during the farewell of one of my friends that he invited all of us to Flechazo. So with the expectations I had, I travelled all the way from Secunderabad to Madhapur for this. But as they say, Expectation is the Mother of all sorrows. So here's my dinner review of Flechazo, Madhapur.
Initial Looks – Good Ambience
The restaurant is at the second floor above Mangatrai Jewellers. They were celebrating Asian Food Festival when we went there, so the entrance and the restaurant was all done to match the theme. First things first, the restaurant is huge. They have a variety of seating options, from 2 people to a 22 seater table, they have it all. The The lighting is one of the best I've seen and that makes the job for food photographers like me easier. The highlight of the restaurant has got to be conveyor belt that carries food. (How many of you have had dreams of food on conveyor belts ? Me !) This is a part of the live counter that serves a couple of dishes. The concept is good, could have been executed much better. Overall the ambience is good, however I did feel that the place becomes congested once it's full house. Navigating the restaurant to main course / live counter isn't easy.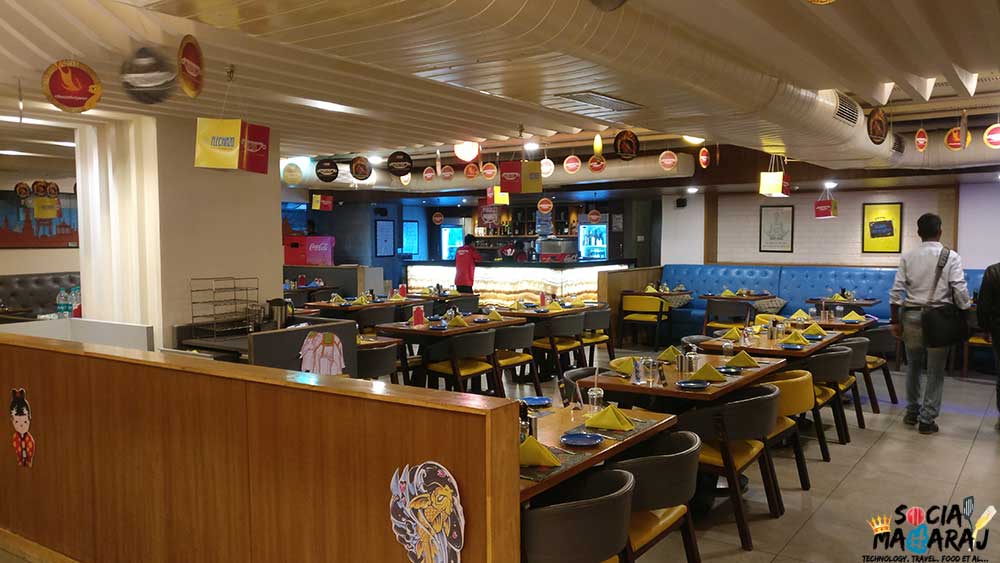 Food Review of Flechazo Madhapur
Before I being this section, I'd say that my small talk with the manager/attendant changed my outlook of what to expect. I was told that they are like Absolute Barbecue and Barbeque Nation the only difference being they serve starters on the table. With already high expectations topped with this, you can imagine the level of my expectation !
Starters
They had about 5-6 variety for vegetarians and almost the same for non vegetarians. Since it was the Asian Food Festival, we had Korean Chilly Potato, Veg Sushi (regular spring rolls), Rice Balls, Vietnamese Paneer and Mushrooms. For non vegetarians there were Chicken, Prawns and Fish. Since I'm a vegetarian will talk about the thing I ate.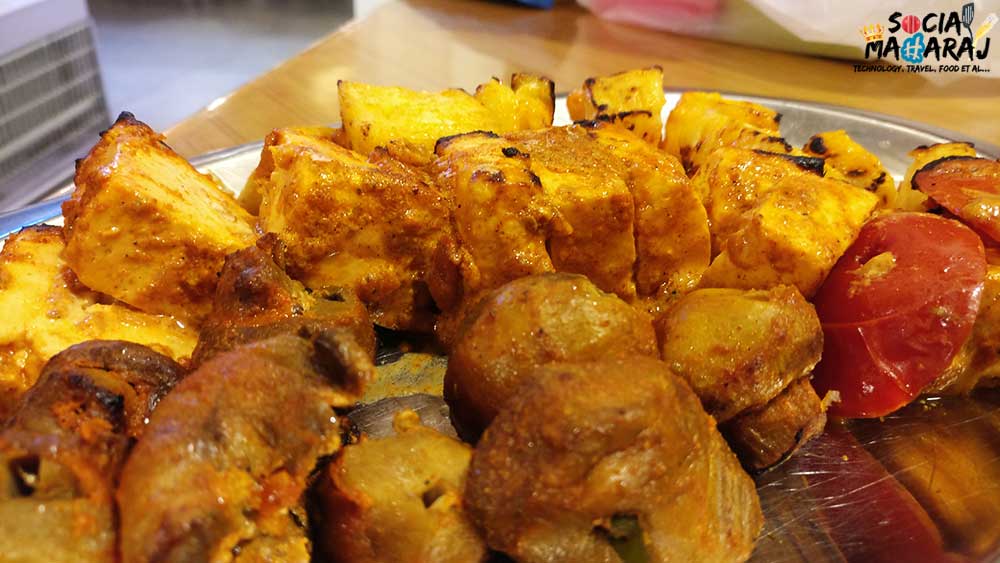 The first round of starters were spicy, not only for me but almost every vegetarian on the table. Though the names of the items were catchy, the items weren't up to the mark. I didn't find anything Korean in the Chilly Potato – I haven't tasted Korean ever – it tasted like normal chilly potatoes just looked dark in colour. Let me know if that's how they are supposed to look and taste. The Mushroom was decent and so was the Paneer. I expected a lot from the Veg. Sushi and Rice balls, and those were a big let down. I was happy to sip my Virgin Mojito rather than focus of the starters.
Live Counters – Not too Exciting
They don't have one, but almost 4 live counters (one counter for desserts) There was one like the wish grill at ABs, there was one that allowed you to bake your own pizza. They show a wood oven, but it's operated by LPG. Moreover, the base is thinner than thin crust. So some of you might like it, some of you might now. The toppings aren't exotic, I asked him to add Jalapeno for me. I liked it so had about 3 of the palm-sized-pizza. The other live counter is the conveyor-belt one. There was Pani Puri along with some Indo-Japanese fusion dish. (It was a pani puri ka puri filled with the IRCTC sandwich masala) So the live counters (at least the veg options) weren't great.
Lacklustre Main Course
Blame it to the day or the time, no one was even interested to have main course. Most of them had a lot of drinks and starters, so they skipped to desserts. Since I had try everything (for you guys) here's a quick review of main course at Flechazo. There were these mini burgers along with Tomato Rasam soup, Veg Kofta, Palak Paneer, Veg and Non Veg (Mutton) Biryani, Dal Makhni, one Chicken curry along with noddles and a baked vegetables in white sauce.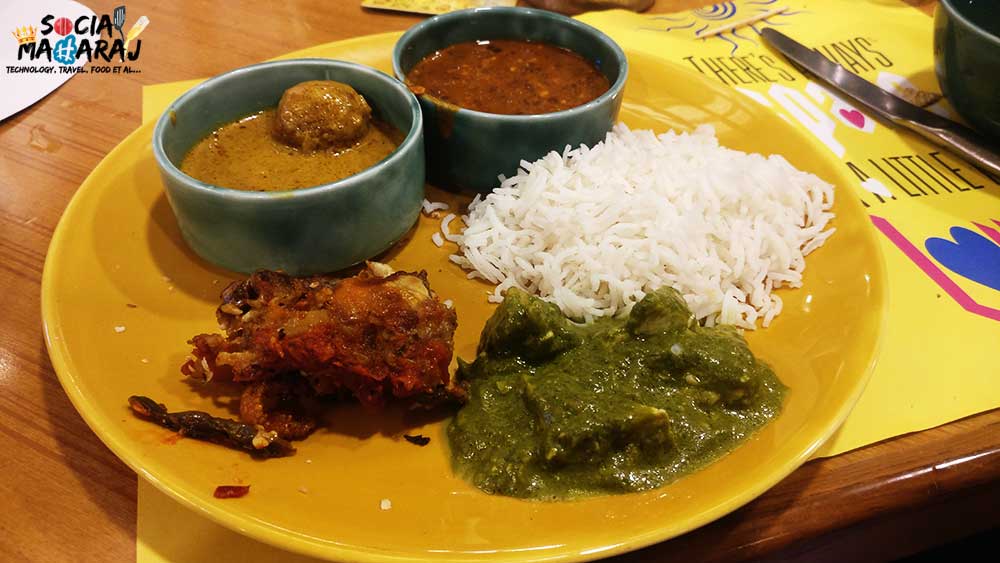 Rotis like most other places were served on the table and I had Garlic Naan. The items were pretty average, the curries lacked the taste. The Dal Makhni had the right ingredients but did miss out on the taste. I didn't have the biryani and just had naan and curry so that's pretty much I had for main course.
Nitrogen Ice Cream – Dessert Highlight
The highlight of the restaurant was the nitrogen ice cream. And there was everyone around the station capturing videos of the guy preparing the ice cream. Apart from this, there were a variety of pastries and cakes. There were piping hot jalebis too along with angoori gulab jamun. I had gulab jamuns with a scoop of vanilla ice cream and I was happy.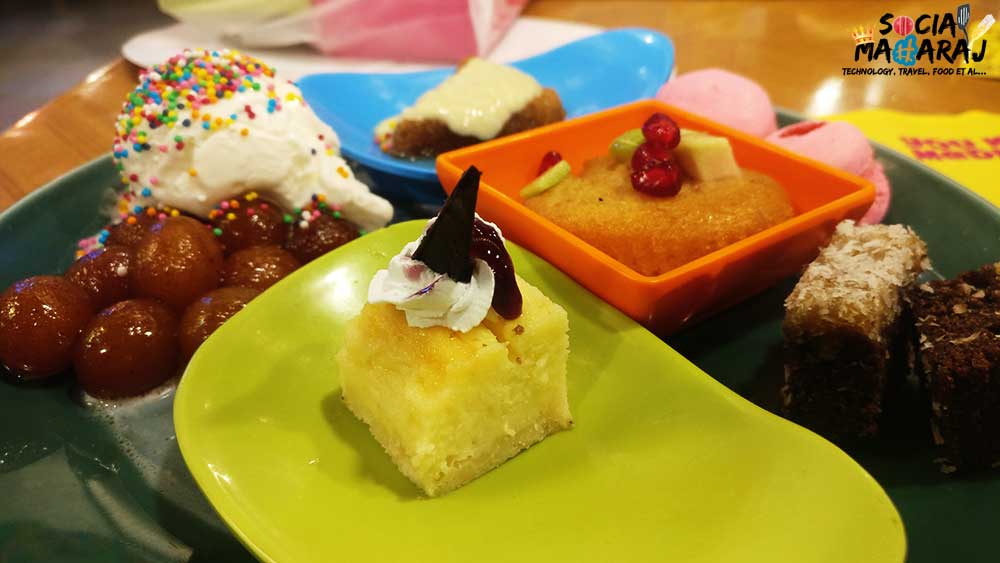 Final Verdict: I over-expected Flechazo, might give another chance
As the title reads, I seriously overrated Flechazo and should have been there with a blank mind and 0 expectations. Blame it on the amazing things I've heard about Flechazo from my friends, bloggers and reviewers on Zomato. Plus they guy adding that we are at par with ABs and BBQ Nation added fuel to fire. Priced at close to 800 Rs for the buffet, my first experience wasn't a pleasant one. At least I wouldn't ask others to go if they had the same budget. However, as said, I was sceptical in posting this post but eventually it's here and you are reading it. I'll try to visit the restaurant once again some time and will update the post. If you've been to Flechazo, how was your experience ? Did you enjoy it or was it like mine ? Mention in the comments below or tweet to me at @atulmaharaj