Who doesn't love going out, chilling out with friends and having a good meal. Unfortunately you cannot have that everyday. However thanks to the food delivery apps we have that help us taste the best our town has got. Swiggy, Zomato, Food Panda and UberEats are the most popular apps when it comes to ordering food online. I'm a user of Swiggy and Zomato and have been one for quite some time now. I'm a Swiggy Super subscriber as well as a Zomato Gold subscriber. And If you have followed my blog or have googled "Swiggy Super Review" you would have probably landed up on my blog. I've voiced my views on Swiggy Super and whether you should subscribe to it or not. You can read more about it here.
Zomato vs Swiggy – Add Ons
In one of my previous posts I've also spoken about how the two apps Swiggy and Zomato are competing against each other. Be it in terms of customer loyalty strategies with subscription plans like Zomato Gold and Swiggy Super or the raining offers and exclusive restaurants. Sometime back Zomato introduced Piggy Bank rewards to counter the Swiggy Super program. The Zomato Piggy Bank allows the user to earns coins on every order at partner restaurants and also spend them likewise. Prior to that Zomato also had Zomato Treats where in the customer would get a free dessert on every order they make at select restaurants. With so many things in place, Swiggy had to come up with something and so they have recently introduced Swiggy Delights. Here's my experience with Swiggy Delights.
Swiggy Delights Details
Swiggy Super Delights was one of the items mentioned in the registration form for Swiggy Super. And it has been quite a journey since the launch to providing this service. There are few caveats in the Swiggy Super subscription that you can read here. Anyways, the Swiggy Super Delights is only for Swiggy Super customers. Under Swiggy Super Delights, the customer will get a surprise (usually a dessert) on every order they place at a partner restaurant. It can be anything from cookie to cake to halwa ! In a way you are sorted with the post meal dessert 😉 There's a fine print here which I would like to highlight. Swiggy Delights is valid only on orders above Rs 99. This seems justified considering the delight item itself may cost around Rs 99. What are your thoughts on this ?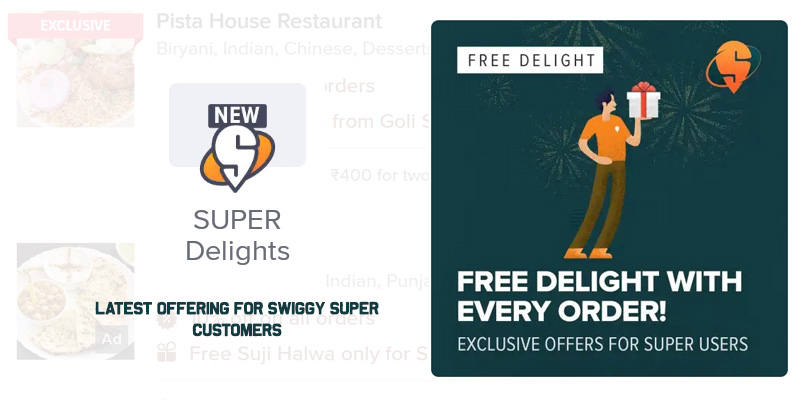 Zomato Treats was launched back in 2017 and was there for quite some time. My friends have used the offers and have heard good reviews about it. However as of today, the option is replaced with Zomato Piggy bank and there's no standalone Zomato Treats offer on the app. It clearly seems that the Food-Tech industry is moving in similar directions – subscription plans with bundled offers.
Swiggy Delights – much awaited
Like I said, this took a bit of time to materialize, but I'm glad it is here finally. I ordered a Subway salad (I love Subway Salads) few days ago and fortunately that was a participating restaurant. Since I'm a Swiggy Super user, the Swiggy Delights offer was activated. And that night I got the salad along with the chocolate cookie – which I rarely buy at the store. But yaay ! So as promised earlier, Swiggy has started the Swiggy Delights for Swiggy Super customers. I don't know if this is rolled out to all the customers across the country or not. As of Hyderabad, I can confirm that it is in place. Is it available in your city ? What are your thoughts, experiences about it ? Share in the comments below or tweet to me @Atulmaharaj