In one of my previous posts i talked about how the competition to acquire customers has gone to the alleys. With hyper-local connect, most of the service providers are ramping up their last mile delivery fleet and providing amazing offers to lure the customers. Swiggy recently introduced their loyalty program – Swiggy Super. I spoke about whether it is actually super (beneficial) or not in a post here. In today's post I will talk about Zomato's answer to Swiggy Super – Zomato Piggybank. I was one of the first users to experience the Zomato Piggybank and based on my use in the past few months, here's my review of Zomato Piggybank. For an exclusive invite to Zomato Piggybank, read the post till the end. [Must Read: Zomato vs Swiggy; FoodPanda vs Swiggy]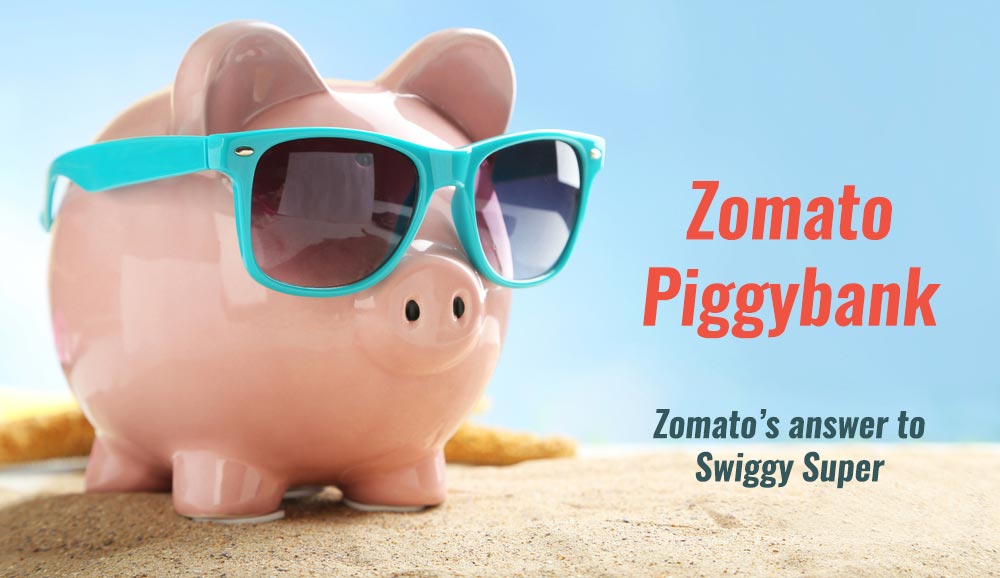 What is Zomato Piggybank ?
Unlike Swiggy Super where you pay a subscription fee to use it, Zomato Piggybank is free (on invite as of today) right now. However, according to their website and Terms & Conditions, Zomato Piggybank services will become paid soon. (Wonder how soon will that be) they mention on their website that it will be charged at Rs 299 per year like Amazon Prime, (guess they are talking about an annually paid service) Also, Zomato Piggybank doesn't promise any special treats on any of your orders like Swiggy does (but still don't have it). Piggybank sits right at the center of your home screen on the Zomato app.
How Zomato Piggybank works ?
The service allows you to earn z coins on every order irrespective of the restaurant. Which means whenever you place an order, you earn some z coins. when you place an order and are at the confirmation page, you will see the amount of z coins you will earn from that order. As of now, they are providing 10% of the order value back in form of z coins. Also the good thing is that you can use this with any other running offers on Zomato ! On top of that they have attached a CSR activity too. For every order, Zomato donates Rs 1 to Akshay Patra Foundation too. So order and spread smiles 1
The interesting thing is that the value of coin is equal to 1 Re. i.e.: 1 coin = 1 Re that's great, because no provider/credit card/debit card/ offers provide 1:1 value for the coins. For redeeming, there is again a list of specific restaurants. You cannot redeem coins at every restaurant. The list a good mix of restaurants with some well-known ones being a part too. For Hyderabad, I saw restaurants like Makers of Milkshake, Behrouz Biryani, Talking Hands and the likes also a part of the list where you can redeem the coins.
How worth is Zomato Piggybank ?
Coming straight to the point, if you order a lot using Zomato you will earn point which is a sweet deal. Further the 1 Coin = 1 Rupee is a treat too. However, to redeem those, it might be a daunting task in case you don't find a restaurant of your choice in the list. Moreover, there's not exactly any cap on redeeming the points. I read 10% on their website but when I looked into the app, it lists offers including percentage discounts as well as flat rate discount on some restaurants.
Now the main question, which is a better deal Zomato Piggybank or Swiggy Super ? Based on my experience of using Swiggy Super and Zomato Piggybank, I would go with Zomato for this one. The ability to earn cash back on every order makes it a better deal if you order frequently. The list of restaurants are decent and hence the prospect of earning and redeeming coins are better. And with this you are going to save every time you order. And save much more when you redeem coins.
Now, as mentioned earlier the Zomato Piggybank program is currently on Invite Only. So for all of you who have read this post. Here's something for you, a Zomato Piggbank Invite Code. Use the Invite Code ATULMA while registering and get amazing discounts ! If you have used either of the both – Swiggy Super or Zomato Piggybank, which one of these is a better deal according to you ? Mention in the comments below or tweet to me at @Atulmaharaj