If you have been following my blog you already know that I'm a pure vegetarian foodie who is always on the lookout for pure vegetarian food joints. Even though my Zomato profile reads the same, there are many people who still contact me to review their menu and restaurant which serve predominantly non veg food. I don't know why ! Anyways, last weekend my friends decided to meet up and this time at a unique place. We were at Terrassen Cafe in Banjara Hills that's a Vegan restaurant. It was my first visit to any Vegan restaurant ever and possibly trying Vegan food for the first time ever. Here's a review of Terrassen Cafe the Vegan Cafe in Hyderabad at Banjara Hills.
Terrassen Cafe Banjara Hills Review
Location and Ambiance
Terrassen Cafe is located at Road no.4 Banjara Hills, the straight road right opposite to GVK One mall. Finding the restaurant wasn't that tough as there are multiple banners. However with so many residential establishments around it, you might miss it. The restaurant isn't big and a great example of small, cute cafe. There's even an underground floor but the stairs leading to the area seemed quite narrow for me, hence I didn't try going in.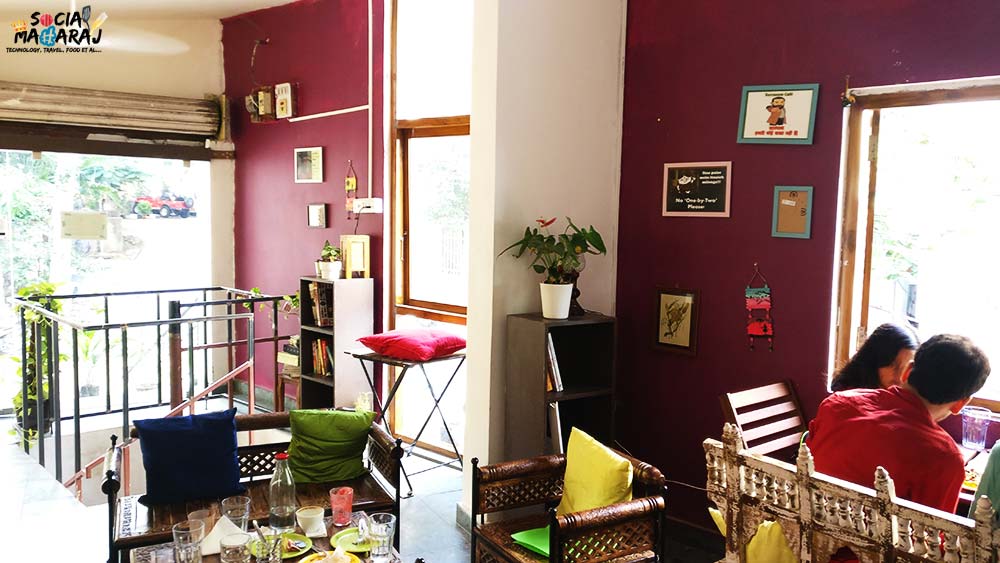 The walls are painted in bright hues and the furniture will quite old house. There were quite a few quirky posters across the restaurant. There isn't any great view here, but with the amazing playlist I'm sure you can spend hours there. Danish is the person behind Terrassen Cafe and is quite a jovial person and if there's anything you want, he's there. Overall, loved the entire setup and wouldn't mind going there again and again and spend some time working on my laptop of meeting friends at this Vegan Cafe in Hyderabad.
Vegan Food at Terrassen Cafe – Review
The menu isn't very expansive and there are limited items. However, there are items categorized into starters, main course and desserts. Most of the items are prepared from vegan ingredients like Soya, Cashew nuts, Coconut Milk and Whole Wheat breads. So I was excited to taste all that they had. Here's all that we ordered: Potato Wedges, Fidget Spinner, Tofu Jahangiri, Amar Akbar Anthony (Rice), Vegan Kheema Noodles, Kathi Falafel Wrap along with 3 pizzas. For desserts and drinks we did try Jaljeera, Cold Coffee, Mint Tea and a couple of other mock-tails.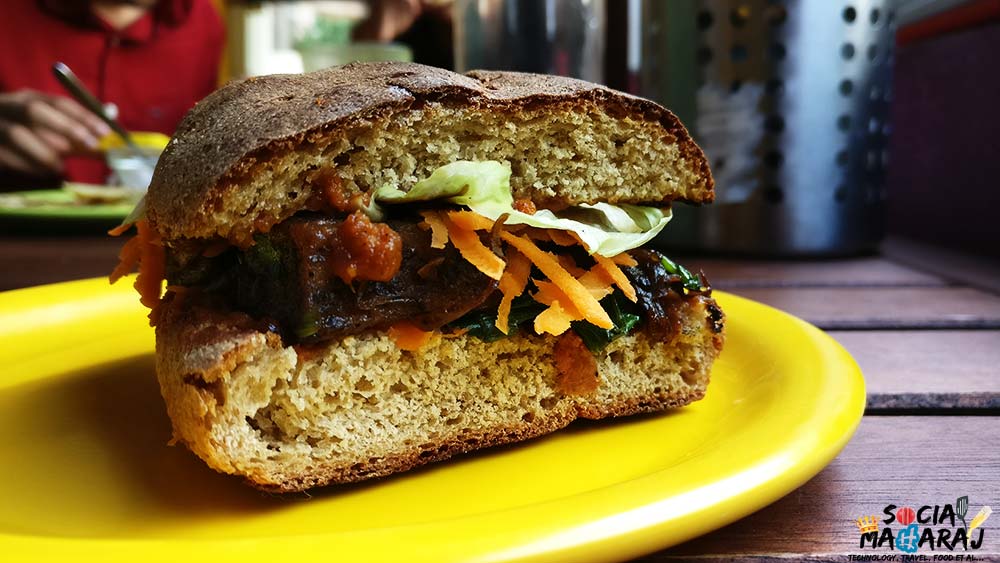 Potato Wedges were like any other preparation but what was unique was the dip that was served. The cashew nut dip along with mustard dip made a delicious combination to relish the wedges. Fidget Spinner was prepared from Sweet Potato again topped with the cashew nut dip. This was quite good on taste however there were only 3 pieces of it 🙁
Next what came to our table was Tofu Jahangiri along with the Kathi Falafel wrap. The Tofu was described as smoked with garlic and put inside a whole wheat bread baguette. Blame it to my palate or the taste actually, I didn't quite enjoy this one. My friends though were quite ok with it. The Falafel Kathi roll was my pick of the day. The Falafel were delicious and succulent and totally loved the entire preparation.
Main Course at Terrassen Cafe
Amar Akbar Anthony was a brown rice preparation. This was laced with peanuts and lot of veggies and served in a clay pot. For a people of 5 what each one of us got was barely a couple of spoons of rice. It was okaish but I wouldn't order it again. The Vegan Kheema Noodles was a tried and tested recipe that seldom fails. It was stir fried vermicelli along with veggies and topped with Soya meat mock. The dish was full of flavors and totally recommended. We all loved the dish and wouldn't mind getting another serve of it.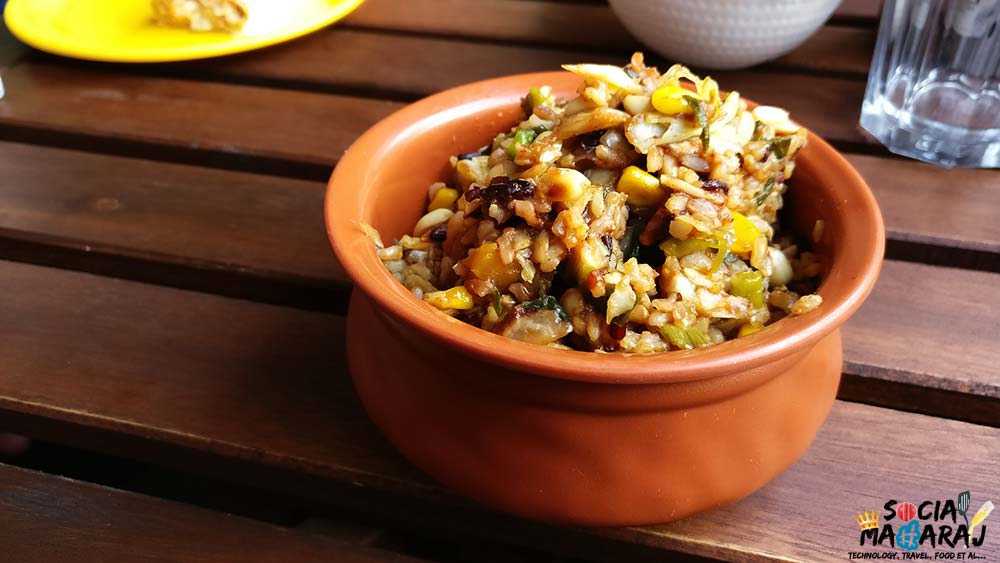 Eating a Vegan Pizza is not something that happens everyday. We randomly ordered 3 pizzas with different toppings. It did take some time to reach the tables, but was the wait worth ? The pizzas didn't quite look great but I surely want to taste it. One of things that I'll applaud Danish and his team at Terrassen Cafe is make the whole wheat pizza base. Getting that texture with maida itself isn't an easy job, and they pulling it off with whole wheat was totally mind-blowing.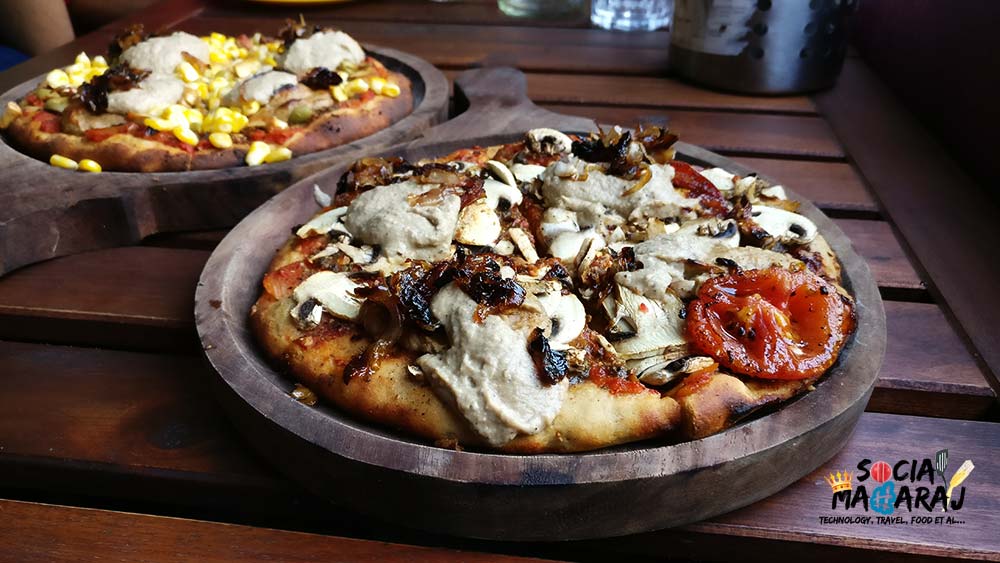 Being a vegan restaurant, don't expect any cheese on your pizza. Instead of this we again had the already tasted cashew nut dip all over it. At this point, we had to discuss with Danish that it was too much of it now. I mean almost half the dishes we ordered had that cashew nut topping. It's not that it isn't tasty but just that it was a bit too much. The pizza was like any other pizza. And I'm sure if there was cheese on it, would surely give any pizza chain a run for their buck.
Desserts and drinks
We ordered a couple of glasses of Jaljeera. This wasn't the typical watery jaljeera but it was very close to what a typical pani puri paani tastes like. Just that this had a lot of substance. The drink is very refreshing and I'm sure you'll enjoy it. The cold coffee was made from Coconut Milk along with Jaggery. It did have a distinct and different taste and you could try it. The other mock tail preparations were quite okaish and so was the mint tea. For desserts we tried Chocolate and Coffee ice cream. The coffee ice cream was good on taste and you could try it.
Final Verdict: Terrassen Cafe deserves a visit
The small and vibrant vegan cafe with amazing music is a great place to spend some quality time. The staff is courteous and having a small talk with them isn't quite tough. The food is different and you will love the variety. There is taste which some might like and others might not. The only thing that bothered me was the cashew nut dip in almost every other dish we had on our table. I hope that the team there comes up something tasty and different from this. Apart from that, things were quite ok and I enjoyed the experience. Though the vegan cafe is small, there are people coming in often. That was my experience at Terrassen Cafe. If you've been there, do share your experience. Do mention in the comments below or tweet to me at @Atulmaharaj