I admit, I've taken a long time to post this one. I remember that I had told this in the first week of October that I'll writing a post. Have been caught up with work lately. Anyways, a quick flashback to my childhood days. This is about 12 years back when I used to stay in Ahmedabad- Maninagar precisely. I remember a new Vegetarian Restaurant had opened up right opposite the railway crossing named Mirchi. That was probably one of the finest restaurant close to my place. Others like Rasna, Honest, Abhilasha were quite far off. During those days, there was no home delivery. The good thing was that I could call and order but had to pick it up. I used to carry a cloth bag, ride my cycle to the restaurant to pick up the items. Come 2017, I no longer have to move my 'tashreef' from the comfort of my house. With food delivery apps like Swiggy and Foodpanda, you barely have to make a move to get your food. Of course there are other apps, but its these two who are the biggies in the field. Want to know which is better between Zomato and Swiggy ? Check out my latest post here.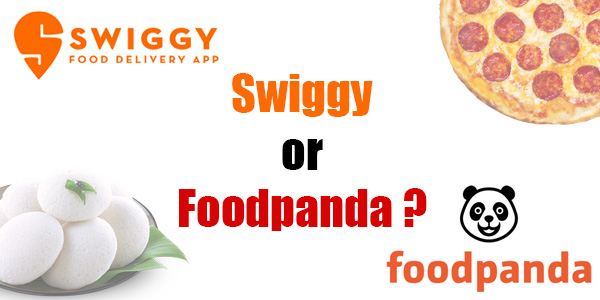 As said, during the first week of October, I found myself in a situation to cook for a few days. That was surely not possible after a tiring day at work. It was then that I used Swiggy and FoodPanda to order food. BTW I've been a loyal Swiggy customer over the years. (Folks at Swiggy are you listening ? Loyal ;)) During this while I got a good taste of both the services, had varied experiences and hence decided to pen this one down. So here's a Foodie's Take on Food Panda and Swiggy. Who's better ? Read to find out.
Who has a better app – FoodPanda or Swiggy ?
More often than not, you usually have a fierce competition when it comes to apps. Companies push themselves to have a better app than others. However, that doesn't seem to be the case here. Foodpanda has a seriously flawed app and I'm not saying this because I've been used to ordering on Swiggy. First of all – being a Vegetarian – their Show Only Vegetarian option doesn't always work. Many restaurants don't have it (Faasos for instance, for me) and I have to scroll through the entire list. Secondly their Order Tracking section is pathetic. It just shows me how much time is left for the item to reach me, I cannot track where the delivery guy is !
Swiggy wins here hands down. One of the best features of Swiggy is the real-time tracking, so I know where the delivery guy is and I can guide him if needed. Also I had my entire Past Order list erased on the Foodpanda app. I reinstalled it, checked on the website and my orders had vanished everywhere. I got restless that moment because I had already made rotis and rice, and the curry was coming by Foodpanda. Anyways, the best among Food Panda and Swiggy in terms of apps has to be Swiggy.
Who delivers Fast – Foodpanda or Swiggy ?
Of the five days that I ordered food, I used Swiggy thrice and Foodpanda twice. Foodpanda shows insanely long deliver timings, average of an hour. Even their express delivery options show a minimum of 45mins barring Dominos. That's atrocious. Swiggy on the other hand, has 'always' delivered well before time. Some might say that Swiggy charges extra sometimes for the delivery (Rs 40 if order value less than Rs 200 and usually Rs25-30 during festivals and rough weather) but that's worth considering that their delivery is lightning fast. Foodpanda does charge a fee of Rs 29 on most of the orders, they still take close to 1hr to deliver the item. So in the delivery department, Swiggy wins again !
Who has more restaurants – Food Panda or Swiggy ?
Now that's a tough one. Both Foodpanda and Swiggy have more or less the same number of outlets on their apps. However I felt that Foodpanda may have a handful of extra restaurants. Foodpanda lists many small eateries too that I didn't find on the Swiggy app in my area. This automatically gives me more options to order food from. So for the number of restaurants, I think I'll give it to Foodpanda. Foodpanda has more number of restaurants over Swiggy.
Who has better offers – Foodpanda or Swiggy ?
That's what you were probably looking for ! Offers and cash backs – have become a way to capture users. Give them a 100Rs off and they are there with you. If someone has better deals, you surely will lose that customer. If offers are concerned, based on my experience Foodpanda has some better offers. Also, the same restaurant has a better deal on Foodpanda over Swiggy. For instance Behrouz Biryani, Ovenstory have shown me better offers than Swiggy. Swiggy does have offers, and sometimes they are pretty good. But for offers, I bend a little towards Food Panda.
Final Verdict Foodpanda vs Swiggy ?
In the four point shoot out, the battle stays tied at 2 each. Swiggy wins for better app and delivery while Food Panda gains for better offers and more restaurants. So which one you should choose ? Foodpanda or Swiggy ? Based on my use of both the apps, I feel you should opt for Swiggy. Reason ? Swiggy is reliable, I've never had any issues with them till date. Their delivery times are much lower (sometimes half) than Foodpanda. Their app is lightning fast and allows me to track my food in real-time. So If you have option and are completely relying on getting your food, Swiggy is the name to trust. On the other hand, if you are not so worried about when your food gets delivered, you could try Foodpanda. So yes, that's pretty much it for the Foodpanda vs Swiggy blog post. If you feel that you have better options or suggestions on the post, feel free to drop in the comments below or tweet to me @atulmaharaj