Few months back I introduced another Android App which was very close to what I do. Apart from learning how Android works, Blogzzy helped me understand some key aspects of Blogging. For instance, if you ask most of the bloggers on how they share their blog posts, most of would reply saying they open the blog post and click the share button. Some advanced/seasoned bloggers would say they use automated apps like Buffer, IFTTT to schedule sharing of blog posts. But, most of these automated apps, (at least the free versions) don't allow you to share links without actually opening the blog post. And that's what my problem was.
I've always said that Blogging is not about an individual, but it's about the entire community. In blogging, you often read what others have to share and often re-share them to help other find good content. But following hundreds of amazing bloggers, reading their content and sharing them becomes a daunting task. That's when I thought of the Blog Buddy Feature on Blogzzy – Blogger's Buddy to share blog posts. So here's what the latest version of Blogzzy has in store for bloggers.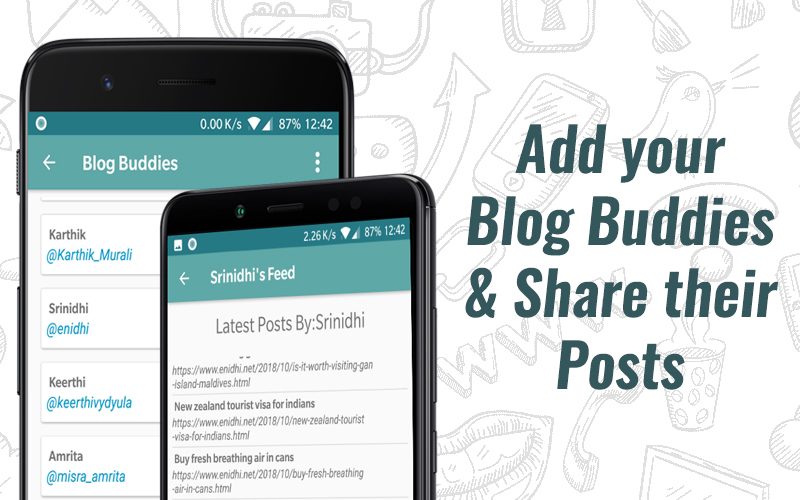 Introducing Blog Buddy – Blogzzy 2.0
In the latest version of Blogzzy, users can add their blogger friends whom they are following on Twitter. These bloggers will be added to a Buddy List. So whenever you have few minutes to spare, simply open Blogzzy and head to the Blog Buddy section. Select your buddy post which you will see their latest posts. Tap on a post which you like. Either preview the post and read in on the app or simply hit the Tweet button to share their post on Twitter ! Fast isn't it ?
To make things simpler, here's a video that I created to help you better understand the functionality of Blogzzy's latest Blog Buddy feature. The video shows how you can add a blogger from twitter to your buddy list and their share their blog posts with just a tap of a button !
Why Blog Buddy on Blogzzy ?
Frankly for me, sharing blog posts sometimes got really tough. There's so much amazing content all over that I can barely go through them regularly let alone sharing. So my idea was what if I had an app that showed me a quick preview of the blogger's blog and allowed me to quickly share their post ? And that's when I started working on the Blogzzy App. The initial release was only about sharing your own blog posts, but with the latest release of Blogzzy, you can add blog buddies and share their posts too !
Download the latest version of Blogzzy here and share your feedback. Mention in the comments below or tweet to me at @Atulmaharaj In case you have any issues, I'm just a tweet away !