Right, so in my previous post I gave a review of my new Dell Inspiron 5370 Laptop. The thin, light and powerful laptop is one of the best out in the market in that budget. Can do everything from watching movies to browsing the web and also help develop mobile apps ! Now, whenever you buy a gadget, more often than not it isn't the only thing you would purchase. For instance, if you bought a smart phone you would also buy a mobile case or a screen protector. In case you bought a DSLR, you would possibly buy a camera bag or lenses. Similarly when I bought my new Dell Inspiron 5370 laptop, I also bought a new laptop sleeve. So here's a quick review of the AirCase 13″ Laptop Sleeve.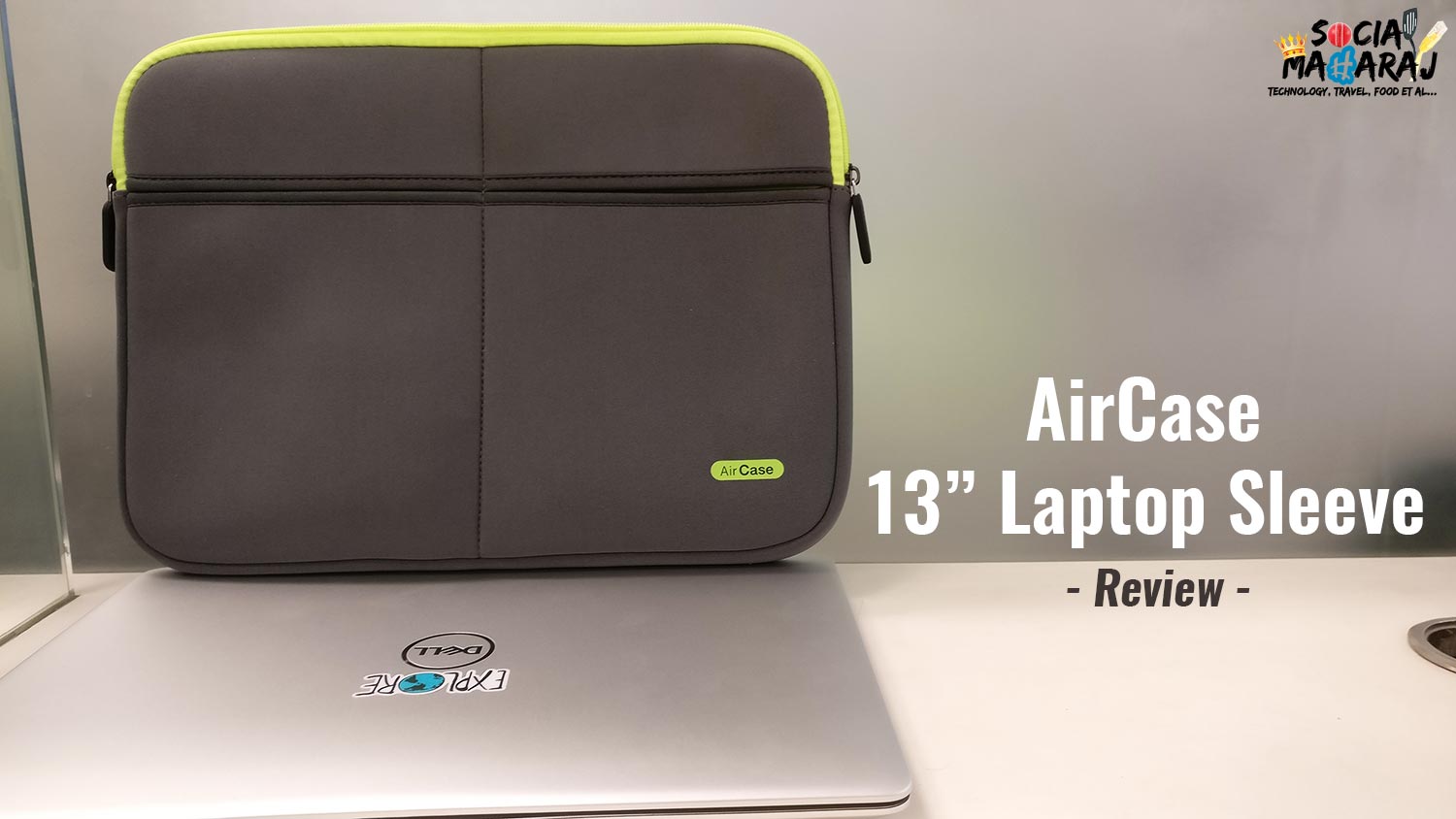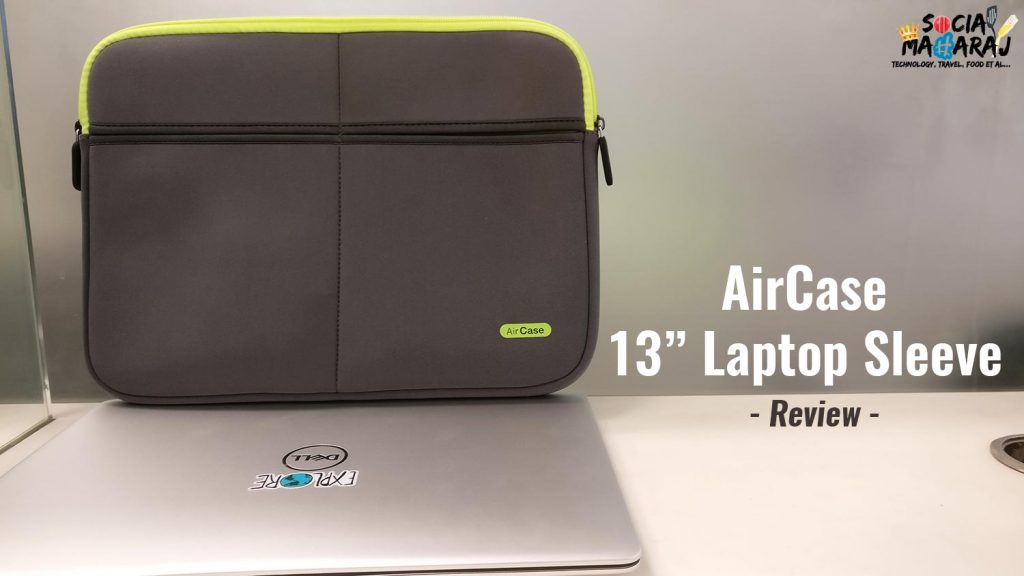 AirCase Laptop Sleeve – Great on Looks
The AirCcase laptop sleeve was the first one to pop when you searched for laptop sleeves on Amazon on Flipkart. So going by the reviews (and the prices) I decided to buy this on from Amazon. (I frankly don't remember when was the last time I bought something from Flipkart ? Which one do you use often ?) The sleeve arrived in a couple of days, a day after receiving the laptop. Like usual, the box was huge and the case was pretty small. It was wrapped in bubble wrap and was inside another plastic cover. I do love the smell of new books, but the smell of this wasn't pleasing.
Anyways the AirCase Laptop Sleeve that I bought is the 13″ one for my new laptop. The color scheme is pretty interesting, it's mostly grey with accents of fluorescent green on the zippers and pouches. The material is quite nice and soft and the inside is soft too.
Carry your accessories with AirCase Laptop Sleeve
The AirCase Laptop Sleeve review cannot end without the mention of the utility pockets. The laptop sleeve has two large compartments on one side. These are open compartments and you can put anything from a small paper, notebook to a hard drive. Further the zippers are pretty durable and of good quality.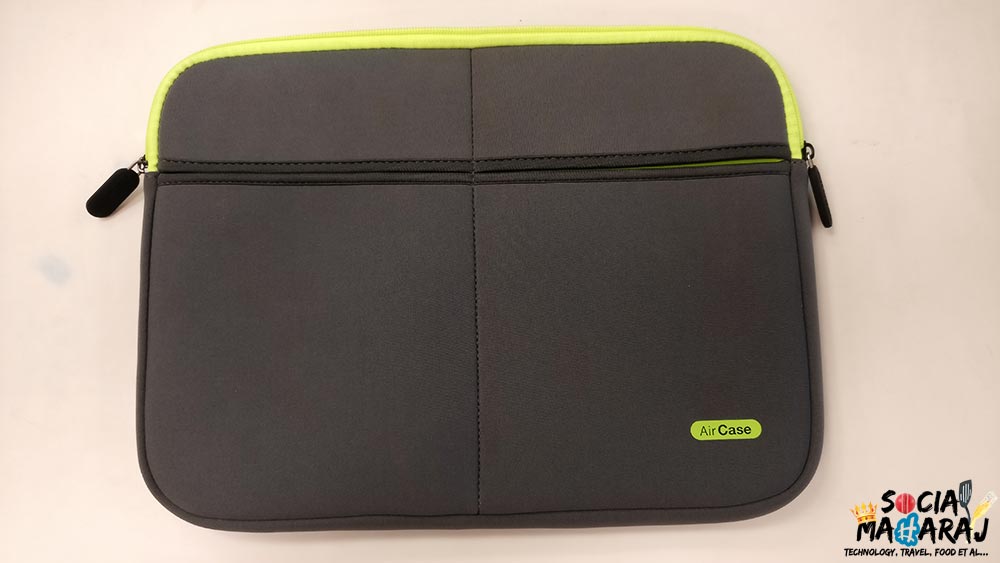 On the other side there are two zip pouches. One of the pouch has a special storage for pen drive. I haven't tried putting a pen drive though. This is good enough to store some cables and stuff. However, one let down is that you cannot carry a charger in this 🙁 You would need to carry it separately. Further since this is a laptop sleeve, there's absolutely no protection to your laptop from rough handling. Something that a typical laptop bag would give.
Final Verdict: AirCase Laptop Sleeve is trendy
That was my AirCase Laptop Sleeve Review and I must say that it is a decent laptop sleeve for your 13″ laptop. It does come in 13″ and 15″ variants based on your requirement. The fitting was perfect and my laptop did fit in pretty comfortably. Though the MRP was Rs 1600, I got it for about RS 700 on Amazon which makes it another good deal. I could have gone for a laptop bag, but since I already carry a bag and was looking for something different, got this. What are your views on this ? Like it? Useful ? Whatever it is, mention in the comments below or tweet to me at @atulmaharaj.