Even in this age of mobility I prefer using desktops over laptops. The sheer freedom to 'mix and match' components and building a desktop is unmatched. During my stay in Delhi, I spent a lot of time at Nehru Place – either buying computer components or relishing Rajma Chawal 😛 And that's where I had upgraded my desktop first. Ditching those flimsy cabinets and generic power supplies, I got a Coolermaster Elite 431 cabinet, a Corsair VS450 PSU and a Radeon 6670 graphic card. Back then my system was a beast, but not today.
Though I spend most of the time on my laptop – Dell 5370, I try to use the Desktop at least once a week. And that machine is ageing. No not because of the processor I feel. It's already over clocked to 4.0 Ghz with the Coolermaster Hyper 212 Evo sitting on it. So to speed things a bit, I recently made the switch from HDD to SSD few weeks back and bought the Western Digital Green 240GB SSD. And that was because of my laptop that's blazing fast thanks to the SSD. So here's a quick review of the WD Green 240GB SSD.
Why SSD over Hard Disk ?
There are numerous advantages of using a SSD over a traditional Hard Disk.
Traditional Hard Disks have a rotating metallic disk within them which spin. SSDs don't have any such parts, they are made of memory chips that store data. Because of no moving parts, SSD perform better and make less noise.
In continuation to the above point, SSDs are quite faster than Hard disks. Because reading and writing data is faster on a SSD due to absence of the disk.
Further due to the non moving parts, Hard Disks are prone to damages. Especially when they are accidentally moved when in use. That is not the case with SSDs. Thus you get better longevity with SSDs
SSDs are a lot less bulky than the traditional Hard Disk. So no matter how small your cabinet is, you can fit in a lot of SSDs than Hard disks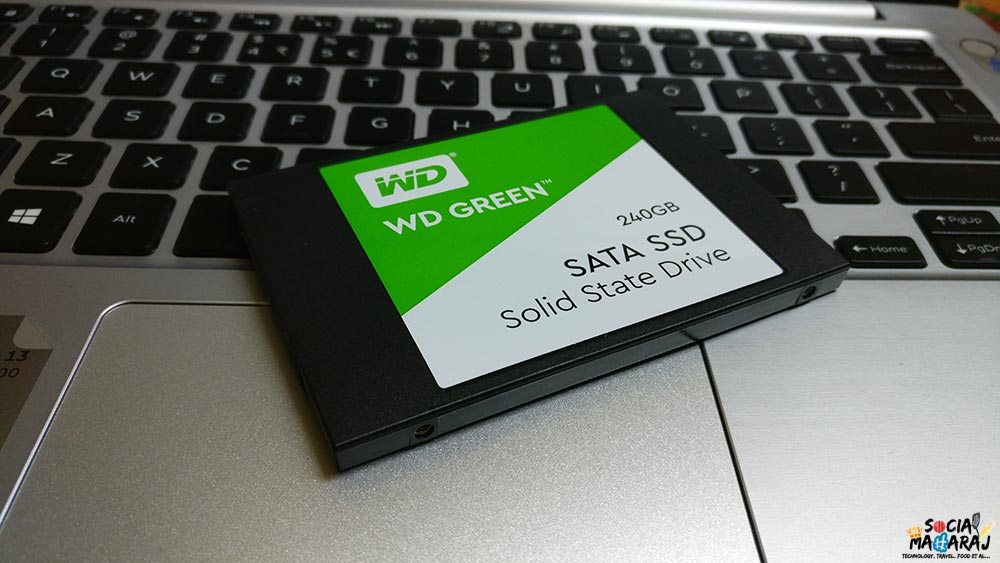 Review of WD Green 240GB SSD
Small, Powerful and Fast
The WD Green 240GB SSD was on sale on Amazon during their recently concluded sale. The 2.5″ SSD was available in many flavors ranging from 120GB to 450GB. Since the 240GB one was within my budget and my needs, I purchased it. The delivery quick as always. Though the box was damaged, there was a SSD inside and a not a soap bar. This was my first time purchasing SSD and frankly didn't know 2.5″ HDD would be that small ! The SSD is extremely small and light weight compared to the legacy WD Blue HDD I already have. There's no SATA cable available in the box so you need to ensure that you have one with you. The SSD works with any motherboard that supports SATA (most of them do now a days)
Initial Setup – Formatting the SSD
The WD Green 240GB SSD doesn't require any extra setup. Initially you might not be able to view it in the My Computer section. This because the SSD isn't formatted and the computer doesn't recognize it. For that you first need to open the Disk Management tool from your desktop. This can be accessed by right clicking the Windows button in the task bar. In the context menu that opens, click on Disk Management. Once the Disk Management tool is open, you should see the existing disks as well as the new SSD that you just attached. The easiest and the quickest way to use your SSD is to select the disk and format it with the default options and partitions. With in a flash, you should be able to see a new disk under My Computer now. Congratulations ! You've successfully configured the SSD on your desktop.
Advanced Usage of SSD
If you followed the earlier step, you would see one partition with approximately 220GB of space. More often than not you don't want that. You want multiple partitions to be created. That can be done while you are formatting the disk from the Disk Management Tool. You can provide custom Partition Size, Partition Name and the tool will create it for you. In my case I was already using a hard disk and have added the SSD now. In order to take the full advantage of SSD, you should ensure to boot windows from the SSD and not the HDD. That's when you will see the actual difference of using a SSD. My current setup makes you of the same – windows booting up from the SSD while other things on the HDD. How do you do that ? I have another post detailing the same coming soon here.
Review of WD Green 240GB SSD – great budget option
The green series by Western Digital aren't known for blazing fast performance. Those are generally the entry-level products in the segment. For day-to-day use WD blue is recommended and for professional use, WD Black. I opted for green because I was getting a good deal. Also my desktop usage wasn't much, so that few bucks to replace my hard disk was worth. Overall, I'm very satisfied with the purchase. For about 2800 Rs (post discount), the WD Green 240GB SSD is working wonders. If you are looking to purchase one for your desktop, this could be the ideal, budget option that you could explore. If you want to know anything more, request you to mention in the comments below or tweet to me @Atulmaharaj