The sun is beating down hard in Hyderabad and it's just March. I wonder what the situation would be in the coming months. It was a sunny afternoon when my and my colleagues decided to have some 'Ganne ka Ras' (Sugarcane juice) No matter what drinks these FMCG companies launch, our desi drinks are the best when it comes to quenching thirst. While we were relishing our ganne ka ras, we were observing the traffic on the road. Even in such scorching heat, there were bikers zipping through the roads. With the rising temperatures and the cold ganne ka ras, we decided on driving our Porsche in Hyderabad. We did take it for a short spin and truly loved the way the Porsche performed. We took turns to self drive Porsche and all of us loved driving the car. One of us suddenly lost control of the Porsche and dashed into a biker nearby. Damn ! I was so glad nothing happened to the Porsche and neither the biker as we were driving Porsche in Augmented Reality.
Self Drive Porsche in Augmented Reality
All the gaming enthusiasts would agree that Porsche has been one of the most loved cars when it came to playing any racing title. Be it the Porsche 911 or the Porsche Carrera. The car is one of the quickest on the block thanks to beast under the hood. I've seen one at the Auto Expo in Delhi few years back. However I haven't got a chance to drive it yet. I'm hoping that I get to drive one soon. (Folks at Porsche I hope you are reading this 😛) But thanks to technology that I got to experience the Porsche Mission E. With Augmented Reality gaining popularity, there are a lot of games and apps available.
Augmented Reality is the technology where computer generated images are superimposed on the real world around. For instance you have a box in your app and you want to know how big it is. Just point your camera on a flat surface and you should see the box on your mobile screen as if it were on your table. Thus with Augmented Reality you get to see and interact with objects and 'feel them virtually'.
Porsche Mission E Augmented Reality App
For quite some time now Porsche has had an app on the play store called Porsche Mission E. Mission E is Porsche's future car with the most advanced features ever. With the help of Augmented Reality, Porsche wants to give a feel of their car to the users. With the app installed the user can do a lot of things with the Porsche Mission E. A user can interact with the car and see the interiors, change the paint and also self drive the Porsche wherever you are. The app is very interactive and highly addictive. At least I'm hooked to it.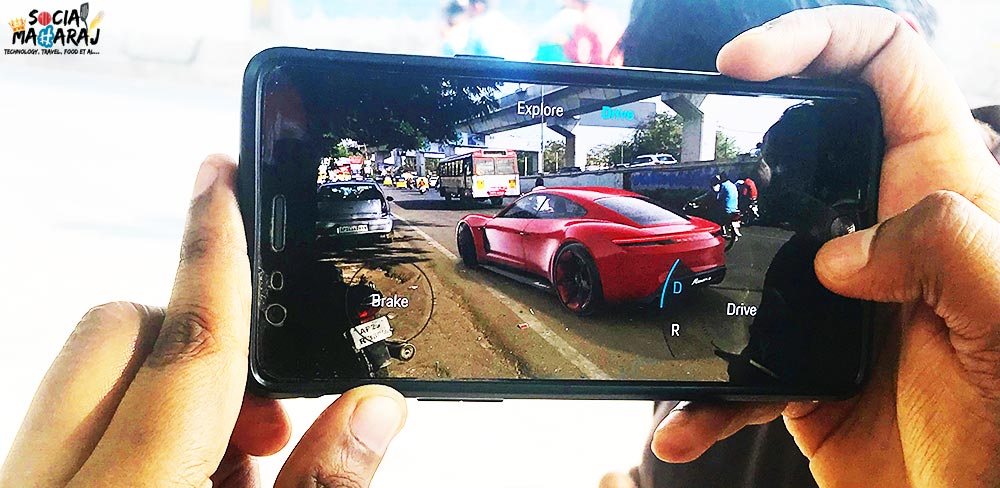 The app is available for both Android and iOS. For Android your device must support ARCore – Google's library to support Augmented Reality on phones. For iOS your smartphone should support Apple ARKit. ARCore isn't available on all the devices thus you first need to check your Android compatibility and iOS device compatibility. With my OnePlus 3T it was compatible and hence I was able to run the app. The Porsche Mission E is super easy to use. Simply point the camera to a flat surface and boom you have a Porsche right in front of you ! What next ? Color your car, interact with it and get driving Porsche ! Now you know how I was driving Porsche in Hyderabad 😉 Install the app and let me know your thoughts in the comments below or tweet to me at @Atulmaharaj