Last few weeks have been quite hectic at work – early morning works (because I don't stay late in office) and weekends too. And with the sun unleashing its power on Hyderabad, there is absolutely no time to do anything else. Mundane routine was taking a toll not only on me but others too. And to break this routine, someone had to do something. Just when I was wondering what to plan, an email lands in my mailbox. The mail surely makes me smile the ear to ear. It was about visiting and experiencing a place that has long been on my list. I remember when it opened in Hyderabad, Master Blaster Sachin Tendulkar was here to inaugurate. The place I'm talking about is Smaaash – the gaming zone. And what better way to bring colors and kick of the weekend with some games and food ! In case you missed my stories on Instagram, here's a review of Smaaash.
Smaaash & Cyberabad Pub Exchange – InOrbit Mall, Hyderabad
Smaaash in Hyderabad is located on the 5th floor of Inorbit mall in Madhapur. If you stay in Hyderabad, you surely know where this is. If you don't stay in Hyderabad, ask anyone and they'd guide you. The kid in me was already excited from Friday morning about going and playing games. And the Foodie in me was preparing for the culinary treat. With high expectations I reached Smaaash. I expected a rather big entrance, but it was a petite one. Nonetheless what is important is what is inside. All you see around is a sea of arcade games – racing, shooting, dancing et all. Next you have a 4 lane bowling arena and two cricket pitches. There's also a bar at the side along with a small seating area.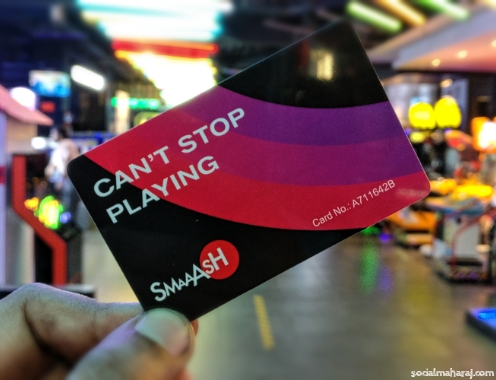 Smaaash showcases the perfect marriage of food and games. Play-Eat-Drink-Repeat is the mantra that you should be following when at Smaaash. And that's what I rightly did. I had Mr. Saurabh and Chandra who were attending us and ensured that everything we wanted was done. Since we already had a tiring day at work, we decide to eat a little, play, eat, play, eat and sign off.
Fit for King Food and Drinks at Cyberabad Pub Exchange
We got ourselves comfortable in the cozy sofas with the giant screen in front playing the IPL. We glanced the menus and were confused what to order. The menu isn't very expansive but they do have some amazing stuff. Since we had come in after a hectic day at work, first decided to cool ourselves with a Basil Lemon Cranberry Blush and Sangria. Along we that we also ordered Paneer Tikka for starters. We had them on our tables and full marks for the presentation. All their dishes that reached our tables were well plated. The Basil cranberry cooler was refreshing. Meanwhile we had our cards made for the gaming arena.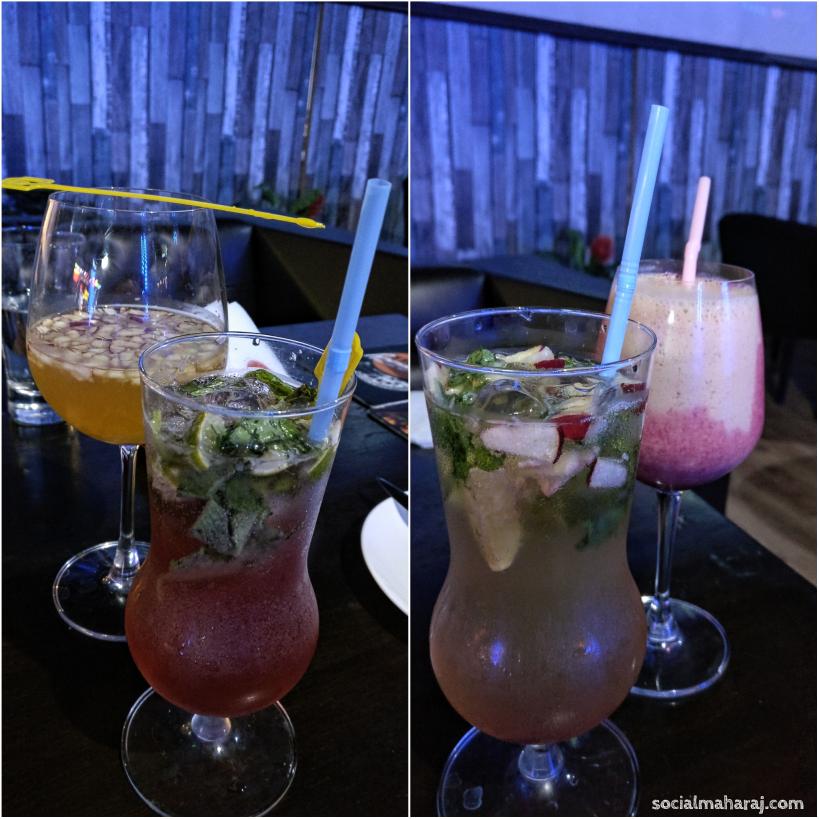 Post our first gaming session we got back to our seats to watch MI vs CSK match. During our second round of order, we ordered fish for starters (again) and Paneer Butter Masala for main course. For drinks we had Mango Bite and Apple Nirvana. It did take some time, but the wait was worth. The fish – as my friend said – was soft and succulent. It was delicious and she truly enjoyed it. So our decision of dropping the pasta for fish was right !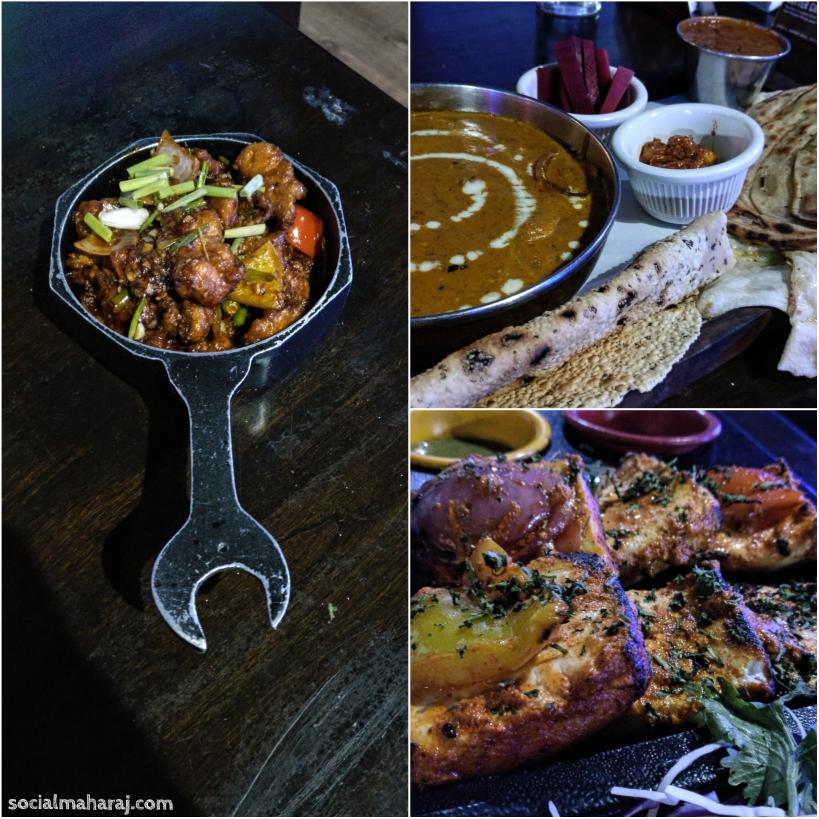 The Paneer Butter Masala combo was too much for us to complete. We initially thought it would just be roti and paneer. As it turned out, it was Paneer Butter Masala, Laccha Paratha, Naan, Dal Makhni, Salad and Papad. For 355 bucks, this was insane, the quantity was too much for us. The taste was pretty balanced and the preparation was amazing. On the drinks front, Mango Bite was like a regular fruit punch with the taste of the Mango Bite candy. Apple Nirvana was laced with apple pieces and someone who loves apple must try it.
Arcade, Virtual Reality games at Smaaash
On the gaming front, Smaash has a lot of options. Arcade games like Batman, Terminator are crowd pullers. I had a ride in the batman car arcade game and couldn't stop playing it ! The terminator shooting one was good too and me and my friend teamed up and did have a good match. We wanted to play ice hockey too but apparently that wasn't available to us. I was interested in trying out the VR based games especially after seeing HTC Vive headsets. Started with Vertigo – their signature game I'd say. It was an immersive experience and even though I knew that I was in a room, I was scared to move around in the virtual world. There was a Ferrari F1 car put up with 3 screens and I did want to try it. But the operator told I won't fit in 🙁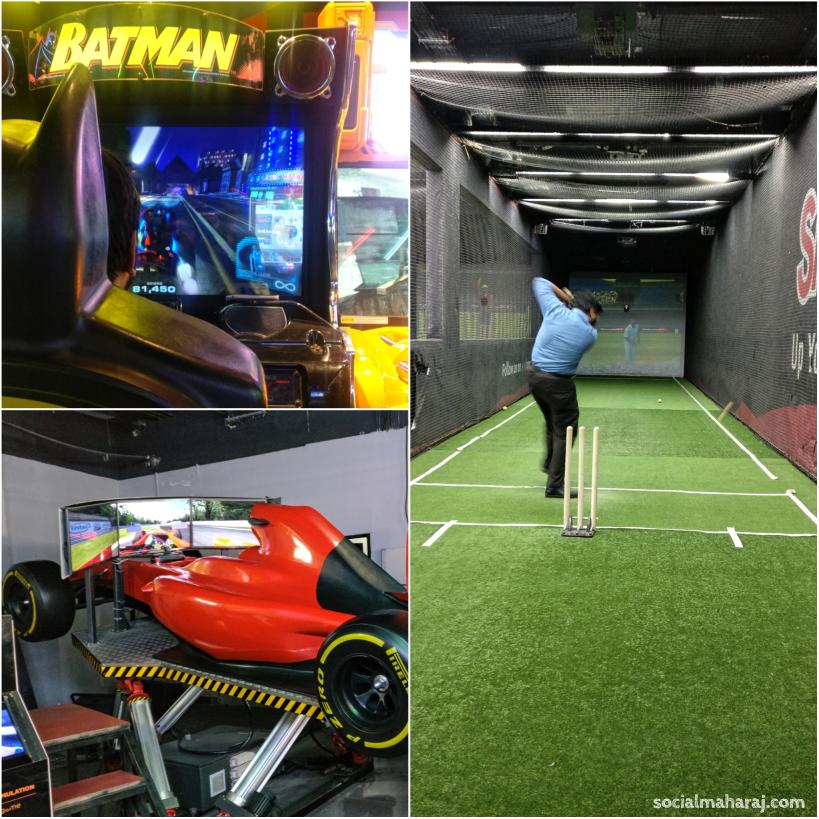 Next we tried another Terminator Shooting game – this time in VR – and it was a good experience. The only problem I found was that the graphics weren't upto the mark. Having played graphic intensive games on my PC, I felt these weren't just there. Maybe I was playing without my spectacles ? I don't know. I had been longing to get in those nets and finally it was time. 2 overs each of Shoaib Akthar, Lasith Malinga and Muralidharan. Started with the beginner level and slowly moved upwards. the experience is amazing. If you have practiced in the nets ever, you the similar feel. The lights were a little bright so the bowling screen visuals were kind of blurred out. As long as I was hitting the ball outside the park, everything was fine 😉
Can't stop playing and eating at Smaaash Hyderabad
It was the perfect way to kick off the weekend after a mundane week. I was glad that I could make it to this one. The place is perfect to unwind and 'chill' with your friends with food, beer and drinks. The atmosphere is just what you need after a tiring week at work. The games around the seating area might get noisy at times though. Overall it was an exciting experience with games and food. Their tagline "Can't Stop Playing" truly holds good when you are at Smaaash.
Thanks team Smaaash Hyderabad for having me over and taking care of everything. This was a part of a blogger outreach program and everything was on the house. But rest assured, this post is unbiased – like I always do. Do check out their place and I'm sure Smaaash won't disappoint. Have you already been to Smaaash ? How was your experience ? What games or food you'd suggest me to try the next time I visit. Mention in the comments below or tweet to me at @Atulmaharaj