Whenever I was having anything important coming up, suddenly the gamer(so called) would come alive roaring ! Be in the unit tests or exams in school, the semester exams in college or important presentations in office. This gaming keeda always knew the perfect time to jump in ! How many of you have such keeda springing up at such times ? Let me know in the comments so that I know that I'm not the only one 😛 Anyways, why I'm bringing this up is that it was a few weeks back that the gamer in me decide to spring into action. It was an important presentation at work and instead of spending much time towards it, I started spending more time on the internet to figure out how could I play latest video games. And I came up with the following two options:
Buying a Playstation or XBox ~ 35,000Rs
Buying a graphics card for my desktop ~ 15,000Rs (was looking for the best budget graphics card in 2019)
Now, though my office timings are 8:30 – 18:00, I'm in office by 8 and leave by 7. That because I want to avoid the traffic. By the time I'm home it's already 9 and my day ends at 10. So where's the time to game ? Weekends, Yes. But weekends I'm busy with some or the other work, so gaming is out of question. Considering everything, the smart choice I opted for was to purchase a graphics card for my desktop After doing a good week's research, I finally bought the Zotac Geforce 1050 Ti GTX 4GB OC Edition. So is it the best budget graphics card in 2019 ?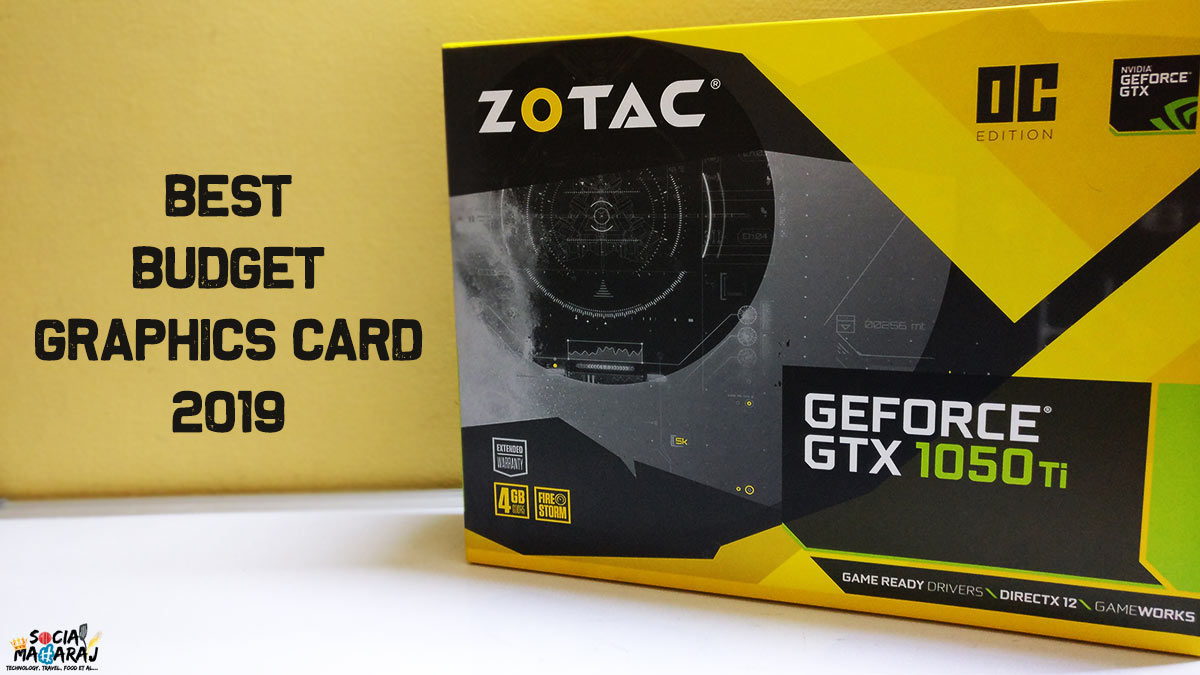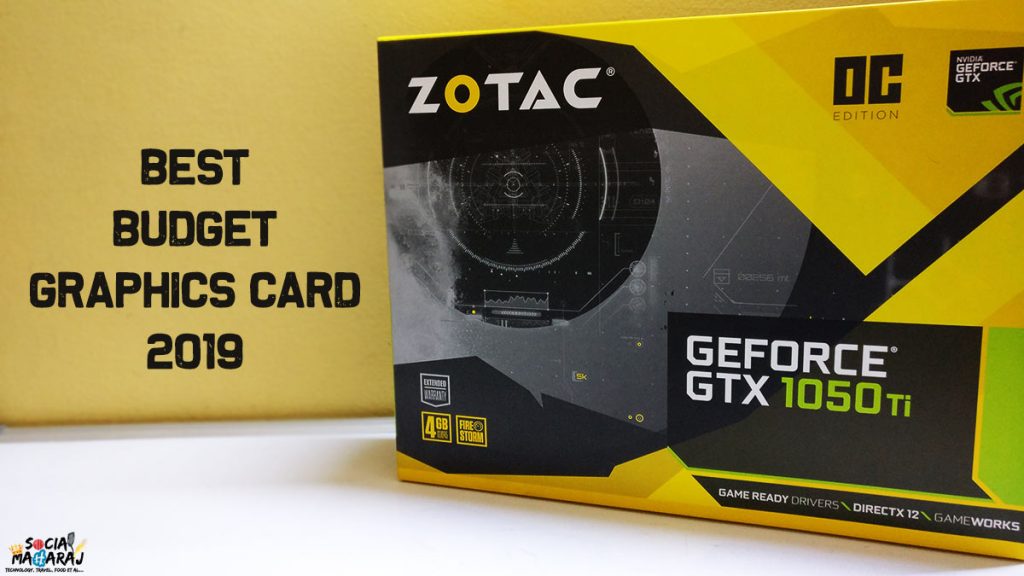 Best budget graphics card in 2019
My PC has is running an AMD FX6300 overclocked to 4.0 GHz with Coolermaster Hyper Evo 212 fan. A pair of Corsair Vengeance 8GB RAM. I also threw in a brand new SSD to make things more faster. I bought a WD Green 240GB SSD and you can read this to find out how to speed up your desktop. The earlier graphics card that I was using was the Radeon 6670 1GB card which wasn't quite able to run AAA titles.
Coming to the best budget graphics card in 2019 there are quite a few choices from Nvidia and AMD. However, the main (rather the top) contenders are the Nvidia Geforce 1050 Ti and the AMD RX 580 graphics cards. Both these cards have base clock speeds in the similar range but the 1050 scores here not only with a higher base clock rate but also a higher turbo frequency. Both cards have 4GB DDR5 on board memory and offer near similar performance at 1080p. In my case, the decision point was price and I was getting the GeForce 1050 Ti at a much cheaper price than the RX 580. So you know what my choice was.
So why exactly I chose the GeForce 1050 Ti graphics card ? Why not the 1060 or the 1080 ? As I said, being a casual gamer my idea was to purchase the best budget graphics card in 2019. The 1060 3GB version costed about 18-20k on Amazon while the 6GB one costed about 24K. The 1080 was completely out of league. Further both these graphics cards required an extra power pin. (my PSU had it, but I was sure that my processor could bottleneck the system) I got a good deal on the Zotac GeForce 1050 Ti 5GB DDR5 Graphics Card on Amazon.
GeForce 1050 Ti Best Budget Graphics Card 2019
GeForce 1050 Ti though being a year or two older, has got a lot of power in it. This card can handle almost any game you throw at it in medium to high settings. I've been playing games like the Assasin's Creed, Far Cry 5 in high settings. I must say that the GeForce 1050 Ti is able to tackle them quite easily hooked to a 42″ TV at 1080p. Overall, I'm quite satisfied with my purchase. What do you think ? Was it wise to go for the GeForce 1050 Ti in 2019 considering the options I had ? Do you think GeForce 1050 Ti is the Best Budget Graphics Card in 2019 also ? Whatever it is, mention in the comments below or tweet to me at @Atulmaharaj