One thing that I spend a lot (unfortunately) is on headphones. Yes, either I lose them, break them or they break themselves. The first ones I bought were Sony MDR earbuds. The came the House of Marley Smile Jamaica earphones. I guess I lost them, so bought a new pair of earphones. This time it were the JBL T110 TrueBass earphones. This one broke, the plastic casing came off. I guess this happened when I met with an accident last month, and I guess it took about a month to completely come apart. Anyways, my spend on earphones is mostly in the range of 800-1200 Rs but considering the rate at which they keep parting ways with me, I oped to go in for cheaper and more value for money options. I remember someone commenting on my Facebook post to try our Boat earphones because they had good bass. So this time I bought these Boat Bass Heads 225 earphones. They claim to have Super Extra Bass ? It is true ? Well read this Boat Bass Heads 225 Review to know more.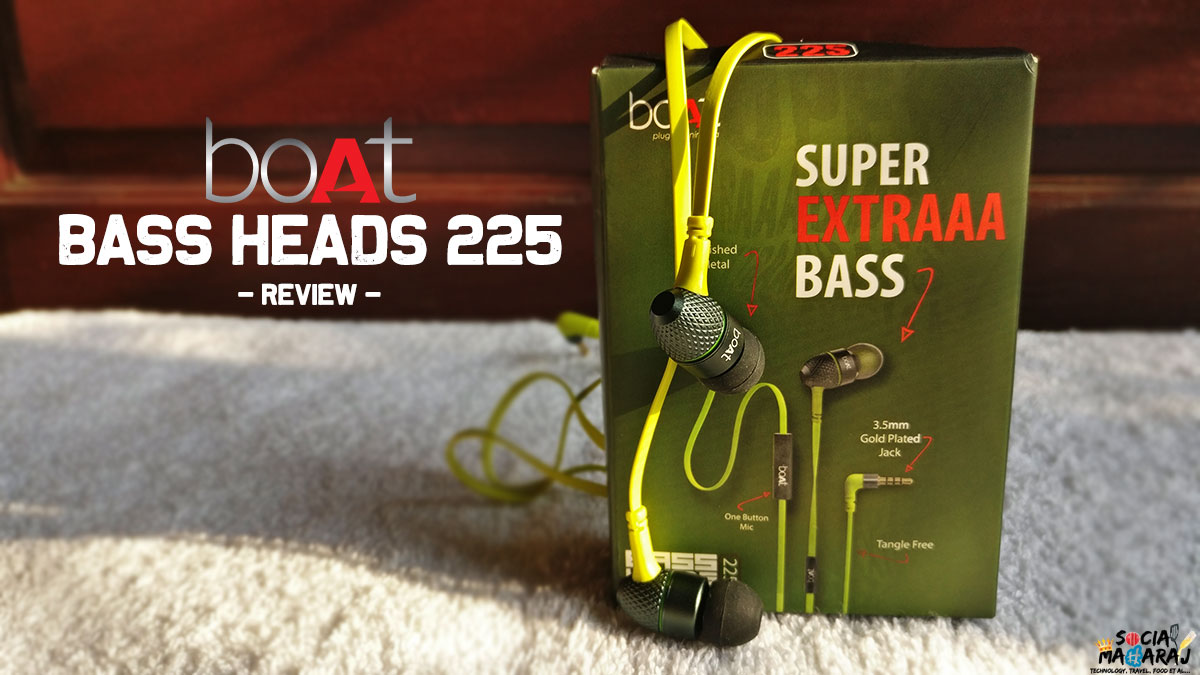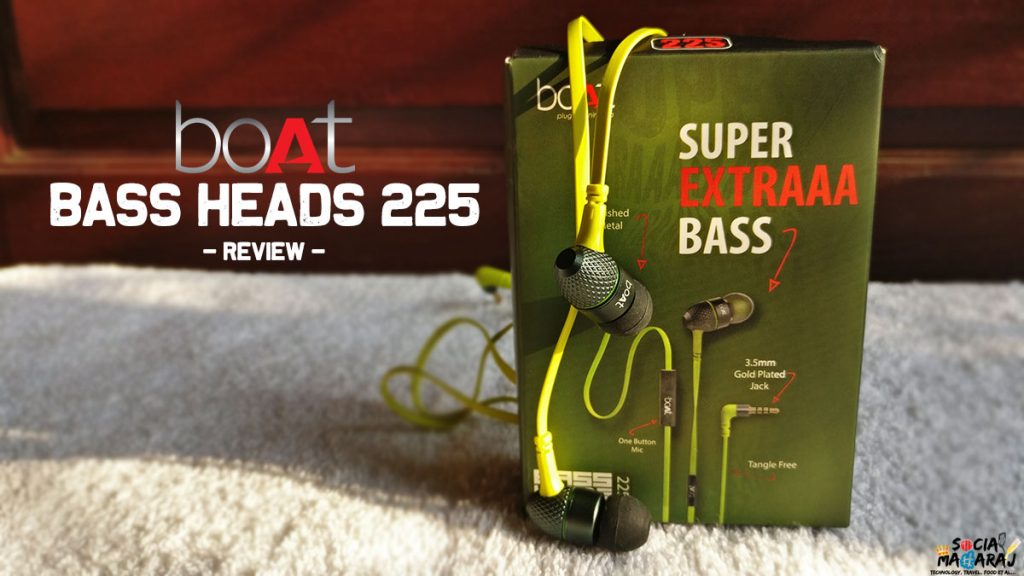 Boat Bass Heads 225 Review
Small, Colorful packing
The Boat Bass Heads 225 earphones come in a very small box when compared to the earlier ones that I've used. The box is compact and resembles the color of the earphones. These earphones have about 6 different color offerings including blue, white, read, black and neon lime (the one that I bought). The box boasts about the Boat Bass Heads 225's super extraaa bass, details about the box contents and a photo of Jacqueline Fernandez with these earphones. The box I'd say is flimsy and opening/closing it 4-5 times, it is already damaged from the top. None the less, the earphones are in a plastic tray so that is fine.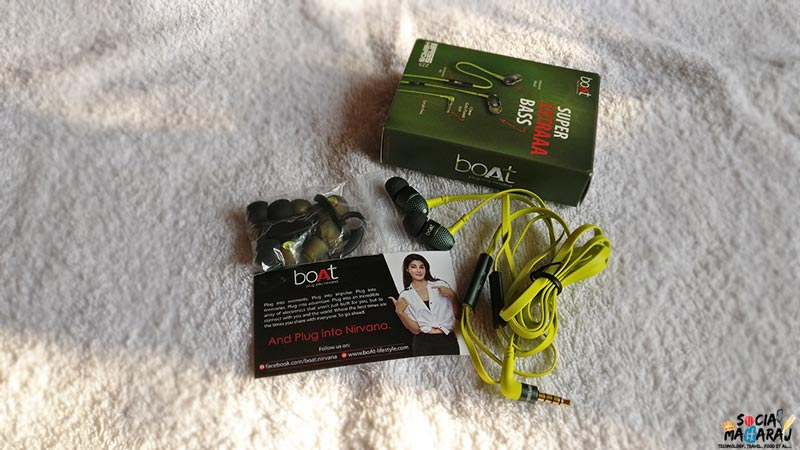 Box Contents
You cannot fit the entire world in this tiny box. It has just the basic stuff including a marketing card sort of, an extra pair of ear buds along with the earphones themselves. Unlike other brands, Boat Bass Heads 225 comes with 3 pairs of ear buds in black and neon each. Which means you have 6 pairs of earbuds in 2 colors and 3 sizes. At least I haven't seen any other brand providing color options for the earbuds. There's also a pair of ear hooks that is provided that will ensure that the earphones stay in place. That's about the box contents.
Audio Quality of Boat Bass Heads 225
It's been a few days that I'm using these Boat Bass Heads 225 earphones. I primarily use them while driving. Yes, I know that it's risky but I seriously cannot bear the non-stop honking that goes on in the background. I drive safe and use the rear view mirrors for what they are meant for. Anyways, the Boat Bass Heads 225 earphones come with a L-shape 3.5mm jack which is gold-plated. Earphones with a L shape connector are good if you keep your phone in your pocket and listen to music. This design ensures that the wires live longer. The earphones come with a one tap button microphone which has a good tactile feedback. One good thing is that you can change music tracks with double tap and single tap to pause/play songs. My earlier earphones didn't work with Airtel Wynk music app, but this works. Further, if your phone's screen is on, double tap the button call Google Assistant and you can do everything. This was a major missing from my earlier earphones. Now I can ask assistant to call people without having to take the phone out of my pocket while driving.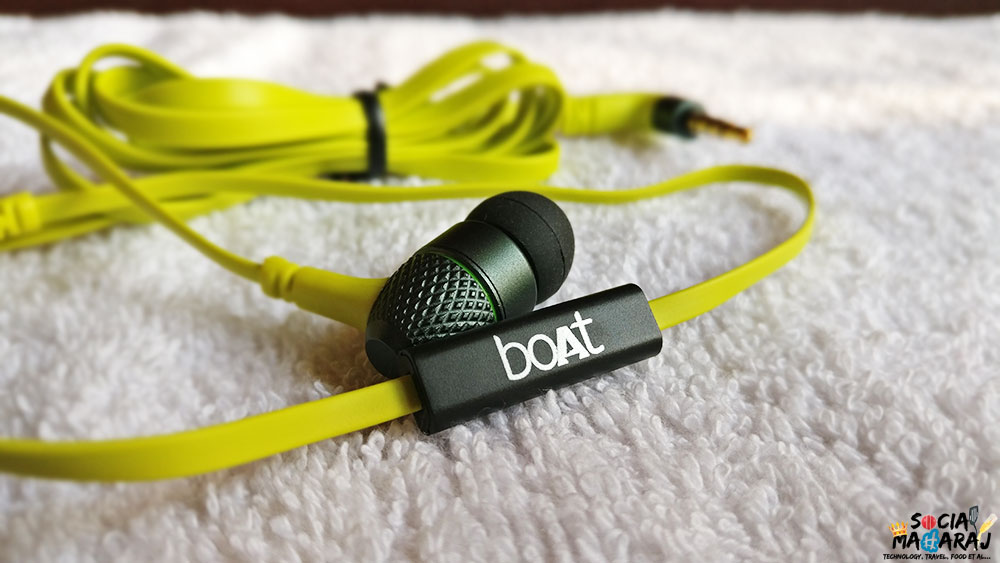 Coming to the most the important part – Audio Quality of Boat Bass Heads 225. The company claims Super Extra Bass on these earphones and I'd completely agree with them. The earphones are loud and the bass is quite strong. You can feel it even without using any apps for changing the equalizer settings. The earphone is able to generate good sound quality with a decent bass when needed. However there is some distortion that is quite evident after you increase the volume after certain level. It isn't able generate crisp and crystal clear sounds at times but manages to do a fair job overall. I did have to change some equalizer settings to get the best out of these to suit my taste.
Final Verdict: Boat Bass Heads 225 Good Budget earphones
The box has the MRP printed as Rs 999 but these are available anywhere on the internet below 600 Rs. There's some variation in price with the color options too, so you can see what you need. In my case I needed the cheapest option and these neon ones came in for Rs 539 on Amazon. These are my first earphones from Boat and I guess they are quite good for the price. The build is decent and the one tap button does a lot of work which my older earphones couldn't. The sound quality on Boat Bass Heads 225 is nice and surely the bass is strong as marketed by the company. However if you tend you listen to your music at higher volume levels, you might not quite like these because of the distortion. Overall at Rs 540, the Boat Bass Heads 225 are good budget earphones. Are you using it already ? How is your experience using them ? Mention in the comments below or tweet to me at @Atulmaharaj