Listening to music and watching videos have become the perfect pass time for everyone. Be it watching the quirky web series or listening to Haanikarak Baapu, sound is an essential aspect. The technology has increased manifold from the days of mono and stereo speakers to surround sounds ones. These devices ensure the experience you get is out of the world. I had been using the set of default in-ear phones that came with my Nexus 5. However, I've been on the lookout for a decent pair of earphones for general purpose. There were 2 main requirements: 1. It should have a mic, because I spend quite some time on calls. 2. A decent bass. After going through a handful of videos and review, I finally decided to get the House Of Marley Smile Jamaica earphones. So after using these for more few weeks now, here's a quick review of the House Of Marley Smile Jamaica earphones.
Packaging and Design
The packaging was very minimal. The box contained the user guide, 2 pair of cushions and the earphones itself. The material of the wire is very good and it ensures that it remains tangle free. Though they claim that House of Marley Smile Jamaica are untangable but that isn't the case. It's easy to untangle them, but aren't completely free from it. These have wooden feel to it which is the highlight. Even the 3.5mm pin is at an angle that ensures easy usage with various devices.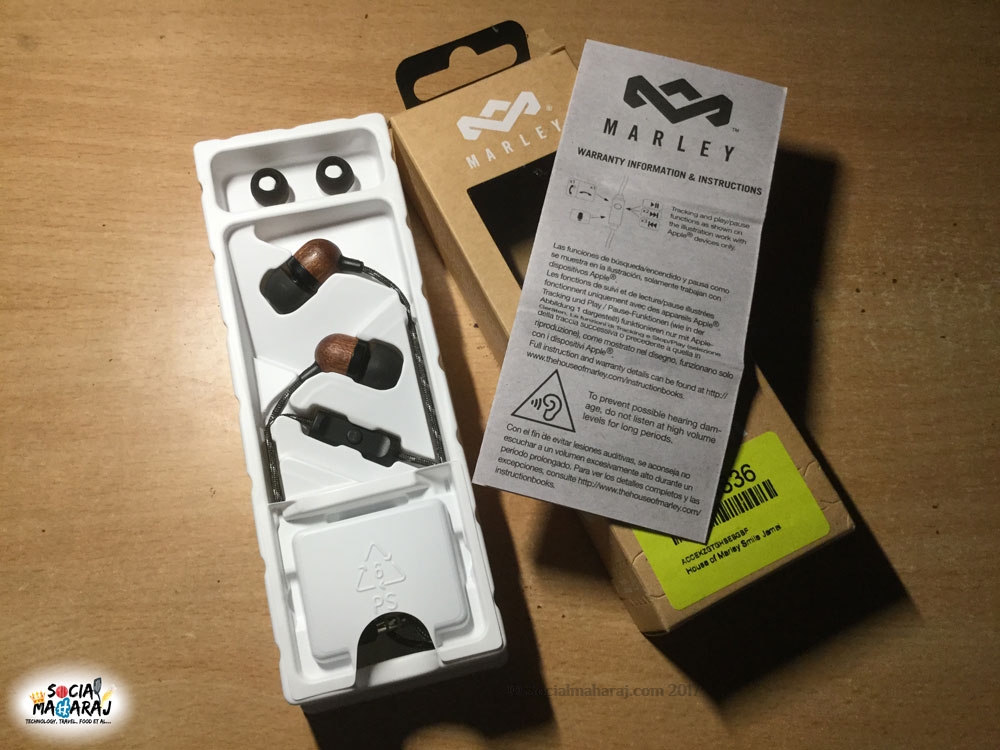 Sound Quality of House of Marley Smile Jamaica
The earphones arrived from Flipkart almost a month back and have been using it for quite some time now. My predominant use is watching videos followed by listening to songs and calling. The high bass is surely the highlight of the device. The bass is very powerful and does justice to the reviews. I would suggest you to test your earphones / headphones on this website. The tests here will surely give you a better picture of your purchase. Also, the sound tends to distort at high volumes but that didn't bother me frankly.
The call quality also was decent and didn't face any issue however. Also the packaging claims that the Play/Pause/Forward buttons on the mic work with iOS devices but that worked without any issue with my Nexus 5. So I'm sure you'll not have an issue with it.
Final Verdict
House of Marley Smile Jamaica are a decent pair of earphones. The normal price of the earphones on Flipkart is around 1K, but I got it for 799. For that price the earphones are bang for the buck. Since I needed a mic and a good bass, this was probably the perfect choice. I've been in love with it since day one. So in my opinion this is surely a value for money product. Already own this ? What do you think of these ? Like it, hate it, tell us here.