They: How long have you been blogging ?
Me: About 8 years now.
They: But you don't have many followers.
Me: Sorry ?
They: Aare…not the blog, the Instagram blog, how long have you been doing that ?
Me: (WTH) been a year or so.
This is a conversation that I had some time back during one of the sessions I attended. Now, there are clearly two distinct species of netizens here, one is a blogger and another one calls themselves a blogger. And thanks to social media tools becoming accessible now a days, anyone can join a platform and start creating content. I don't know how many people would remain friends with me after reading this post, but I felt this was needed. With the increasing number of people calling themselves bloggers, I decided to pen this down – Instagrammer or Blogger ? Who are you ?
Who is a Blogger ?
Being a blogger myself, I'll first talk about Blogger. So who is a blogger ? Blogger is a person who runs a blog – a website – and posts content on the blog. The blog can be a free one – like Google Blogger or WordPress.com – or a paid one like WordPress.org. Note that Facebook Pages/Profiles, Zomato, Twitter Profiles are not blogs. The blog can belong to any niche like Travel, Food, Technology or all of them in one. Hence you can be a Travel Blogger, Food Blogger, Tech Blogger etc. The blog – like this one – is a MUST for bloggers. So if you have a blog, you are a blogger.
Who is an Instagrammer ?
Instagram has gained immense popularity in the recent years. I know so many people who are creating some amazing content there. Coming to the question who is an Instagrammer ? Anyone who has an account on Instagram and posts content frequently is called an Instagrammer. Again, like bloggers, Instagrammers too can have specific niches. We have Food Instagrammers, Travel Instagrammers and so on. Having a website is not mandatory to be an Instagrammer. Please note that there is nothing like an Instagram Blogger or Insta Blogger. I was let down by seeing search results like "How to become a Blogger on Instagram", "Top 10 Instagram Blogs" etc when searched for Instagram Bloggers.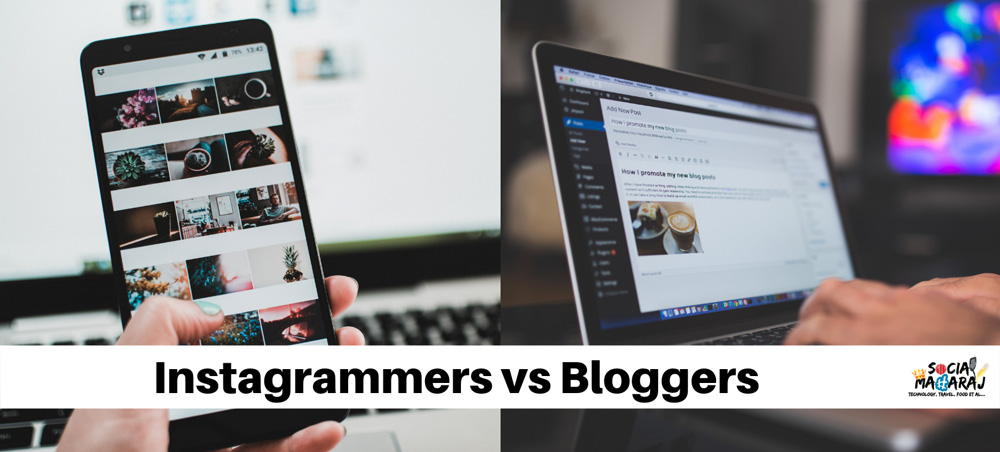 Who are you – Instagrammer or Blogger ?
I guess, I've mentioned it pretty clearly as to who is a blogger and who is an Instagrammer. Now ask the question – Who are you ?
If you own a blog, you are a blogger.
If you just have an Instagram account where you share photos you are an Instagrammer. You are not a blogger.
One may be very active on Instagram with thousands of photos, hundreds of likes and millions of followers. You still are an Instagrammer and not a blogger. One can be an Instagrammer and not a blogger if you don't own a blog. However, if you have a blog, you can be an Instagrammer.
Why am I writing this post
There have been quite a few instances where I had to specify people that I am the only blogger in that gathering and others are Instagrammers. People – especially PR executives, brands & even Instagrammers – don't know that people who posts photos on Instagram aren't bloggers. I'm in no way undermining their efforts. Posting photos on Instagram is an art and I know some of the finest artists. I'm still a beginner when it comes to Instagram. However I do call myself a seasoned Blogger. Blogging takes a lot of effort – right from ideating and creating content, to editing images and publishing posts on the blog and then marketing and promoting it.
Hence, if you don't own a blog and still write Blogger in profile, it's not correct. Facebook Profiles, Pages, Twitter handles, Zomato Profiles etc are not blogs. And having these as links in your Instagram profile doesn't make you a blogger. Call yourself a foodie or a wanderlust or a geek, but not a blogger if you don't have a blog. I realized that it was important for me to address this Identity Crisis between Instagrammers and Bloggers. If you too agree with me, do share this post and spread the awareness. Issued in the interest of bloggers and Instagrammers. Leave your feedback in the comments below or tweet to me at @Atulmaharaj.