"500, 200, 100, 75, 30, 10, 5, 2.1,.,.,…" those were some tense moments a few hours ago. At 01:55 hours, not only were the scientists at ISRO following Chandrayaan 2, there were a billion of us. The final moments of Vikram lander were quite close to an ECG reporting heartbeats. From wriggles to a flat line with a long beeping sound. You know things aren't right. You wish the doctors could get the heartbeat back and that's what the scientists at ISRO were trying to do. But there was no response, Vikram Lander of Chandrayaan 2 was not reverting back anything. The joyous yet tensed atmosphere at the mission control soon turned into a gloom. One of the scientists said we are not getting signals from Madrid, Mauritius. We might not be getting the signals, but we can surely say Vikram has Landed.
Final Moments of Chandrayaan 2 – Vikram Lander
Weighing about 2 tons with a lander and a rover, Chandrayaan 2 left Earth on August 22. Traveling for over 2 weeks across millions of kilometers, Chandrayaan 2 was going somewhere where no country has managed to reach. The south pole of Moon. Thanks to media, this was possibly the most engaged landing of an ISRO space mission. Entire nation was following Chandrayaan 2 closely. In fact I had turned on notifications for ISRO on twitter. Everything went as planned, the earth bound maneuvers, the separation and even the final stages of landing.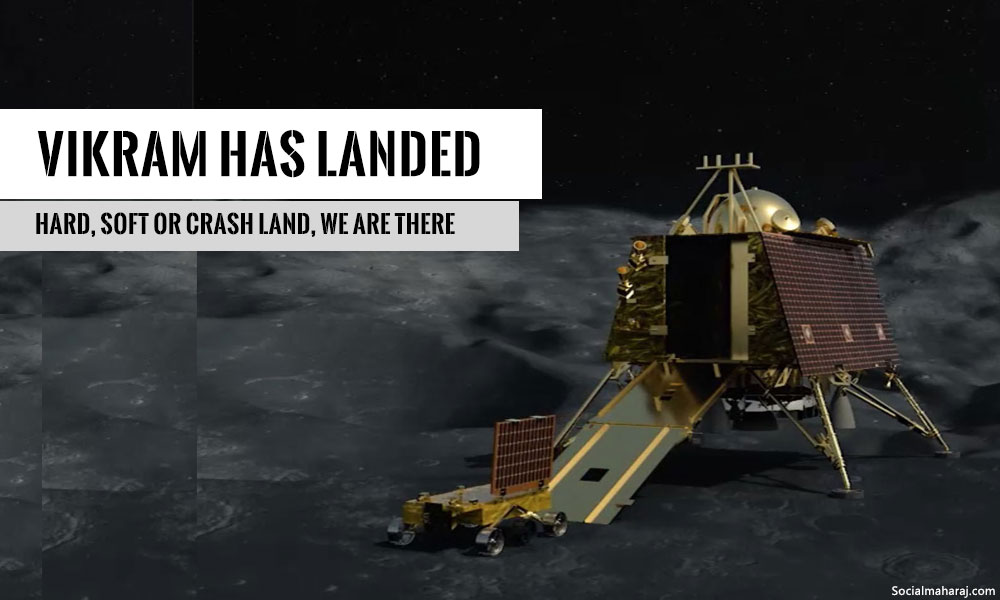 2.1km is when the communication link vanished, the screens at mission center froze and a sense of grief gripped in. With a heavy heart, ISRO chairman took the mic and announced "This is Mission Control Centre. #VikramLander descent was as planned and normal performance was observed up to an altitude of 2.1 km. Subsequently, communication from Lander to the ground stations was lost. Data is being analyzed." What followed next was a snapped live stream. Tweets pouring in from across the world on congratulating ISRO for this feat.
What Happened to Vikram Lander of Chandryaan 2 ?
There's a reason why it is called rocket science. There are so many external factors that can act on a spacecraft. And that's the reason why the success rate of space missions is less than 50%. (Successful launch may be 90%+ for NASA) ISRO chairman also spoke about the 15 minutes of terror. The critical 15 minutes before the landing of Vikram lander. Vikram lander was already orbiting the moon at a velocity of about 1600 m/s which is close to 6000 km/hr ! To achieve a soft landing, this was supposed to be brought down to 0.
What is 15 minutes of terror
One thing what many might not know is that the Vikram lander is capable to land on its own. With Autonomous Landing system in place, Vikram lander was able to decide when, where and how to land. The 15 minutes of terror was when the lander would be controlled by the on board computers.
The first two minutes were as planned – the rough braking phase. We were able to get the the velocity down to half in the initial phases. The lander dropped hundreds of kilometers to 30.
Post a successful rough braking phase, the fine braking phase took the Vikram lander to just above 2km from the lunar surface.Everything was still in control, the planned vs actual graph of the velocity was in line.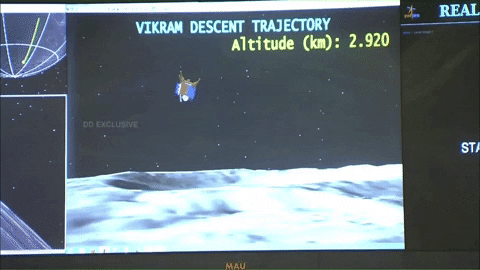 That's when we saw a small deviation between the actual and the planned path. Vikram Lander lost the vertical distance rather quickly than a controlled approach. The below image doing rounds on social media will explain everything. 2.1km in a space mission is nothing considering the magnitude of operation.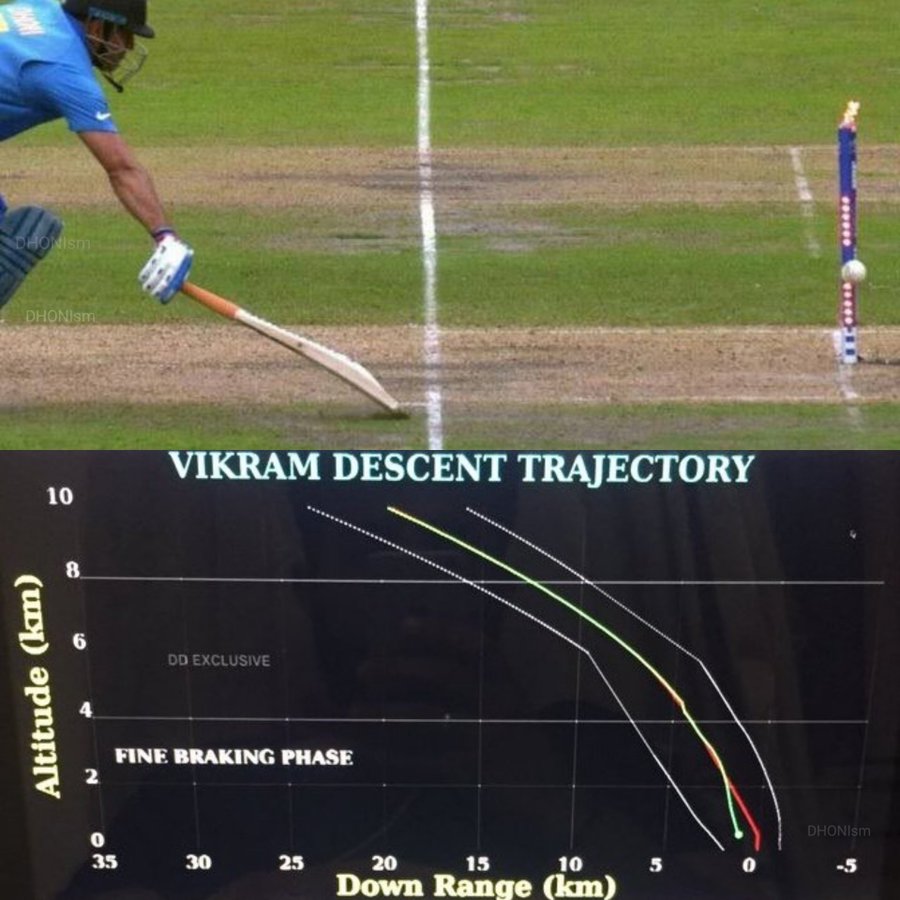 We lost the communication with Vikram, nobody know what happened. Did it hard land ? Did it crash land ? Or did is land properly. The answer to this is what every Indian would want to know. But with the lander not responding for close to 6 hours now, we know we might have lost it. Until unless a miracle happens.
Chandrayaan 2 Orbiter is up and roaring
The mission was a success with the orbiter placed successfully in the lunar orbit. With support from NASA and their Deep Space Network, I was able to see that the orbiter was sending signals to the ground stations in Madrid and Goldstone, US. The orbiter has a lot of sensors on board and that will give us lots of insightful information. Possibly might give us information about the Vikram Lander too.
Also another Update from the @NASA Deep Space Network, Goldstone station, it is receiving signals from the #Chandrayan2 orbiter.
So as per https://t.co/2MB0pDroob, 3 antennas tracking the Orbiter & #VikramLander #ISRO #Chandrayaan2Live pic.twitter.com/J6IJemejIX

— Atulmaharaj (@Atulmaharaj) September 6, 2019
Vikram has Landed for sure
The headline Vikram has Landed surely holds true. Barely few kilometers from the lunar surface, Vikram lander definitely landed on the lunar surface. It may not have been the way we wanted it to. A hard land or a crash land perhaps, the Vikram has definitely landed. We have still managed to reach the south pole of the moon. And with the Chandrayaan 2 orbiter still revolving around the moon, we are sure to find some interesting facts about the moon. Let's congratulate ISRO on the amazing feat they've achieved. Share this post where ever you can and tell the world that Vikram has Landed. Do share your thoughts in the comments below or tweet to me @Atulmaharaj