"Eagle has landed" were the words that Neil Armstrong relayed back to the base station when the Apollo 11 mission landed on the surface of the moon. It indeed was a giant leap for mankind as it was the first-ever manned mission to an extraterrestrial body. From 1969 till today, we have come a long way. Even ISRO successfully sent the Chandrayan and crash-landed Vikram rover on the surface of Mars in record time.
NASA, for all its missions, does a lot of PR before the launch of any of their space missions. They even create Twitter handles for their missions (Curiosity Rover, Perseverance Rover) which is actively maintained by sharing images and videos from Mars. As part of that, I'm proud to say that my name is on board Mars perseverance rover that landed a few days ago. You can send your name to Mars too. I'm not kidding!
Send your name to mars – how it works?
I did a poll on Instagram asking whether people knew how to send your name to Mars. Most of them did not know about it. And some even responded this all is a gimmick. Well, I won't comment on that, but here how it works.
How NASA sends your name to Mars
First things first, this isn't the first time NASA is doing this. In fact, they have done it for all their previous missions as well and will even do it for their future Mars missions as well. Here's how it works.
We all know that a rover is a complex device with a lot of cameras and sensors onboard. These cameras and sensors help the rover navigate on the surface of Mars and even conduct scientific experiments. All of these systems have microprocessors and microchips at their heart.

Three microchips carrying over 10 million names on Mars Perseverance. Courtesy: NASA
What NASA does is, invites people from across the world to submit their names. They take these names and send them to the microchip manufacturer. The manufacturer then has these names etched on the microchip before it is fixed onboard the rover. The microchip is the size of your fingernail. So you can only spot your name using a super microscope! Each of these microchips carries somewhere around a million names.
In a way, your name will live on the rover eternally! Hence the rover doesn't travel to Mars alone, you are also traveling with it!
How to send your name to Mars?
The best part about this is that it is completely FREE and anyone can participate. All your need is a valid email address. Here are the steps to send your name to Mars.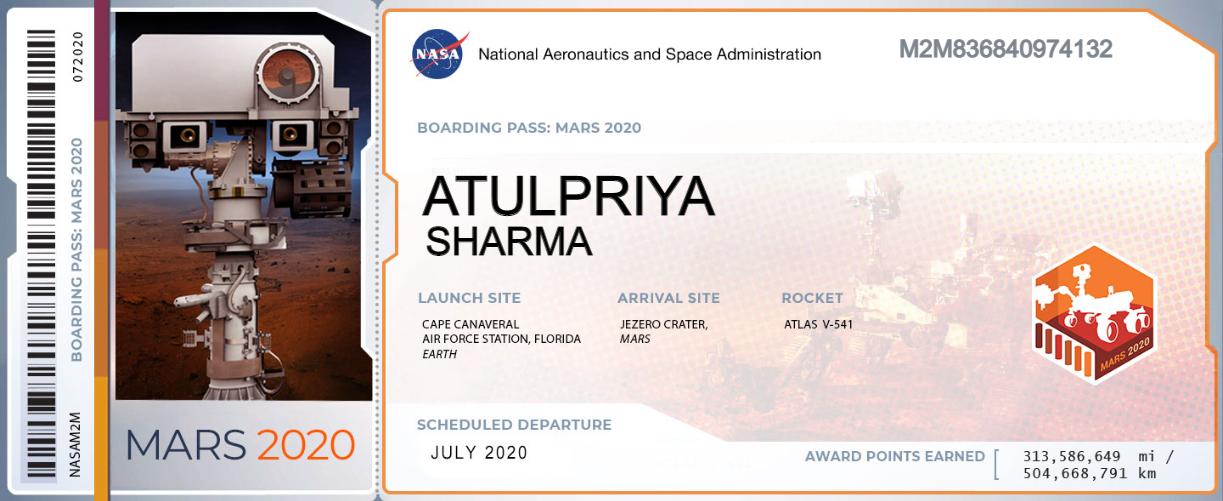 Steps to send your name to Mars?
2. Choose a Mission
From a list of upcoming missions, choose a mission and hit Sign Up. You cannot register for past mission for obvious reasons. Do note that there's a registration window for every mission. If you're late you will not be able to send your name to Mars 🙁
3. Submit your details
On the next page, submit your details like First Name, Last Name, Country, Postal Code and email address.
4. Hit Send
Hit the Send My name to Mars button. You'll receive a boarding pass that you can share on your social media and tell the world that you are going to Mars!
If everything goes well, you'll get a boarding pass that bears a unique ID along with the launch date, location, arrival site, and the rocket that will be carrying the rover.
You see it's that simple! There's another Mars mission planned in 2026 and the registrations are open. So go ahead and send your name to Mars. Share this article with your friends so that they also join you on Mars 😉
NASA Mars Frequent Flyer
As a part of the whole Send your name to Mars campaign, NASA maintains a frequent flyer program just like commercial airliners do. Every mission your name is a part of, you are awarded air miles equivalent to the distance traveled. Then once the mission is complete, the points are credited to your account. While, it's not like you can redeem these miles anywhere, but it feels good! I've been a Mars frequent flyer since 2015 and Mars Perseverance Rover was my latest mission. Below are my bragging rights!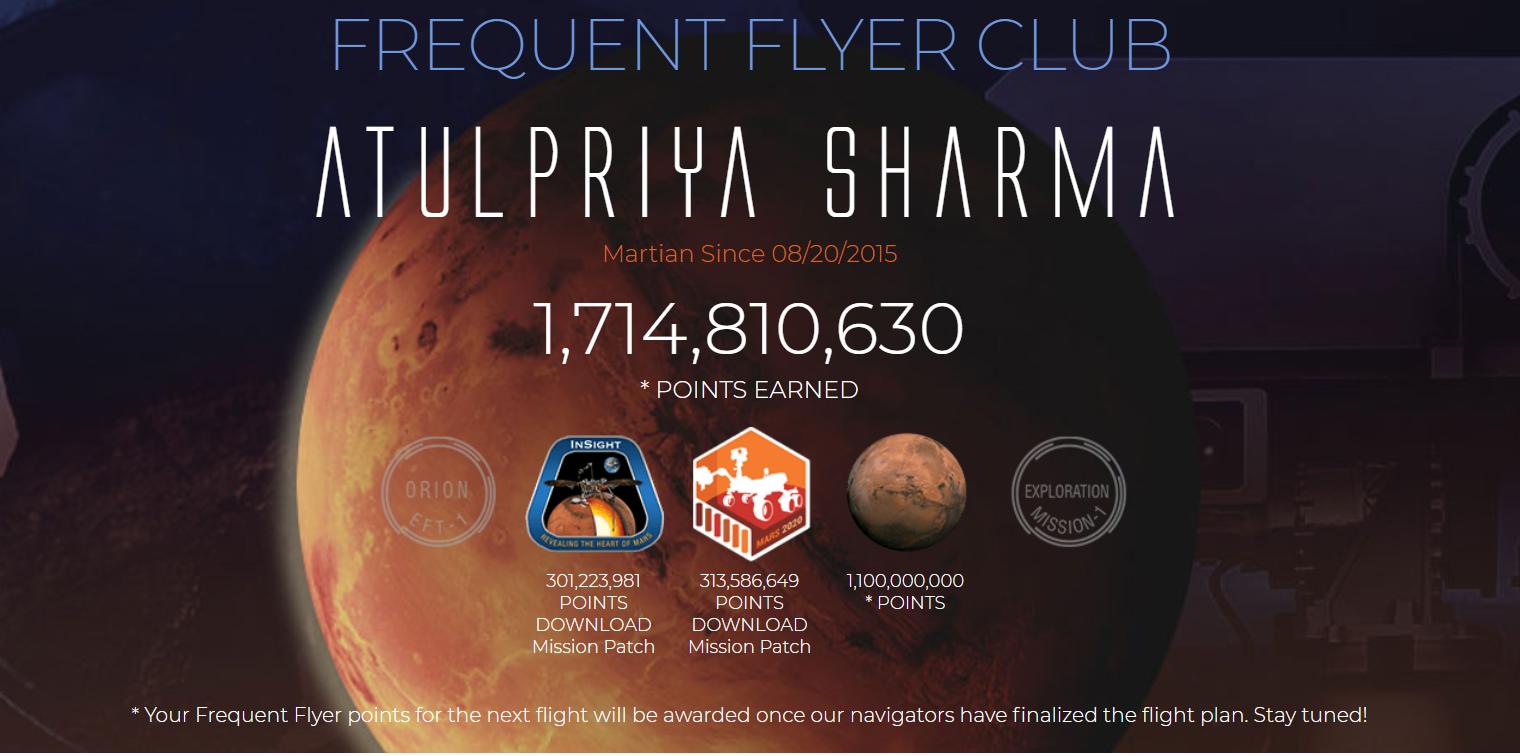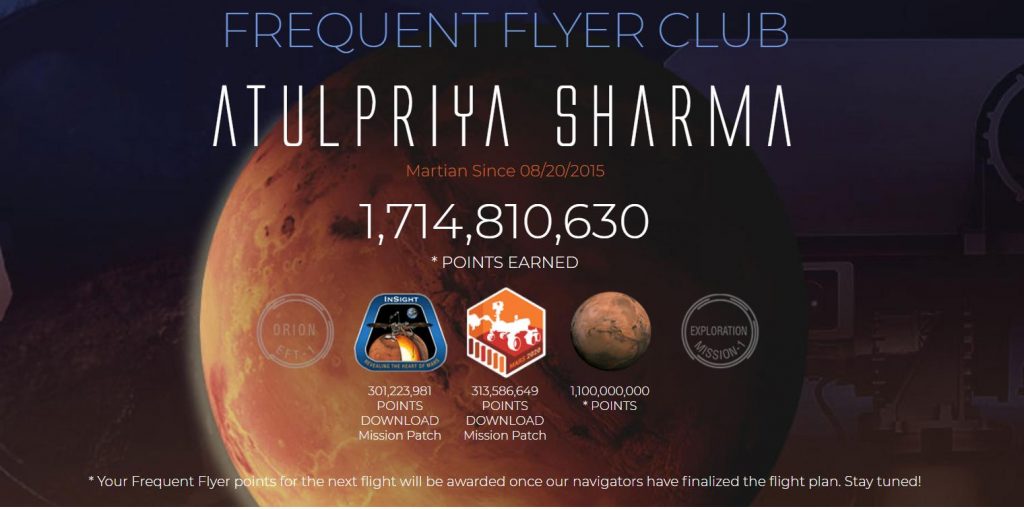 So what are you waiting for now? Send your name to Mars and brag about it to your friends and family! I've already registered for the next mission, have you? Also were you aware of this before your read this blog post? Let me know in the comments below, tweet to me at @Atulmaharaj, DM me on Instagram, or Get In Touch.
PS: While there's no way for you to verify whether your name is actually on the microchip, it gives a sense of happiness being a part of the send your name to mars mission. I'm sure NASA would be doing it right. So take it in a good spirit and send your name to Mars today!