What Seoul is for women for fashion products, Delhi is for foodies. It's that one city in India that has an extremely rich variety of food. The city is an amalgamation of age-old recipes from the Mughals to the Punjabi tadka and of course the chat. Over the years, the food culture has evolved immensely in Delhi. You have big brands from other city setting their shops here. From World-famous Hyderabadi Biryani at Paradise to the delicious idlis and dosas at Sarvana Bhavana, there's everything in Delhi. However, there are few eateries that are keeping the legacy alive. One such place that I was at is the United Coffee House.
It was a Sunday morning and like I always do, I had invited a few folks I knew via Twitter for a meetup. This is a gift that blogging has given me! A few of them did turn up and we decided to visit the United Coffee House. United Coffee House Delhi has its original branch in Connaught place while there exists another one that I had visited a few days earlier at Cyber Hub Gurgaon. This is going to be my United Coffee House Delhi Review blog post.
Keeping the legacy Alive – United Coffee House Delhi
Little did I know that the place that we were meeting at has a legacy behind it. While I was fascinated with the decor, I was unaware of the past of United Coffee House Delhi.
The cafe dates back to the days when Delhi & Lahore were part of the same country. While the Britishers had built Connaught place as a shopping hub, it lacked a coffee place. That's when Hansraj Kalra, a businessman from Sialkot established the United Coffee House in the heart of Connaught Place. The family later moved to Delhi. The idea was to have a place where people could meet and talk over some food and coffee.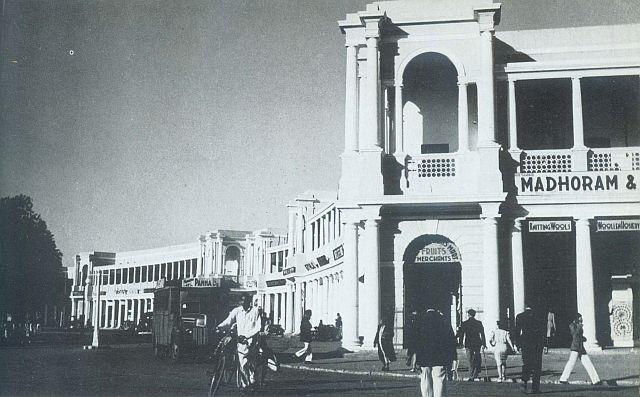 Over the years, many restaurants have come and gone, but United Coffee House Delhi stood the test of time. While their European style interiors are still intact, the menu kept evolving with time to catering to the changing palettes.
Uber ambiance at United Coffee House Delhi – Connaught Place
As I mentioned earlier, I had visited the United Coffee House at Cyber Hub also. While it's the same brand's outlet, you simply cannot compare the two places. The United Coffee House Delhi in Connaught Place is located in the inner circle – E-15, between an Adidas and Sketches outlet.
A big banner and a huge brown door with golden details are what separates the Delhi of today and the Delhi of yesteryears. Once you're inside, you're welcomed with grand chandeliers along with intricate walls. The high rise decorated ceiling reminds you of the legacy this place has with it.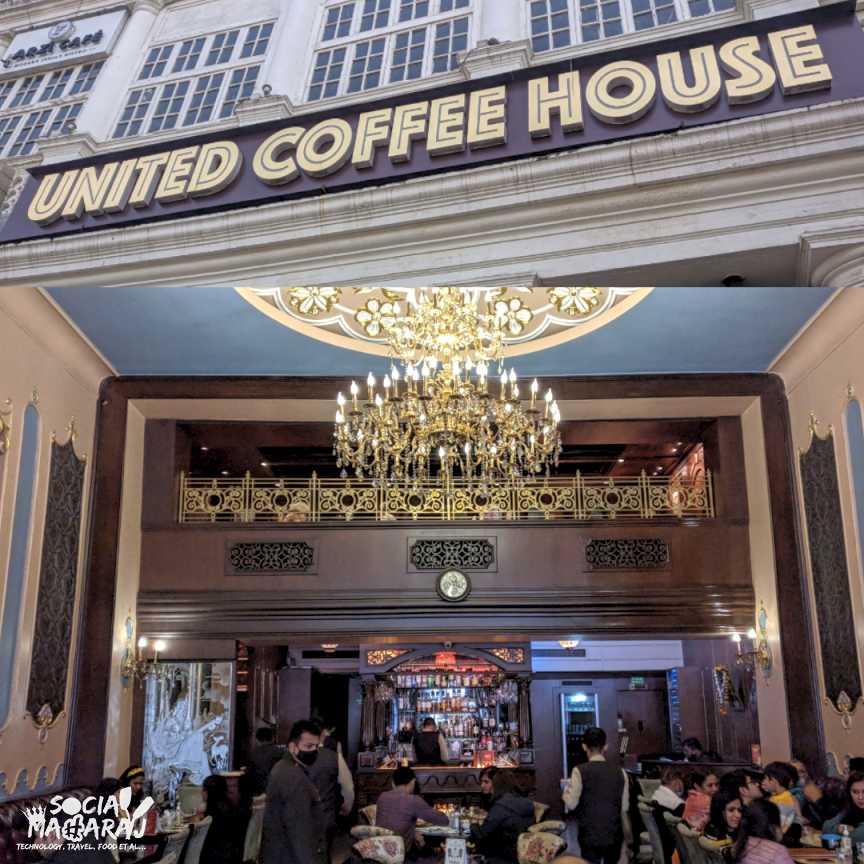 Though the restaurant isn't large and can feel congested at times, when you are bonding with friends, that doesn't matter. The cutlery too adds to the ambiance which keeps reminding you of the rich past of United Coffee House Delhi. I do wish they had a wall/area dedicated to showcasing the growth of the place over the decades for people like me.
United Coffee House Delhi – Food Review
I keep telling people that when you dine out there are two main reasons for it. Either you are going just to eat or you are going to meet friends/family over a meal. In the former scenario, your complete attention is on the food while in the latter case, your focus is on meeting friends and foods take a back seat. The latter was my case when I visited United Coffee House Delhi in Connaught Place.
Since we met over brunch, we kept it light. We ordered a Cold Coffee along with a Cona Coffee. Since most of us weren't quite interested in eating, we ordered something light. I was suggested to try the Mewari Papad Paneer here. We discussed everything from blogging, food stories, digital marketing, and stories of how we met on Twitter.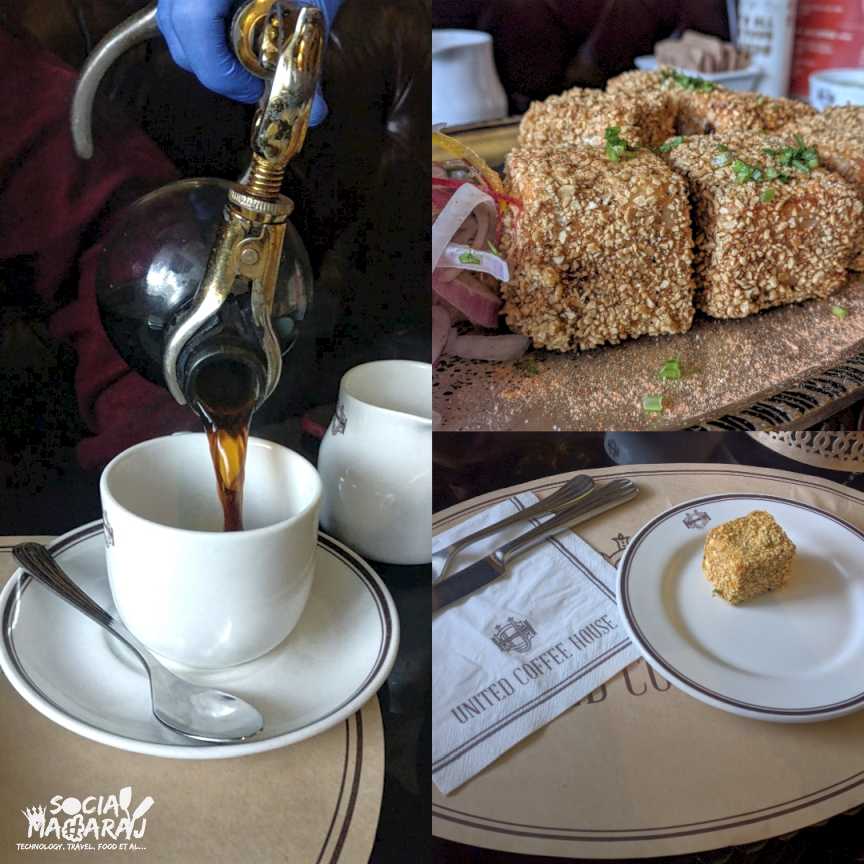 In a quick time, we had our order at the table. The Cona coffee was served quite elegantly. I've seen the normal home setup for preparing a cona cafe. However, the way this was served was interesting. The cold coffee that I had ordered was pretty good. The sweet level was maintained and did have a tinge of bitter coffee flavor to it.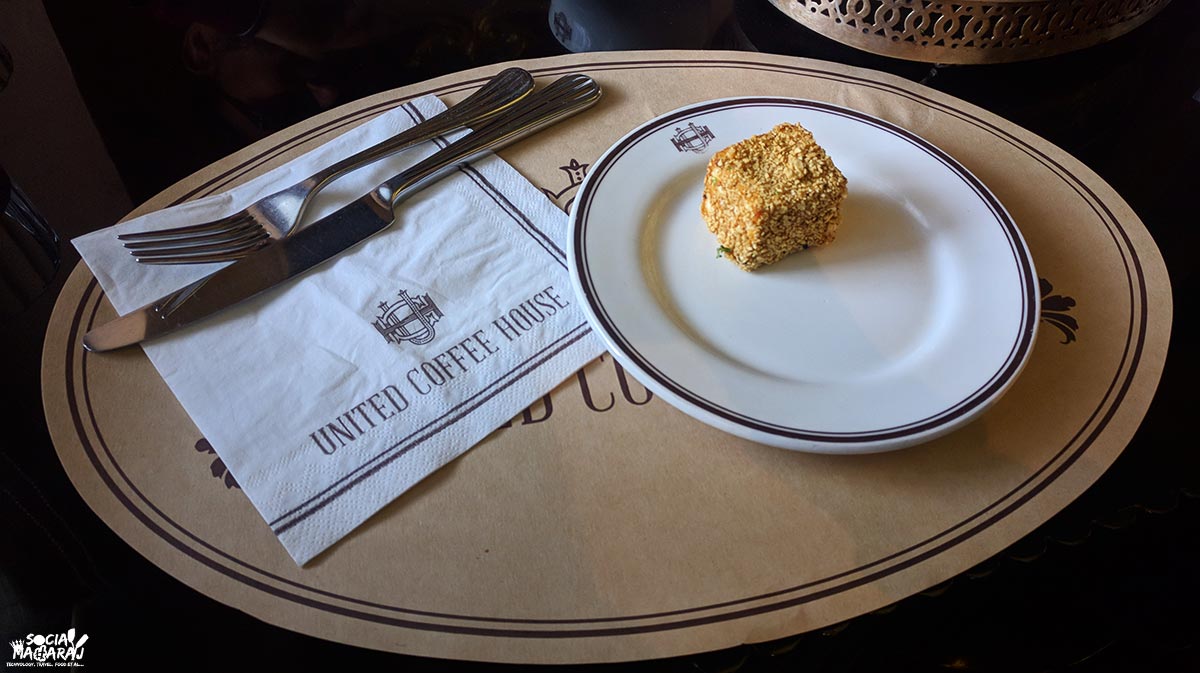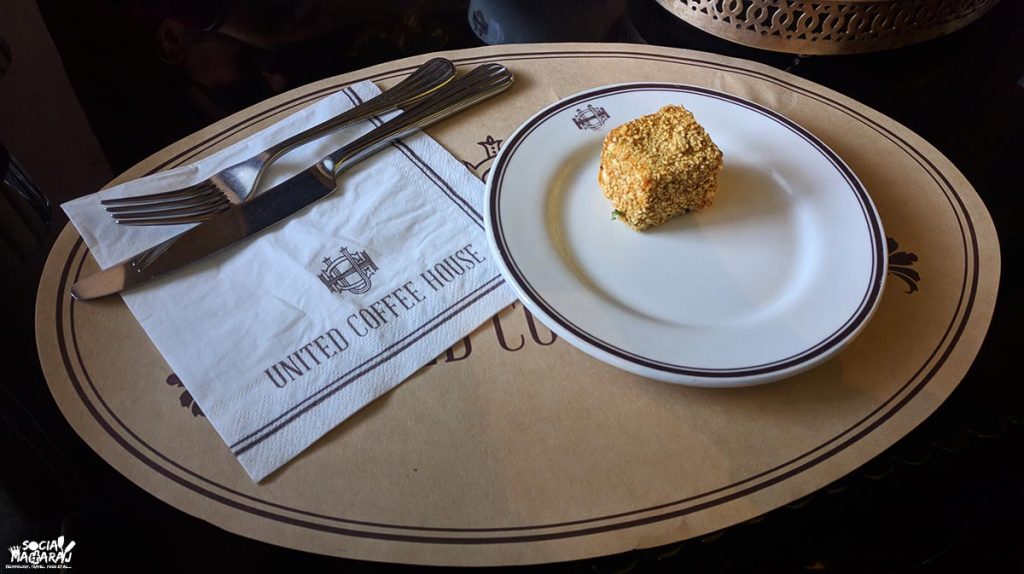 Coming to the Mewari Papad Paneer, it was a combination of flavors. Chunks of Paneer coated with Papad along with a dash of aachar. The saltiness and crunchiness of the papad coupled with the tanginess of the achaar made a perfect medley of flavors. A highly recommended dish here.
Experience the legacy at United Coffee House Delhi
It's over 70 years that United Coffee House Delhi is standing tall. Started off as a small eatery, evolved over time to become the adda for babus, and today a good place to hang out with friends and family. United Coffee House Delhi surely has a tale to tell. Apart from the luxurious interiors, the menu has quite a bit to offer. Whether you are the old school person who enjoys their simple coffee or the gen-z who wants their Kathi rolls and Mojitos, United Coffee House Delhi has it all.
I had a good time there, more than the food, I enjoyed the company of my friends and also the stories associated with the outlet. Next time you are in Connaught place, you might want to check this place out. If you are from Delhi, have you visited United Coffee House? What are your thoughts about this place? Let me know in the comments below, tweet to me at @Atulmaharaj, DM me on Instagram, or Get In Touch.