An important reason why you must follow me on Instagram is to stay up to date with what's happening in my life! If you've been following me there, you know I was in Delhi last week to attend a wedding of a close friend. It was a Christian Wedding, not exactly my first, but first of its kind. Will write about it too in some blog post. Anyways, during my trip, I also happened to visit Gurgaon for the very first time and also took my first trip to Cyber Hub Gurgaon!
I've passed through Gurgaon a lot of times, but never stayed in the city. For example, my Delhi to Bangalore bus trip did pass through Gurgaon. I was put up at a place in Gurgaon, pretty close to the HUDA City Metro station. My first visit to this station of Delhi Metro too! While I was in Gurgaon, the one place that I was excited to visit was Cyber Hub. In fact even before I left Hyderabad, I told my friends that I wanted to visit Cyber Hub Gurgaon. So this blog post is about documenting my first trip to Cyber Hub Gurgaon.
PS: I know it is no more Gurgaon and is Gurugram. But what's in the name? Read my old post on this.
Why the hype to visit Cyber Hub Gurgaon?
Like I mentioned earlier, I've never been to Gurgaon earlier. Not even during my college days. And over the years I've met so many people, consumed a lot of content about Cyber Hub Gurgaon that I always wanted to visit once. My expectation was a large food court in the middle of high rise buildings. But was my expectation correct? Read on to find out.
Where is Cyber Hub Gurgaon?
There was a small family get together prior to the wedding and we were invited to be a part of it. It was there, I met the families and friends of the groom and the bride. For someone like me who loves meeting people, this was just amazing. Once that was over, all of us decided what to do next? And I instantly told "Cyberhub chalte hai na?" (Let's got to Cyber Hub Gurgaon) To my surprise, all of them agreed! My watch read 11PM and for all of you who know me, know that 11PM is when I'm snoring usually!
One thing I noticed about Gurgaon was the infrastructure. From the runway-like-roads to tall buildings, you don't feel that you're in India. I've been to a lot of metro cities in India, but Gurgaon has set a benchmark when it comes to the way the city looks, the vibes, and everything else. If you think I'm exaggerating, I'm not. Also, it's not that the whole city is like that, but the major part of it is.
Coming back to Cyber Hub, this place is nestled in between a concrete jungle. Company signages and meeting rooms overlook the Cyber Hub Gurgaon. And I wonder how are those people inside those offices able to work! Reaching here is no big deal as everyone knows about it. Just keep an eye on the parking entrance and you are good. As for the parking charges, I guess we paid about Rs 50 for a duration of a couple of hours.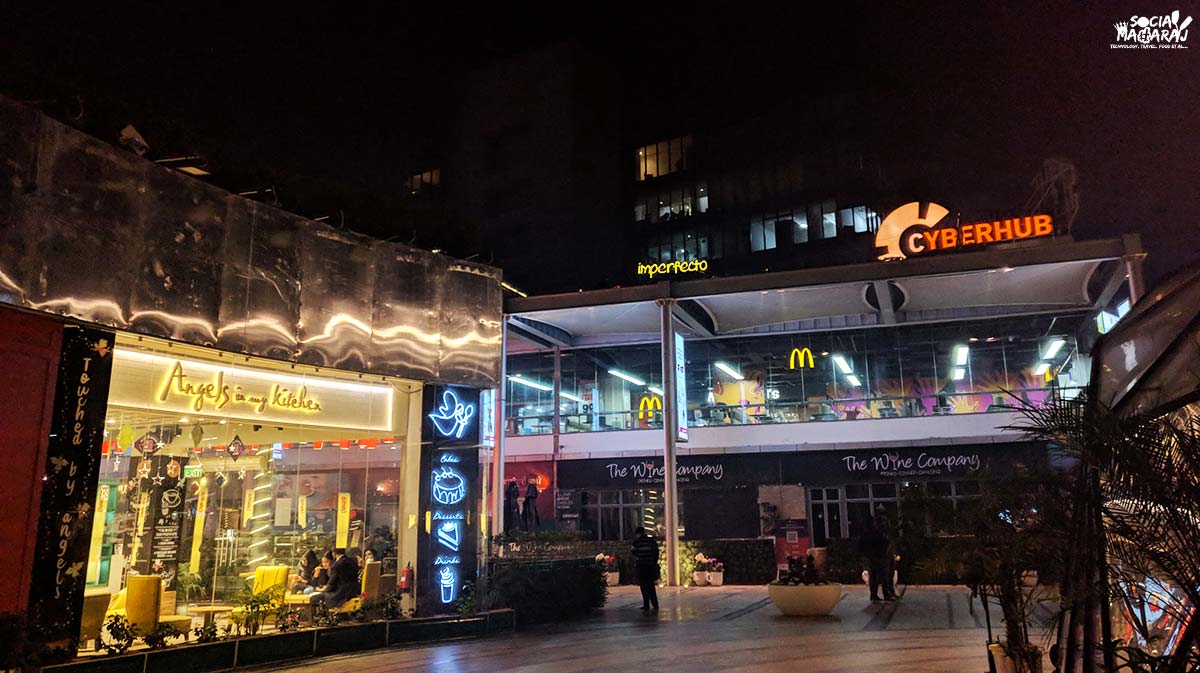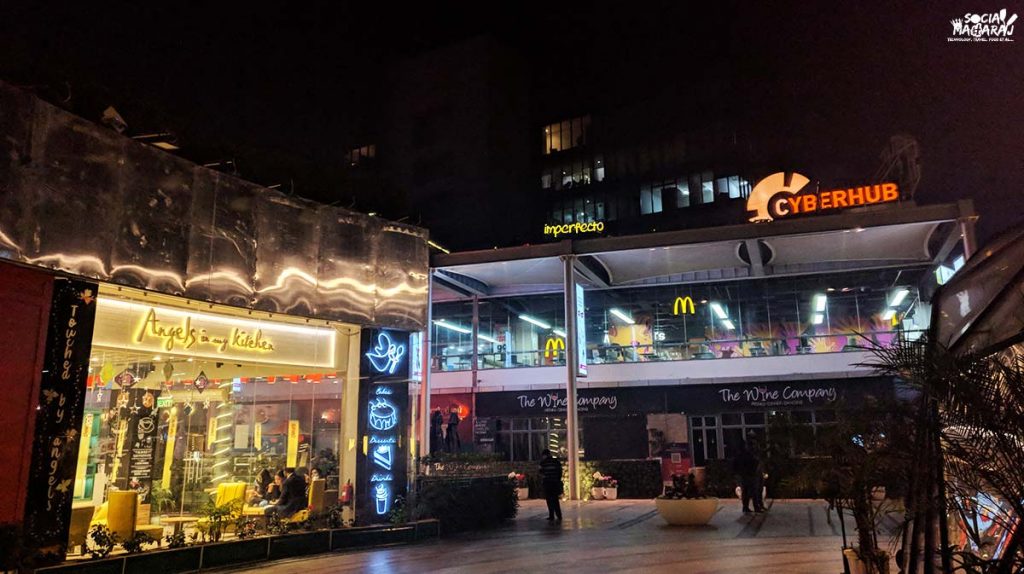 Friday Evening at Cyber Hub Gurgaon
It struck me later that it was a Friday evening when I took my first trip to Cyber Hub Gurgaon. Forget the COVID scenes, the place was on its toes. The peppy and groovy music transformed the whole Cyber Hub into a party destination. I won't be surprised if I saw people dancing on the walkways! The area is super huge and it is in fact a large food court.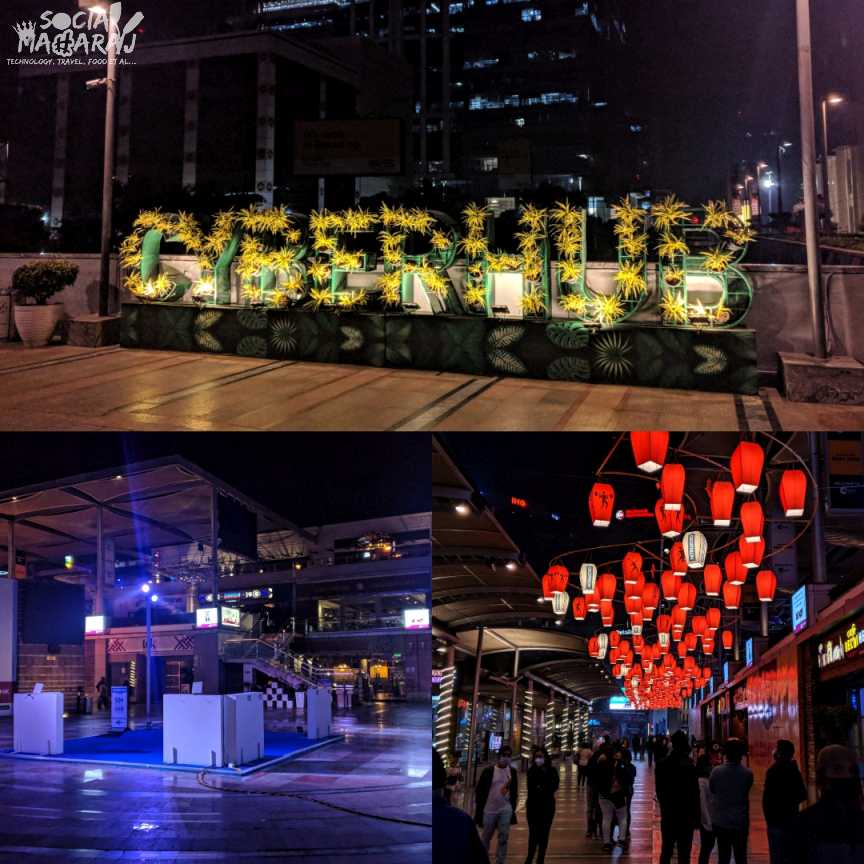 There's live music, chic locations for Instagrammers to get good photos, and a bouquet of restaurants and cafes to choose from. No matter what you want to eat, you'll find a restaurant of your choice. And trust me it can be confusing especially when you're out with friends. But thanks to Zomato, I was quickly able to zero in on a restaurant. We dined at the outlet of United Coffee House whose original branch is in Cannought Place. I'll have a dedicated blog post on it.
Best place to unwind
Once our meal was complete, we went for a stroll around the Cyber Hub Gurgaon and were surprised to see so many people that too around midnight. Maybe that's normal because I'm not usually out at that time. Nonetheless, I found Cyber Hub Gurgaon to be a good place to unwind. Head to a restaurant/cafe that gives you outdoor seating. Take your drink, sit and sink into the vibe of Cyber Hub.
If you ask me, whether I'd want to go again, absolutely I'd want to visit again! In fact, my first trip to Cyber Hub Gurgaon was made special, thanks to the great company I had. Food always takes a back seat when you have great company around. So that's about my first visit to Cyber Hub Gurgaon. Have you been there? What are your thoughts about Cyber Hub Gurgaon? Let me know in the comments below, tweet to me at @Atulmaharaj, DM me on Instagram, or Get In Touch.