Delhi to Bangalore is about 2100 kms and is about 36 hours journey. And thanks to flights, it takes just about a couple of hours from Delhi to Bangalore. Amidst all this lock down I was going through the photos and came across a folder named Delhi to Bangalore bus ride. Oh yes, I did that. I know for many this might sound insane, but I actually did a Delhi to Bangalore bus trip back in 2015. (That's about 15 years now ! Crazy, time flies) So anyways, this post will be about my incredible Delhi to Bangalore bus ride experience.
Delhi to Bangalore Bus Route
For most of you, a bus ride from Delhi to Bangalore is unthinkable. And some of you might even wonder whether a Delhi to Bangalore bus route exists ? Well, there is no direct bus from Delhi to Bangalore. However, if you are able to break your journey, you can pretty much reach anywhere. So here are the Delhi to Bangalore bus route details. Please note the timings might have changed now, hence request you to check prior to booking.
Delhi to Ahmedabad – RTDC Volvo Service. 3PM from Bikaner House, Pandara Road reaches Ahmedabad at 10AM, Paladi.
Ahmedabad to Bangalore – SRS Volvo Bus. 8 AM from Paladi, reaches Bangalore at around 8AM at Majestic.
Part 1 – Delhi to Ahmedabad
So the fist part of the Delhi to Bangalore bus ride starts from Bikaner House in Delhi. Walking distance from Khan Market Delhi Metro station. This isn't a proper bus station, rather a small one. However, the facilities are good. The bus reached in time and was off on time. The bus takes the NH8 route from Delhi, crossing Gurgaon on to the Jaipur Highway. They stop in the middle for some refreshments around 6PM. The next stop is directly at Jaipur. The downside of this bus is that it goes inside the city and hence takes more time.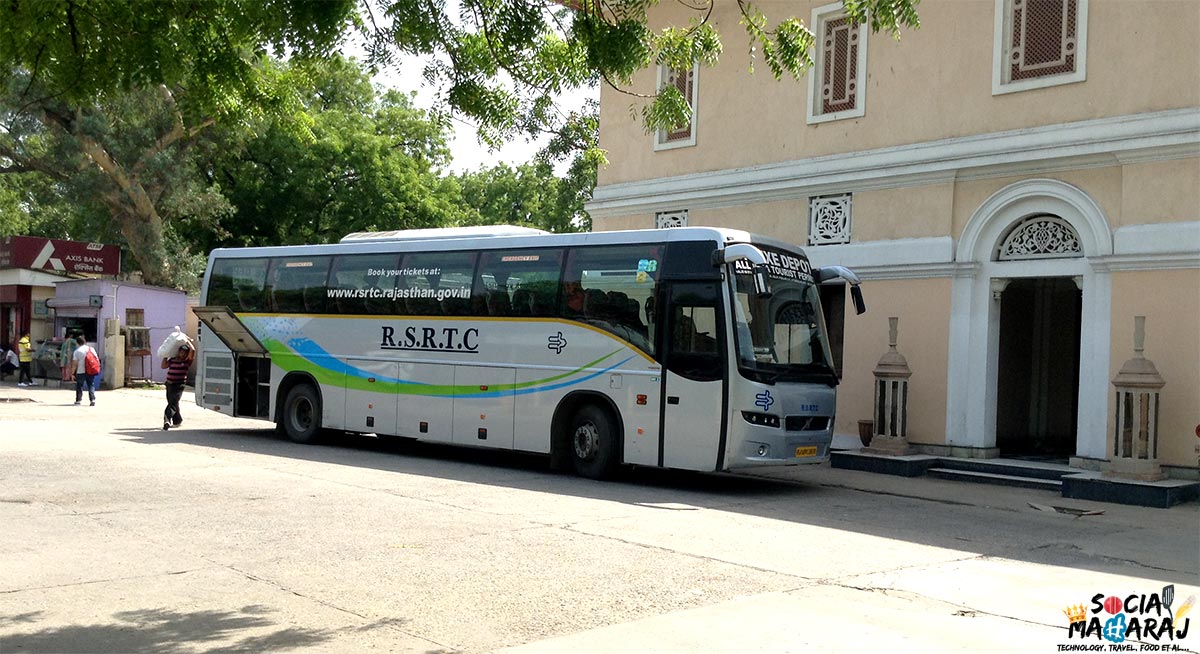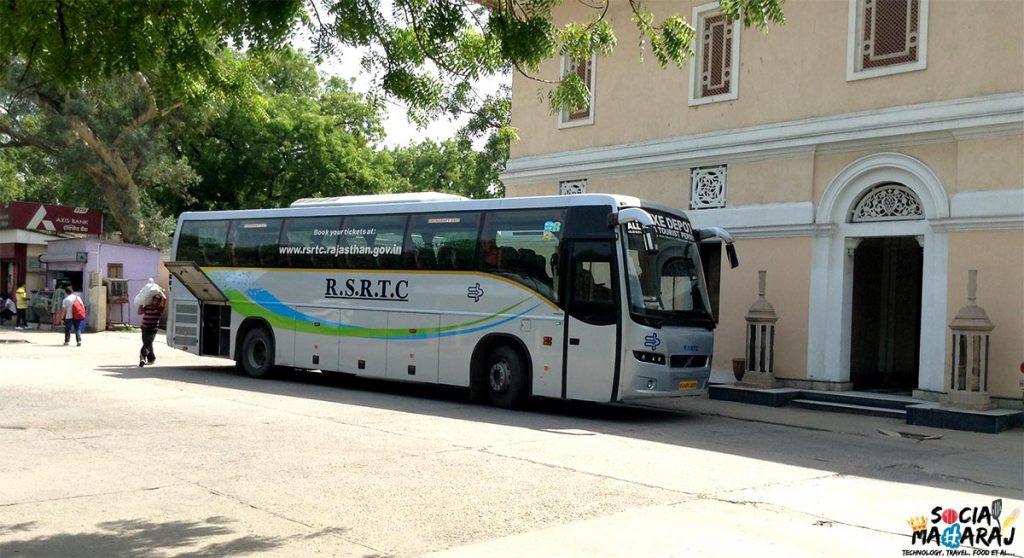 The bus halts at Sindhi Cam bus stop for about 30 mins. You can get your dinner done, right outside the bus terminus. Smoking hot rotis and vegetarian curries. The bus then drives onwards and bypasses Udaipur at around 3 am. They stop for breakfast around 7 at some dhaba which isn't a good one and then directly to Ahmedabad. The time at which the bus reaches Ahmedabad is peak office hours and hence you will encounter good traffic.That's the first part of Delhi to Bangalore bus ride.
Part 2 – Ahmedabad to Bangalore
Since I have a house in Ahmedabad, I decided to halt that night and take the bus next morning. Early next day I reached the SRS office in Paladi from when the bus was to leave. The bus was in a good condition and was the longer B11R Volvo Bus. We zoomed past the city and took the Expressway to reach Baroda. From then on it was NH8. The bad part about this Ahmedabad to Bangalore bus is that it goes inside Surat which takes a lot of time. Around 1 is when they stop at another Dhaba near Surat. Once we were out of the city, the bus was cruising till we reached Mumbai. The bus didn't actually spend much time in the city which was a good decision.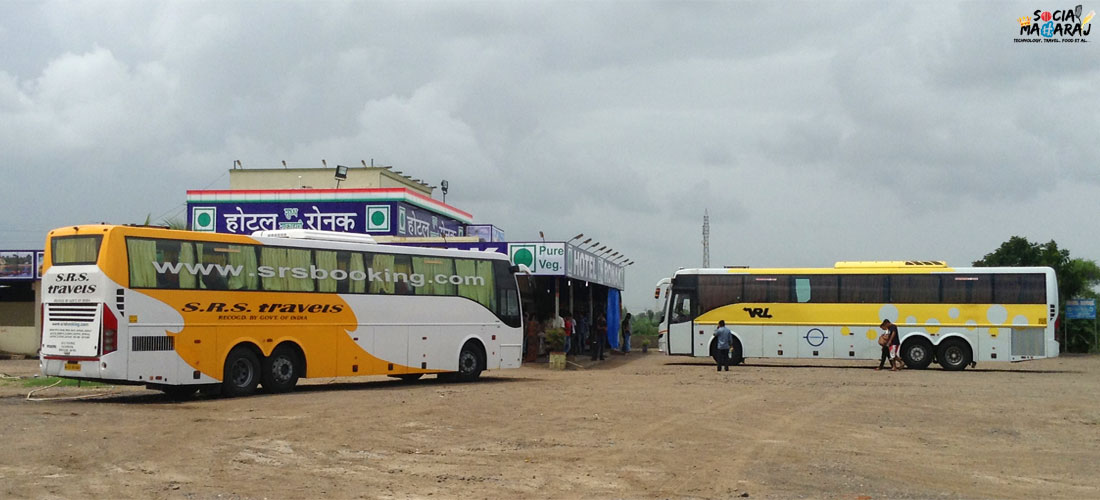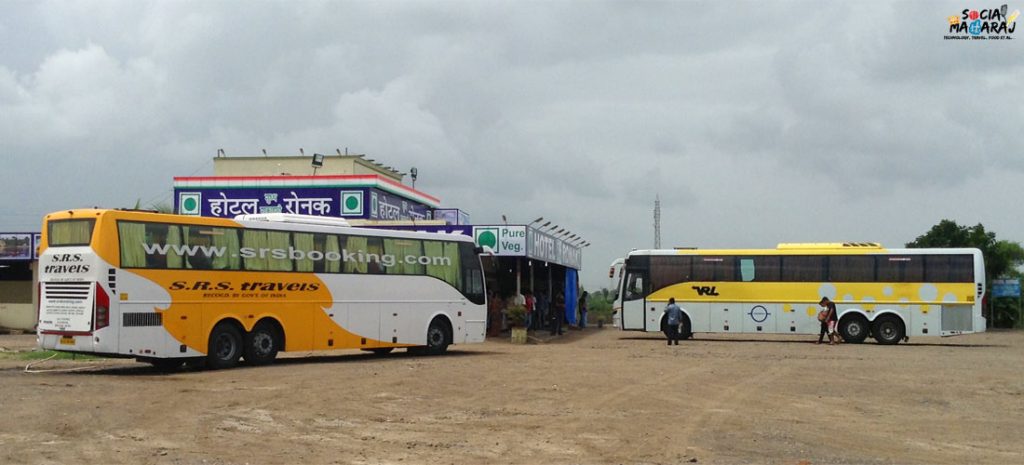 Quickly we were off to Navi Mumbai and were on our way to Pune. It wasn't the first time I was on this route ! We quickly joined the Mumbai Pune Express way and bypassed Pune close to midnight. We missed the Katraj tunnel and took the new route that put us on track faster. Had a pretty late dinner that night at hotel Natraj. Natraj used to be one of the best in those days, but during my Panchgani trip a couple of years back, it was in terrible condition. Had a pretty good thali. So far so good in my incredible Delhi to Bangalore Bus ride.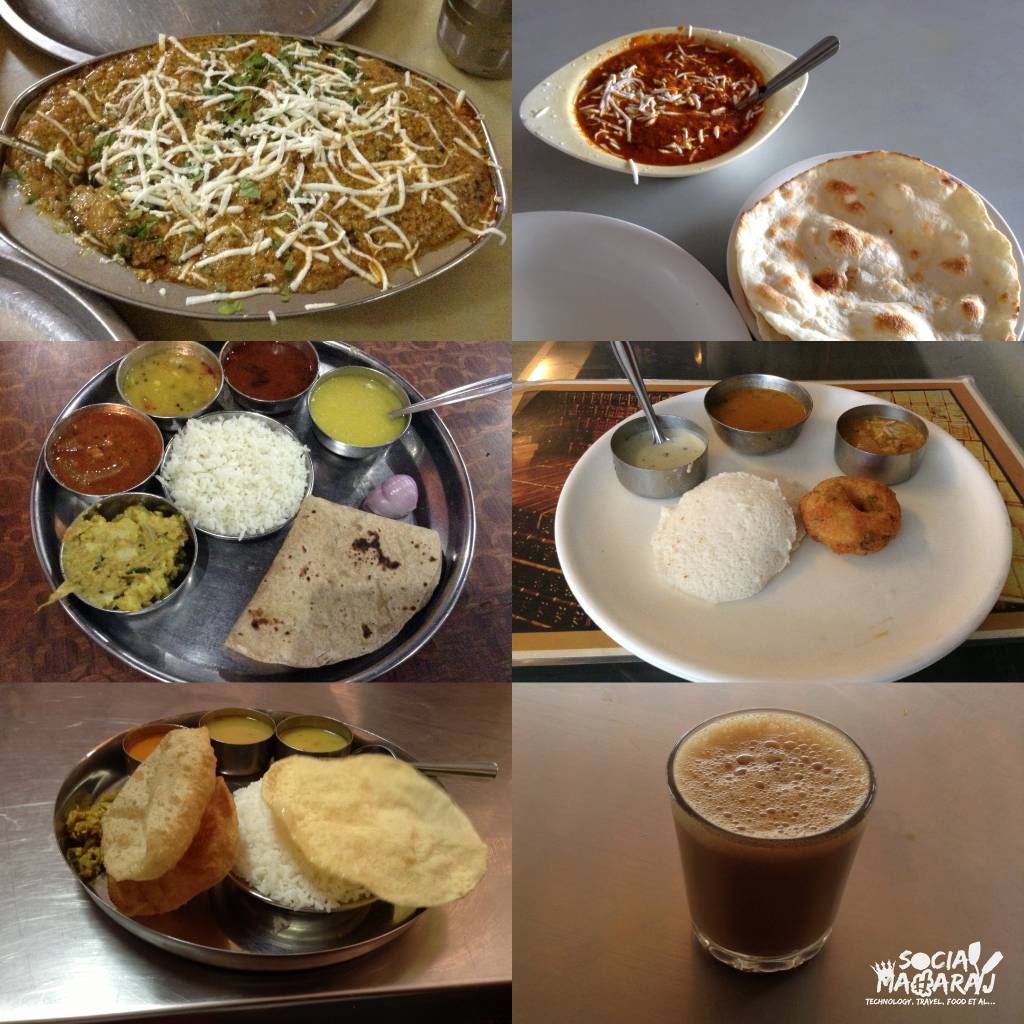 Part 3 – Pune to Bangalore
This is when you start getting tired. For someone like me who has traveled a lot by bus, this is when things started to get a bit uneasy. I was zooming on the NH4 highway as I recollected my memories at New Era High School Panchgani. That stretch from Pune to Hubli is pretty amazing as we passed Kolhapur in almost no time. Had a short tea break near Hubli and were off again.
The bus was still full as we had a lot of people joining from Bangalore. You then wake up to tall coconut trees and an equally beautiful road as you reach closer to Bangalore. The bus reaches Kalasipalyam around 8 if I remember correctly. And when you are in Bangalore how can you not have the filter kaapi ? So that's how I completed by ride.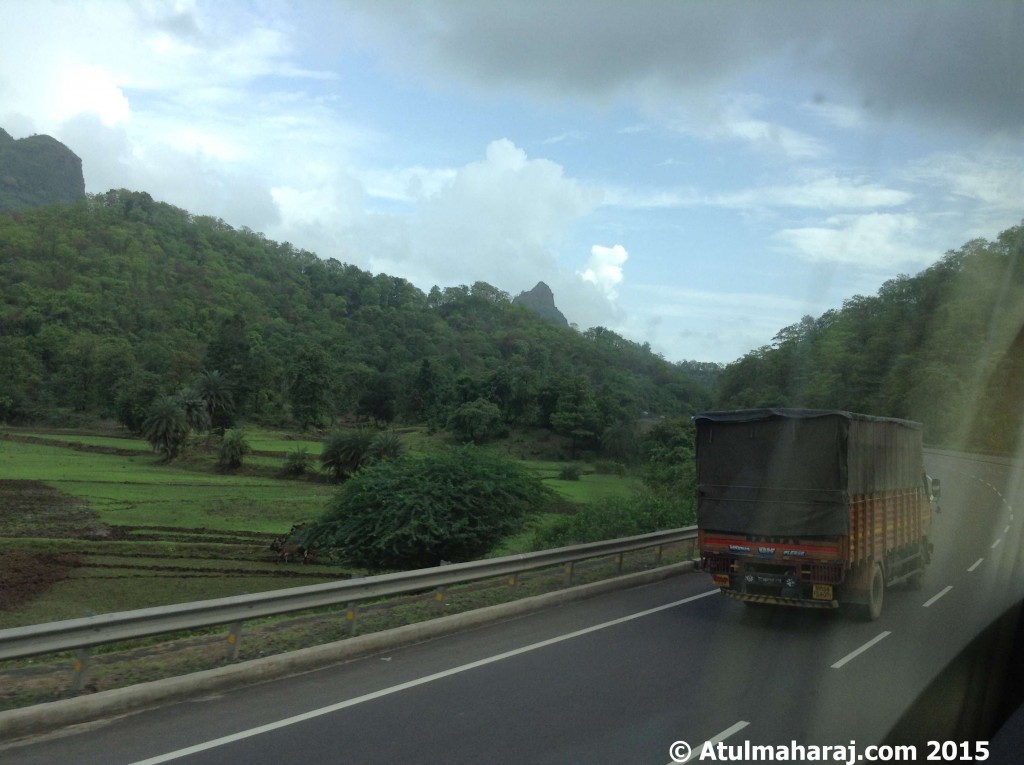 Incredible Delhi to Bangalore Bus ride
It surely was an incredible ride. I had to be there for a bank related task. Flights were costly since it was on a short notice. Hence decided to take Delhi to Bangalore bus ride. If I can recollect, the bus fare from Delhi to Ahmedabad was around 2000 while the bus from Ahmedabad to Bangalore was Rs 3000 upwards. It was kind of an expensive ride, but a good one. Please note that if you aren't a bus person, please avoid doing such rides. It can make you sick. So yes, that was my incredible Delhi to Bangalore bus ride. What do you think ? Would you have done it ? Share your thoughts in the comments below or tweet to me at @Atulmaharaj or DM me on Instagram.