The Indian smartphone industry is a dynamic one and the market is flooded with all sorts of smartphones. Earlier we barely had a major smartphone launch in months and now we have a new launch almost every month. One such smartphone that I was eagerly waiting for was the Samsung Galaxy S20 Plus. However I will talk about why you should not buy Samsung Galaxy S20 Plus in India
Why I wanted the Samsung Galaxy S20 Plus ?
I've been using my OnePlus 3T for almost 4 years now and looking for a change. Major reason being that I want a better camera. Though I'm using the GCam for OnePlus 3T which does give good photos. However, it reduces the performance of the phone by a huge margin. Hence when Samsung Galaxy S20 series was around the corner, my eyes were on the Galaxy S20 Plus. Why I wanted the Samsung Galaxy S20 Plus was because of the following reasons:
The camera was a huge upgrade from my current one in OP3T. With multiple lenses and ToF sensor, I could capture better photos.
We all know that Samsung produces the Best Smartphone screens and the one of Galaxy S20 plus was no less. 120Hz AMOLED screen, I surely wanted that.
The 20:9 screen ratio which makes the 6.6″ inch screen quite comfortable to hold
Ability to expand the memory. I have a lot of photos on my phone, and hence an expandable memory option was a gift.
This one might be silly for many, but the reverse charging and the color was another point I wanted to buy Samsung Galaxy S20 Plus.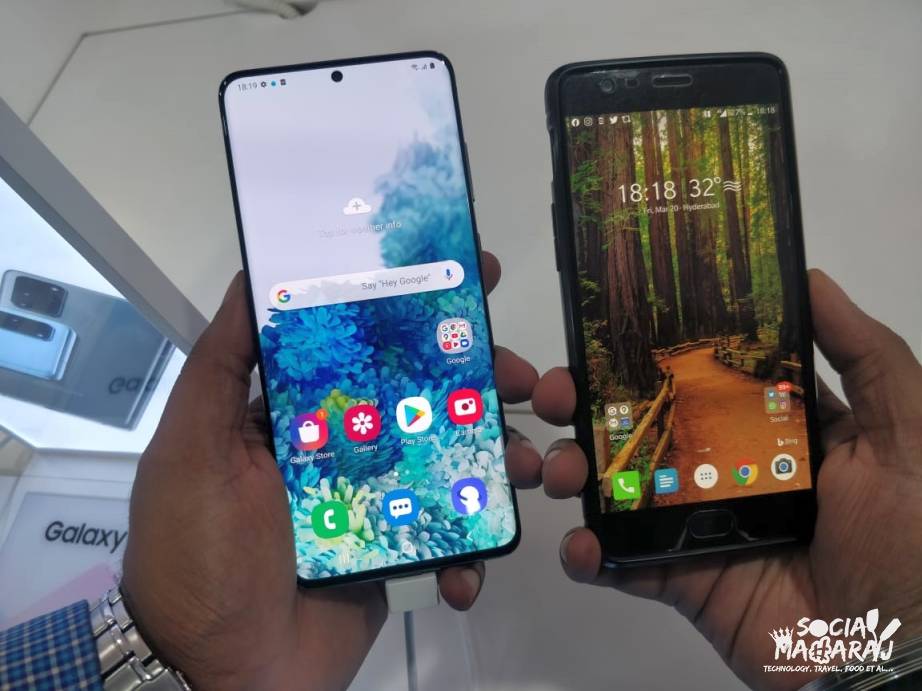 Why you should not buy Samsung Galaxy S20 Plus in India ?
From being the one wanting to buy Samsung Galaxy S20 Plus in India why I decided not to buy it ? What happened suddenly ? Well before I purchase and smartphone online, I usually tend to get a feel of the device from a local store. That's what I did when I wanted to purchase the OnePlus 7 Pro but ditched that because it was inconvenient to use and I wasn't amazed with the cameras. Anyways for the Samsung Galaxy S20 Plus, I visited Bajaj Electronics in Hyderabad to take the demo.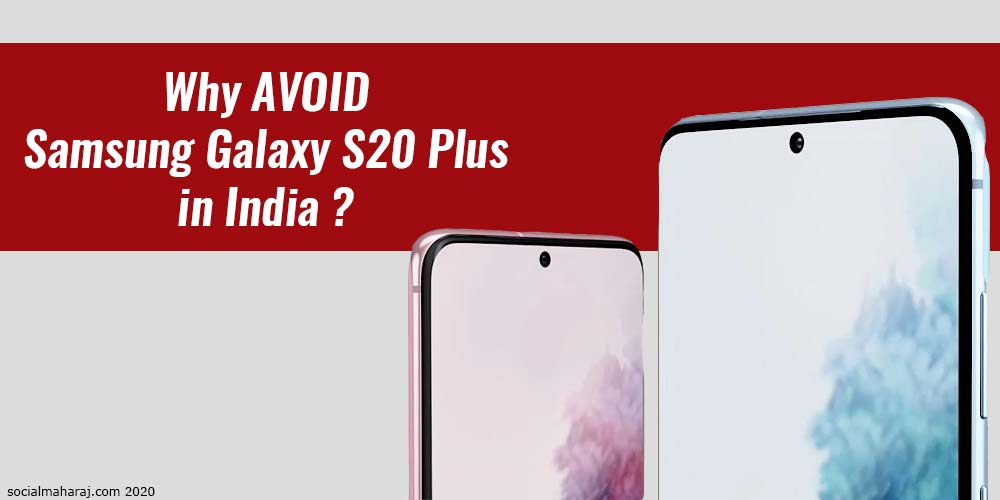 I used the smartphone for a good 20-25 minutes testing the features that I use the most daily. Some of you might think that this is quite a short duration to even suggest why you should not buy Samsung Galaxy S20 Plus in India. Further the model that I used didn't have any OTA updates on it.
5 Reasons to not buy Samsung Galaxy S20 Plus in India
Average camera performance in the indoor lighting conditions. Though the store was well lit, the images appeared to be a tad softer on zoom. I did change the shooting mode to the full 64MP shooter but that didn't make much of a difference. Also the 30x zoom is practically useless and I guess the best shot would be at 10x. I felt my OnePlus 3T gave better results with the GCam app.
Since camera was my priority, I spent a good 10-15 mins trying various modes, making videos etc. One thing that I noticed the Samsung Galaxy S20 Plus heating issues. The smartphone gets pretty hot near the camera region even with some moderate tasks. This was a big let down. The heat wasn't something you could bear. Even Geeky Ranjit acknowledge the heating issue
Lastly, all Samsung Galaxy S20 plus phones in India ship with the Exynos 990 processor instead of the Snapdragon processor. In the US and China market they sell the Snapdragon variant. Now the benchmarks does say that for normal tasks both processors are good. However, the phone heating up like a stove surely attributes to the Exynos 990. Also, there's actually a video comparing the performance for Exynos990 vs Snapdragon 865. See for yourselves !
Waiting for the OnePlus 8 Pro
Since I am not going buy Samsung Galaxy S20 Plus in India, I'm not left with many options. I don't want to get the Oppos, Vivos, RealMes, Xiaomis etc. Since I've been using the One Plus 3T, I don't mind waiting and seeing the OnePlus 8 Pro and if that's a worthy upgrade will probably get that. Have you used the Samsung Galaxy S20 Plus in India ? Would you suggest people to not buy Samsung Galaxy S20 Plus in India ? Or is it otherwise ? Share your thoughts in the comments below or tweet to me at @Atulmaharaj or DM me on Instagram.