Over the 5 years of its successful stint, OnePlus has surely gifted us some of the finest devices of all times. Be it their first OnePlus 1 or the freshly launched OnePlus 7, they have kept upgrading with the times. However, blame the leaks, there's absolutely nothing that you don't know about the phone before the release. Ever since I read about the launch of OnePlus 7 Pro, I was looking forward to their launch. I've been using the OnePlus 3T for quite sometime and looking for an upgrade. However with last night's launch,I'm sure many of your will have the question OnePlus 7 or OnePlus 7 Pro – Which one should you buy ? Well, let me try to answer that for you.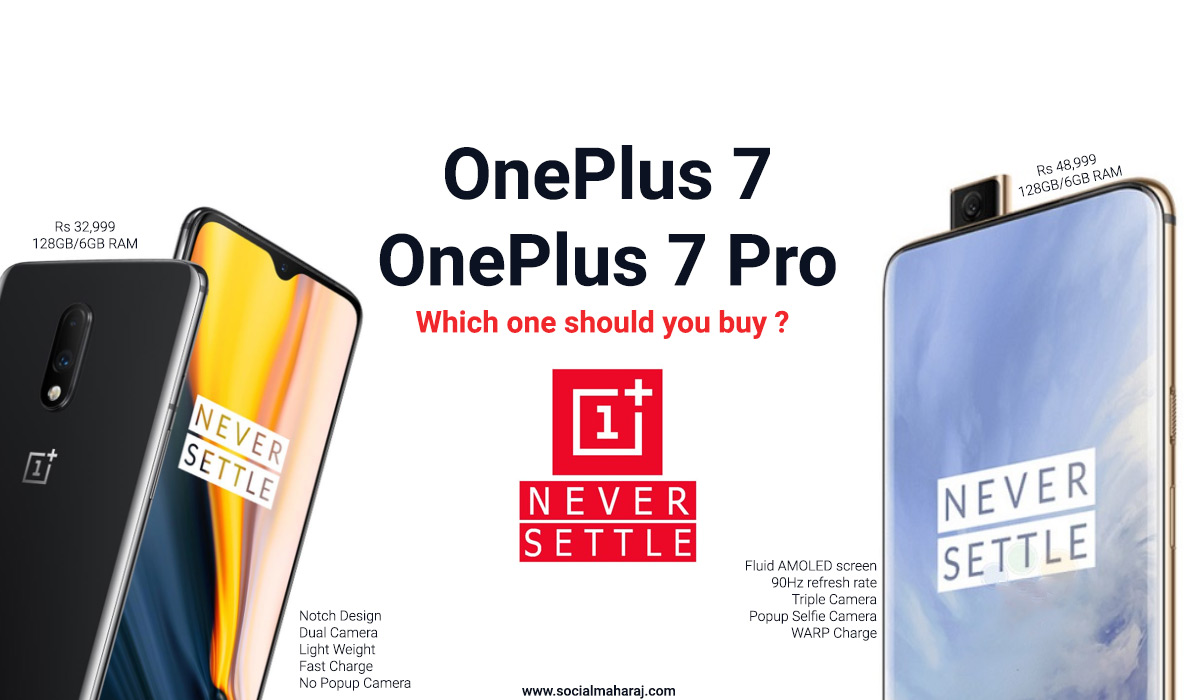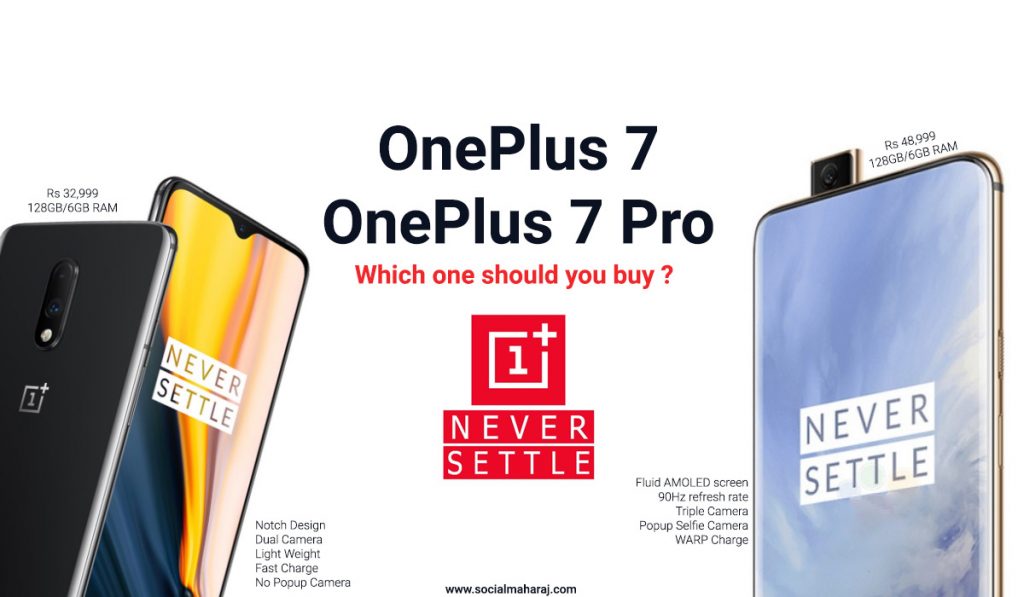 OnePlus 7 vs OnePlus 7 Pro – Tech Specs Comparison
Starting with the processor, both the phones come with the latest Qualcomm Snapdragon 855 processor which is an octa-core processor. Both OnePlus 7 and OnePlus 7 Pro are coupled with upto 12GB RAM. Both OnePlus 7 and OnePlus 7 Pro will come with the latest Android Pie out of the box. In the camera department however, the OnePlus 7 Pro has a triple camera setup with a 48MP main sensor, a 16MP ultra wide module and an 8MP telephoto module. The OnePlus 7 has 2 camera setup with the same 48MP sensor coupled with a 5MP sensor. As for the selfie, the OnePlus 7 comes with a popup camera with a 16MP sensor while the OnePlus 7 comes with a notch based same 16MP sensor.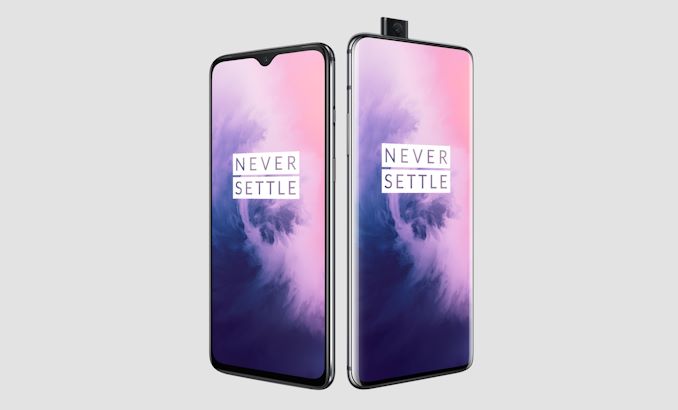 OnePlus 7 Pro however has a screen with world's first 90Hz refresh rate to give smoother experience. Also OnePlus 7 pro comes with Warp charger that claims full charge in 20 mins. Rest all the features are exactly the same, Dual speakers with Dolby Atmos, Corning Gorilla screen. The Adreno 640 graphic chipset, NFC, under display fingerprint sensor etc. Side by side detailed comparison on GSM Arena.
OnePlus 7 vs OnePlus 7 Pro – Which one should you buy ?
Comparing both the phones side by side on the technical specifications, they are almost similar. There isn't much difference between most of the features under the hood for both the phones. So which one exactly should you choose – OnePlus 7 or the OnePlus 7 Pro ? I'll give the reasons to buy OnePlus 7 and the reasons to by the OnePlus 7 Pro without the common features.
Reasons to buy OnePlus 7
Exact same hardware specs in terms of processor and RAM when compared to OnePlus 7 Pro
Notch based camera setup, face unlock possible
Lighter when compared to OnePlus 7 Pro
No moving parts – no popup selfie camera
Fast charge enabled – highlight of OnePlus ever since they launched
Reasons to but OnePlus 7 Pro
Better screen to body ratio with Fluid AMOLED screen
90Hz refresh rate providing smooth visual experience
Triple camera setup for normal, wide angle and zoom shots
Beefed up battery of 4000mAh
Warp Charging – faster than fast charging
Those were the differences between the OnePlus 7 and OnePlus 7 Pro. And these are precisely the reasons why you should buy either of the smartphones. However one needs to keep in the price point before making the decision.  The OnePlus 7 range starts with Rs 32,999 for 128GB/6GB RAM with the OnePlus 7 Pro starts at Rs 48,999 for the 128GB/6GB RAM. Now there's a difference of almost 16,000 Rs between both the variants. You can might as well get another phone in that price ! The phones will be sold exclusively on Amazon starting 16th May for Amazon Prime customers and 17th May for others.
Notch or Popup Selfie Camera ?
Dual Camera or Triple Camera ?
Fast Charge or Warp Charge ?

Which one you'd buy ? OnePlus 7 starting at Rs 32,999 or OnePlus 7 Pro starting Rs 48,999 ?
Details Here: https://t.co/9r1bqYbsI4#OnePlus7Series #OnePlus7 #OnePlus7Pro#TechBlogger

— Atulmaharaj (@Atulmaharaj) May 15, 2019
Final Verdict – OnePlus 7 or OnePlus 7 Pro ?
Considering the price point, the OnePlus 7 seems a better choice. It has the exact same hardware specs – latest processor, same RAM etc.Even the main 48MP camera sensor is the same as OnePlus 7 Pro. Moreover it doesn't have the popup selfie camera and that ensures the face unlock is faster. Me being a person who takes a lot of groupfies, need a better selfie camera that gives me sharper pictures. (Precisely the reason why I want to upgrade my OnePlus 3T) If you are upgrading from older phones like OP3T, and if you've got the money, OnePlus 7 Pro would be a quantum leap. Else the OnePlus 7 will be a wise choice in my opinion. What are your thoughts on OnePlus 7 or OnePlus 7 Pro ? Which one would you buy ? Let me know in the comments below or tweet to me at @Atulmaharaj