If you've been following the blog, you would have known by now that weekends for me are about dining out. Be it with friends, office colleagues or family. It's mostly on a Saturday night because I can laze around on Sunday. Similar was the case last week around, a long journey came to an end and it was time to celebrate. We were a group of 14 folks and planned to dine out. Since we had the Dineout Gourmet Passport offers with us, we decided to find a restaurant that accepts it. Eventually we zeroed in on Chill & Terrace, Radisson Blu Hotel, Banjara Hills. So here's a review of buffet at chill restaurant & terrace, Radisson Blu Banjara Hills.
Calming Ambiance at Radisson Blu Banjara Hills
I was in my friend's car and we were driving from Secunderabad to this place. I had absolutely no idea where it was. But going through the lanes that reach up to the hotel, I'd say this should have been named as Land Ends. There's virtually nothing after this ! Anyways, the entrance to the hotel isn't very grand but the lobby is amazing. I loved the sculptures and waterfall in the lobby and the entire setup gives calming vibes.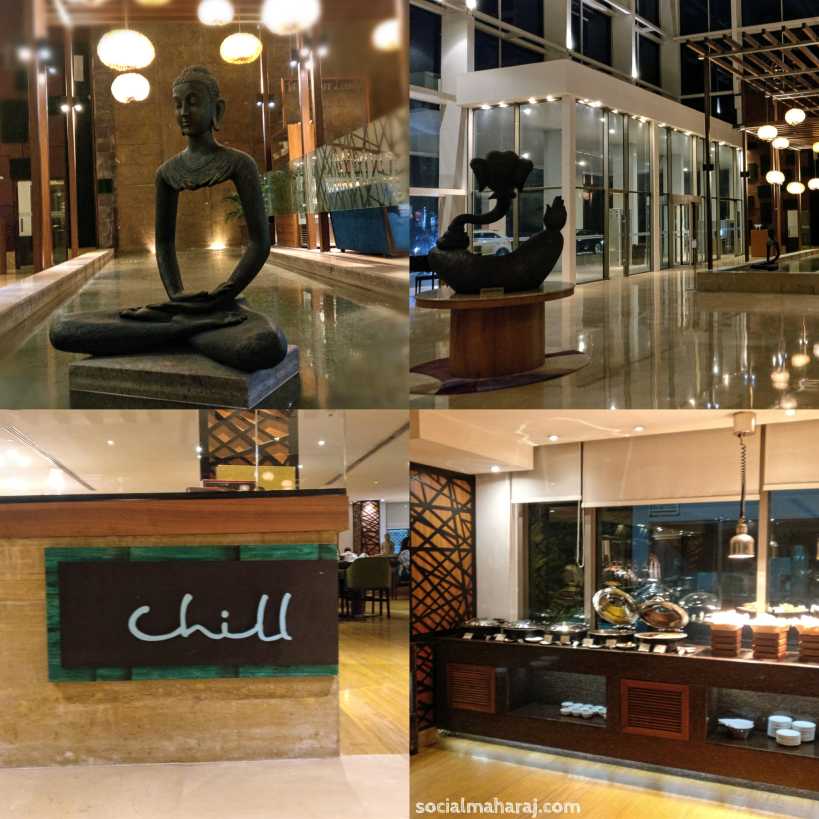 Chill Restaruant & Terrace is located on the ground floor, which we thought was a roof top restaurant (going by its name) The restaurant isn't very big but has both indoor and outdoor seating. Prior booking is what I'd suggest. The buffet area is decently spread with one large counter for live preparations, street food etc. Okra at Marriott had two of these large counters which made it more spacious and less crowded. Overall, Chill Restaurant & Terrace has a decent ambiance and you can have a good time.
Buffet dinner at Chill Terrace & Restaurant
The restaurant offers both buffet and a la carte and we had opted for the buffet. Since we were 14 folks we utilized the gourmet passport offer. The mood was different that evening and we didn't focus much on the food. Anyways, here's the food review of dinner buffet at Chill Terrace & restaurant.
Delicious but limited starters
Starters are something that I always look forward to. At Chill Restaurant & Terrace they serve 2 vegetarian and 2 non vegetarian starters. For vegetarians we had Chilli Paneer and Veg Shammi Kebab. Chilli Paneer was actually spicy unlike the usual tangy flavour. But the highlight was the Veg. Shammi Kebab, soft, flavorsome kebabs melted in the mouth. The mint chutney served with it packed a punch. Frankly I could have eaten only the kebabs had the service been a little fast. For the non vegetarians, the chicken starter was good however most of them didn't quite like the fish.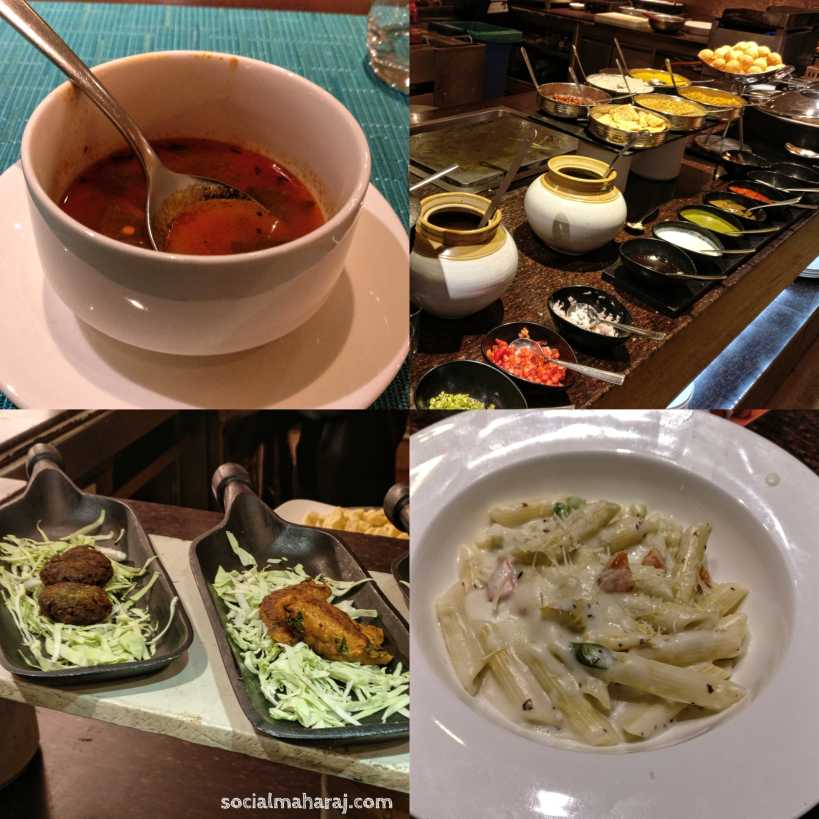 Street Food and Live counter
The live counter offers the famous desi street food Pani Puri. They serve both potato and peas stuffing along with sweet and spicy variants of pani. One can also have dahi puri and masala puri if they want to. They also serve a variety of pastas along with pizzas at this counter. We did order a white sauce pasta and a pizza. The pasta lacked the punch, and I feel the one we had at Little Italy was the best pasta till date. Pizza was palm sized and was average on taste.
Main course
The vegetarian spread consisted to Paneer Makhanwala, Bharwa Parval, Yellow Dal, Green Moong dal, Cabbage and a mix veg curry. Along with this there was biryani and other variety of rice on offer. Rotis were served hot on the table which is a good thing. The Paneer was soft and succulent and gelled well with the gravy. Being a parval fan, I truly loved the Bharwan parval and a couple of servings of it. For non vegetarian there was a chicken gravy, a mutton gravy, chicken biryani and the famous mutton haleem. There's nothing like Vegetarian Haleem !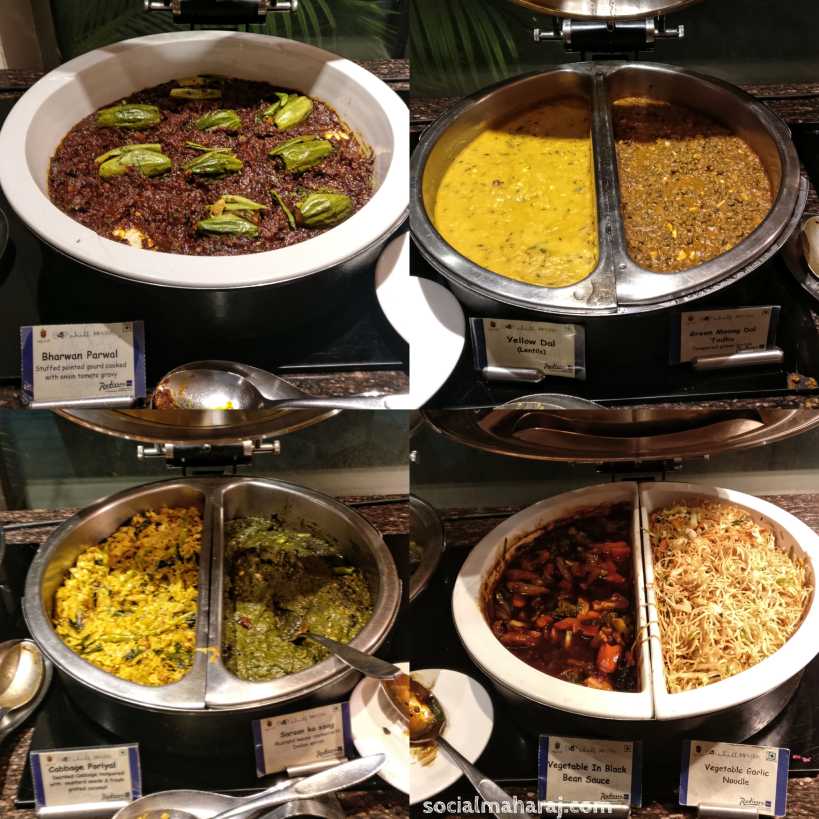 Desserts
There was a good spread of desserts on offer. Most of them contained egg though. Right from the desi Sabudana Kheer to a variety of pastries, cakes and brownies. There were fresh fruits and ice creams too. Different flavours of sauces were available to go with the ice creams. Since I'm avoiding sweet, I didn't quite try most of these.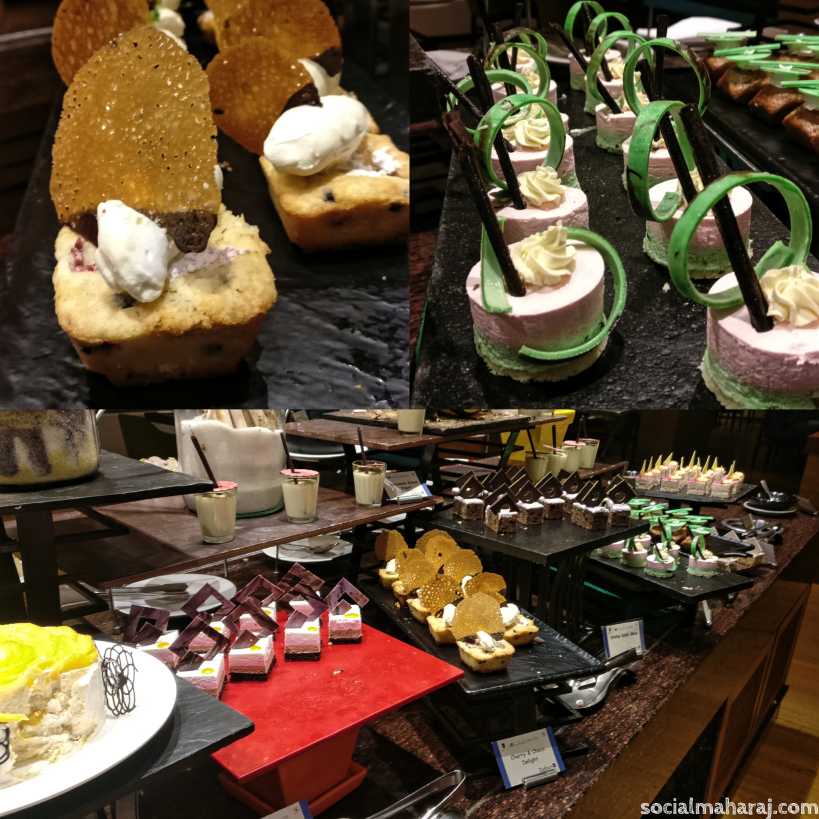 Final Verdict: Good enough buffet at Chill Terrace & restaurant
Radisson Blu Banjara Hills is one of the well known places in the city. I fell in love with the calming ambiance in the lobby. Chill & Terrace Restaurant is good place to be. The food on the buffet is good but surely could have been better. I don't know if was because of the large group, but the service was a tad slow. However Mr. Rohith and his team ensured we had a good time. There was also a Food Blogger's tasting session going on at the other table and I was glad to find two of the finest bloggers I know personally – Vishal Fernandes (The Fernandist) and Sabyasachi (Foodaholix).
Overall it was a good experience, as I said it was a different mood we all were in. The bill was around Rs 15,000 for 14 members after the Gourmet passport 1+1 buffet offer. Without the offer, I'd say the buffet is priced slightly on the higher side. Have you been there already ? How was your dining experience ? Mention in the comments below or tweet to me at @Atulmaharaj