18 April, 2008 was the day when the cricketing world was gifted one of the most extravagant event – the Indian Premier League. Over the past 11 seasons, From Mumbai Indians to Chennai Super Kings Players, IPL has seen some of the finest cricketing actions ever. Some of my cherished ones include Brendon McCullum vs RCB in the opening game of IPL, Chris Gayle's 175 against Pune, Malinga creating a riot in the initial seasons or Rabada with this fantastic average, IPL has always been full of excitement. I've been a supported of Royal Challengers Bangalore even though Chennai Super Kings have lifted the cup many a times.
IPL Dream Team – Who's on my team
With the 12 edition of the IPL nearing the end and the 2019 Cricket World Cup around, I thought to compile a list of the dream 11 players of IPL. My IPL Dream team has players based on their recent form in IPL 2019. A mix of Chennai Super Kings players, Royal Challengers Bangalore and Delhi Capitals. If it was possible I'd have this as my playing XI for all the matches in the IPL. Here's a look at my IPL Dream Team of 2019.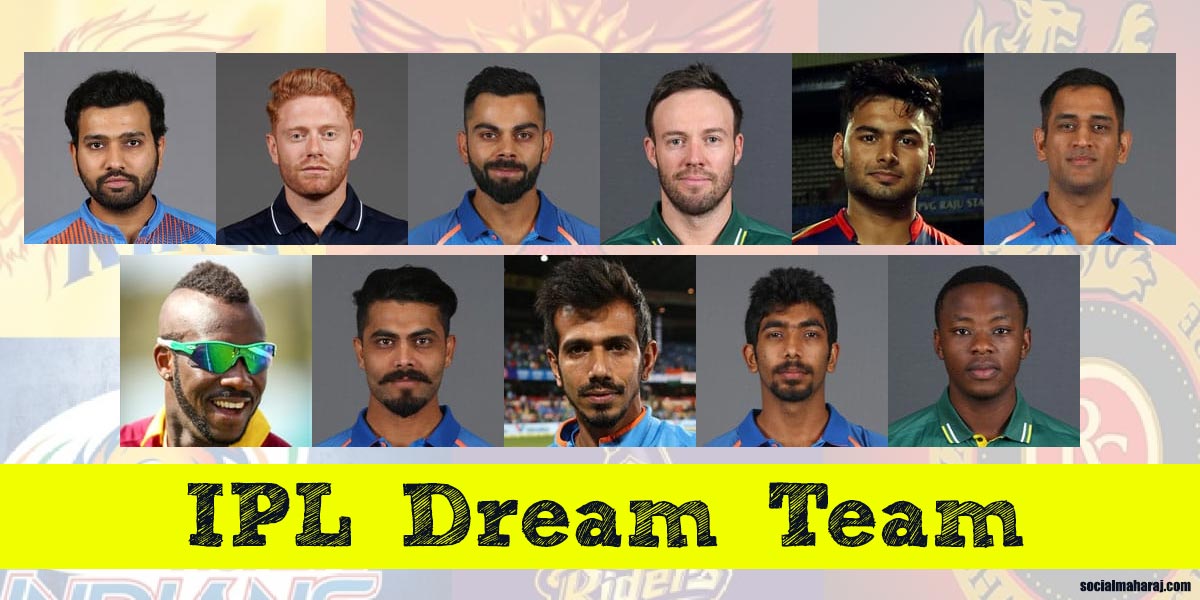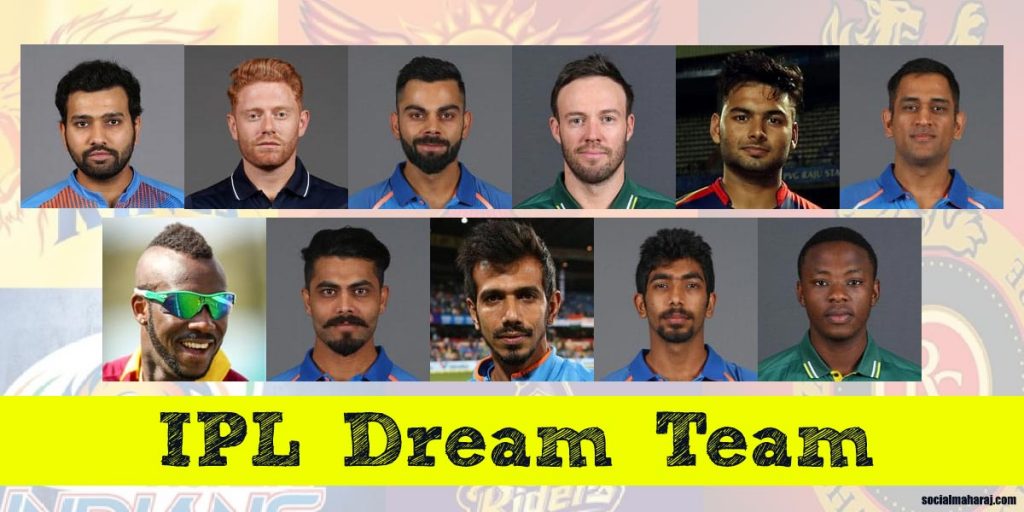 Openers of IPL Dream Team
Rohit Sharma has been amazing with the bat for Mumbai Indians and he is my first choice for an opener.  He has the ability to accelerate on demand and has an array of shots in his arsenal. The second one I'd want Jonny Bairstow. He has had a dream run with Sunrises Hyderabad. We cannot ignore his 114 against Royal Challengers Bangalore.
Middle Order
The middle order needs stability with run-scoring ability. I choose the dependable duo of Virat Kohli and AB De Villiers from Royal Challengers Bangalore. Both ABD and Kohli have the ability to score runs quickly and rotate the strike when needed. I'd also have Rishab Pant for his T20 ability. He has brought in good fortune for Delhi Capitals this season.
Lower Middle Order
The lower middle order has no prizes for guessing. Thala – MS Dhoni – from Chennai Super Kings will not only captain the side but will hold it together. Andre Russell for his ballistic abilities to take the game away from any opponent. We all know what all he can do. I feel Dhoni is the best finisher still and as lethal as he was on his day.
Dream IPL team bowling attack
Though IPL is a batsman's game, I have picked a mix of spinners and pacers for my IPL dream team. From Chennai Super Kings players list, Ravindra Jadeja who will head the spin department alongside Yuzvendra Chahal from Royal Challengers Bangalore. The pace attack will be under Jasprit Bumrah from Mumbai Indians and Kagiso Rabada of Delhi Capitals. Have chosen these two pacers for their ability to keep the scoring rate down.
What's your Dream Team like ?
That was my IPL Dream Team. It has a good mix of experience and agility.Some of you might feel why I chose Chennai Super Kings captain MS Dhoni as the captain of my dream 11 team. Why not Kohli ? I feel MSD still has a good understanding of the game along with the ability to marshal the players. Many players couldn't make the cut to this team. Nevertheless, these players I feel have the ability to win matches. What are your thoughts ? How is this dream team ? Who will be a part of your IPL dream team ? Mention in the comments below or tweet to me at @Atulmaharaj