The city of Agra has always remained a major landmark in the history, art, and culture of India. The erstwhile seat of the Mughal Empire might have now become a bustling urban hub of modern establishments and lifestyle. But somewhere tucked in its deeper corners, you can find traces of its ancient royalty. A few miles away, lies the holy town of Mathura with its mythological and religious history and holiness. These two cities are often explored together, for a contrasting experience.
How to plan your travel
More than most trips to Agra starts from Delhi. The distance from Delhi to Agra is 233 KM and takes about five hours via the Yamuna Expressway. Mathura lies at 183 KM from Delhi and is en route. You can easily take a detour from the highway and make a stopover at Mathura for a few hours. Alternatively, you can always head to Agra first and stop by Mathura on your way back to Delhi. To make it more convenient, you can opt for a Delhi to Agra tour package by car, which will include your travel, local tour of Agra and also a tour of Mathura. That way, you can customize your itinerary and have the comfort of a car at your disposal. Here's what each of these ancient cities has in store for you when you plan a Agra and Mathura Road Trip.
Agra: Of architectural flamboyance
Although the modern Agra cityscape displays a lot of sleek and edgy constructions, it has not forgone its legacy. Its heritage structures and significant monuments still dominate parts of the city's skyline, with their elaborate architecture, and rich artistry.
The best way to ensure that you cover the major sites in a day and also have time to explore Mathura is to start early. You can start with TajMahal, which takes about two hours for a complete tour. Also, mornings are a good time to visit since the number of visitors are lesser and you can comfortably explore. Alternatively, you can always visit during sunset, when the setting sun casts a golden glow on the ivory structure, rendering a breathtaking view. The iconic monument is a sheer marvel in marble and attracts millions of people every day to catch a glimpse of this mausoleum of love. You can also attend special events held at the monument premise during the winters.
From the TajMahal, head to the 'miniature Taj' or better known as Itmad-Ud-Daulah Tomb, which sits on the banks of the Yamuna River. The skilled craftsmanship lent to this intricately designed structure is often compared with the TajMahal, owing to similarities in carving designs and layout.
When visiting the Mughal capital it would be unfair to miss the memorial of the empire's greatest ruler. It is located in the quieter neighborhood of Sikandra and is the second-most visited place in Agra. The red sandstone and marble monument of Akbar's tomb is a perfect homage to the legendary emperor.
Agra Fort: Artistic Prowess
Wherever you are in the city, make sure that you manage to reach the Agra Fort by sunset. Every traveler claims that the views of the Agra Fort during sunset is exceptional. The 14th-century structure is pure art on stone. Commissioned by Akbar, the red sandstone fort reflects the aesthetics and artistic prowess of the artisans and designers of that time. And during dusk, the red hues of the building becomes more vibrant and warm. The fort also hosts light and sound shows every day in the evening from 7 PM to 9 PM, which is a great way to spend more time in the beautiful ambiance.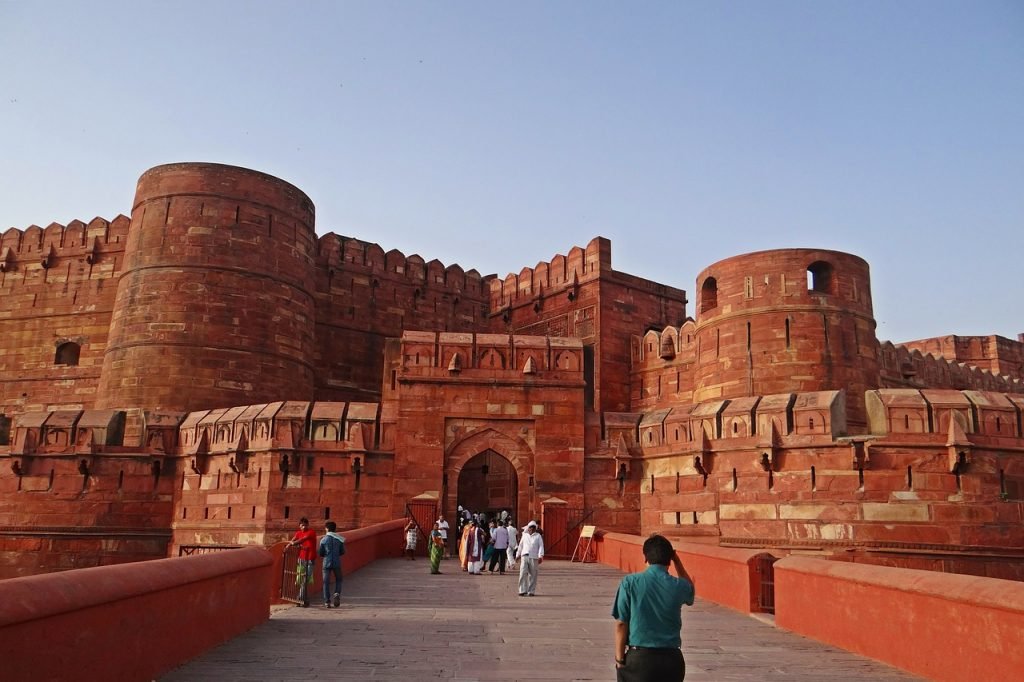 A trip to this historic city would be incomplete without indulging in its culinary finesse and artistic fare. Sample the finest Mughlai cuisine at any of the popular city restaurants or local diners. And browse through the local bazaars for a peek into the lifestyle and culture of modern Agra, with an undertone of tradition. The indulgent sights, sounds, colors, and aromas of the city will enchant you at every step, leaving you craving for more. Great way to spend a perfect evening during your Agra and Mathura Road Trip.
Mathura: Of spiritual solace
Mathura is recognized as the birthplace of Krishna and is a sacred destination for Krishna followers and Hindu devotees. When you book a comfortable Agra taxi, you can easily travel to Mathura. It will not take more than two to four hours to explore its significant religious sites.
You can start your tour with the site of Krishna's birthplace – Shri Krishna Janmabhoomi. It also has a temple which holds important festivals dedicated to Krishna. From there, head to the Dwarkadheesh Temple, a major pilgrimage site of Mathura. During Janmashtami and other auspicious religious dates, this temple attracts millions of devotees from across the globe. From an architecture perspective, the temple is a fine work of art with ornate carvings and artistically designed interiors.
Don't miss the serene ambiance of KusumSarovar, and its adjoining temples, famous for evening aarti. You can also visit the Government Museum, which exhibits archaeological findings, artifacts, paintings, and more, dating to the prehistoric period. It speaks of the city's rich legacy. From royalty to divinity, the journey from Agra to Mathura, will make you experience a big transition of culture and vibes.
I did visit Agra during my childhood and loved the experience. And when you are having a road trip from Delhi, you cannot go to a better destination that this.  Have you ever done a Agra and Mathura Road Trip ? How was your experience ? Share in the comments below or tweet to me at @Atulmaharaj