"Smelly cat, smel-ly cat, what are they feeding you? Smelly cat, smel-ly cat, it's not your fault." (if you are a true FRIENDS fan, I'm sure you are humming this right now !) This is one of the many iconic songs from my favorite sitcom FRIENDS. I've in fact watched all the seasons multiple times and still can't get over it.Shows like these have built a generation. Not only shows, but lots of cartoons and movies that have inspired a generation. I'm sure you would love to get some exclusive time with these. And that's what Comic Con is doing, they are bringing in people with same passion under one roof. Hyderabad Comic Con 2019 is happening today and tomorrow – 12 & 13 October at Hitex Exhibition grounds. Being invited last year, I was invited to experience this year's edition too. So here's my Hyderabad Comic Con 2019 First Day First Show review.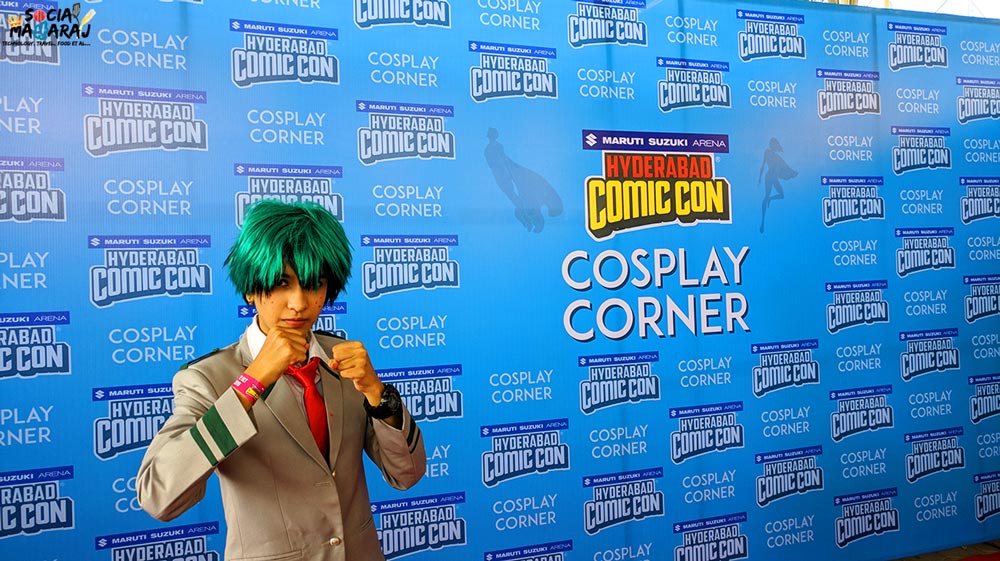 Hyderabad Comic Con 2019 – Engage, Explore & Experience
With the best of comics, books, film & TV, merchandise and gaming at shows across Hyderabad, Bengaluru, Mumbai and Delhi – Comic Con India is the place for everyone to 'Engage,Explore and Experience' the best that modern pop-culture, literature and films have to offer from India and the world. The event is taking place in Hitex Exhibition Center in Hyderabad and is on for 12 & 13 October. The tickets can be purchased online as well at the venue. Hyderabad Comic Con 2019 ticket prices are ₹599 for a single day pass and ₹1999 for a two day Super Fan pass. Both the tickets have goodies included too. Tickets can be booked here.
Cosplay Artists Hyderabad Comic Con 2019
One of the highlights of any Comic Con event is their signature Cos Play event. It's this event for which many people spend months to get the attire right. After all it's a lot of money and fame if you win ! I remember one of my friend's sister took part in one of the Delhi Comic Con and boy she did a great job ! This year too at Hyderabad Comic Con 2019, Cosplay artists have come in large numbers. You can very well identify characters like Deadpool, Spiderman, Jack Sparrow, Thanos and the likes. Below are some of the cosplay artists at Hyderabad Comic Con 2019. Who's your favorite ? Let me know in the comments below.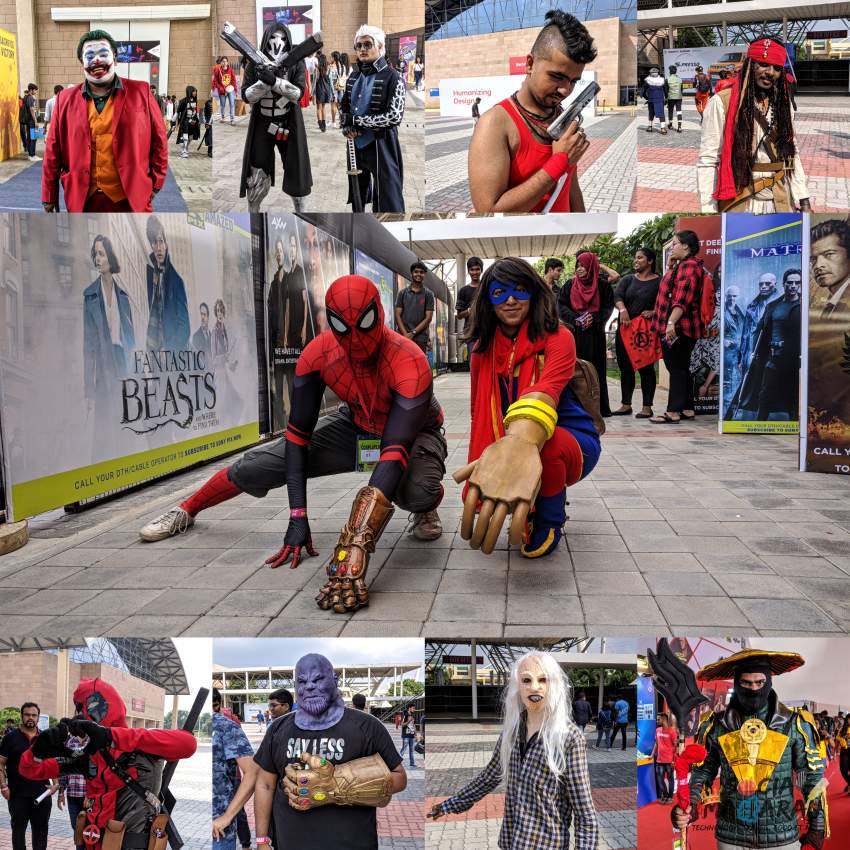 Buy souvenirs at Hyderabad Comic Con 2019
Like I said, Hyderabad Comic Con 2019 is not just about cosplay and brand stalls. You can also buy a lot of things. The stalls are all over the hall selling anything and everything. If you are a comic fan (which you definitely are) you will love all they have on offer. Tees with quirky one liners at affordable prices. Bobble head toys based on the famous cartoon characters. Books, souvenirs and much more available for sale at the Comic Con 2019 in Hyderabad. SO if you are going to visit the event, make sure you decide what you want to buy !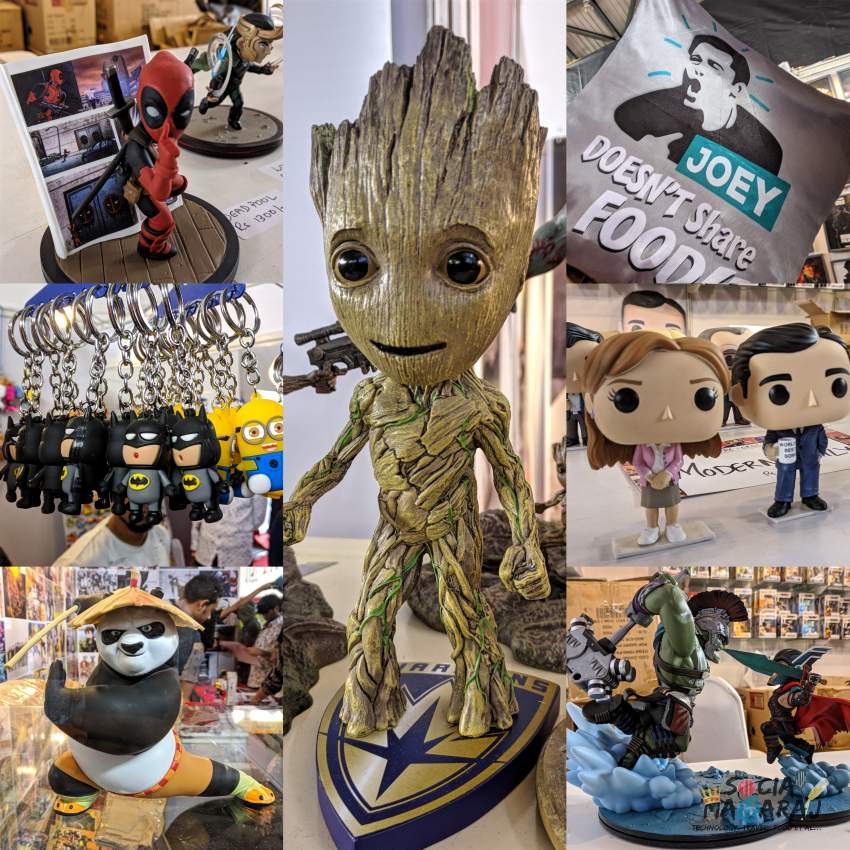 AMD Game on – Gamer's Paradise
AMD GameOn was a highlight even during the last year's event. This year too it has managed to gather a lot of attention. The setup is exactly like that of last years. The registration desk at the entrance, the gaming machines in the center with all the VR zones and stores on the periphery. Since AMD was the sponsorer, they had this good engagement thing in place where they asked visitors to register and then visit all AMD stalls, get their cards stamped in exchange for goodies ! One could play games like Doom 4, Gears 5, Boderlands 3, Devil May Cry, Battlefield 5, Assassin's Creed and many such titles. You can also experience Need for Speed Most Wanted in a simulator, play PS4 games and also experience Virtual Reality with Vive. Overall, AMDGameOn 2019 is surely a hit.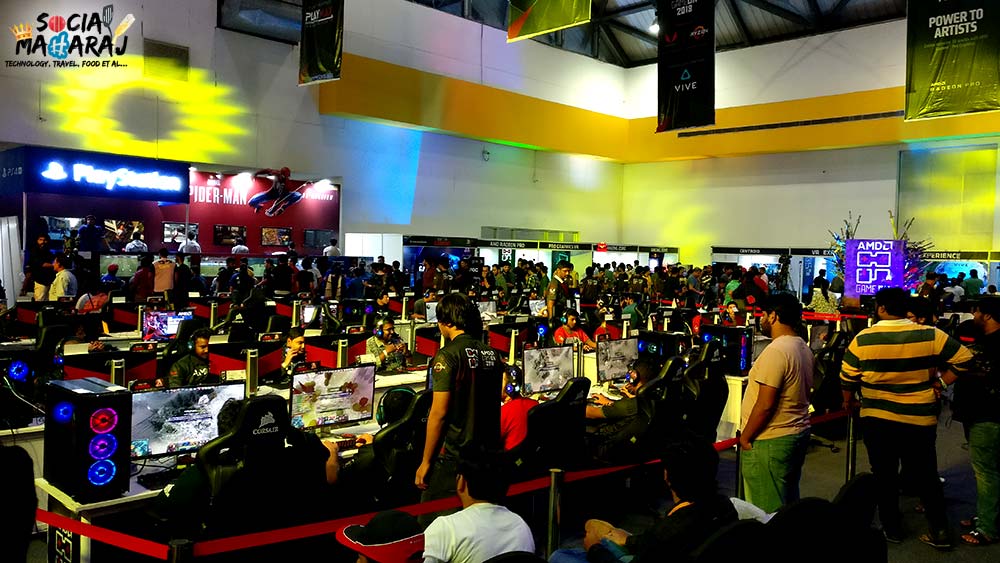 Engage, Explore & Experience at Comic Con 2019
If you are into cartoons, you should visit Comic Con. If you aren't, you should make a point to visit and explore the world. The cosplay artists are good enough to allow you to click photos. You'll also find lots of merchandise on offers, good food all along the event. And of course the AMD gaming arena – as a gamer you don't want to miss this. Overall, I had an exciting day at Hyderabad Comic Con 2019. Thanks to the team for inviting me to experience and fever. Looking forward to an even better edition next year too. Till then, How you Doin ? Let me know in the comments section below or tweet to me at @Atulmaharaj