The first thing that would come to your mind when you hear Comic Con would be Cartoon characters, cos plays etc. My friends had been asking me to join them when they visited the same in Delhi. However, I was interested back then. So how did I land up at Comic Con Hyderabad 2018 ? Well it was Saturday and I was working 🙁 the event was happening at Hitex exhibition grounds (which is quite close from my office) and was invited to attend the event 🙂 And AMD was showcasing their latest Ryzen Threadripper processor's gaming capability. With so many things, how could I not attend the Comic Con Hyderabad 2018 ?! So here's how things went at Comic Con Hyderabad.
Comic Con Hyderabad 2018 – Frenzy
I reached the location at about 5 in the evening. Looking at the number of cars and bikes in the parking lot, I could guess the number of people who had come. As I walked towards the Media booth, I saw a lot of people dressed up like cartoon characters and people taking selfies with them. Sorry but I don't know many of the characters ! Anyways, I took the media kit and met my other blogger friend who's as ardent Comic Con fan. So she took me inside and below is what all I did at my first Comic Con Experience in Hyderabad.
Witty Sahil at his Best
The moment we entered the hall, we heard someone talking on the stage. Couldn't recognize from the voice but as we inched closer to the stage, the image of the person became clearer on the big screen. It was none other than Sahil Shah performing live ! Possibly my first live comic event. He was all over the place with this witty take on the #MeToo outburst, the incessant honking on roads and relationships. The crowd loved it and so did I. The atmosphere was of a different level all together.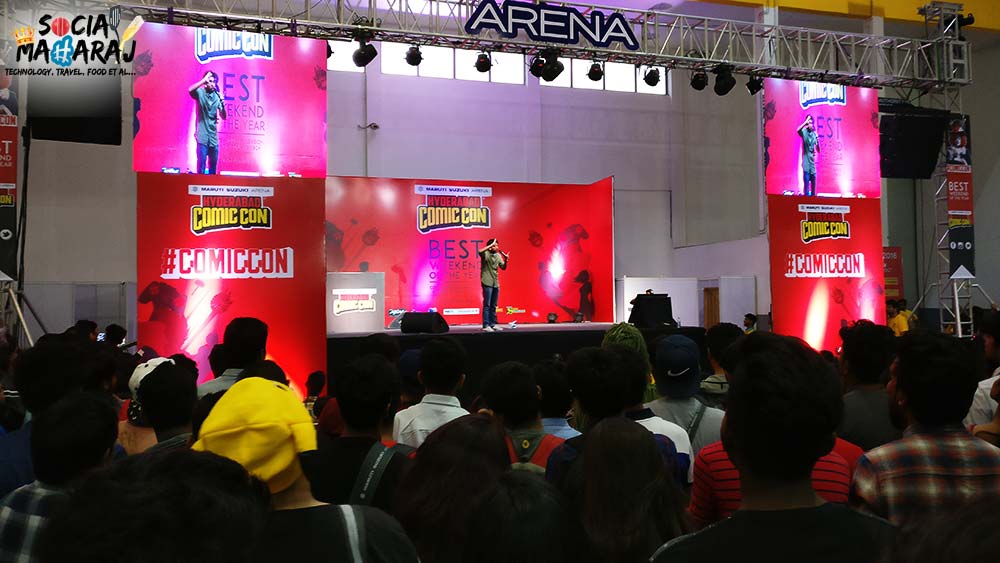 Iron Man, Aqua Man all were there
Post Sahil's show we decided to walk around the place. There were lot of stalls selling themed t-shirts, accessories, posters, replicas, books, glassware and what not. I'd the say the arena wasn't too small or too big. I took a couple of rounds scouting one stall to another in search of some laptop stickers for my new laptop (will talk about it in subsequent post) Managed to get a few of them from a stall nearby. There was the Marvel Experience center where there were life-sized idols of Hulk and Thor. Also there were props which were free to use and click pictures. Even with so much public the event was pretty nicely organized. Kudos to the team !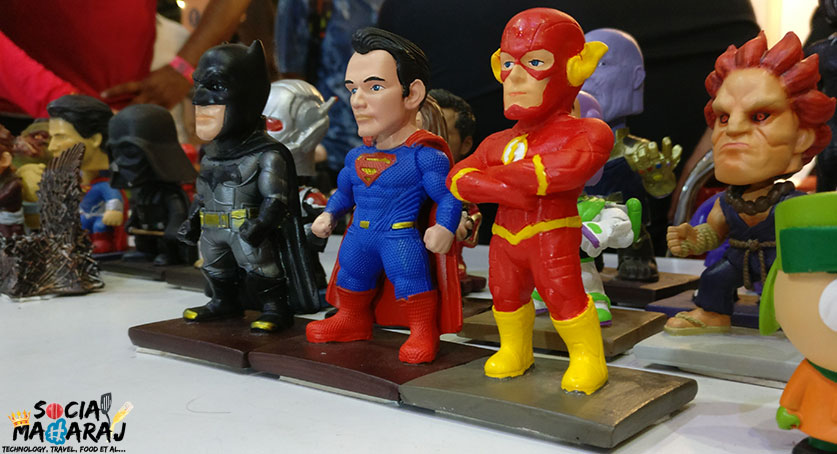 AMD Game On – the real stuff at Comic Con Hyderabad 2018
I knew about the AMD gaming arena present, but couldn't find it anywhere. Only to realize that it's in a separate hall all together ! The space was huge and the number of computers and mods I saw there was like WHOA ! There were at least a few hundred of PCs powered by Ryzen processors, and RGB lights all over. The computer chairs were provided by Corsair and the monitors by AOC. I got a chance to play Forza on one of the machine and I was totally blown away by the power of the machines there. Some of the other games included PUBG, Creed II, Aquaman etc.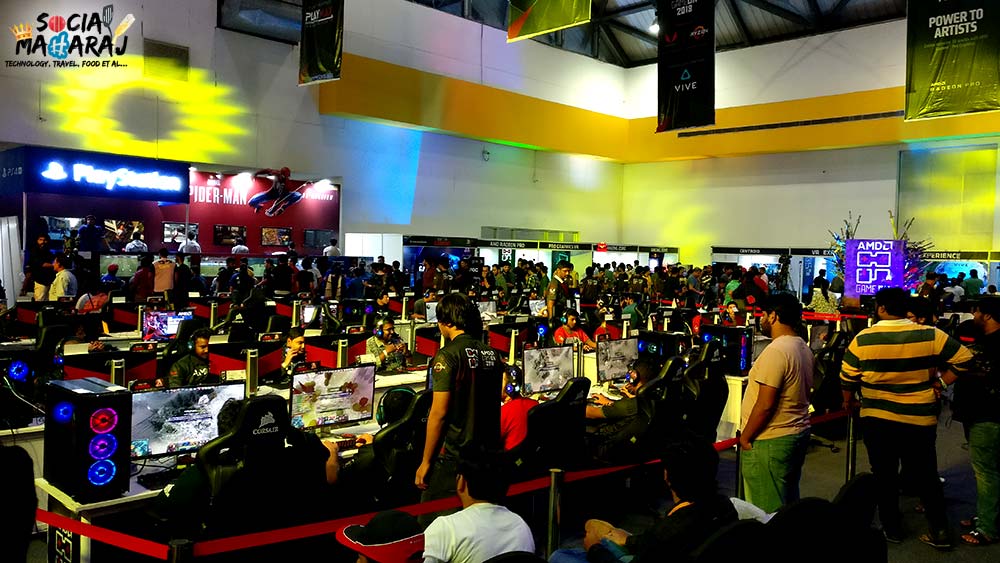 A gaming competition was also on and there were people playing various games including the likes of FIFA and CS Go. Most of them were PC games, but I did see some consoles at one side of the hall. Also another popular attraction was the Virtual Reality gaming booths. There was HTC Vive on display and it was free to try and experience the same.
Maruti Suzuki Arena – Biggest Attraction
Maruti Suzuki was right there and you couldn't miss it at any cost. A bright red Swift hanging on a caged wall, you surely want to see what's in there. Maruti Suzuki Arena was possibly the biggest attractions with fans engaging in slew of engagement activities. People were busy clicking photos with the car and signing across the wall.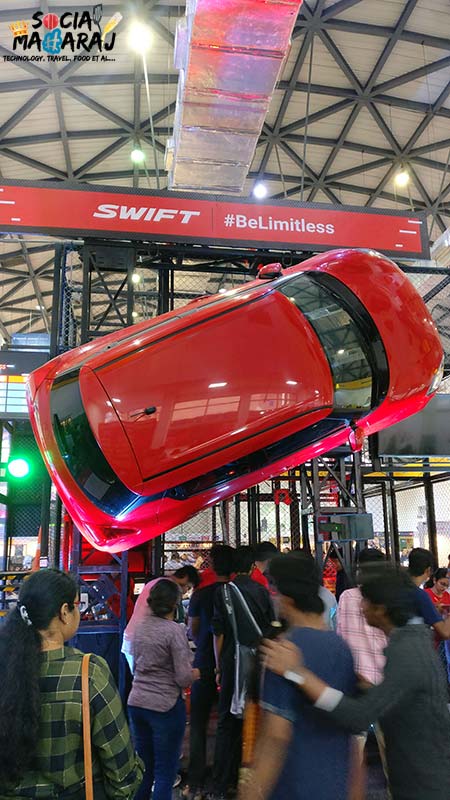 Amazing Experience at Comic Con Hyderabad 2018
I'd like to thank Comic Con for having me there. I must say I totally enjoyed the experience of the event. It was my first time at the Comic Con and didn't know the presence of PC games too. Next time I'd probably go again and this time spend more time in the gaming arena. Overall it's a wonderful place with amazing crowd who love cartoons to the core. If you are gutsy enough, you could even dress up like your favorite character and take part in the cos play tournament. Overall an amazing experience at the Comic Con Hyderabad 2018. Do you think I missed anything or should have experience something else ? Mention in the comments below or tweet to me at @Atulmaharaj
About Comic Con India
Back in 2011 a group decided to create their own comic convention to avoid the cost of traveling abroad to attend comic conventions. 7 years later, this is known as Comic Con India. This is a unique event celebrating the illustrated medium which brings together the whole comic industry and related industries. Jatin Varma the founder of Comic Con was all smiles as he said "Each year, the Comic Con mania starts with this city and the enthusiasm displayed here motivates us for our endeavor in the rest of them."