"The food you eat can be either the safest and most powerful form of medicine or the slowest form of Poison" – couldn't be any true than that. Off late, people have realized that and have made drastic changes in their food habits. Many keep a track of what they eat and other indulge and later burn it at the gym. Many of my colleagues have replaced many of their daily items with millets, Quinoa and what not. My dad jokingly says that "Animals used to eat these things few years back" – well he's partly correct due to the fact that most of us don't research about the item and completely replace our staple food with it.
Why am I suddenly talking about so much healthy food and stuff ? Well, I was invited to check out a new healthy cafe in Hyderabad – Fruitose – in Madhapur. So this is going to be my Fruitose Review post.
Healthy Cafe Fruitose Review
Location & Ambiance
This small little healthy cafe is located right in front of metro pillar 29 in Madhapur. If you plan to reach here by metro, you can either get down at Madhapur or Durgam Cheruvu metro stations. Either ways you'll have to walk few hundred meters. Locating the cafe isn't difficult, thanks to their bring board. Since this cafe is right off the main road, parking is tricky. If you arrive here by a car, you might have a tough time looking for parking.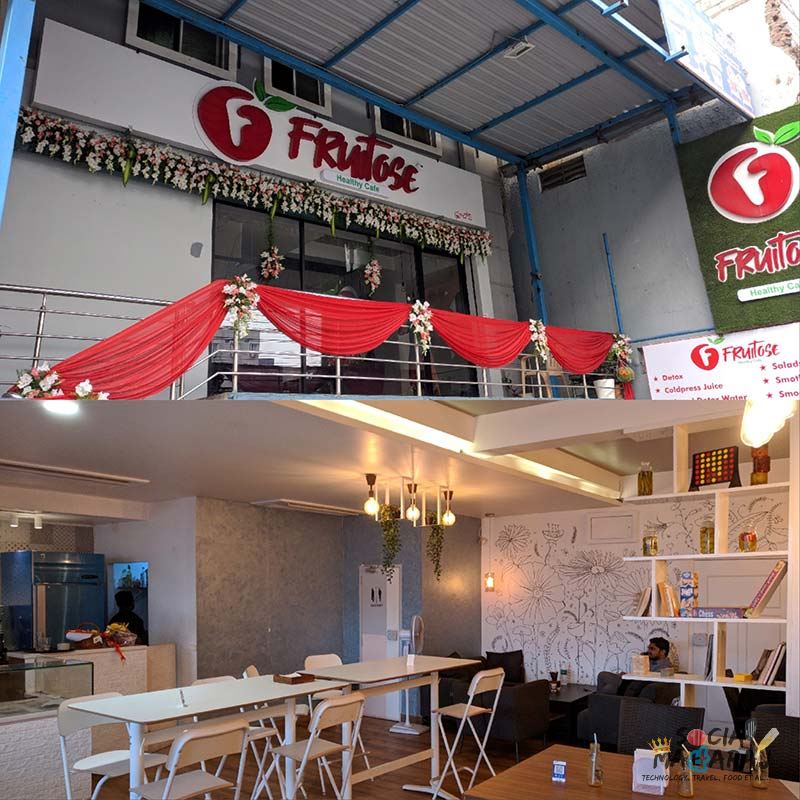 The cafe is small but the interiors are good. The wallpapers, lighting give a good feel. They even have a book shelf with magazines so you can spend time there. They also have few board games, Jenga that you can play while your order is done. Overall, Fruitose has a decent ambiance. The location might be a bummer for few.
Healthy Food at Fruitose Review
The owner, Mr Jatin believes that healthy food contributes to a healthy lifestyle. It was his decision to get into the healthy food space and the menu clearly shows that. The first thing I noticed here is that they don't have a physical menu. (They do, but you might have to insist) You need to download an app – Ondab – register and scan the QR code present on each table. That will show the menu of the restaurant, you place the order, pay and leave. Some might like this idea, but it frankly didn't amuse me much. Another app download and sharing mobile number to order food was a turn off. Anyways coming to the food review of Fruitose.
Healthy Smoothie Bowl
Boasting of a healthy menu, Fruitose has some decent combinations available. Jatin tells that their Smoothie Bowls and healthy Buddha bowls are worth a try. And I went ahead with that. The first thing that came to my table was this wonderful looking Smoothie Bowl. Full marks for the presentation. Topped with Kiwi, Almonds, Granola and Oats, the smoothie was delicious. It was cold and the consistency was just perfect. The crunchy Granola bar made it heavenly. Also the quantity is way too much.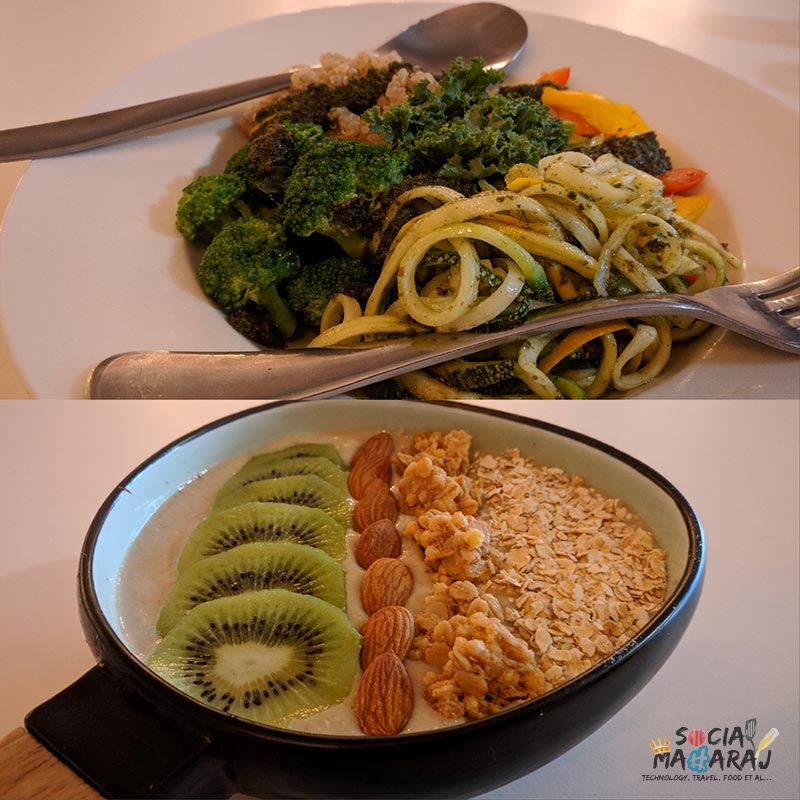 The Buddha Bowl – Pesto & Quinoa
The last time I had Quinoa was at FabCafe, this time it's at Fruitose. The Buddha bowl had fresh Broccoli, Bell Peppers, Zucchini, Pesto Pasta. The plating was simple but was very colorful. The warm and subtle Quinoa tasted good along with the pesto pasta. The dressing was good but felt a little too greasy. Overall I liked the entire concept of this. Continental Thali as Chef Pavan likes to call it.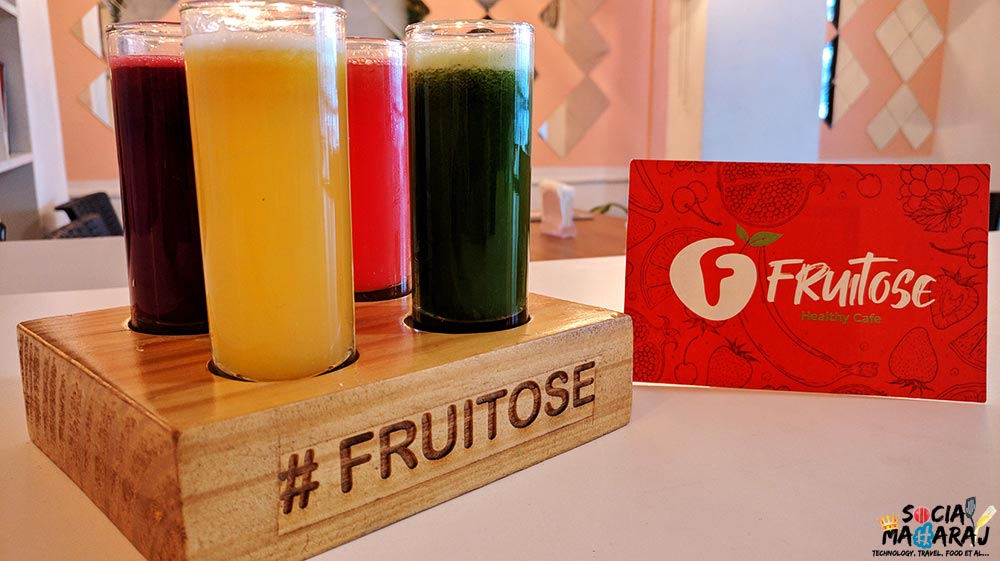 Fruitose Shots – the fruit shots
This was a new thing which I came across for the first time. The name itself intrigued me and hence I decided to order it. They have two variants – one with 8 shots and the other with 4. Since I was already full, I decided to go in with the 4 shots variant. After a wait, the four shots came in this very good looking wooden holder. Fresh cold pressed juices – Cucumber, Watermelon, Beetroot and Pineapple. My pick of the lot was Cucumber because it was the first time I had it. It was different.
Final Verdict: Fruitose Madhapur The Healthy cafe
There are already many healthy cafes in the city, Fruitose is an addition to it. The location and the app download might be a turn off for some, the food and the dedication of the team behind is definitely worth a try. The combinations are nicely done and they have definitely done their homework. I really liked the Smoothie Bowl and wouldn't mind having it again. The cold pressed juices are good, a little watery but that's subjective. Overall, Fruitose is a decent place to visit if healthy food is on your mind. They are even listed on Zomato, Swiggy and you can get fresh cold pressed juices and detox water at your door step. What are your thoughts about this ? Mention in the comments below or tweet to me at @Atulmaharaj.