More than any other electronic gadget, mobile phones have received quick acceptability among users of all ages. The number of mobile phone users has increased in India. "Mobile hone se ab sabki jeb mein Duniya hai". Do you feel the same? Mobiles have made life better from watching movies to online shopping. The gadget just does not restrict us from calling and messaging. 2019 has been a year with lots of mobiles phones being launched. And in this post, I'll be talking about the Top 10 Mobile Phones in India 2019.
Should I consider a Mobile Screen Insurance for new phone?
If you are thinking to buy a mobile phone, you should also consider buying a Mobile Insurance policy for it. Some of the best mobile phones you would want to buy are very expensive so protecting your phones from damages is a good idea. Accidental screen damage is one of the most common reasons why people think about insuring their phones. On an average, the screen replacement charges are around 20% of the overall phone cost. So, if you buy a phone worth 50K, then you have to spend 10K on screen replacement.
Hence, buying a Mobile screen insurance gets important as it will help you recover the cost of replacing or repairing the phone if it is broken accidentally. You can buy Mobile insurance in quickly in few steps.
So which are the Top 10 Mobile phones in India to buy in 2019. Here you go !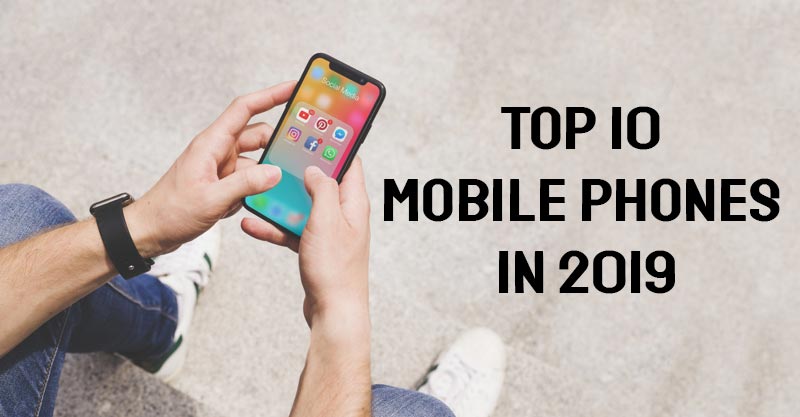 Top 10 Mobile Phones in India
1. iPhone 11 Pro
No list of Top 10 Mobile phones in 2019 is complete without this one. One of the best selling and the most expensive phone available in the market is the iPhone 11 Pro.  smartphone with an excellent 5.8-inch HDR10 display. This mobile is powered by Apple's latest A13 Bionic Chip. It has a 12 MP triple camera and is the best so far, to shoot the videos. The RAM of the phone is 6GB. It is one of the best phones today for photos. The price starts from Rs.99,900/-
2. Samsung Galaxy Note 10 Plus
Coming with one of the best displays with a screen size of 6.8", Samsung has just revamped the performance of the camera in Note 10 plus. The S pen helps it earn this special place on the list. It is the fastest Android-based phone known so far. Switching between apps is easy and the phone does not lag. Samsung Galaxy Note 10 Plus has a 16 Megapixel camera and 10 MP front camera. For its features, you can get the phone at Rs.79,999/-.
3. Samsung Galaxy S 10+
Samsung Galaxy S 10+ has an 8GB RAM and comes with a brilliant display. This android based phone contains a wide-angle lens and a display of 6.4". Samsung Galaxy S 10+ has a triple camera set up and 10MP front camera. It steals the heart because of its sleek design which makes it easy to carry. This phone can be another excellent option for video recording. Samsung Galaxy S10 + is priced at Rs.69,900/-.
4. Huawei P30 Pro
If you look for convenient camera photography, then Huawei is the best option available in the market. It is an Android-based phone with a display of 6.47" and gorgeous curved screen. Huawei P30 PRO has a triple rear camera and 32 MP front camera. It gets 8 GB of ram and is priced at Rs.67,990/- .
5. OnePlus 7TPro 256 GB
Rocking the market with its powerful performance, One Plus 7T Pro is a heartthrob for many mobile users. OnePlus 7T Pro has made a huge noise in the market because of its battery back up and fast charging. Those who use it for videos or movies will find the speakers excellent. It has a screen size of 6.67" display and the storage capacity is excellent. This smartphone has a triple camera and 16 MP front camera. The phone is available at Rs.53,990/-.
6. OnePlus 7T
Powered by Snapdragon 855+, OnePlus 7T is an 8GB Android-based phone. It sports a triple rear camera all set in a circular mode. The screen size is 6.55" which is quite comfortable to use. The triple camera makes it a value-for-money flagship. If you look for the best phone for music and watching videos OnePlus 7T is a perfect choice. This 128GB phone is available for Rs.37,990/-
7. Xiaomi Redmi K20 PRO
Absolute value for money, this smartphone is powered by Snapdragon 855 chipset. This 6GB Xiaomi phone is Android-based and has a 6.39" display and triple rear camera. It has got the same camera sensor that the OnePlus 7 Pro has. Xiaomi Redmi K20 PRO is discussed for the pop-up selfie 20 MP camera and flashy rear design. It is available at Rs.27,500/-.
8. OPPO Reno 10X Zoom
OPPO Reno has a frosted glass back and edge-to-edge FHD+AMOLED display. The screen size is 6.6" and the mobile is powered by a Snapdragon 855 processor. This phone comes with an excellent triple camera system with 10Xzoom. The zoom quality of this phone is pretty good. OPPO Reno is an 8GB phone which is available for Rs.49,900/-.
9. Realme XT
Available in the range of Rs.18-20 thousand, Realme XT is the best budget 4/6/8GB phone for you.  The reviews from users ensured that this makes to my list of Top 10 Mobiles to buy in 2019. This could be your best choice as a gaming phone. It has a 6.4-inch display which is AMOLED enabled. This smartphone is powered by Snapdragon 712 chipset. Realme XT has a triple camera and 16MP selfie camera.
10. Samsung Galaxy M40
Just like its other models, Samsung Galaxy M40 is powered by Snapdragon 675 chipset. The phone is quite affordable and is available at the price of Rs.20k only. Samsung Galaxy M 40 has a triple camera and sharp 16 MP camera. This device also has a triple rear camera and high resolution 16 MP selfie shooter. This 6GB phone is quite light in weight and hence it is easy to carry.
Which is your pick from the Top 10 mobile in India ?
Like I said earlier, 2019 has been a year that saw a lot of mobile phones being launched across the globe. In India too some of the top mobiles phones are having cutting edge technology and features. I have been looking at the OnePlus 7T for an upgrade over my OnePlus 3T. What do you feel about it ? Share your thoughts in the comments below or tweet to me at @Atulmaharaj