Even though we are moving ahead when it comes to technology. There's one thing in which we are actually going backwards. We are going the way our grandparents, their grandparents lived. I'm talking about our food habits. With the stressful lives we have, people have started taking more care of their health. Be it walking, gymming or even controlling what they eat. And when it comes to food, the habits have changed drastically. Rock-salt replacing table salt, Jaggery replace sugar et al. Moreover we have many cafes coming up that serve food which is wholesome, nutritious and inspired by traditional Indian Food. And one such cafe that I'm just coming from is FabCafe Hyderabad in Banjara Hills. So this is going to be a review post of FabCafe Hyderabad.
FabCafe Inspiring Indian Bistro
Busy cafe with Ornate interiors
Banjara Hills and Jubilee hills are two destinations in Hyderabad where you will find new cafes popping up often. And FabCafe is the latest entrant. I'm sure all of you reading this know about FabIndia – the famous apparel brand. And they are foraying in the F&B industry with FabCafe. Located off Road no. 9 Banjara Hills, FabCafe is situated inside a FabIndia store. Located right next to A la liberty. All you have to do is enter the store, do a lot of shopping, keep walking until you are hungry and voila ! There's FabCafe.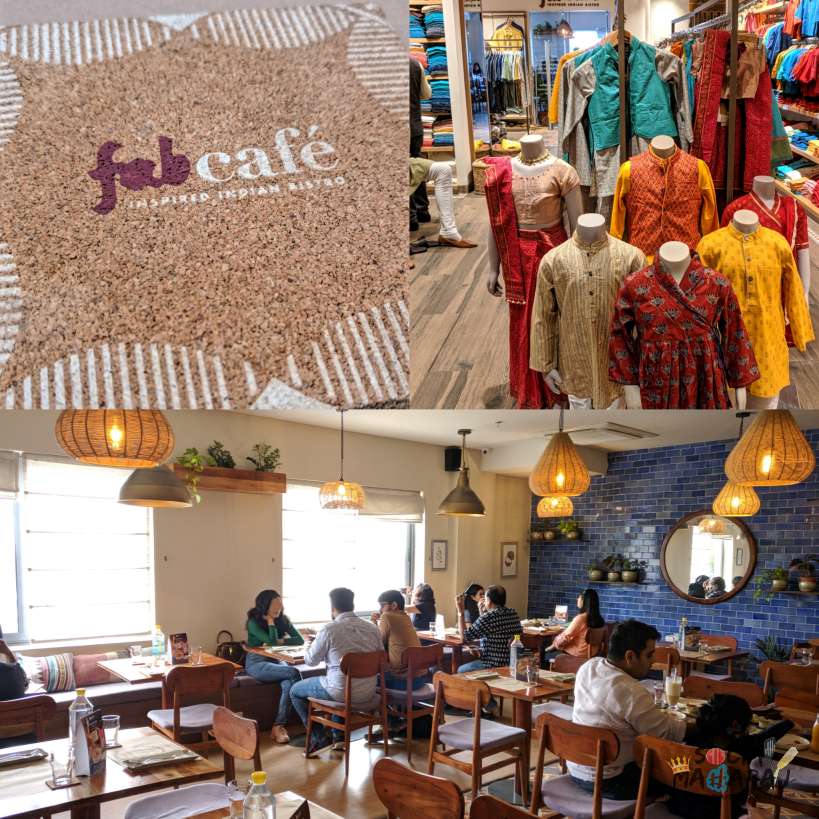 The cafe itself is pretty small but the ornate interiors at FabCafe is striking. The use of cool colors and decorative lighting is a treat to the eyes. They have surely taken a leaf out of their apparel line which inspires the interiors of FabCafe. It was surprising to see the number of customers getting in. Never have we come across a cafe that's so lively with so many people walking in and out. Overall, a good ambiance. Can get crowded during peak hours.
FabCafe Hyderabad Review
FabCafe Hyderabad serves an a la carte menu for lunch and dinner. They have food options ranging from no sugar, no wheat to vegan dishes too. Read my FabCafe Hyderabad review below for more 🙂
Basic yet exquisite starters
One thing that you will notice at such cafe is that the menu isn't expansive. But has a lot of exquisite items. During my visit, humus and falafels weren't present 🙁 so had to go in for other items. For salads we ordered a Shakarkandi Tarbooj Salad along with Nutty Quinoa Salad. Liked the Shakarkandi Tarbooj salad. They stuck to the basics, the sweet potato was sauteed to perfection. The Quinoa salad was average as the strong mustard flavor and the slight bitterness undoing it.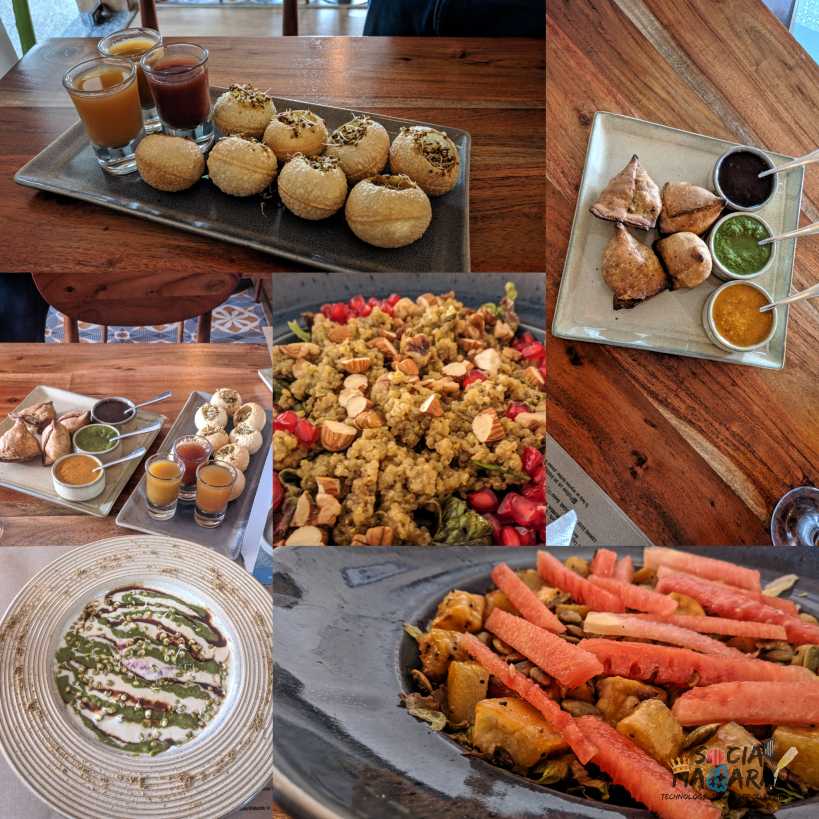 For starters we had almost all they had for vegetarians. We tried the Baked Dal Samosa, Beetroot Lotus Stem Chat, Spicy Sprout Filled Pani Puri. Of all the Baked Samosa and Beetroot chat were delicious. The chutney served with the baked samosa were tangy and went well with the ensemble. Beetroot chat was good, but with the tamarind chutney and curd, the flavor of beetroot was lost. Pani Puri could definitely be better. The choice of filling is good and healthy, but the pani can be done better. Overall the starters were average, few hits and misses.
Wholesome Main course – truly traditional Indian food
Since we were quite full with the starters, we decided to go in a little light with the main course. Since there were only two of us who were vegetarians, we ordered the Punjabi Saag with Paneer (Palak Paneer) along with Dal Makhni and Quinoa Chapati and Multigrain Parathas. The order did take some time to come in, because of the huge rush during the lunch hours.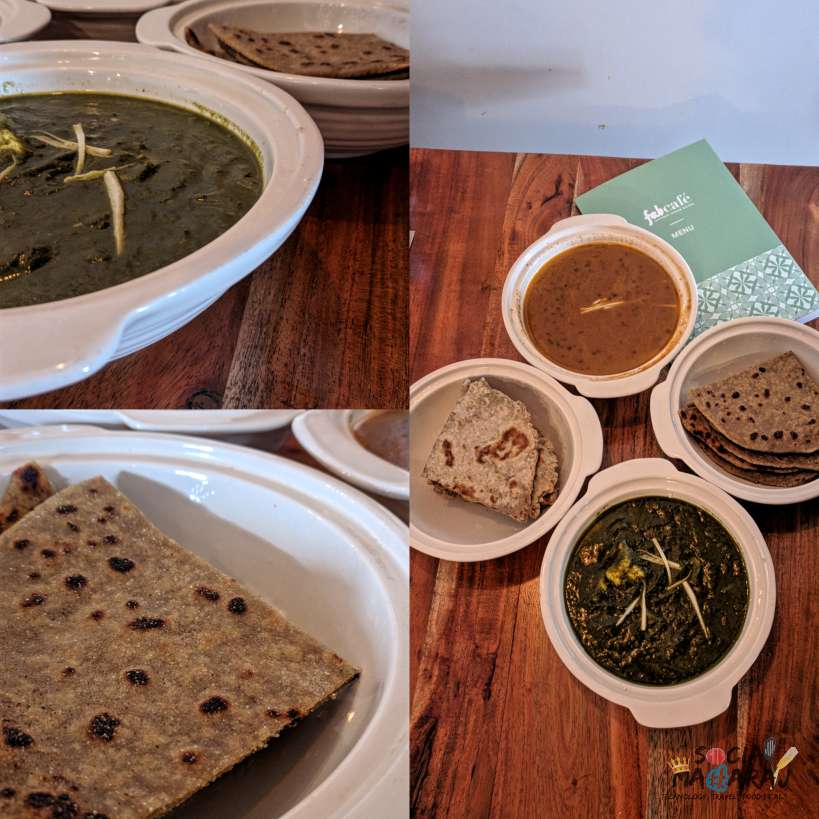 The main course were served in cute little yet heavy serving bowls. PS: loved their cutlery. Wish I could bring them home ! The amount was just enough for two people. Palak Paneer was delicious, the gravy had good flavors of spinach along with a tinge of Ginger. Dal Makhni is Maharaj-Verified. Surely one of the best I've had in Hyderabad. I highly recommend having the Dal Makhni here. The Quinoa rotis were without salt so many of you might not like it. Same goes with the Singhada Roti. If you are not into this taste, I suggest you to order Multigrain Parathas. Overall, the main course was pretty good, covered up for the average starters.
Sweet Desserts with unique drinks
We were already done by the starters and main course, but that didn't stop us from trying out their unique mock-tail, coffee and dessert offerings. Ganna Juice, Glow Hydration, Turmeric Tonic, Berry Blast and Lime Soda for drinks. Along with that we had Mango Cashew Tart, Pancakes with Jaggery, Hazelnut Latte and Cafe Mocha.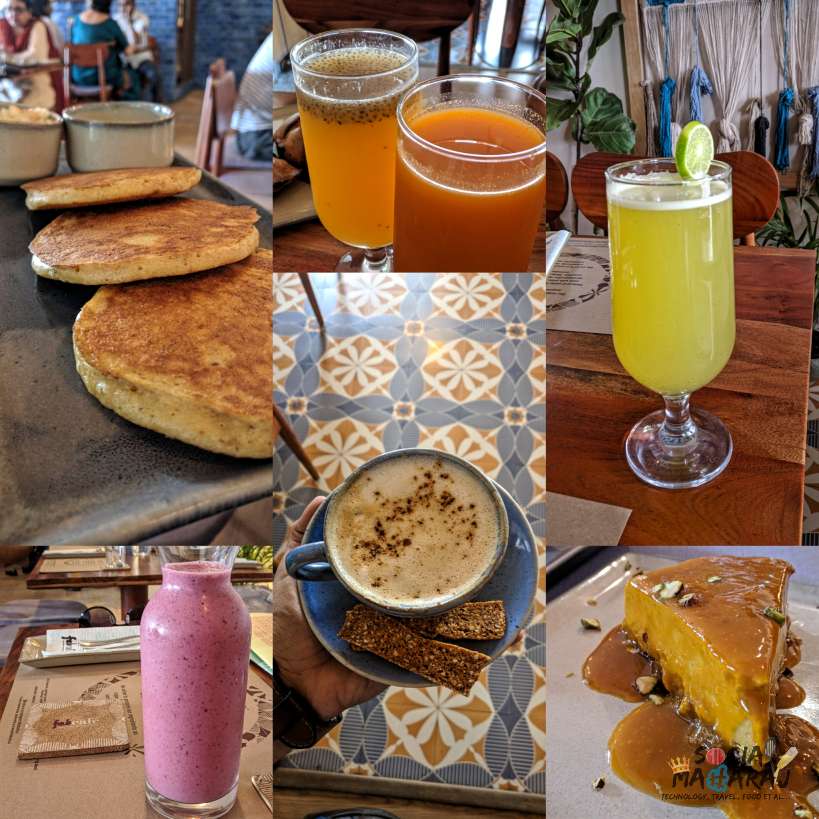 The drinks looked good and were unique like I said. However when it comes to taste, I'm afraid not all were great. The Ganna juice was pretty good and refreshing. The Glow Hydration was supposedly made from coconut water, orange and Aloe Vera, but it had orange dominating. Turmeric tonic was too tumericy and not everyone would like it. Same goes with Berry Blast. Coffee were good, had jaggery/brown sugar.
Pancakes were eggless but not quite there. The Jaggery sauce might not be liked everyone. Mango Cashew Tart was strong not only in flavor but also sweetness. It was highly sweet (for me) and also the preparation was quite average. So overall the drinks and dessert department was average.
Final Verdict: FabCafe Hyderabad deserves your time
Inspired by Traditional Indian Food, FabCafe sticks to its values. The brand is known for their traditional wear and will be known for their food too. FabCafe serves food mostly with organic ingredients and doesn't use refined sugar, oil and wheat. And due to this many might not enjoy the taste as the food may not suit their palate. However, there are quite a few things you can try.
Also, the restaurant is slightly on the higher side when it comes to the prices. Further, the service can get slow at times because of the large crowd. But kudos to Ms. Sobha, Mr. Srikanth and Sonai for making our experience a good one. A big thank you to FabCafe Hyderabad for inviting us. That was about my FabCafe Hyderabad Review. What do you say ? Don't you want to try it ? Mention in the comments below or tweet to me at @Atulmaharaj.