India has been an agricultural country ever since its existence. First the Green Revolution followed by the White Revolution, India is one of the very few countries that produces food grains,vegetables and milk in such large quantities.To be precise India has been the largest producer of Bananas, Mangoes, Milk for last few years. Predominantly an agricultural country, India has vast amount of farmlands and even a larger number of farmers. We have food grains like Wheat and Pulses coming in from the northern part of India while we get Rice from south. India has been producing these grains for centuries now, but the use of pesticides, fertilizers have set in only for past few years. And now a days, the world is following the new Mantra of "Organic Food". Simply put, Organic Food are those items that are grown without the use of pesticides, fertilizers or anything of that sort. Wait a second ? Farmers never used fertilizers earlier so Aren't we going back in time ? Read on to find out the impact of Organic Food.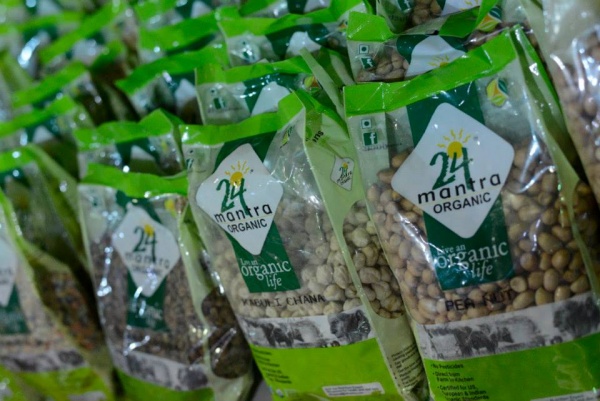 One of my relative had a farm which had few vegetable planted alongside few pulses. Whenever they used to reap the crops, I would get a gift of few kilograms of fresh pulses ! And seriously, the dal prepared from that produce was simply fantabuluous. Garnished with fresh coriander (again from the farm) and served with a dollop of Ghee, it's just delicious *drool* One thing that I noticed in his farm was that he had a compost pit at the corner, and it was a size of a swimming pool. A compost pit, (for all of you who aren't aware of) is a place where biodegradable waste is put in and the end product is manure which is mixed with the soil. Since the pulse came straight from the field, it looked and felt rough with the hard skin, because it was unpolished. So when the dal was prepared we had to chew it. But the dals you see in market are shiny, Why ? Because they are polished dal. And as a part of organic food, they sell unpolished dal, which is nothing but the unprocessed dal straight from the farm. So you are paying more to eat the organic food, see the impact here ?
But one thing that I surely agree is that the use of pesticides and fertilizers are having a negative impact on our health. People are developing health problems after consuming such items. It's because of this that the whole "Organic Food" trend picked up. Consumers have started to purchase organic food based on 2 factors :
Organic Foods have been grown with conventional farming techniques without the use of any chemicals hence its good for health.
The fact that organic food products have a better nutritional value. However there has been concerns with the Organic Food as well. Producers of Organic food claim that the foods have enhanced nutritional values but it's highly difficult to prove this.
The impact of Organic Food is such that a common man has a pre-conceived perception that organic food is low-calorie or it is healthier than other food items. And it is this perception that is driving the sales of organic foods in the market which in turn is having a positive impact on the bank accounts of the manufacturers.
How are we traveling back in time by using Organic Food ?
A simple explanation would be that Indians have been farming for centuries and farming is bread and butter for millions. According to the statistics released by the Department of Fertilizers, Ministry of Chemicals and Fertilizers in the book "Agricultural Statistics at a Glance 2014" link here.
It shows that the consumption of chemical fertilizers rose from 109.61 Thousand tonnes in 2000-01 to 239.59 Thousand tonnes in 2013-14 – a rise of 130 thousand tonnes in a span of 13 years ! So from these statistics it is clear that the use of chemical fertilizers was less as compared to the current scenario which is having an impact on the rise of Organic food consumption.
Considering the impact on health of food items grown using chemical fertilizers, moving to Organic Food is definitely the only choice. However the high cost and limited availability of organic is problem that many of use have to deal with. In the end, I feel that in a way we are going back in time by using Organic Food. Do You Agree ?
This blog post is inspired by the blogging marathon hosted on IndiBlogger for the launch of the #Fantastico Zica from Tata Motors. You can apply for a test drive of the hatchback Zica today.