"Din hai suhana aaj peheli taarik hai…" the iconic Cadbury Dairy Milk tune runs in everyone's mind because its 1st day of the month and it's Pay Day for many. You are waiting desperately for that one message and finally your phone goes *beep beep* "Your Account XXXX1234 is credited by 65,432 via IDKCorp.." and you are relieved. Once you get home, it's time for a brain storming session to prepare the monthly budget. If you belong the typical middle class family, you will understand this better. And then begins the budget session:
Rent – 8K
Fuel – 3K
Electricity – 3K
Phone / Internet – 2K
Grocery – 3K
And so one as you go like,this looks good. You will be saving a good a good part of your salary. But you have you considered the 'leakage' caused in your monthly budget ? This leakage could have a huge impact on your monthly budget. I was reading this article in The Economic Times today – link here, and realized that this is pretty much the truth. So here's my take on the impact of unaccounted expenditure on monthly budget.
The 'Latte' Factor
With your Monthly Budget in place, you seem to be going good for the month. One fine day you are returning from work and you stop by with your friends and grab a plate of yummy Momos, 50 bucks gone. That isn't a big deal, the big deal is if this becomes a regular affair, then it has an impact on your monthly budget. Similarly having the 'retail therapy' while your mood is off, can be disastrous. For mothers (especially with young kids) shopping can be a nightmare as shopping with kids means picking up a lot of junk foods like Chips, chocolates etc. And then you come across that irresistible 'limited time' sale and you go all out to buy that dress you always wanted ! These all have been termed as the "Latte Factor" which is nothing but spending small amounts of money on a regular basis. It's like buying a chips packet daily for 10 bucks, which will be close to 3K per year ! You see the impact now ?
Impact due to Late Payments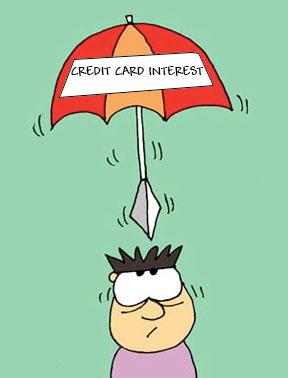 Apart from the spending front, being late in paying dues has a negative impact not only on your monthly budget but even on your Credit Report. So if you have a credit card, make sure to pay the 'complete outstanding' amount due and not only the 'minimum amount due' before the due date else you might have to cough up few hundreds as late fee or as the interest in case you paid the minimum amount due. Simple things like utility bills, vehicle pollution check if not paid in time will definitely have a negative impact on your budget.
How to stop unaccounted spending ?
The name "unaccounted" spending itself says everything. Have an entertainment/shopping/emergency fund kept aside every month and STICK to it. Decide a judicious amount for it. Let's say if you are earning about 50K then about 5K monthly should be fine for these unaccounted expenditure.
For late payments, ensure to have a reminder in place. Even though the service providers now a days send repeated reminders, people tend to forget. You could even create a standing instruction, but that would cost a little for setting it up and modifying it later.
If you are planning for purchasing a new gadget, or jewellery, it's always good to save up for such things rather than spending it off your salary at once. A traditional Bank Fixed Deposit or Recurring Deposit can do wonders.
The Economic Times article was definitely an 'eye-opener' but I'm glad to be following the basics and getting things right. Here were few things that I experienced and managed to stop it from the negative impact that it would have on the budget. If you have had a tough time managing your budget but you employed a great trick to save the 'leakage', please share it with all of us…
This blog post is inspired by the blogging marathon hosted on IndiBlogger for the launch of the #Fantastico Zica from Tata Motors. You can apply for a test drive of the hatchback Zica today.