How many times have you come across the gorgeous photos on Santorini ? Yes, those blue houses overlooking the calm blue sea in Greece. Santorini is one of the places that is on the bucket list of many Indians. Inspired by the vibes of Santorini, Iron Hill Cafe has opened its door in Film Nagar. Iron Hill is one of the few cafes that have an amazing ambiance. Known for its coffee brewing expertise, folks at Iron Hill Cafe called upon me to experience their newest outlet. So this post will be all about Iron Hill Cafe Review.
Santorini in Hyderabad – Iron Hill Cafe
Nestled in the peaceful and uptown area of Film Nagar, Iron Hill Cafe is quite esay to locate. Thanks to the directions along the way. Iron Hill Cafe's newest outlet in Film Nagar is located amidst a residential area. The cafe is spread across two plots and offers 3 different seating options. First option is indoors inside the the main hut which houses their Coffe bar. The second area is sitting outside on the benches while the third area is inside the other building.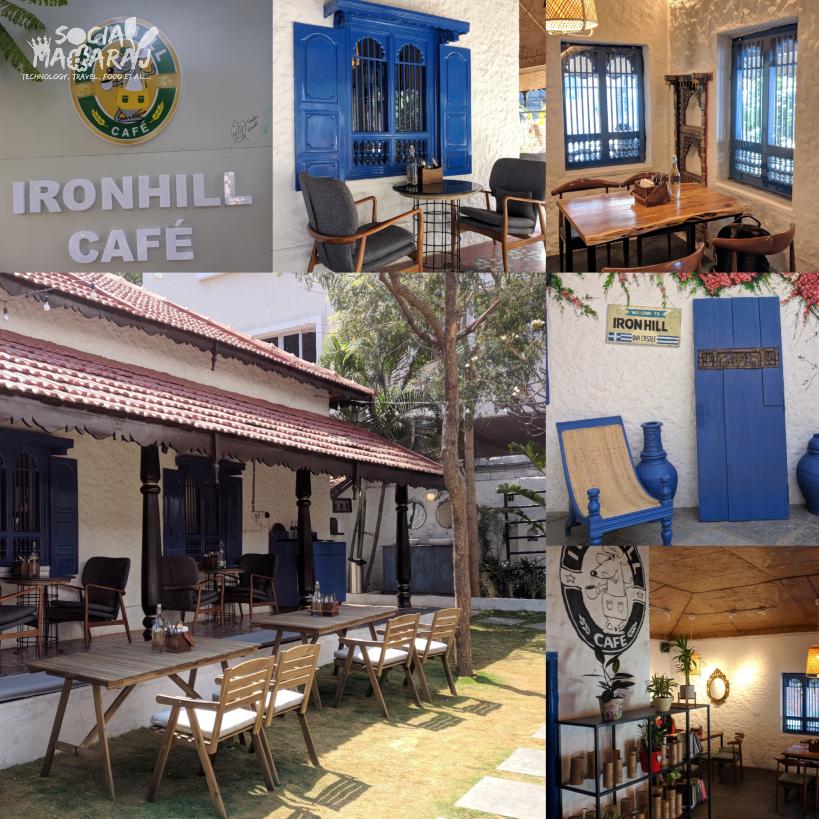 The entire cafe is based on the theme on Santorini and it is pretty evident. Lots of hues of Blue is used on the appearance. There are a lot of Instagram worthy spots in the cafe. The cafe is perfect to spend few hours reading your book and sipping your coffee. Especially the outside seating area. The benches in the small garden is just perfect to spend time with your loved ones. Overall, Iron Hill Cafe has done its best to bring Santorini in Hyderabad sans the sea.
Food and Drinks at Iron Hill Cafe Review
Iron Hill Cafe has a quite a menu whether it's food or beverages. Their kitchen is located outside and all the delicious dishes are cooked here with the freshest of ingredients. We started off with Watermelon and Feta Cheese salad. The salad was nicely done and the dressing was pretty good. Next in line we had Banana Waffles and Nutella Pancakes. Off late I've been having a lot of waffles and I won't deny that I seem to like them. The one served here at Iron Hill Cafe was nicely done. Hone along with the Banana and cream was perfect. Pancakes were drizzled with Nutella had a delicious taste.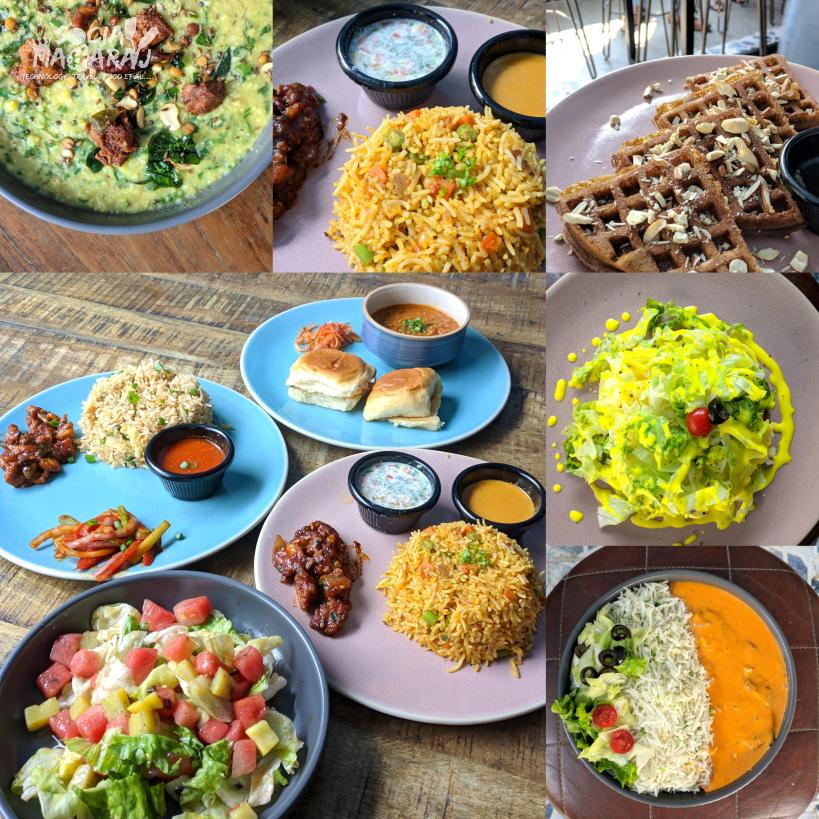 Apart from this, we also had the Palak Dal khichdi which was served with and without chicken nuggets. It was good to see khichdi on the menu. The khichdi was pretty nicely done and had good flavor. Lastly we also had the Ghee Pulao which was pretty delicious. Overall, quite satisfied with the items served, would have been better if there were more vegetarian choices.
Beverages – Hot and Cold
During our meal we were also served quite a few hot and cold beverages. Apart from the rounds of coke, we had a chocolate milk shake which was nice. We also got a dose of smoothies – Banana Cinnamon along with Strawberry Smoothie. Both these drinks were super delicious but the Banana was different, thanks to the Cinnamon. The menu at Iron Hill Cafe has a lot of healthy food items and we were served the Beetroot drink along with a refreshing mint slush based drink. Both these drinks were not only picture-worthy but were delicious.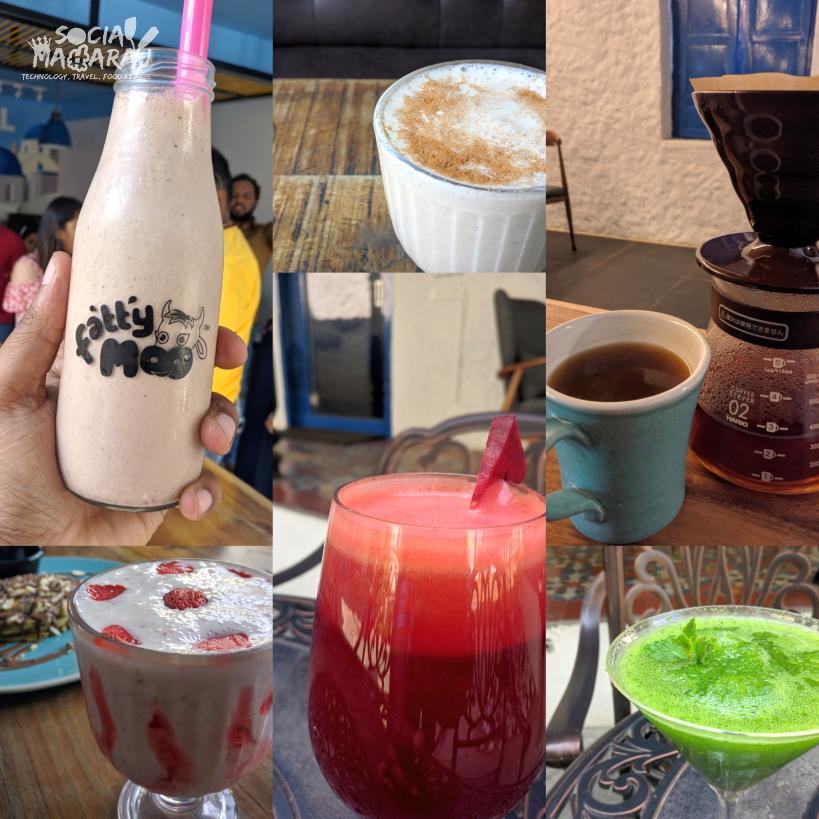 On the hot beverages part, we first learnt the art of brewing various types of coffee. We saw how a French Press coffee is prepared along with other types. Also we were served a variety of coffee from exquisite to regular Arabica beans. The coffee was simply outstanding. If you are a true coffee lover, you will love the variety of coffee Iron Hill Cafe has to offer. Grab a cup of coffee and read your favorite book or play your favorite board game !
Iron Hill Cafe Review: Food, Coffee & Ambiance must visit
We were at Iron Hill Cafe for brunch on a Sunday and it was calm. Like I mentioned earlier, the ambiance at the cafe is worth spending few hours. Especially outdoor seating. At some point it did remind me of Sofrehh Persian Bistro with it blue paint job. The food options are nice, however they can have more items for vegetarians. The Dal Khichdi is a pretty good dish and I'd recommend you to try. Whether you are health conscious or not, you will love the items they served. You cannot leave this place without having a cup of freshly brewed coffee. It was indeed a wonderful experience. If you had a chance to dine here, would you eat outdoors or indoors ? Let me know in the comments below or tweet to me at @Atulmaharaj or DM me on Instagram.