Salom ! Being the desi food lover that I am, I do love to explore cuisines of various regions as long as they are vegetarian. I love Italian especially the Pastas and breads. Off late I fell in love with Falafels, Pita Bread and Hummus. My love for Falafel started with the Makhni Falafel Wrap from Faasos. Those delicious chunks of Falafel drenched in Makhni gravy is just yummm. Anyways, last weekend when I was invited at Sofrehh in Jubilee Hills for a tasting session, I readily agreed because of the Falafel Sandwich & Coffee on the menu. Hence like always, this is going to be my review post. Sandwiches and Coffee at Persian Cafe Sofrehh.
Small, Cute Cafe – Sofrehh
Some time back I had written a post about Food Trucks and how they are disappearing. The food served at some of these food trucks are finger licking good. However, the trend of Food Trucks hasn't gone out completely. Sofrehh is one such cafe which still has a food truck. Located right next to Dakshina Mandapa, Taj Mahal hotel in Jubilee Hills. It's easy to locate in the evenings thanks to those amazing lights. The place is a small area in front of an organic food store.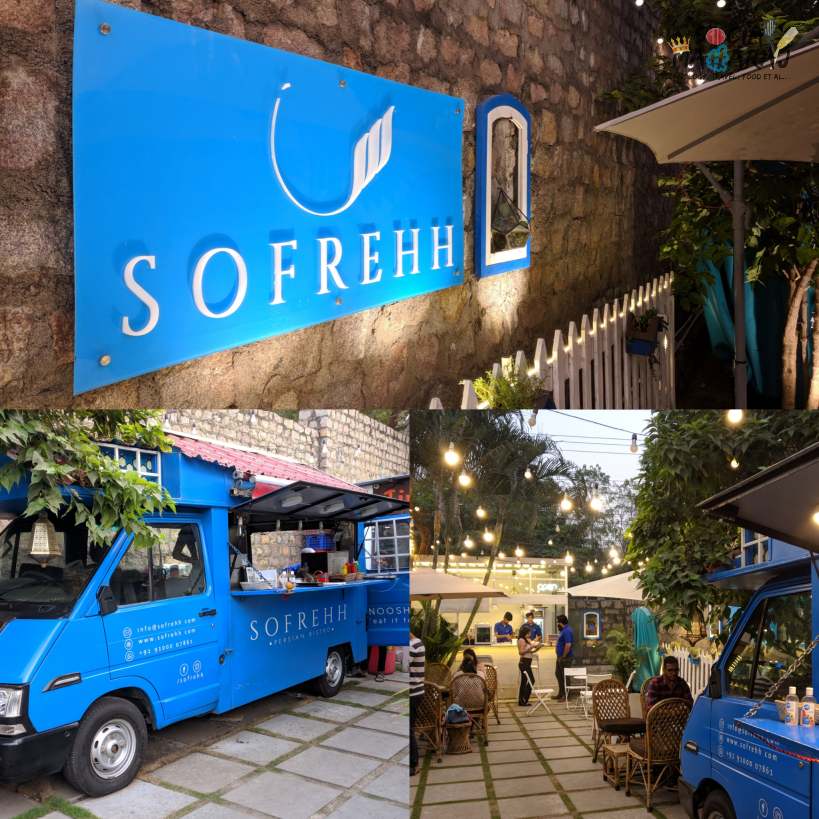 The blue food truck, banners and the amazing jazz playlist livens up the place post sunset. The owner Arash is a jovial man who loves his food. A brief New Yorker, who loves 'Ma-Ka-Khaana' is behind Sofrehh. The place is ideal for a small hangout with friends and loved ones and may not be perfect for a large group. Head here post sunset and I'm sure you'll love this place. The outdoor seating is the perfect place to chill !
Food Review of Sofrehh
Sofrehh brings subtle Persian flavors to the table. The menu – not lavish – has quite a lot of unique items. They love their sandwiches, marmalades and cookies. And we too decided to try what they love along with few beverages.
Sandwiches or Subs ? What's in the name
Their sandwiches are more like subway sans choice of veggies and sauces. Further, the vegetarian options are quite good. We had the Falafel Sandwich along with the Paneer & Potato Sandwich. Both the sandwiches had some veggies and sauces along with the patty. Starting with the Falafel patty, it was good. The patty was nicely done and had a balanced flavor. However I prefer it to be slightly more punchier, maybe a pinch of salt could have made it the way I like it. Also they could mash the patty and put in the sandwich to get a proper spread. Paneer Sandwich on the other hand was decent.It was nicely spread and had again had a balanced taste. Overall, loved the sandwiches, Falafel sandwich is a must try here. For non vegetarians they had a lamb and chicken sandwich.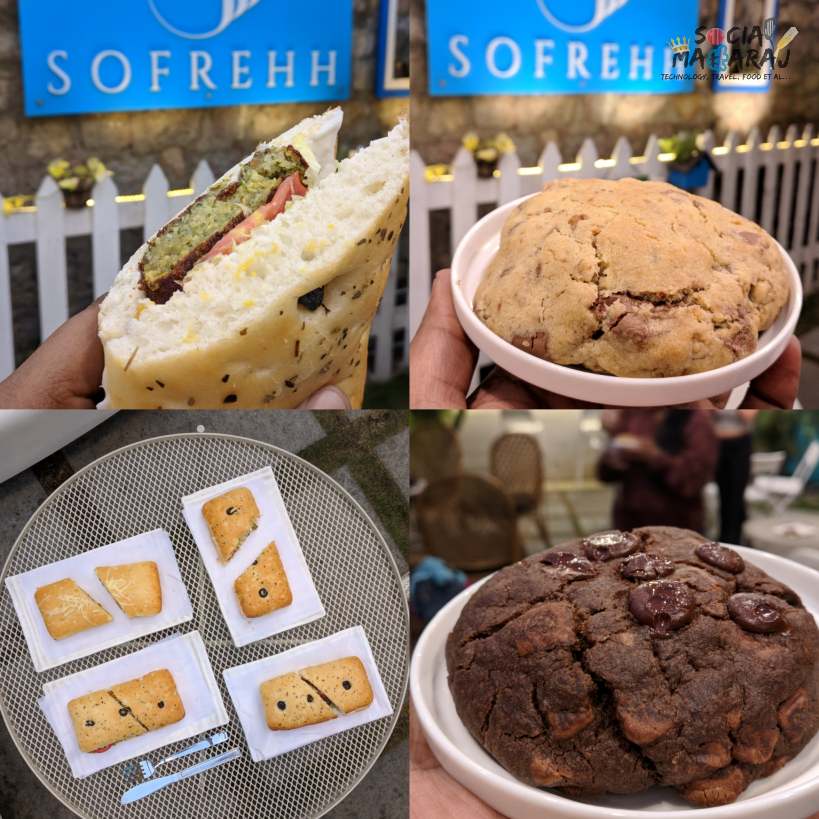 Hot & Cold Beverages at Sofrehh
With the food we had, we were already waiting for the drinks to be served. The menu has got a good mix of hot and cold beverages. We were served Cumoco, Mango Mint, Tamarind Myth along with Cappuccino and Hot Chocolate. Cumoco was a rejuvenating mix of blubbery, cucumber and ginger. Too much sweetness, could be toned down. Also for a ginger lover like me, I didn't find the presence of ginger. Mango Mint was like any other smoothie. However the highlight has got to be the Tamarind Myth. The drink made from Tamarind, Orange & Green Chilly, is perfect to tickle your taste buds.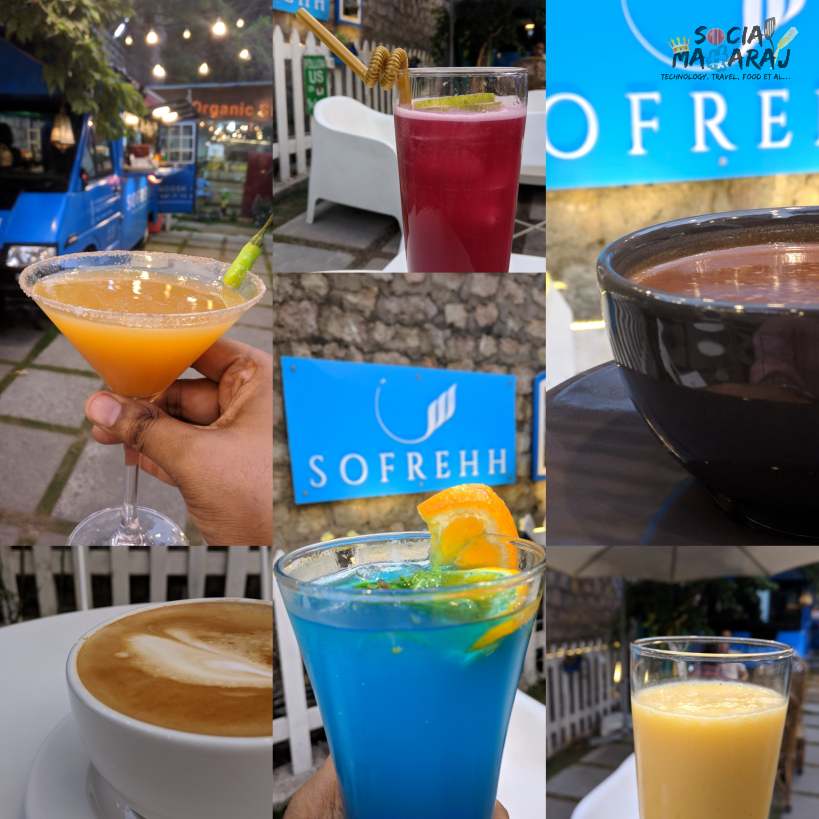 Coming to the hot beverages at Sofrehh, the Cappuccino was made to perfection. We were served two variants, a normal one and other was Hazelnut flavored. Both of them were nice. They source their coffee beans from a single estate from Chikmagalur. The Hot Chocolate was everyone's favorite and mine too. Not too sweet, not to bitter, just the way I like it.
Freshly Baked Cookies you can't miss
If you are at Sofrehh, you simply cannot miss out on the freshly baked cookies. A word of caution, these cookies do contain egg (and I did consume it) so make sure to call out your preference up front. 23 minutes is what each cookie will take to reach your table. Trust me the music and the ambiance will make 23 mins feel like 23 seconds. The wait is definitely worth. The cookies are chocolate filled so when you open them you have chocolate oozing out. One bite and you'll be reminded of the Cadbury 5 star advert with the twins – Ramesh & Suresh, who forget everything after each bite ! The cookies are just amazing, perfect testimony of Persians being amazing bakers. I have already experienced it in Panchgani. You simply cannot miss these cookies.
Final Verdict: Head out for a perfect evening
The place is perfect for everyone. The ambiance and the music makes up for the perfect evening. The food is good with a lot of hits and few misses. As a vegetarian, I would recommend you to try the Falafel Sandwich, Tamarind Myth, Cappuccino and the Cookies. They also sell Marmalades in jars. Overall, it was a fun evening meeting new people over food and food music. What do you think about Sofrehh ? Won't you want to be there ? Mention your thoughts in the comments below or tweet to me at @Atulmaharaj or DM me on Instagram.