Of all the things that I talk during my sessions – virtually or in person, the one thing that I always mention is about going out and meeting people. Our lives are on the internet as we socialize with millions around the globe. However, I feel that if we meet the people behind those blogs, Insta/Twitter accounts, we can better relate to their posts. On these lines, I was recently invited to attend the Hyderabad Food Insta Meet. This post is going to be my experience of attending the event, meeting food influencers, instagrammers and bloggers.
The Venue – The Glass Onion
It was a bright and sunny day, but cooler than other days in Hyderabad. The venue for the Hyderabad Food Insta meet was The Glass Onion at the Boulder Hill's Golf Club. I've been at the Golf Club on two occasions: first time at Ohri's Boulder Hills for a team lunch and then for the KPCL Golden Eagles Golf Championship. So I wasn't alien to the place, however this was my first visit to The Glass Onion. It is a wonderful property with great indoor and outdoor seating options. One can sit and relax outside looking at the sun set behind the lush green golf course.
The place for Hyderabad Food Insta Meet was reserved outside as we had almost 80 Foodies joining in. Most of them being Instagrammers, followed by Influencers and a few bloggers. (You know how particular I am about Instagrammers & Bloggers) I was also happy to see meet some vegetarian foodies too. The ambiance was pretty good, thanks to the weather that ensured that.
Food Spread at Hyderabad Food Insta Meet
Enough about the ambiance at The Glass Onion, moving to the food spread we had for Hyderabad Food Insta Meet. A good spread of vegetarian and non vegetarian salads on offer. Few Cold Salad options along with some fresh greens. There was a Quinoa preparation which could have been better. At the other end, we also had live grill and pasta counter. I did try Grilled Veggies with my vegetarian foodies. The Paneer marinate was ok but it was dry, I prefer the grilled veggies to be more succulent. White Sauce Penne Pasta was nicely done as it was creamy and cheesy at the same time.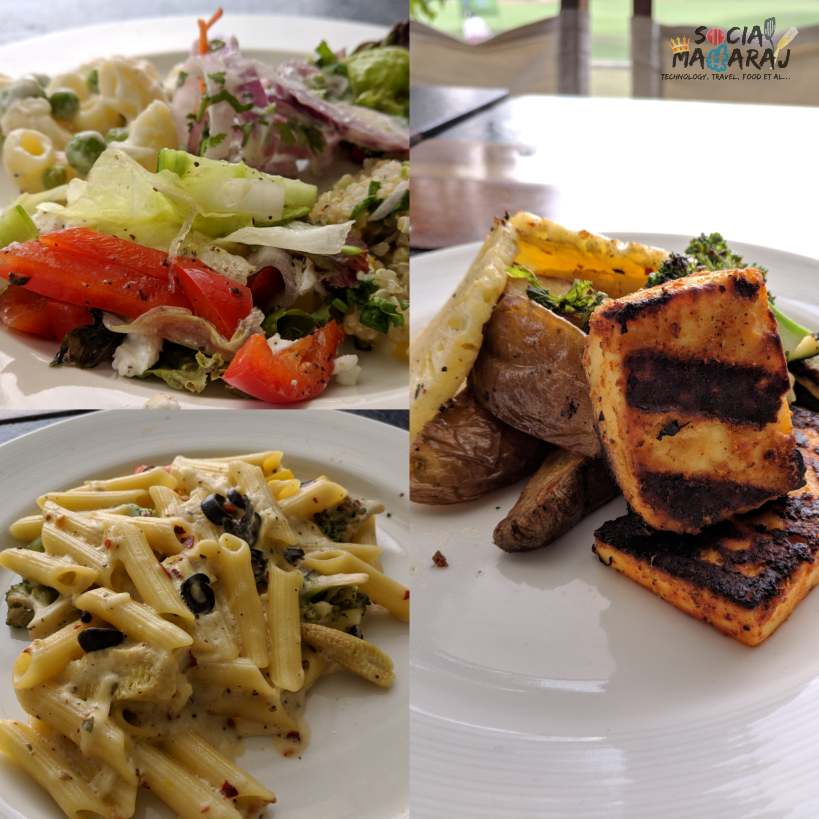 For the main course we had a mix vegetable offering, a Paneer preparation and a Thai Green Curry. One major issue here was that the name of the items were mentioned at one of the table and not for each item. That did create some confusion for veggies as so whether a dish was vegetarian or not. Paneer preparation was nice and so was the Mix Veg.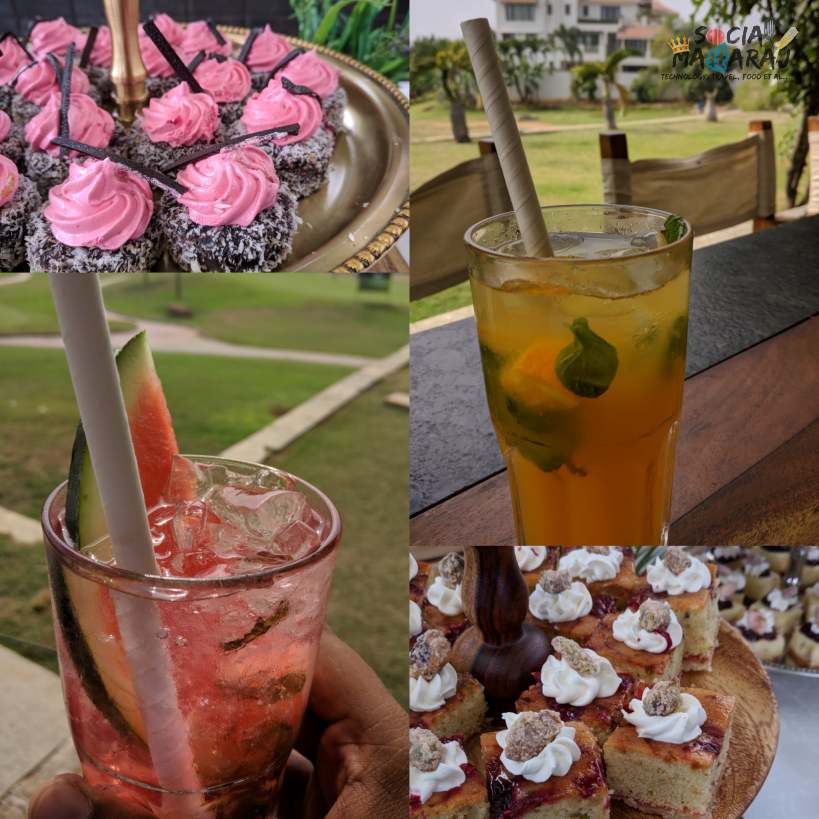 There was also the bar with some soothing options out there. We had the renowned mixologist Sharad Arora – @LottaGuy – mixing some refreshing drinks in the signature lotta. For Teetotalers, there were three drinks: Virgin Mojito, Watermelon Mojito and Orange Mocktail. Of all, my favorite was the Watermelon Mojito. Sweetened and Carbonated just the way I liked it. The Desserts spread was lavish and something that most of us loved.
Wonderful Hyderabad Food Insta Meet
This was the second edition of the Hyderabad Food Insta Meet and my first one. I had seen a lot of Instagram stories and posts about the first one. The event was nicely coordinated one with live music, fresh food and drinks and of course the community. It was great meeting many food lovers from Hyderabad. Further, since there were so many people, getting a one-one session with everyone wasn't possible. I surely missed out on meeting many folks 🙁 I wished if each one was given a chance to speak for few seconds as it would help us connect better. Overall, it was a nicely organized event and thanks to the host Zubair for this.
I'm already looking forward to the next edition. What are your thoughts about such meetings ? Do you also believe that meeting in person is equally important along side following on social media ? Mention your thoughts in the comments below or tweet to me at @Atulmaharaj or DM me on Instagram.