Like I've said there aren't many pure vegetarian restaurants in the City of Nizams. There are only a handful of pure vegetarian restaurants and I'm glad I've been to quite a few of them. Last Saturday was like any other Saturday except that it was a family dinner date. It quite happens that we dine out at least once a month. Bonding over food they say, a blog post is what I say 😛 After a lot of research finally decided to zero in on Dakshina Mandapa, Taj Mahal Hotel.
There's quite a bit of legacy with the Taj Mahal hotel as it was opened in 1948 ! Since then the restaurant has spread it wings across the city and has branches in Abids, SD Road and Jubilee Hills. You can find people from all walks of life coming together and bonding over food. That's what we exactly did. So here's a review of Dakshina Mandapa, Taj Mahal Hotel Hyderabad.
Soulful ambiance with live music
I remember even in my previous posts I've talked about how well music gels with food. Be it the upbeat music at the lounge or the soulful ghazals at a fine dinner. Taj Mahal Hotel in Jubilee Hills is flocked by hoards of people and getting there at peak times isn't an easy task. Waiting times can range upto 45 mins and people queue up to relish food at this iconic restaurant. But we are early birds, and hence were able to explore the restaurant better. The ambiance is good, it looked spacious when we walked in. But it was exactly the opposite when we walked out.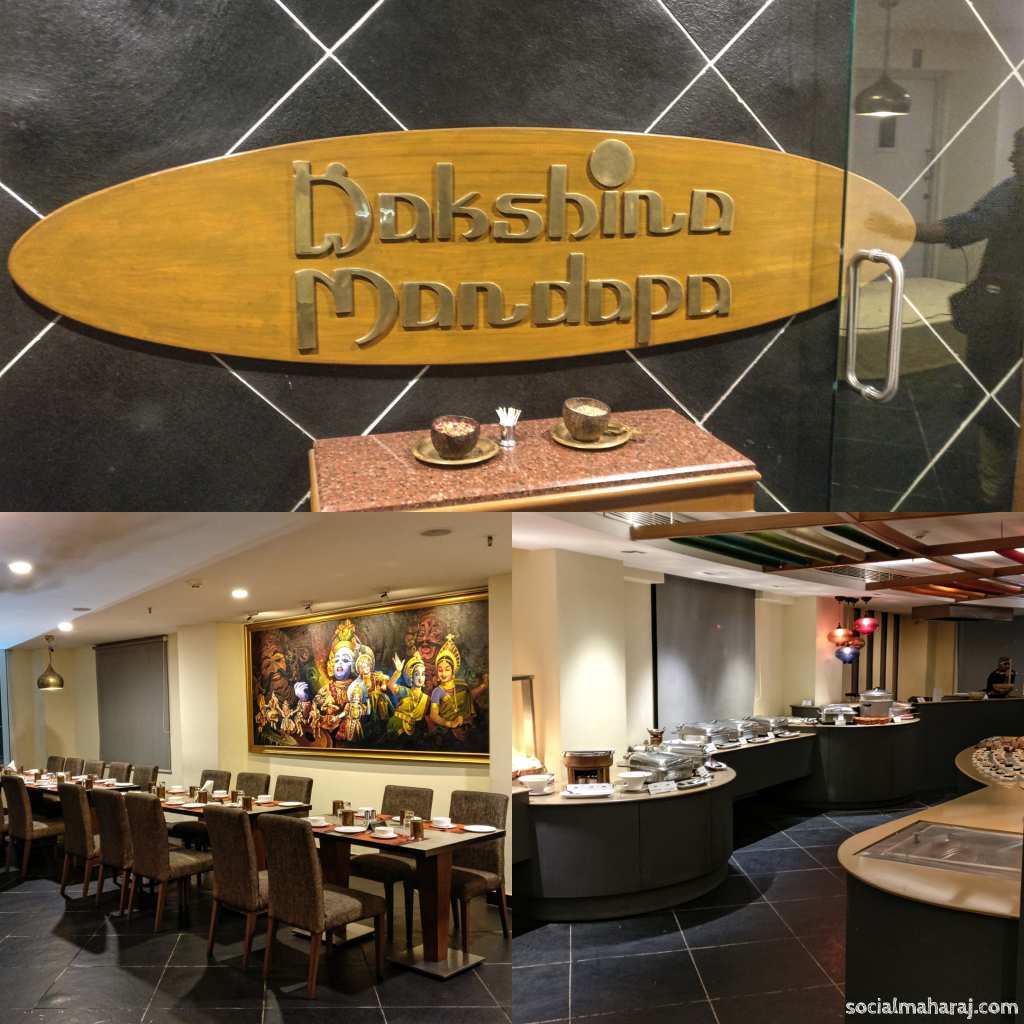 The buffet area – especially the live counters and ice cream counter – can become very crowded. The live music – tabla and Santoor – is so pleasing to the ears. A proper Indian meal with the olden melodies on the instruments – just amazing ! Overall, the ambiance is pretty good. Advice: avoid sitting at the tables near their kitchen or entrance, it can be disturbing at times.
The Vegetarian Ensemble – Dinner Review of Dakshina Mandapa
The buffet spread is all vegetarian and is quite lavish. I have seen such lavish vegetarian spreads at Ohri's Jiva Imperia and A'la Liberty to some extent. The buffet included 2 welcome drinks, 2 soups, 2 starters, variety of salads, 4 north Indian curries, around 3 south Indian curries, biryani, rice, sambhar, rasam and button idli. Live counter served chat and dosa and ice cream. Desserts were pretty standard and nothing was too special about it.
Soups,Starters and Chats
Soups and Starters are served on the table. Now most places serve only soup at the table, Dakshina Mandapa provides starters as well as welcome drink. Since I was there on the occasion of Ugadi, there was Ugadi Pacchdi and Panakam for welcome drinks. Panankam was DELICIOUS ! For soups they had Palak Shorba and Hot Mexican Soup. I tried the Mexican soup and it was nicely done. Perfect consistency and a balanced taste. For starters there was Tandoori Baby Corn and Butter Garlic Peanut Paneer. Baby corn was done well but Paneer could be done better. It tasted like any other Paneer 65 preparation. Next we tried the Pani Poori and a variety of chats. These were presented well, and tasted average. I'd say the quality of the starters can be improved.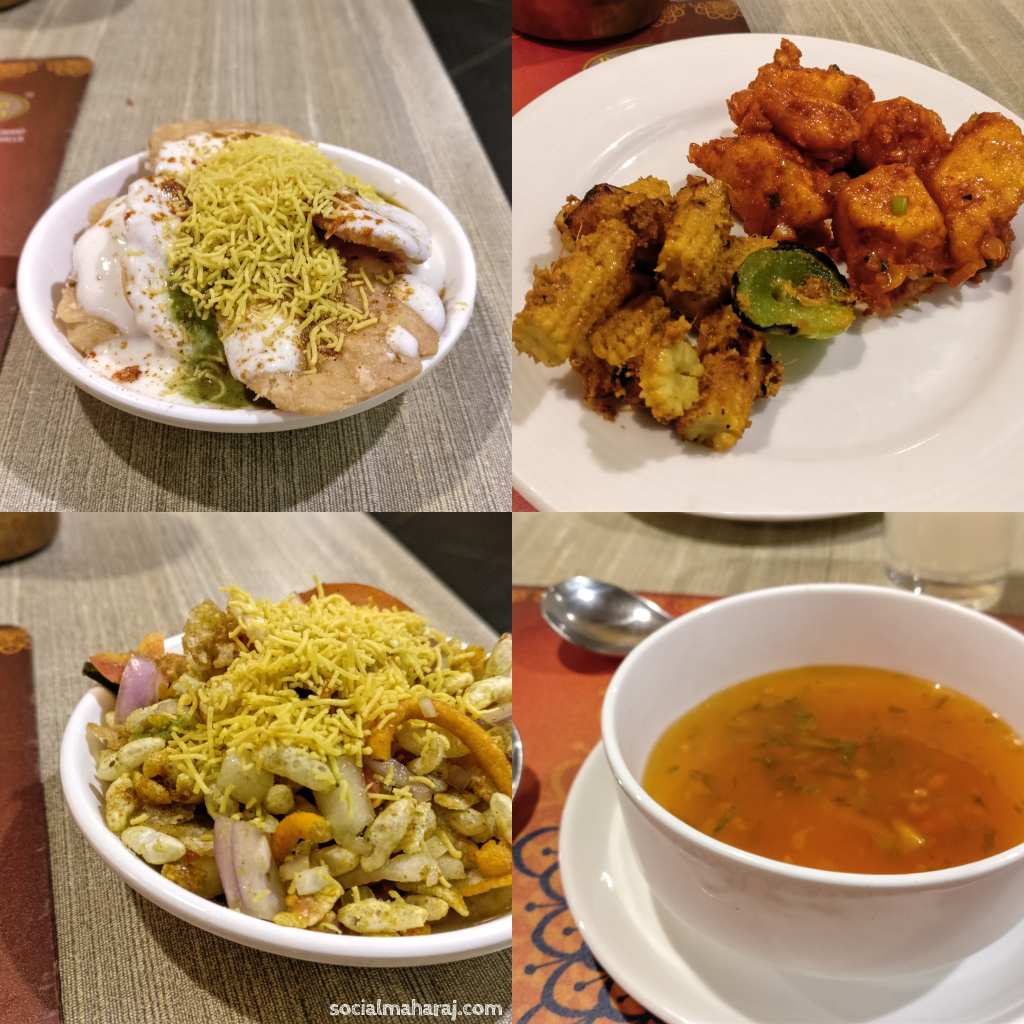 Indian Main Course
For main course we had Paneer Lababdar, Birbali Do Pyaza, Malai Makai Matar and Yellow Dal from the North Indian pavilion. Apart from this there was Parval, Dondakai (Kundru) poriyal along with Sambhar and Rasam. There was also Pasta Alfredo along with Thai Curry and Soft Noodles. The Pasta was ok and so were the noodles. The Sambhar was pretty good on taste and a perfect companion for white rice. Rotis were served on the table and I had Tandoori Roti with the curries. Paneer Lababdar was too saucy and tangy, could have been a lot better. It looked delicious but wasn't too great. Birbali do Pyaza was a mixed vegetable preparation in onion-tomato gravy. Malai Makai Matar was ok. Yellow Dal was delicious and had the right balance of spices and garlic. Just loved my Dal Roti.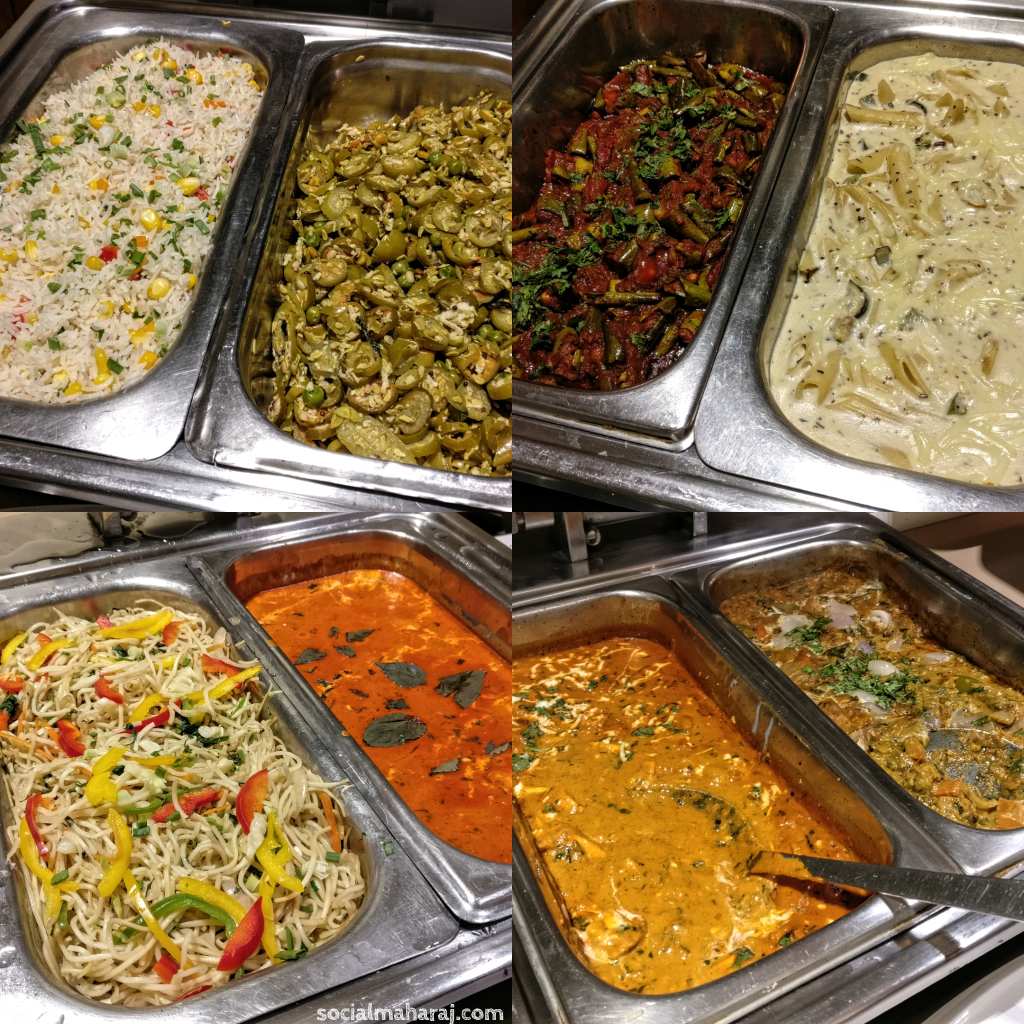 We also tried the Masala Dosa from the live counter and it was great. There are many places that serve dosa from the live counter but this has got to be the best one. The chutney was fresh and made from coconut. You don't generally find such chutney often. It was so good that I had two of them. The best live counter dosa I've had in the city.
Assortment of Desserts
There was quite a variety of desserts on offer. Though there was nothing quite special about those. There was the regular fresh fruits, Gulab Jamun and the Moong Dal Halwa. There were also Bournvita Burfi, Paysam, Qubani ka Meetha and an array of pastries. For ice cream they had only vanilla. They had a separate counter where they were mixing ice cream with a variety if toppings based on your liking. It was a Cold Stone ice cream that you find at Creamstones. The ice cream was good, I had the chocolate one. It had choco chips, Oreo cookies and brownies. A perfect way to call it a day.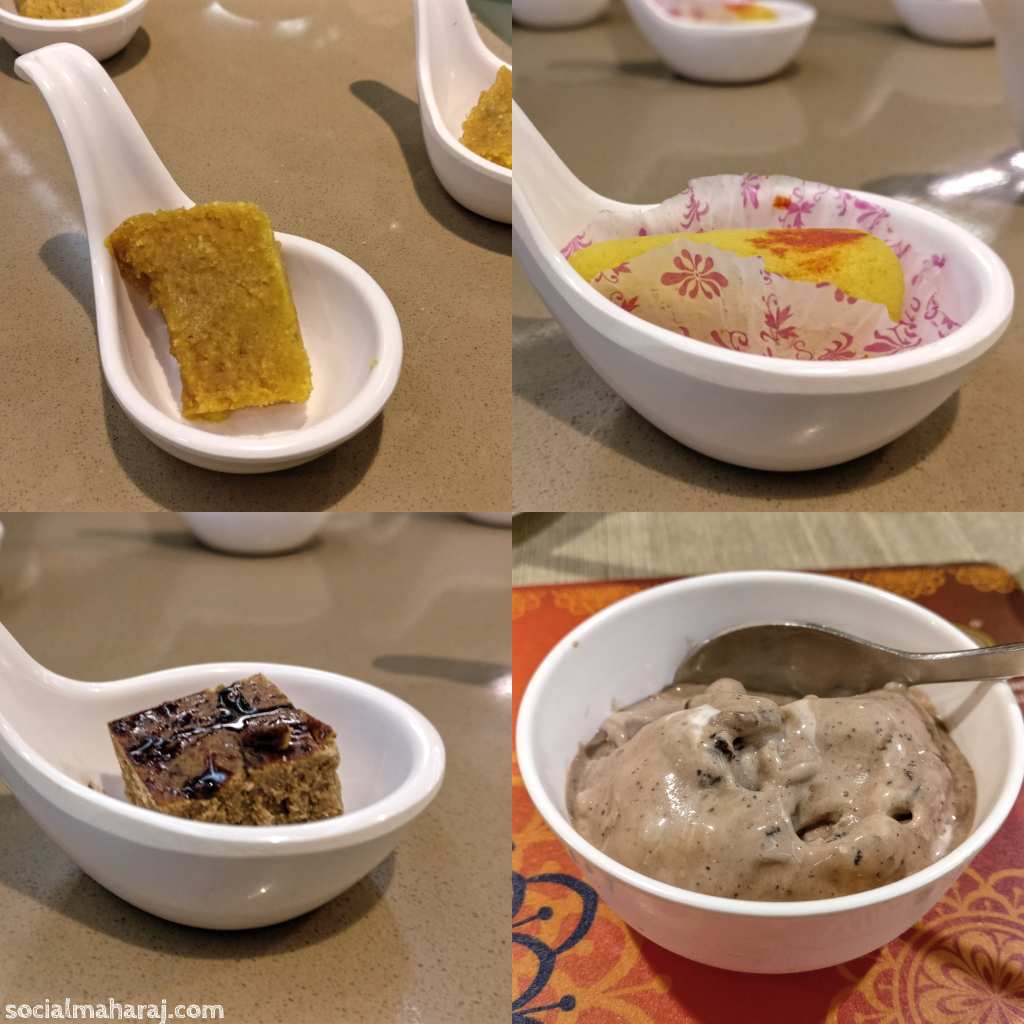 Final Words: Must visit for vegetarians
No wonder why Taj Mahal Hotel has become a brand in Hyderabad for pure vegetarian food. Their outlets are thronged by lot of people and is often crowded. Similar is the case with Dakshina Mandapa in Jubilee Hills. Crowd starts increasing from 8 pm on wards and soon there's no place to park outside. The buffet spread is good and the dishes are nicely done. For exactly Rs 1800 for 3 people, I'd say the buffet is a good value for money.
There are some hits and misses like every other buffet, this one is what you need if you are looking for a pure vegetarian buffet. Further, they don't accept reservations, payment through dine out or any app. Only cash and card is accepted. That's about my dinner review of Dakshina Mandapa, Taj Mahal Hotel. Have you been there ? How was your dining experience ? Let me know by commenting below or tweeting to me at @Atulmaharaj