The first time I had a pizza ever was almost 16 years back in Ahmedabad. I remember having a double cheese pizza from Honest – a popular fast food chain in Gujarat. For someone who had never tasted cheese and pizza, double cheese pizza wasn't a good choice. I didn't even take a proper bite of it. The next time I tried pizza from Domino's near Colva beach, Goa when I was on a break from boarding school. Slowly and steadily I came to terms with videsi food. What started with Pizzas, soon turned towards Pasta, Nachos and so on.
After moving to Hyderabad, I tried an all Italian Buffet at Vera Pizzeria in Madhapur – which apparently has been shut down right now. And last week, after playing badminton at Gamepoint, we decided to reclaim the burnt calories with an all Italian Buffet. This time we dined at Little Italy in Hi-Tech City. Here's the review of All Vegetarian Italian Buffet at Little Italy, Hyderabad.
Italian Buffet at Little Italy Hyderabad
Pleasing Ambiance at Little Italy
The area opposite to Hi Tech City is quite crowded with multiple restaurants and cafes. There are these two buildings which would have more than 10 restaurants combined. Little Italy is one of them. It is situated on the 3rd floor and the entrance to the restaurant isn't lavishly spacious. We reached the restaurant at 7 and were the first ones to be there and thus got a choice to choose our tables.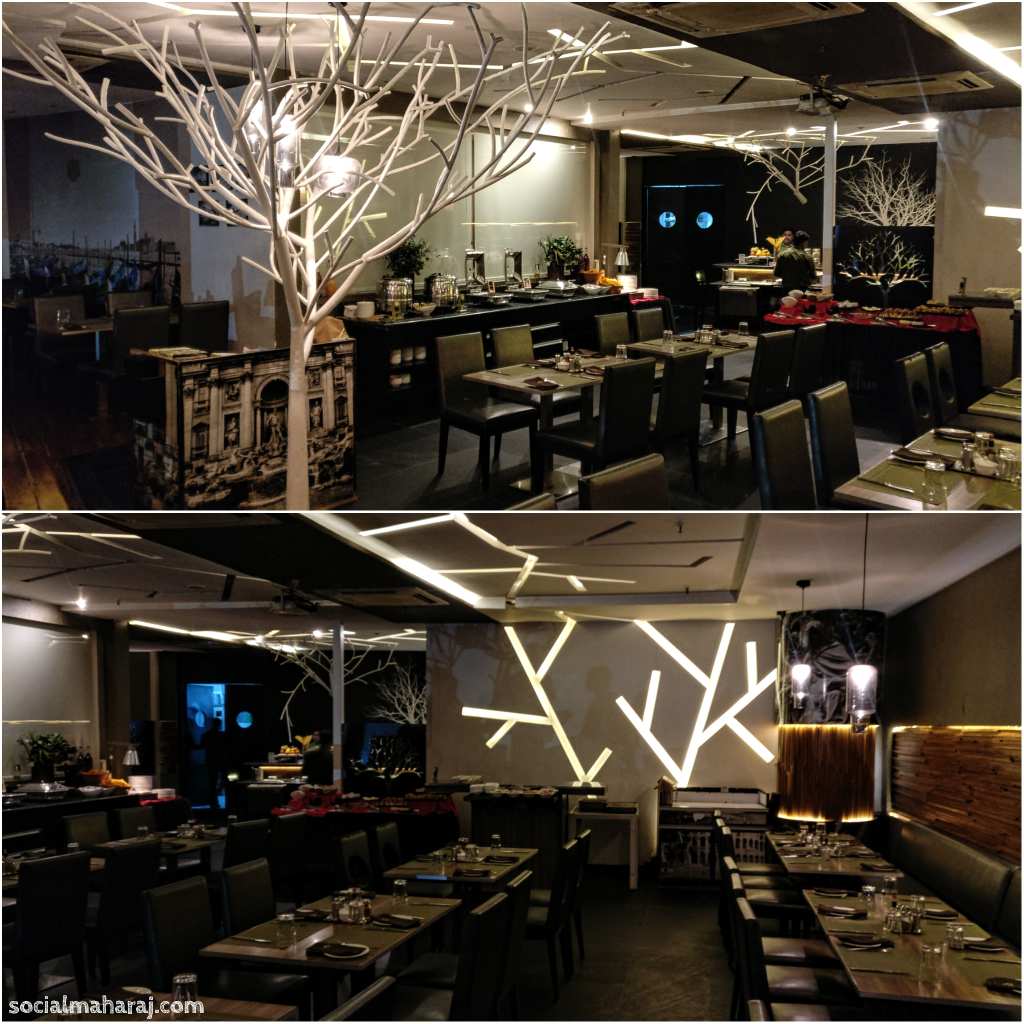 The seating area is a little cramped but as long as you reach there early it shouldn't be an issue. There are about 6 tables near the window so you can watch the IT folks running around on the road. The decor is pretty decent and I loved the light waala tree inside. The have a buffet area, a live pasta counter and a dessert counter along with a waiting area. With the IPL season on, they also screen live matches. So overall, the ambiance is pretty good but the place can get crowded quickly on weekends.
Italian Buffet Review
The all vegetarian Italian Buffet includes two varieties of welcome drink, 4 starters, 2 soups, pizzas, 4 main course dishes, live pasta counter, some other starters and desserts. Most of the dishes are served on the table and you don't need to get up. Below is how the food at Little Italy was.
Soup and Starters
There was a tomato soup and mushroom one and all us ordered both of them. The mushroom soup was average and it was too watery. Usually the soups have to have a thick viscosity – my chemist friend actually used that word ! The soup was no where closer to the Minestrone Soup at Saffron Soul. For starters we had Garlic Bread, Masala Garlic Bread, Veg Bruschetta along with fried baby corn, cheese balls and nachos. While these were being prepared, we got our welcome drinks. There was a guava punch and a lime mint flavored drinks. The Lime Mint was fabulous ! All of us loved it and had multiple serves of it.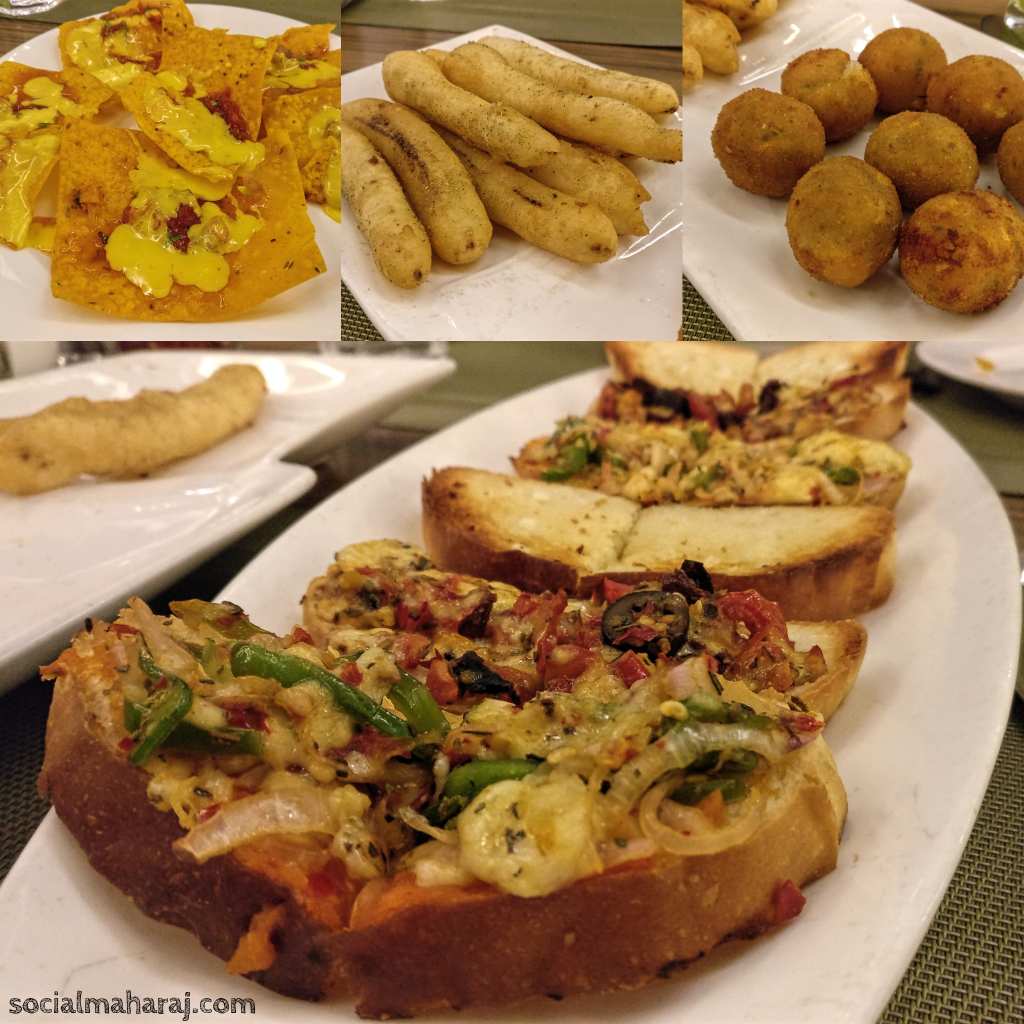 The garlic breads were good and I preferred the masala garlic bread because of the veggie and cheese topping. Bruschetta was nice, but I had more of garlic bread. The fried baby corn was something I had for the first time. It looked like a Mirchi Bhajji but with a baby corn inside. It was high of calories and almost tasteless. Cheese balls could have been made more tastier, it lacked the punch. IF you asked me, the best cheese balls I had yet in Hyderabad has to be at Roastery Coffee House. Overall, the starters were good – some hits and some misses.
Main Course – Pizzas Pastas and More
Little Italy serves 4 varieties of pizzas. We ordered two of them. These are thin crust, small-sized pizzas. Meanwhile I was at the live pasta counter choosing the veggies for my pasta. We ordered a pink sauce penne pasta along with a white sauce spirali pasta. When the pizzas arrived, they didn't quite look desirable. They looked simple and tasted simple – nothing extravagant. I realized that in a buffet, pizzas aren't often not done pretty well and same was the case this time.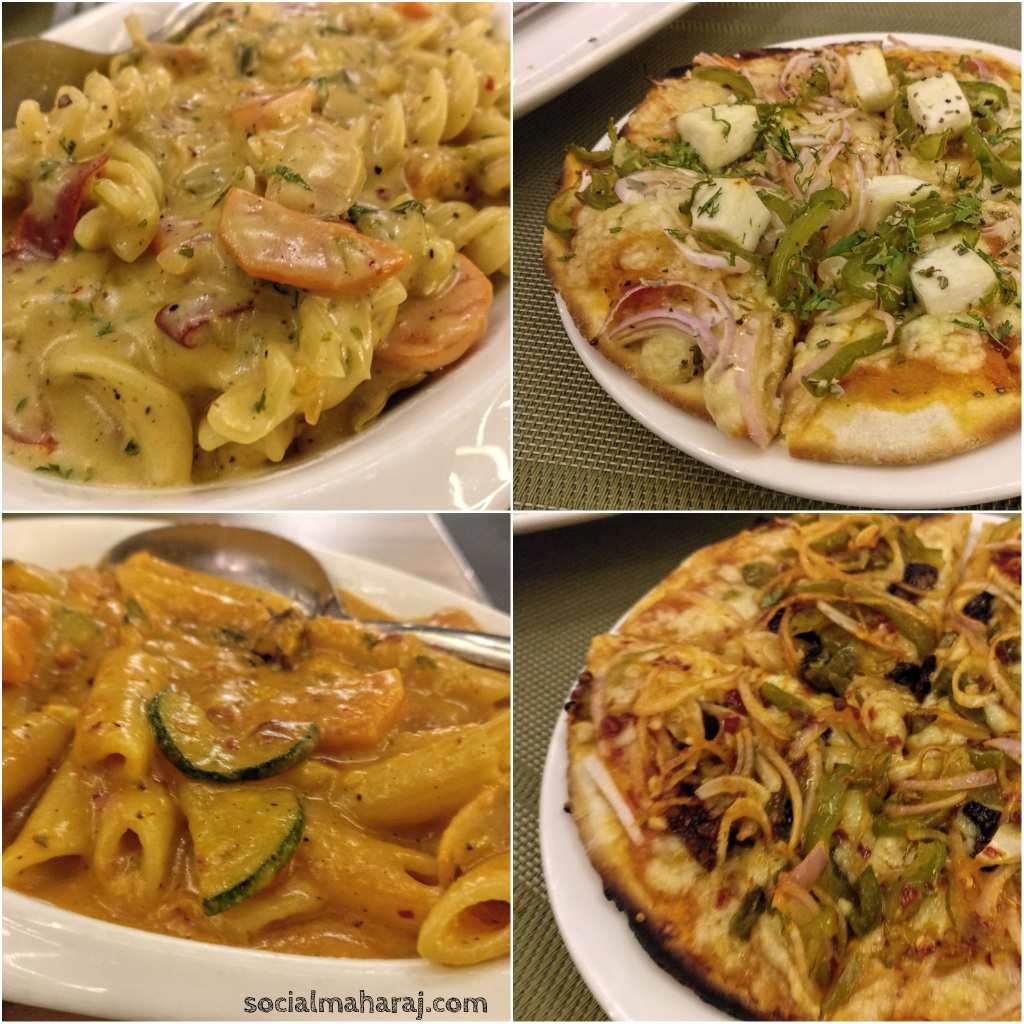 Pastas were being made right across the table as we saw CSK battle it out with Rajasthan Royals. The Pasta took some time to reach the table but the wait was totally worth. These have surely got to be one of the finest pastas I've eaten. The sauce was done to perfection, veggies were fresh and added to the taste. Pasta itself was boiled perfectly and the garnishing was great. Once on the table, we all digged into the pasta and each one of use loved every bite of it. The white sauce pasta I asked had loads of garlic, just the way I like it. An extra point just for the pasta for sure !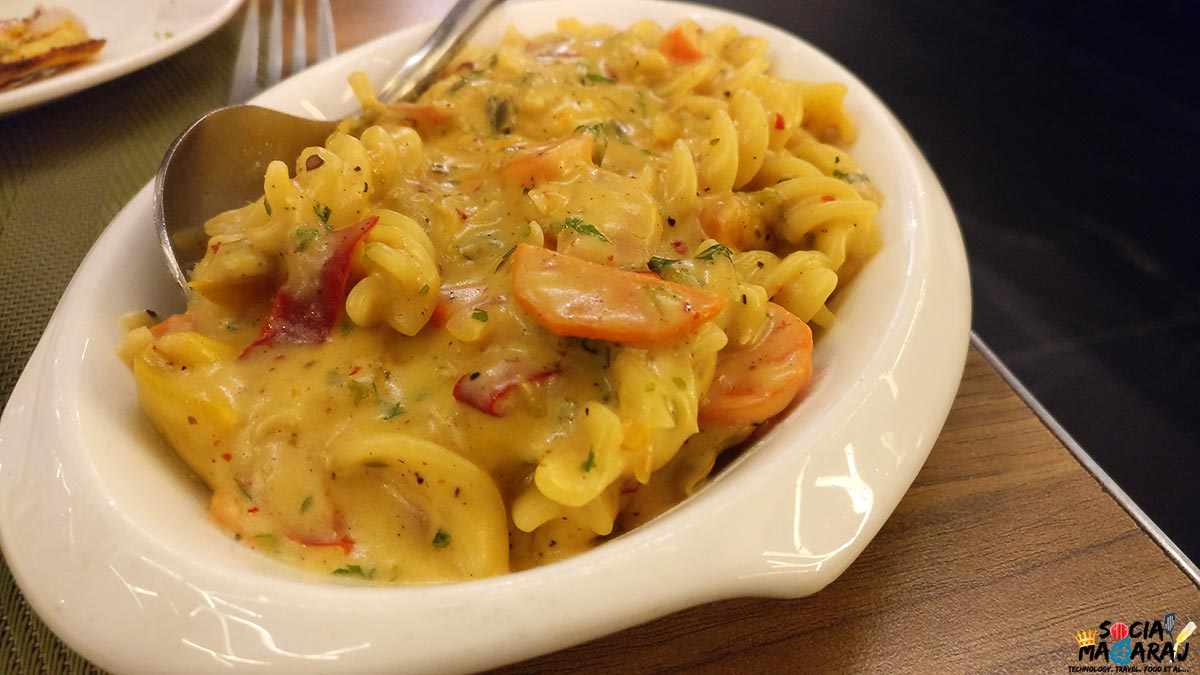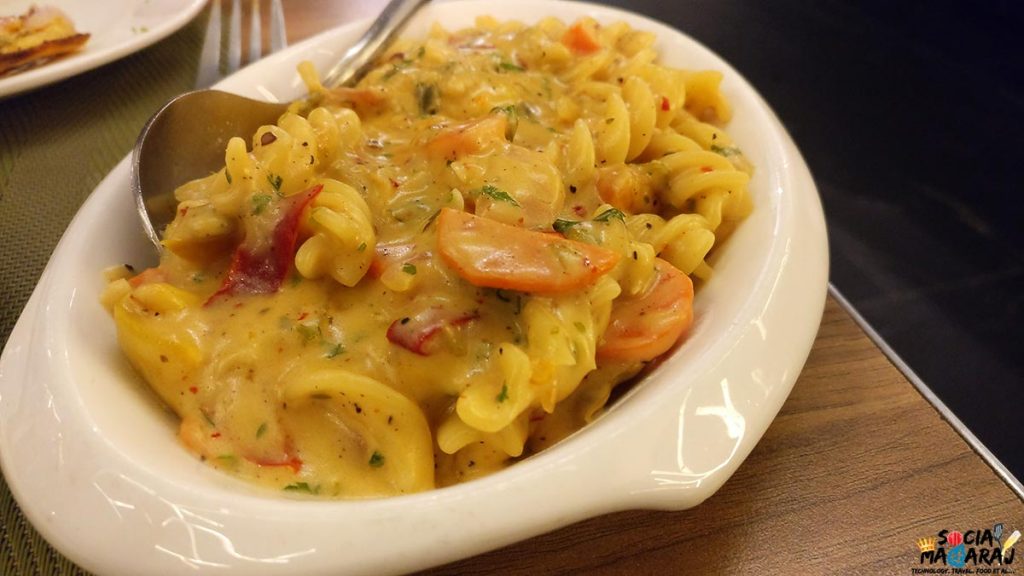 Apart from there was Risotto, Enchilada and Lasagna that were in the buffet area. Since we all were pretty full most of us skipped directly to desserts. I did try a small serving of Lasagna and would say it was decent enough. There was nothing special about the desserts, these were the regular dishes you find at almost every buffet. Varieties of colorful pastries, fresh fruits and chocolate bomb.
Final Words – Average Italian Buffet at Little Italy
The expectations were pretty high before visiting Little Italy, like it was for Flechazo. But things weren't quite like what I expected. The all vegetarian Italian buffet in Hyderabad at Little Italy was good enough with few hits and many missed. The soups could have been done better and the pizzas too. Pasta was surely the highlight of the evening. The next time I'm here for a buffet, I'm gonna eat only pastas ! That said, I'm sure the a la carte at Little Italy would be a different story all together. I'll surely revisit Little Italy and try the a la carte once. But for buffet it could have been better considering a price tag of almost Rs 800. Have you tried the buffet at Little Italy ? What are your thoughts about the buffet at Little Italy ? Mention in the comments below or tweet to me at @Atulmaharaj