The last time I stepped onto a ground or a court to play was about 4 years back when I was in college. It was a friendly cricket match between the other sections of our course. Prior to that, I did play professional cricket till district level and represented Satara district (Maharashtra) about 12 years back. Come 2014, I started working and things changed. With work increasing and my blogging commitments on the rise, there was no time to get out and play. I do take out some time to have a walk, but playing was off the ground for a long time. Until recently, one of my friends – Gujarati Bhai – as I address him called me over to play badminton. First thoughts were like, Okay maybe we would be playing on the road or the garden across the road. However he wanted to play in a proper badminton court.But I was like, "where do I find a badminton court in Hyderabad now ?" his answer was Gamepoint.
With that, we drove all the way from Tarnaka to Hi Tech City to play badminton at Gamepoint. With so many things happening, how could I not write about it ! So here's the post about Playing Badminton at Gamepoint Hyderabad.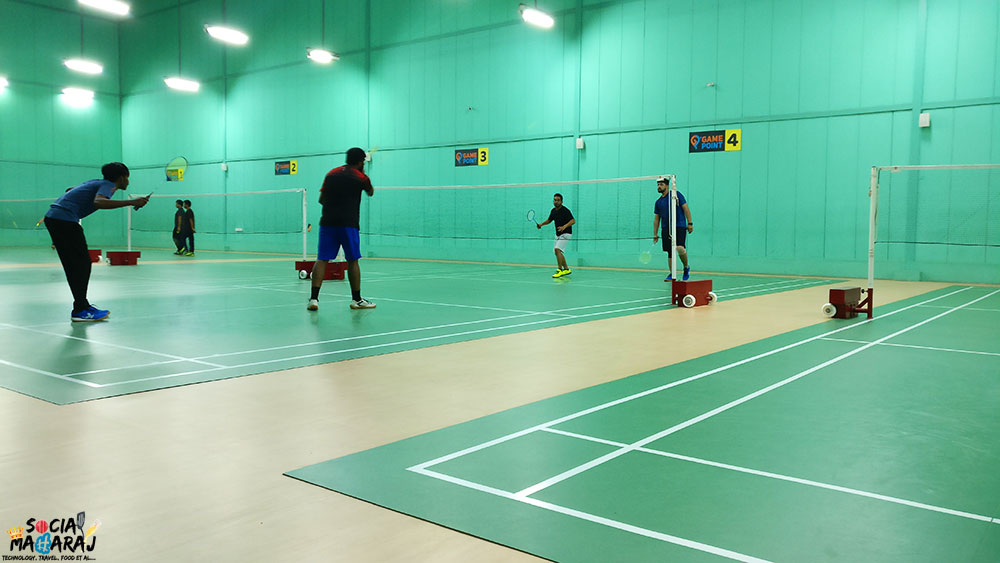 What is Gamepoint
Gamepoint is a multi sport center in Hyderabad that provides you all the facilities to play your favorite sport. No more stacking up stones and drawing lines on the roads to prepare a makeshift badminton court. Gamepoint Hyderabad offers badminton courts, squash courts, futsal arenas along with indoor sports like table tennis, chess etc. The facility is located behind the Meridian school, in the lane next to Tata motors showroom in Hi Tech city. With ample parking space, the arena is quite spacious. Anyone can visit Gamepoint by booking their court for their favorite sport. They use the Netplay app (iOS and Android) to allow you to reserve the courts of your choice. Once booked, you can simply reach the reception and they would confirm the same.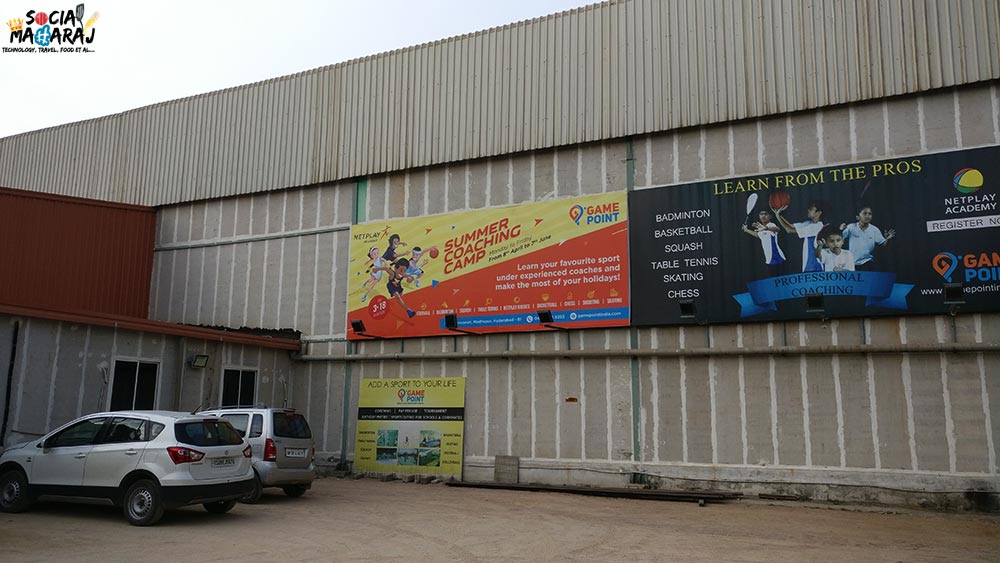 But what if you don't have the right equipment to play ? Gamepoint provides equipment from rackets, shuttles, balls, shoes, towels and almost every thing you can think of. All these things can be availed on a rental basis which needs to be paid directly at the reception. Since my friends were professionals, they had all the things required, however I just walked like a spectator. Since you need special, non marking shoes to play at the badminton court, I had to rent a pair and paid Rs 60 for it. The badminton court for an hour costed us about Rs 550. Moreover, they do have monthly membership plans from what I know. And with summer vacations setting in, they have a lot of coaching programs for kids for various sports. Overall I did like the concept and the booking experience.
Playing Badminton at Gamepoint Hyderabad
Gamepoint Hyderabad has 6 badminton courts in a row place side by side. This isn't a stadium thus you don't have a lot of space to roam around the court, however it is just enough. The courts are clean and everything around too. We did visit some court earlier in Kukatpally and comparatively this was much better. They have a seating area in front of each court which has lockers underneath. This was good since we were 5 folks and one had to sit out as we took turns to play. A couple of good things that I liked about Gamepoint was that they provide drinking water on the court. I saw a person diligently coming up to the seating area and refilling the water bottles at regular intervals. Further in this age of technology, all of us have our smartphones with us and charging them is always a concern. Gamepoint Hyderabad has fixed that by providing few charging points inside the badminton court arena. Apart from that, it's a pretty standard court and the facility is quite good. Though there was air conditioning, I couldn't feel it much on court maybe because I was sweating a lot and not used to playing. I played a total of 3 games, one singles and two doubles ! Won 1, lost 2 😛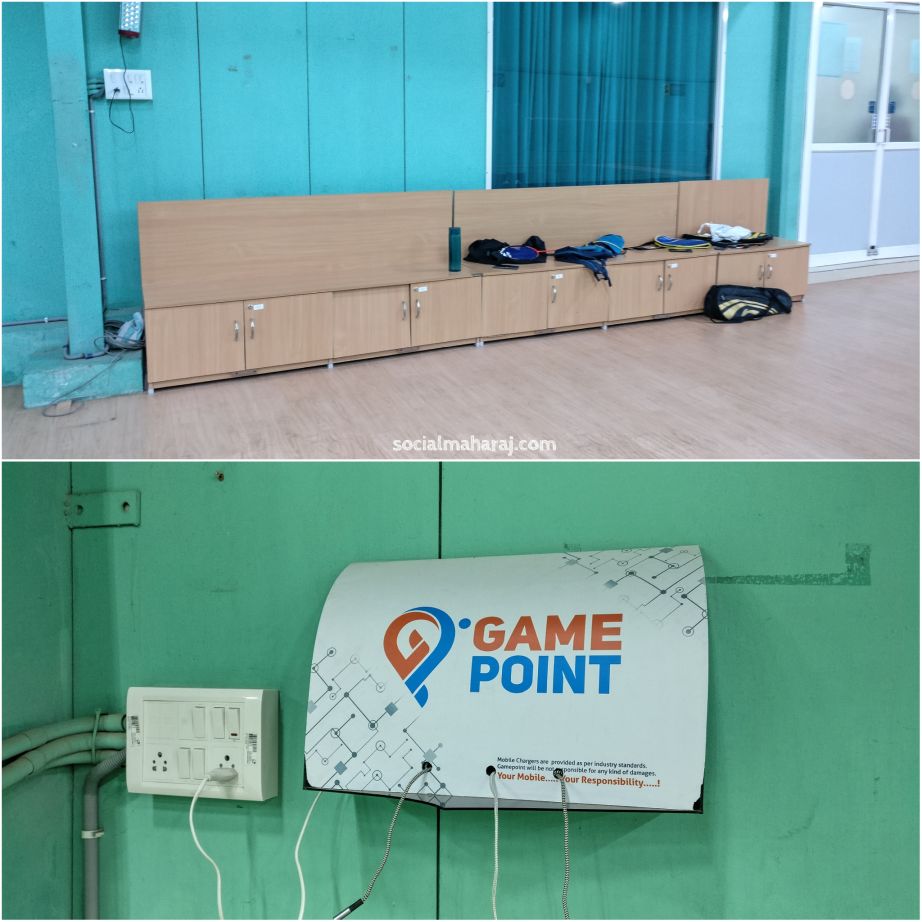 Final Words: Gamepoint Hyderabad good place for sports lovers
All in all, I had a good time at Gamepoint Hyderabad. Though a little far from where I stay, it receives high foot fall. The service is amazing right from the people at the reception to the one at the store. The entire place is quite clean be it in the indoor or outdoor courts or the washrooms. With showering facility available, makes Gamepoint Hyderabad a perfect place for sports lovers. Moreover, if you are in Hi tech City and looking for a good sports coaching for your kid, Gamepoint Hyderabad offers that too. I saw about 3-4 parents coming with their kids to enquire about the coaching services. Overall, it was a good experience. You get to play a sport with all the facilities by not shelling out huge money. It was my first experience at such a place. If you've been there, share your experience in the comments below or tweet to me at @Atulmaharaj