Giani's is one name that everyone from Delhi will immediately relate to. For their delicious ice creams, kulfis and exotic flavors, Giani's are a loved ice cream brand in the capital city. I too had been at one of their outlets during my stay in Noida. So it was an amazing news that Giani's Ice Cream have opened their first shop in Hyderabad in Banjara Hills. And what more, I was invited to be a part of the tasting session organized for food bloggers. And like they say, who says no to ice cream ? I was all geared up to reminisce that old taste. So here's a review of Giani's Ice Cream first outlet in Hyderabad.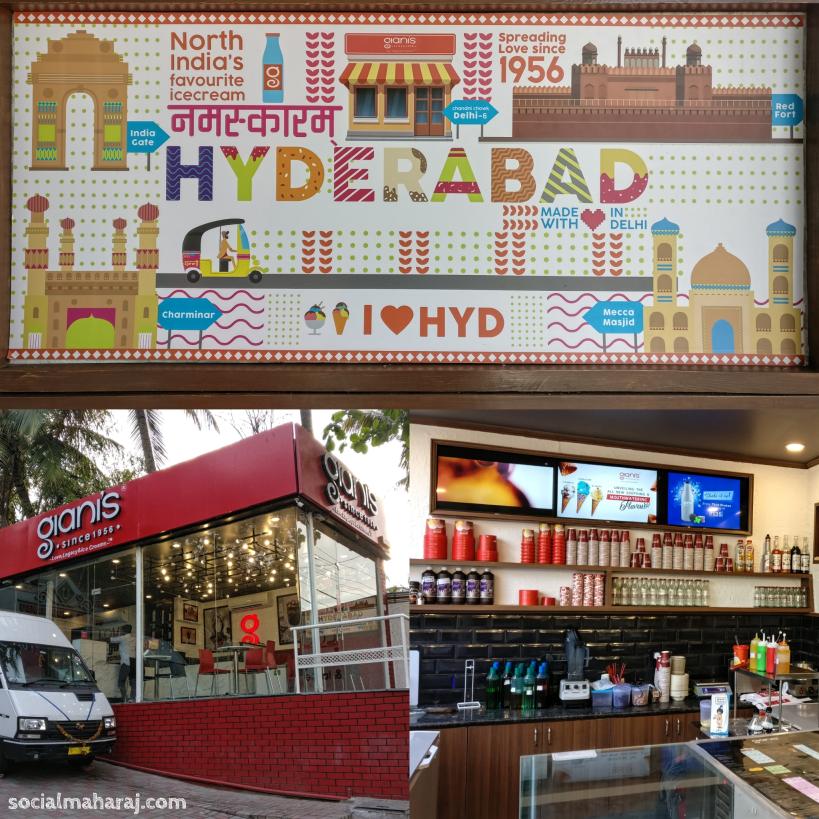 Giani's Ice Cream first outlet in Hyderabad
Small and sweet little outlet
Giani's first outlet in Hyderabad isn't a swanky, super sized place. It's a small little place next to Vivaha Bhojnambu in Jubilee Hills. The place is done pretty nicely and the lighting ensures that good photos can be taken. There isn't much place to sit, but anyways who would wait for the ice cream to turn into a milk shake ? They have a normal counter with all flavors along with a cold stone ice cream area. I guess the cold stone ice creams are getting popular these days. With huge transparent glass panes, makes it a place to sit, observe and write. My only suggestion to them would be to provide drinking water – a mineral water can. Because it's ice cream, people would need water and not everyone carry their own water bottles these days. Overall a good place, can get congested at times.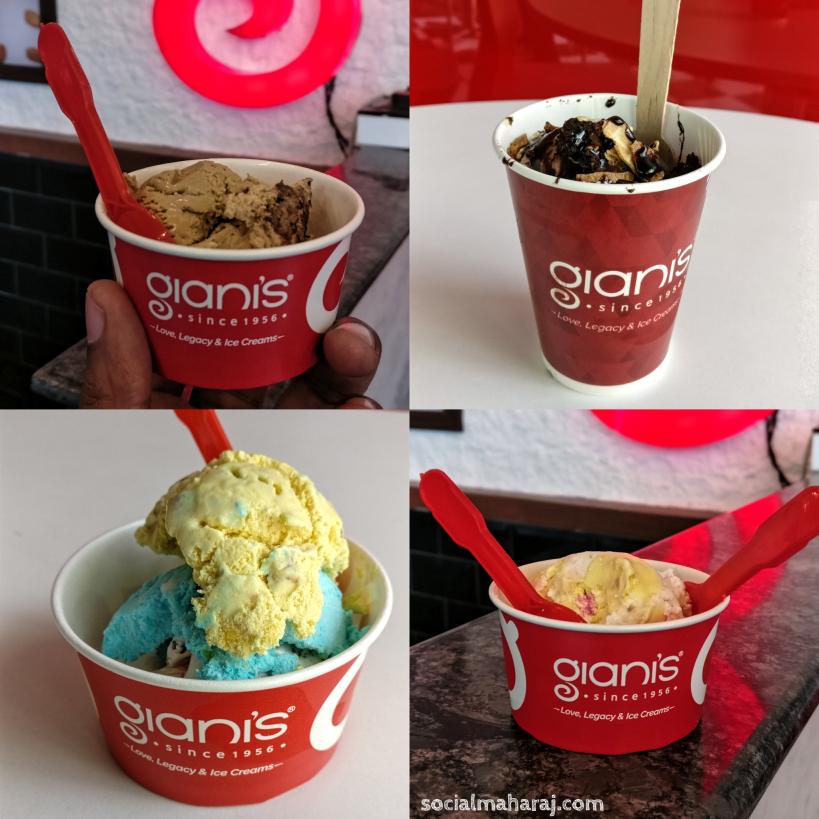 Reminiscing flavours of Giani's Ice Cream
The news of Giani's opening their first store in Hyderabad was a delightful one. I was particularly excited to try out their offerings. They have a lot of flavors on offer from the basic ones to exotic flavors including sundaes and ice cream sodas. I first tasted 5-6 ice creams before actually taking any. All the flavors I tried, I'd say the ice cream was pretty creamy and did leave a taste and feel in my mouth.Below are the list of all my favorite flavors from the tasting session at Giani's Ice Cream first store in Hyderabad.
Tutti Fruitti: I thought this would be the same one that I've had at other places. But now, this was quite different and had fruit pieces in it. The fruits complemented the ice cream flavor pretty nicely. A wonderful combination of fruits and delicious ice cream.
Cafe Mocha Sundae: This is one of their signature ice cream sundae, hence I had to try it. The sundae was loaded with chocolate and cafe mocha ice creams. Topped with cashew nuts, almonds and chocolate sauce, the sundae was a pretty good one. If you love chocolate, you must try this.
Bubblegum: Bubblegum flavor was a refreshing one (for me at least) I hadn't eaten the flavor earlier. Bright blue in color, the bubblegum ice cream did total justice to its name. This is a refreshing flavor and I'd recommend you to try it. Totally reminded me of Big-Babool chewing that I used to chew as a kid !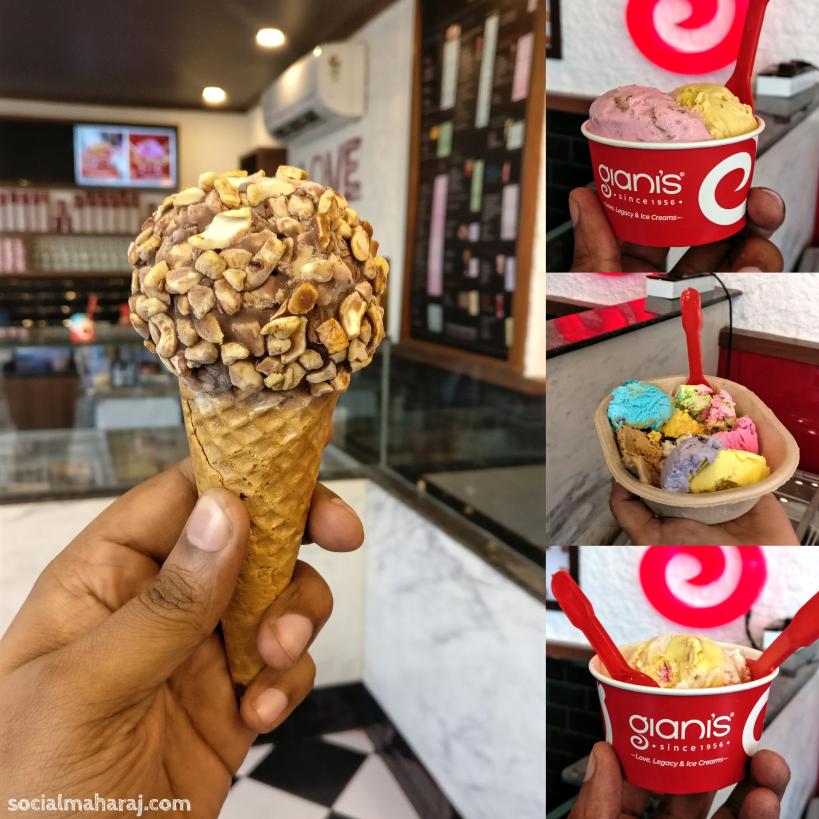 Rajbhog: This is one flavor that I'm in love with ever since I had it in Ahmedabad. I remember my neighbor getting it on special occasions and I loved it. Today it was time to reminisce the same flavor again. I totally fell in love with Rajbhog all over again. If you love Kesar, Pista flavors you'll surely like this one.
Cafe Mocha: If you are a coffee lover, you should definitely give this one a try. Not quite sweet and with the bitter coffee flavor, Cafe Mocha is a winner. Folks at Giani's have figured have aced it with this one. Have this in a waffle cone topped with roasted almonds and you'd be thankful to me !
Final Words: Giani's Ice Cream in Hyderabad is worth checking out
There are a lot flavors on offer at Giani's Ice Cream first outlet in Hyderabad. Apart from the ones mentioned here, you could also try Roslyn, Giani's Special and other variants. They also serve ice cream sodas and milk shakes which you can try. They have expansion plans and are planning outlets around Kothapet and ECIL. It's a great move by Giani's to expand to down south and give a taste to the people here. Overall, it was a good experience at Giani's Ice Cream first outlet in Hyderabad. Though the place is small, you'll love the assortment of flavors they have. I hope that when I go there next time, they have a drinking water facility. Go checkout the store and let me know your thoughts in the comments below or tweet to me at @Atulmaharaj