One of the most popular blog posts on my blog is Zomato vs Swiggy. Did this few years considering the cut-throat competition that goes between the two for supremacy. Irrespective of what their bottomlines say, both of them do anything and everything to attract users. And in terms of that Zomato takes the lead with their iconic Zomaland event. Not too long ago they started it, but today everyone looks forward to Zomaland. Being a Food Blogger in Hyderabad, I was invited to attend the Zomaland Hyderabad 2020 which is happening on 22nd and 23rd February. If I had to sum this post up in one line I'd say "Zomaland Hyderabad 2020 was LIT !" But that doesn't mean you don't read on ! Check out my Instagram Highlights for more !
What is Zomaland by Zomato ?
As the name suggests, Zomaland is an event hosted by Zomato across major cities in India. It hasn't been here for a long time but it has had a few editions in various cities. As of Zomaland Hyderabad, this was their second edition from what I know. The event is all about fun, music and food. Zomato gets a bunch of restaurants under one roof for Zomaland. Zomaland Hyderabad had more than 60 restaurants along with a Michelin Star Chef Hawker Chan from Singapore. On the music front, they usually get a lot of artists including stand up comedians. For fun, they have games on offer. So overall, Zomaland is the perfect event for everyone in your family.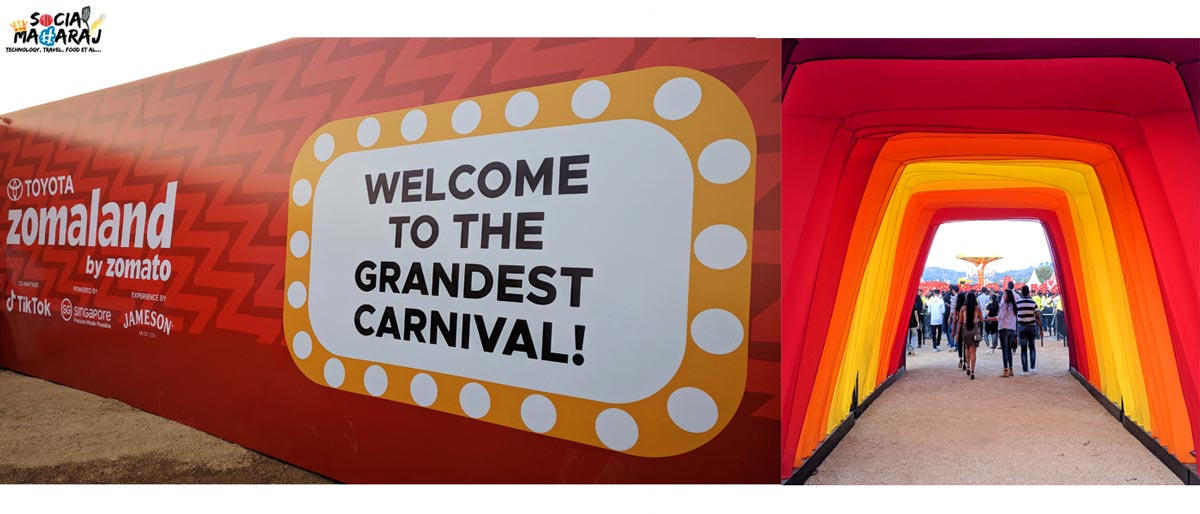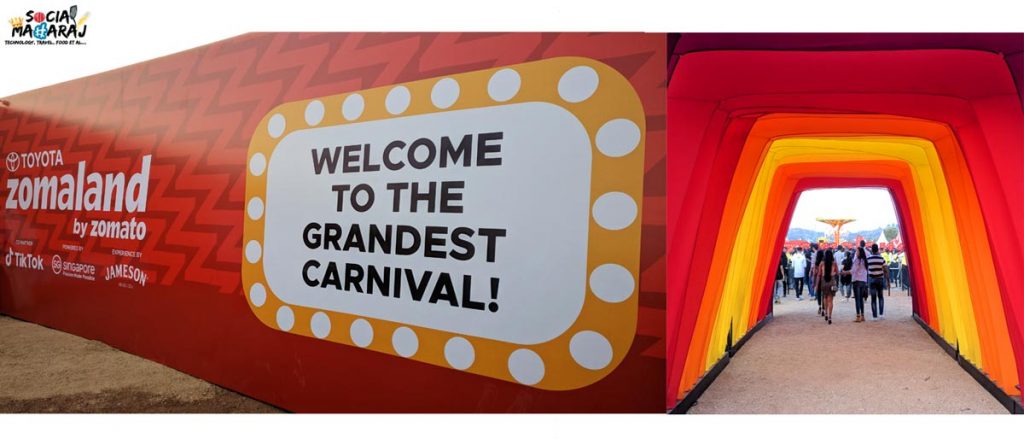 How to Reach Zomaland Hyderabad 2020 ?
The Zomaland Hyderabad 2020 is happening at the GMR Arena near the Hyderabad Airport. One of the reason me (and manay others too) not planning to go earlier was it was too far from the city. For someone like me, it was almost a 60 kms one side trip ! GMR arena is right behind Novotel Airport. Memories of my Tata Hexa launch event came alive as we had stayed in the very same hotel and drove the Hexa around the place. Zomato has tied up with Uber for Zomaland Hyderabad 2020 and are providing some discounts along with the dedicated pickup/drop spots at the venue. The best way I suggest is to take your own vehicle, park it in the parking area and then walk till GMR arena which is about a kilometer from there. There is free shuttle service from parking to the main area however the crow is so much that the service seemed non-existent !
Zomaland Hyderabad 2020 Review
This probably is the first blog post from an independent blogger on Zomaland Hyderabad that you are reading. All roads in the city are leading to Zomaland Hyderabad 2020 and for once be read to experience massive traffic jams at the Hyderabad airport. Like I mentioned earlier, Zomaland Hyderabad is all about Fun, Music and Food ! You reach the venue get your SMS/etickets exchanged for passes to enter the venue. The venue is huge and has food counters on the periphery with the main stage at one side.
Fun and Games at Zomaland Hyderabad
I'll start with the fun and games at Zomaland Hyderabad 2020. The games area is rather a small one near the stay. It had the old school games that we played at melas. Air gun, ring throwing et all were present. The game zone was flocked by many nonetheless. They have the gaming counter where you can buy the coupons for games. Apart from these, there are many stalls that are conducting games like the Singapore and the Toyota stalls. Moreover, keep your ears on the announcements for any games. Who knows, you might win some goodies too !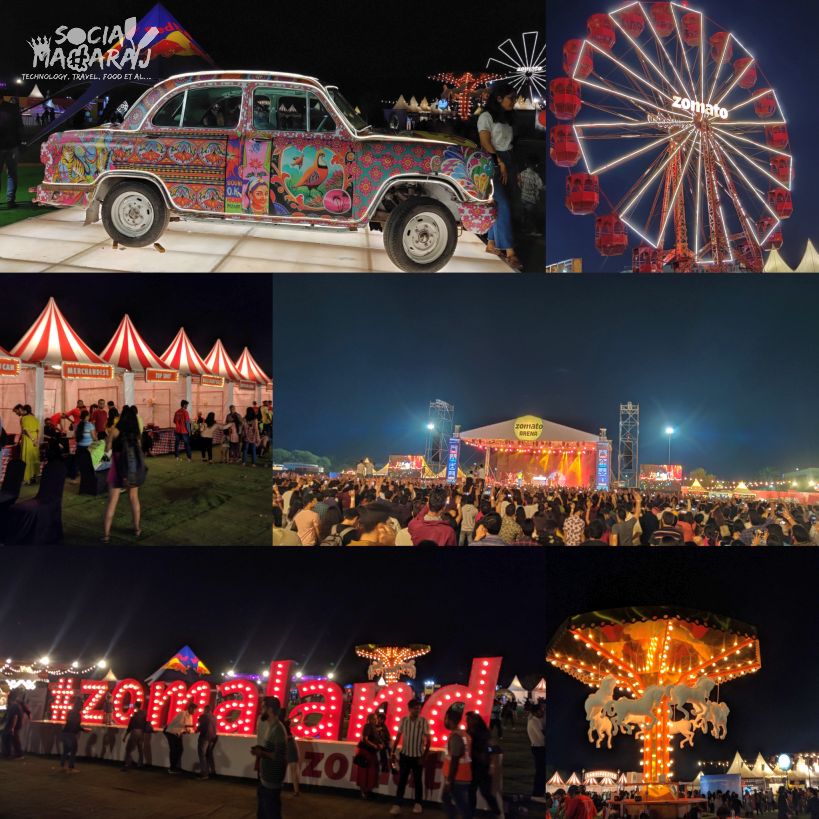 Apart from the games, there are few stand up comedians lined up for Zomaland Hyderabad. On day one, we heard Tanmay Bhat who gave his opinions on Influencers while on day 2 we have Rahul Dua(my favorite) coming down. Be ready for a laughter riot with these two guys on board !
Zomaland Hyderabad has groovy music
Another highlight of Zomaland Hyderabad 2020 was the artist line up. The stage was pretty big and has groovy music being played continuously. There are few artists who are a part of Zomaland Hyderabad. On day one I got to see DIVINE perform live on Gully Boy songs. (He did talk about the Filmfare wins and how people reacted about it on Twitter) The next artist was Ritviz who dished out some groovy music too. The crowd at Zomaland Hyderabad 2020 was LIT and pumped. People were all over the place enjoying their beer and dancing to the tunes. Frankly I wasn't much keen for this one as I barely knew the artists since I'm not too much into movies. Day 2 at Zomaland Hyderabad will see more footfall as Badshah will be performing.
Lipsmacking Food at Zomaland Hyderabad 2020
Now let's talk about the main attraction at Zomaland Hyderabad 2020 – FOOD ! There were almost 60 participating restaurants in Zomaland Hyderabad. From the regular ones like ABs, Rayalaseema Ruchulu, A'la Liberty to fine dining places like Novotel were present. With so much food around, we entered the place, took a left and start eating whatever came our way.
Started with the Butter Paneer Pav at the Butter Singh counter. I was the last one who got the Pav BTW. The outlet was also selling wraps. The Butter Paneer Pav was delicious. The butter added made all the difference though the butter paneer was delicious too. Our next stop was Kaati Rolls. There were two stalls – Tibbs Frankie and Kaati Rolls selling rolls. We ordered a few of them and enjoyed eating them. Paneer Roll was good. Michelin Star chef Hawker Chan's Singapore stall was the highlight and so we decided to hit it next. They had a few vegetarian preparations like Veg Satay and Laksa. Tried the veg satay and it was okay.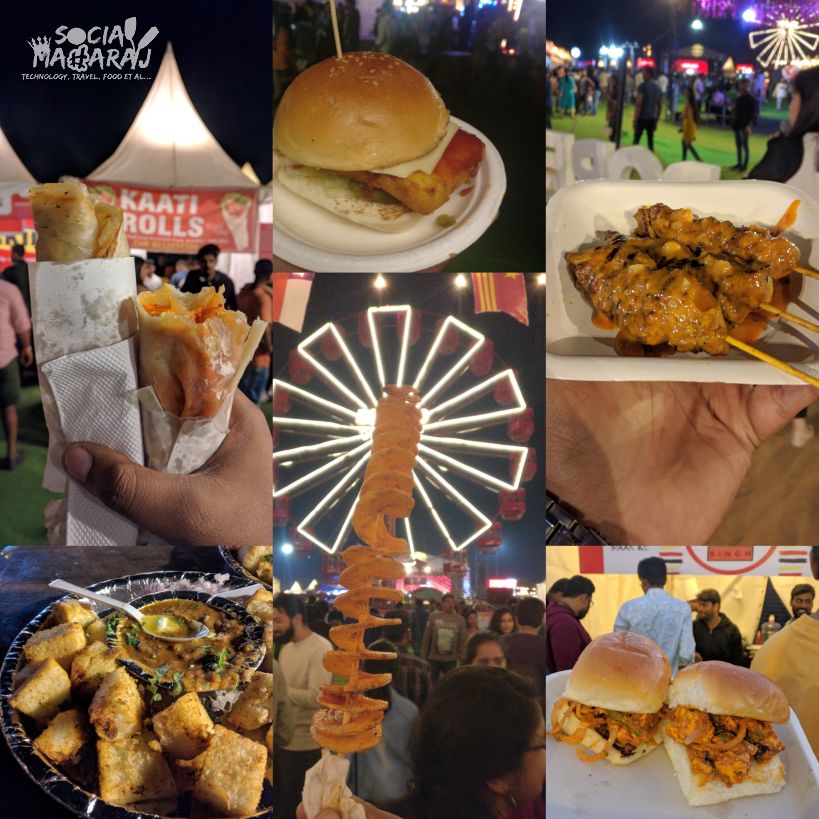 After that we decided to drink something and heading to the Around the word area near the giant wheel. Started with the Ice Gola. Priced at Rs 100, it was expensive. However it did take me back to my childhood days. The next item we tried was a Bubble tea at . It was good, my friends didn't like it much though. We saw few folks with Goli Soda and eventually found the place. Spark soda is selling few variants of Goli Soda and they were pretty nice. However again 100 Rs, so you take a call. I had two of them 😛
Post the drinking session, we got back to eating. On our way around I met so many of my foodie friends. We wanted to tried the famous Twisted Potatoes. They were having three variants: Mexican, Peri Peri and Chatpata masala on offer. The stall was heavily crowded. The preparation was good and masala was delicious. We then headed to Burgasm counter and tried the Paneer BBQ Burger. The burger was quite good but on the sweeter side. (something I don't enjoy much) Next we tried the Pav Bhaji at Rotivala. Again, the counter was heavily crowded. I usually order from here at home, so I knew what to order. All of us loved the Pav Bhaji.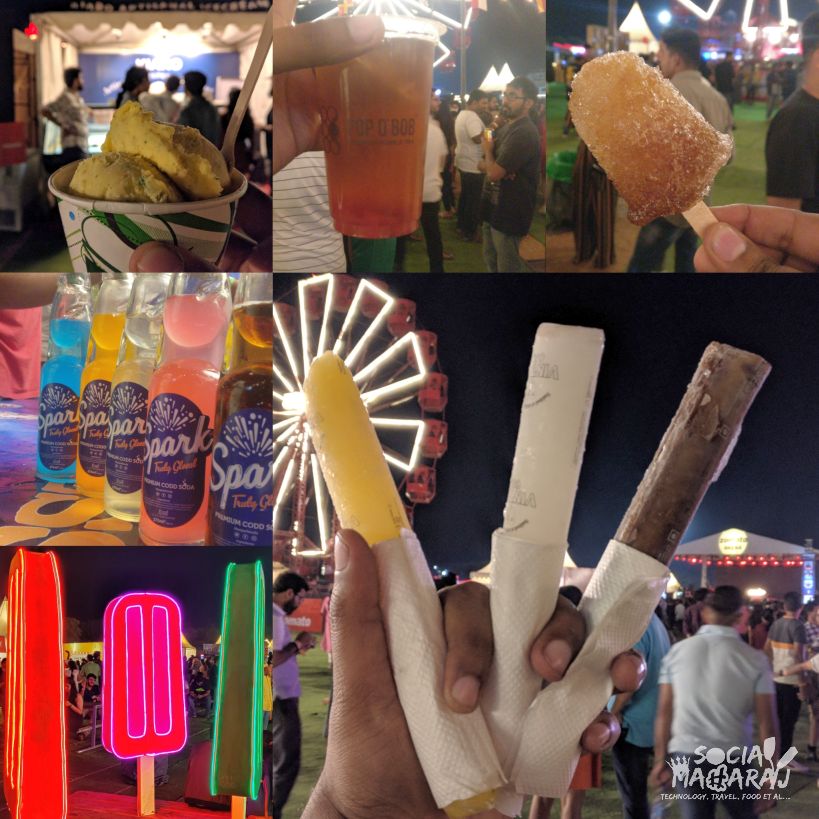 While we grooved to the music of Divine and Rtiviz, we decided to make the last round of drinks and desserts. After roaming around the area, we grabbed a Goli soda again. On our way, we tried a few ice creams at Karo foods. They had limited flavors but the sampling ensured we got the one we liked. I ordered a hazelnut one while my friends ordered Rum Mojito one. Both were pretty good. Last but not the least, we tried the childhood favorite – Pepsi Cola at Vantage ice creams. All of us had one each and totally loved it.
Zomaland Hyderabad – a perfect event for everyone
The Zomaland Hyderabad 2020 was pretty nicely organized. However you will have to walk a lot to reach the venue and there too you will walk a lot. Though there are seating places, you won't get place there. Also brace for massive traffic jams on your return if you plan to attend the entire event. Apart from these, Zomaland Hyderabad 2020 is a wonderful event for everyone. There's games, music and obviously food. Though I was invited, I'd say it's a good event to spend your weekend right. The food is reasonably priced and the best part is each counter accepts cash/card/UPI. Overall totally loved the event. Though I'm an early bird, I reached home at almost 2 ! Any queries, information or experience about Zomaland Hyderabad mention in the comments below or tweet to me at @Atulmaharaj or DM me on Instagram.