Being a self taught financial planner can be a boon and a bane. Because you are not in the hands of a professional advisor, you may land up in a financial debt. For me, it's all about reading & watching videos to understand more. I spend a lot of time on financial news websites, analysts websites to understand what things are going. Lately I've been following the whole Franklin Templeton Debt Mutual Fund story and have even shared my thoughts earlier.
Ever since the news broke out about the winding up of 6 debt mutual funds by Franklin Templeton, not only the people but the entire mutual fund industry went into a tizzy. With the main question being When will investors receive their money ? And to speed up the process of returning money to the investors, they are providing e-voting option for Franklin Templeton Debt Mutual Fund liquidation.
What is e-voting ?
E-voting is a popular online process used by the listed companies and the stock exchange for getting opinion from their shareholders. With the help of this process, the companies are able to take a vote from all of their shareholders, investors on a particular decision. For example, if a company wants to change a board member or appoint a new CEO, they might want to consult with their shareholders, and e voting is the process by which the people can simply visit a link and have their say in the matter.
Now that you know what e voting us, let me try to explain what Franklin Templeton is doing for the investors of the their debt funds that were wound up.
Franklin Templeton Debt Mutual Fund E-Voting
Update June 9, 2020: As per the latest turn of events, the Gujarat High Court has put a stay on the Franklin Templeton Debt Mutual Fund e voting process after a plea was filed by the promoter of Rasna (yes the beverage maker). And due to that the AMC has decided to call off their e voting process. More details here.
They have been repeatedly saying that the money of the investor is not gone, however for many small investors it's probably everything they had. Franklin has been trying to arrive at a decision to start the liquidation process at the earliest. To do that, they've decided to take the help of e-voting.
What you need to know about Franklin Templeton e voting process
The e-voting process is open for all unit holders who have a valid email id and mobile number. All the investors who don't have either of those, will not be able to participate on the e-voting. Hence the company has reached out to distributors, physical letters to ensure they register for the Franklin Templeton e voting process.
The e voting is scheduled to take place from June 9 and will be live for 3 days.
The user will be provided with 2 choices – YES and NO. Upon choosing Yes, e voting provides two options:

Trustees will be leading the process to liquidate the assets independently and will be advised by Kotak
DELOITTE TOUCHE TOHMATSU INDIA would be doing the liquidation process along with inputs from Kotak, decision around actual liquidation will be done by Deloitte. Trustees would be involved only in the distribution process
Franklin Templeton Debt Mutual Fund E-Voting FAQ
What if I don't vote ?
If you are an investor in any of the 6 Franklin Templeton Debt Mutual Fund, and if you decide to abstain, the process will follow basis the whatever the majority chooses. So the only way you can have your say is by participating in the e voting process.
What if I choose No ?
If you decide to choose the No option (and if the majority also does so) basis my understanding it would delay the process of liquidation. Because thay way you would be telling FT to not do anything and hence things will take it's own time. Also choosing NO won't change the winding-up status of the scheme.
Why Delloitte & Kotak chosen ?
This was the question that I asked Mr. Sanjay Sapre last week during a call. And I'm sure the investors would also want to know why these two companies have been chosen for the task. So here's what he had to say "They wanted to go with someone whom the investors can trust. Both Deloitte and Kotak have had exposure in such scenarios and have a good experience in high value debt instruments."
Who is paying the fees for Deloitte & Kotak ?
Fees for both will be provided by FT and will not be charged to the fund, no fees related to this paid by investor.
Which process is faster – Option 1 or Option 2?
Ideally both the processes would take their own time since the liquidation and maturity of underlying securities wouldn't change under any circumstances. These options have been provided to the unit holders so that they can decide how involved are the trustees in the whole liquidation process for Franklin Templeton Debt Mutual Fund.
Others things to know about Franklin Templeton debt mutual fund e voting process:
Voting option notice provided to all investors, one notice per fund. E-voting starts form 9th June and finishes at 11th June.
On 12th June, a virtual AGM is organized to let investors be aware of what is happening, unit holders will be able to cast the vote during the AGM.
Based on options, the process will start of execution of liquidation in active manner. Passively and liquidating and with this we will do it actively.
Two funds, ultra short and dynamic fund – cash positive, that can be distributed to unit holders in June end, July for those funds.
More details about the entire e voting process for Franklin Templeton Debt Fund process can be found here.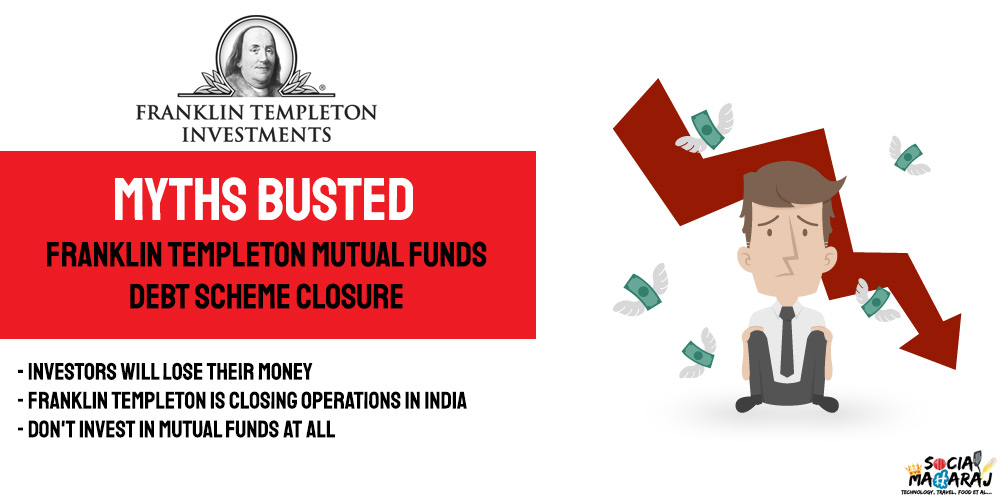 What next for the investors of Franklin Templeton Debt Mutual Fund ?
With all these processes in place, FT is trying their best to start the process of active liquidating to return the money to the investors. However with the recent Gujarat HC ruling coming in, I feel the whole process will get delayed. There has been a stay order on the e voting process for Franklin Templeton Debt Mutual Fund e voting process. I just hope that the HC is considerate of the woes of the investors and allows FT to start the process at the earliest so that they are able to return the money to the investors at the earliest.
Were your questions answered about Franklin Templeton debt Mutual Funds schemes ? What do you think can be improved ? Mention in the comments below or tweet to me at @Atulmaharaj or DM me in Instagram.
** These are my personal views on the scenario. Request you to reach out to your financial advisor to understand more and identify the right financing opportunities. And like always, Mutual Fund investments are subject to market risks, please read the scheme related documents carefully before investing. Further, my heart goes out to the investors who have been hurt by this fiasco. The financial institutions in India need to strengthen and better governance should be in place.