Even today (almost 10 years since I left school) I feel that the level of Financial Literacy in India still is in a bad shape. I've repeatedly spoken about this and will repeat again. People aren't aware of the financial instruments available and have no idea how to build wealth. I'm sure you would have come across this recent news about Franklin Templeton Mutual Funds winding up 6 Debt Schemes in India. That did shake up the Mutual Funds industry. It benefited few investors but left many in a spot. And thanks to various universities like WhatsApp, Twitter and FaceBook, there are a lot of myths surrounding Franklin Templeton Mutual Funds in India.
So in this post, I'll be busting 3 Myths associated with the Franklin Templeton Mutual Funds debt scheme closure. These are my views of the scenario along with inputs from my discussion with Mr Sanjay Sapre, President of Franklin Templeton Mutual Funds India that happened last evening. Gratitude to Mr. Sanjay for taking time off and interacting with bloggers to help us understand the situation and answering our questions patiently. The man's got patience !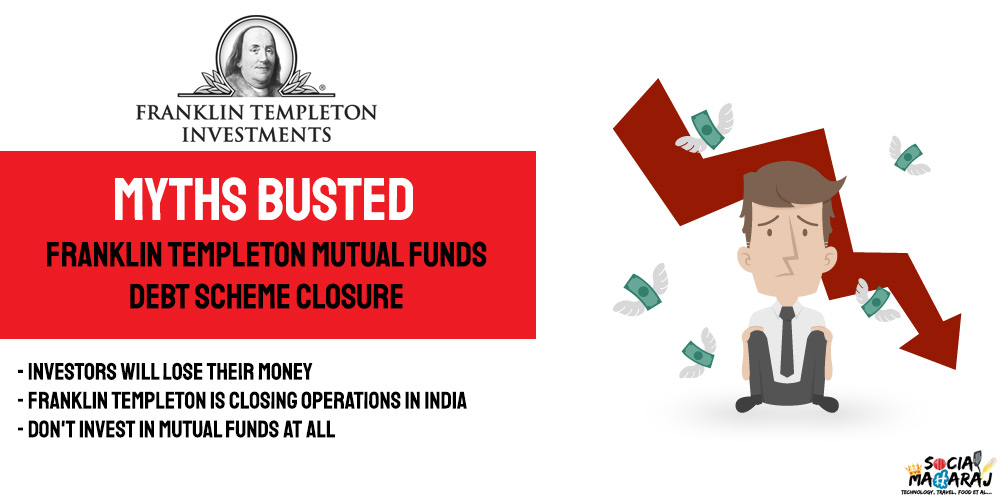 Why did Franklin Templeton Mutual Funds wind up 6 Debt Schemes ?
I'm a self taught financial planner with a keen interest in financial markets, planning and analysis. That means I'm no expert but I'm definitely more aware than the average person. Further, the whole scenario surrounding Franklin Templeton Mutual Funds was an interesting turn of events. So here's what happened with Franklin Templeton Mutual Funds and why they decided to wind up 6 Debt Schemes. But first the basics. (If you are aware of the basics feel free to skip the next paragraph)
Basics of Debt Mutual Funds
Mutual Funds come in various flavors – Equity, Debt, Index, Thematic etc. Debt based mutual funds invest in securities like Corporate Bonds, Debentures (form of fixed deposit) etc. of other companies. The investments are often returned in form of coupons upon maturity. Most of these debt instruments are rated basis their performance and underlying asset quality like AAA (Highly secured) to D (Defaulter) Mutual Fund companies invest in these bonds and debentures and return the money to the investors upon maturity. That I feel is enough to know about Debt based mutual funds.
Franklin Templeton Mutual Funds – What happened ?
Franklin Templeton Mutual Funds has a basket of schemes and debt based scheme is one of them. Debt schemes of FT have been known for good returns over the past in the category. Why ? The funds invested in A rated bonds which were at a higher risk compared to AAA. Some of the companies included ILFS, DHFL, Yes Bank etc. I don't know what risk category was listed for these schemes. And it's common sense that higher the risk, higher the return. And this played well for them. Over the last few years debt schemes of Franklin Templeton Mutual Funds were providing good returns.
However due to the Corona Virus pandemic and the lockdown, they were hit by a crisis mainly due to two reasons. Firstly, due to businesses being closed, these small/medium companies where the fund invested were under stress. Secondly, due to the fear, the investors started pulling out money from the fund.
Result of COVID-19
This meant, FT was in a spot where it had to resort to borrowing from banks to repay the investors and on the other hand, the underlying securities were under stress. Due to reduced liquidity, it would affect the investors that are vested int the fund. That's when they decided to wind up the following 6 Debt Schemes:
Franklin India Low Duration Fund
Franklin India Dynamic Accrual Fund
Franklin India Credit Risk Fund
Franklin India Short Term Income Plan
Franklin India Ultra Short Bond Fund
Franklin India Income Opportunities Fund
Winding up schemes means, there can be no purchase and redemption of units in the funds. So what happens next ? If you have invested in Franklin Templeton Mutual Funds Debt Scheme, have you lost your money ? Will you ever get back your money ?
Busting the 3 Myths of Franklin Templeton Mutual Funds
Myth 1: Investors will lose their Money
The collective AUM (Asset under Management) for these 6 Debt schemes is roughly 26,000 Cr. And with the winding up of the schemes, there is no buying or redeeming allowed. Hence the funds are frozen. So does that mean investors will lose their money ? The answer is NO, the investors have not lost their money. But yes the money will be stuck 🙁 I can totally understand the life savings people would have invested in these schemes. My heart goes out for them.
As mentioned, these debt schemes get returns in form of coupons at maturity. The scheme will be getting these coupons at the intervals and you will get your money back basis the coupon receipt. The question of when you will receive the money will depend upon of maturity of the underlying securities. Currently it is between 3 months to >5 years ! More details here.
Myth 2: Franklin Templeton is closing operations in India
With FT winding up 6 debt schemes, is Franklin Templeton Mutual Funds closing operations in India ? Absolutely No. They are a respected Mutual Fund company in India with huge investments. They have only wound up these 6 debt schemes but their other equity, ELSS, liquid schemes are not hampered. In short, they have not shut shop in India.
Myth 3: Don't invest in Mutual Funds at all
We all know that Mutual Fund investments are subject to market risks, and the Covid 19 has hit hard and left the market bleeding. The bear market over the last few months have left the investor lurking. However, that doesn't mean you should stop investing in Mutual Fund. With the markets at rock bottom, it is a good time to invest in the market**. And nothing better that SIPs to help you benefit from the market swings. In short, don't stop your investments in mutual funds !
Closing Comments
It was an insightful session with Mr. Sanjay who patiently answered our questions on the happenings. These are tough times for markets across the globe and being an aware investor, I strongly believe that things will change. Rather it has started to improve. SENSEX and Nifty have been showing improvements over the last few weeks which is a good sign. Did you find this post helpful ? Were your questions answered about Franklin Templeton Mutual Funds debt schemes ? What do you think can be improved ? Mention in the comments below or tweet to me at @Atulmaharaj or DM me in Instagram.
** These are my personal views on the scenario. Request you to reach out to your financial advisor to understand more and identify the right financing opportunities. And like always, Mutual Fund investments are subject to market risks, please read the scheme related documents carefully before investing. Further, my heart goes out to the investors who have been hurt by this fiasco. The financial institutions in India need to strengthen and better governance should be in place.