It's day 43 of the lockdown and I'm glad I'm still sane. It's been that many days since I've been working from home and haven't stepped out of my house. I've been drowning with work with occasional breaks during the day. The breaks are usually either for making something real quick or re-watching FRIENDS or making these Natural Ice Cream popsicle at home !
Recently, I made these popsicles and everyone loved it so much. It was my first time making all natural ice cream at home ! The natural ice cream recipe ain't a secret for sure. And this post isn't related to NIC Natural Ice Cream or Natural Ice Cream. It is fresh popsicle natural ice cream that I made at home during lockdown.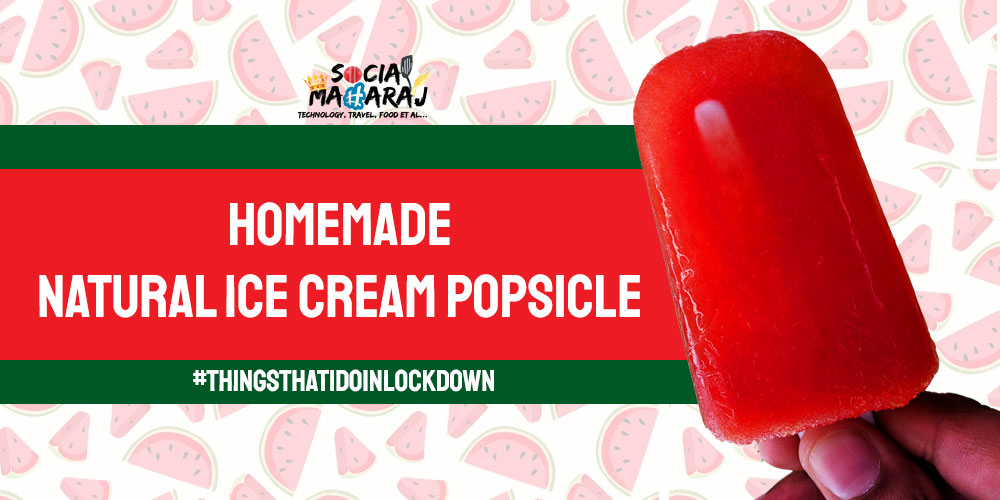 Things I do in Lockdown
Being a Travel, Food blogger isn't easy especially during this tough lockdown period. And that means publishing a blog post is equally tough since there's no going out or eating something new etc. Hence I've thought of this #ThingsIDoInLockdown series where I'll talk about the various things that I've been doing in lockdown.
I'm glad that I've been able to do so much more that just office work during this lockdown. However there are times when I just sit and procrastinate about that I'm doing :/ Also, I probably be the only one who still has a proper schedule in place and able to follow my routine ! Sleep by 10PM and up by 4AM, find someone who's having this schedule during lockdown !
The first post is this one – making natural ice cream popsicle at home. The recipe is quite easy and I say you must try. Do try it and tag me in your photos for a shoutout !
Natural Ice Cream at home – Sorbets & Popsicle
Cooking is a stress buster for me and I'm so glad that the lockdown has given me time to persue it. The first time I cooked was during the cooking class at my school. The cooking bug bit me then, which over the time, turned me into a Foodie. Nonetheless, I've been utilizing my breaks during lockdown in cooking and trying out new things. It was last week that I had this natural ice cream in the form of Watermelon Popsicle followed by a Mango Popsicle.
Recipe for Popsicle – Natural Ice cream
Like I mentioned earlier, there's no secret recipe for natural ice cream. The only thing you need is fresh fruits, tools and obviously the love for food ! Because you can't do anything until you love food. Making a popsicle at home is so simple and it doesn't require much assistance too. So here's what you need to make natural ice cream at home.
Ingredients:
Watermelon – as much as you want 😉
Process:
Cut watermelon into large chunks and put them into a mixer-grinder/juicer
Mix it until it becomes liquid
Strain it and remove any pulp/seeds
Pour this watermelon juice in the popsicle molds
Deep freeze the mold overnight
Tada ! Natural Ice Cream Watermelon Popsicle is ready to it.
Wasn't it simple ! I'm sure it was. And the best part is you don't need any exotic ingredients to make natural ice cream at home. Just any fresh fruit and some molds. In case you don't have molds, you can very well use regular ice trays and relish delicious popsicles at the comfort of your homes. The below image was shared by Ms. Daksha Rajgor on our Facebook page !
Forget your worries with natural ice cream popsicles
I was excited to taste these popsicles I had made and eventually it was time Did have some trouble getting them off the molds, but once they were out, I was totally in love with them. I'd prefer the Watermelon popsicle over the Mango one (though Mango is my favorite food) because it was simply delicious. What else do you think you can make popsicles from ? Let me know what you think in the comments below or tweet to me at @Atulmaharaj or DM me on Instagram