It's day 46 of lock down and I guess I'm kindof handling it well. Though the work is increasing exponentially daily, I'm glad I'm able to spend time doing things I like and always wanted to do. After making those homemade natural ice cream popsicle last week, I tried my hand at trying Mamidi Tandra recipe at home. Those who know me personally, know that I'm not a movie buff. So have been watching some animated movies I always wanted to watch – Kung Fu Panda, Madagascar (watched all of it) and obviously FRIENDS which is like ongoing.
What is Mamidi Tandra ? 😕
Well I had put up a story on Instagram asking people to guess what I had made. Few replies had Mimidi Tandra, and that's how I learnt Mamidi Tandra is Aam Papad or Mango Jelly some like to call it. So this post will be about trying Mamidi Tandra at home. After all as Maya Sarabhai would say, "Monisha darling, Mamidi Tandra bolo, yeh Aam Papad is so strikingly middle class" 😉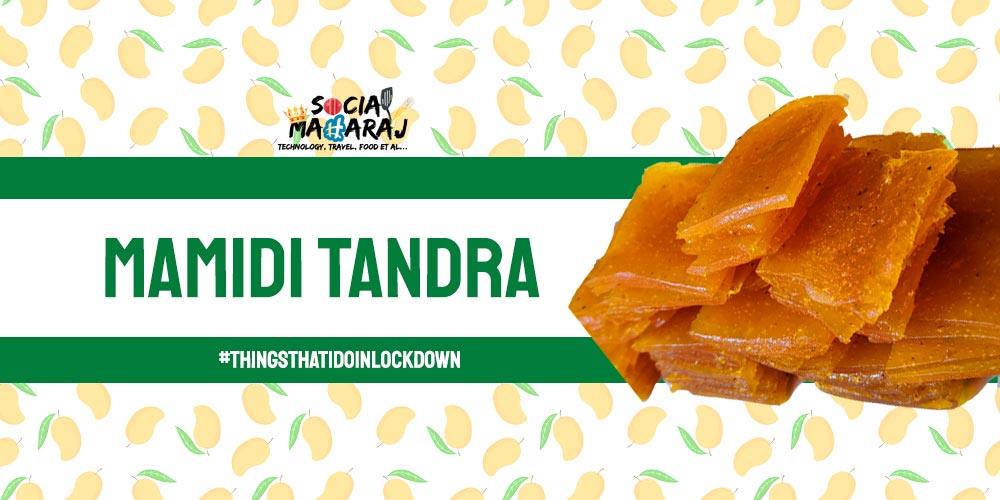 Mango Variety – whic one you like ?
Aam or Mango is one of the most loved fruits in India and often touted as the King of Fruits. Further the variety of Mangoes in India is insane. As they say that the language and food changes every 500 km in India, I guess there's a Mango variety similarly. I recently came across this delicious image on social media showing the variety of Mangoes (and you guessed it right, these aren't all, there are many that are not featured here)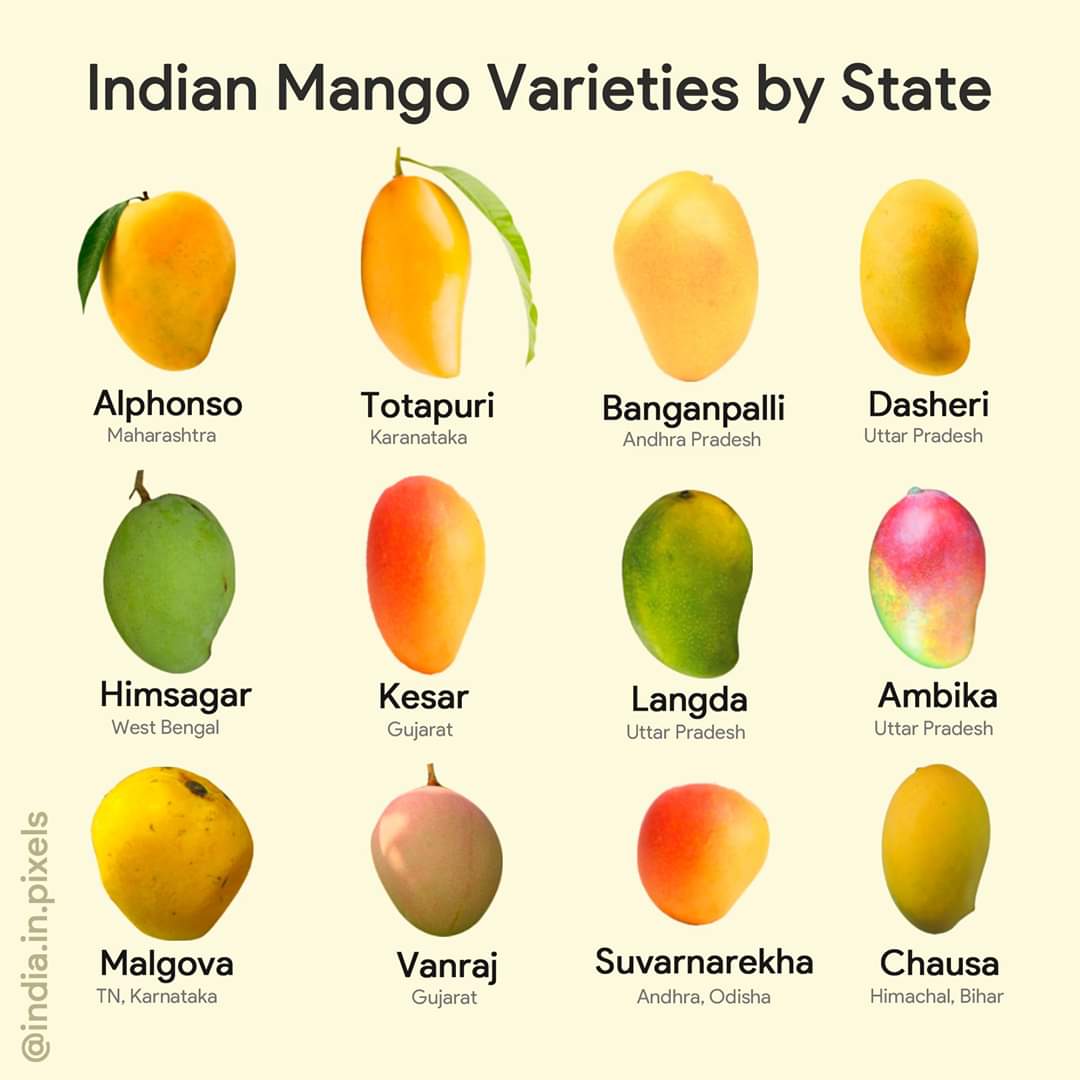 Which one do you like ? In case the one you like isn't here, do mention in the comments below 🙂 I've eaten the Alphonso, Kesar, Langda, Totapuri, Banganpalli. And it's tough to choose one ! Few of these have amazing color while all of them have a distinct flavor. So which mango do we use for your Mimidi Tandra recipe ? Well as they say in hindi, "Aap aam khao, guthli mat gino !" (Eat the mango, don't count the seeds) It's that we can use any Mango for our Mamidi Tandra recipe.
Further, with all the news of pesticides and chemicals in fruits, we need to be more vigilant about what we get. I was introduced to Hitha – a firm based out of Hyderabad dealing in organic and chemical free mangoes sourced directly from farms to your house delivered fresh. They have a wide variety of mangoes on offer from Banganpalli, Kesar, Rasalu and Suvarnarekha that are reasonably priced. Do check out their website for organic mangoes in Hyderabad and try for yourself
Mamidi Tandra Recipe
The recipe of Mamidi Tandra is quite simple and doesn't require any exotic ingredients or tools. Well, because when you are under lockdown, you need to use whatever is available and I'm glad I'm able to get Mangoes ! Here what you need to Mamidi Tandra recipe.
Ingredients:
3-4 Mangoes
1 tbsp Sugar
1/2 tsp Cardamom Powder
1/2 tsp Ghee
Process:
Wash and cut the Mangoes and grind them in a mixer grinder to make a puree
Heat a pan and transfer the Mango puree to it
Add sugar, cardamon and stir
Stir till the Mango pulp thickens and changes color
Take off the flame
Take a flat plate and grease with ghee and pour the Mango pulp and spread evenly
Let then mixture sun dry for a day
Carefully remove the sun dried Mango sheet and cut them into rolls and serve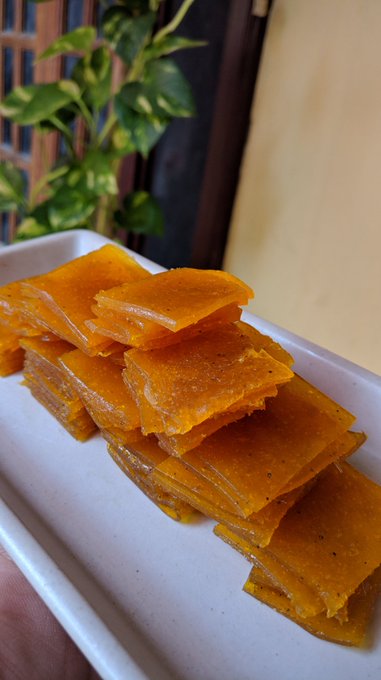 Wasn't that simple ? Without any exotic ingredients, tools of process, it is so simple to make Mamidi Tandra at home.
Healthy Tip: To avoid the use of Sugar, you can replace it with Honey in this Mamidi Tandra recipe or don't add sugar at all 🙂
Relish Mamidi Tandra this Summer
I've been a fan of this since my childhood. I remember them buying them during my hostel days at New Era High School. Back then, used to stock them up 😛 However with the lockdown in place, I'm trying to spend more time in the kitchen too. Maharaj afterall 😉 And of course mom did help me with this one. Maa to Maa hai na ? Anyways, like this Mamidi Tandra recipe ? Do you like it too ? Have you made one ? Share a photo on Twitter, Instagram and tag me. I'll give a shout out and feature it here ! Mention your thoughts in the comments below or tweet to me at @Atulmaharaj or DM me on Instagram.