Being a blogger for close to 8 years now, I've learnt a lot about various aspects of blogging. Right from content creation to content promotion. And one of major learning is about the way a blog post should be written. Over the years, long form of content is what is being preferred by one and all. The also look for detailed blog posts. A key element in a blog post is image. You simply can't have a blog post without an image. It just puts across so much more information and helps build a connect with the reader.
When it comes to creating videos or podcasting, apart from the camera, the audio plays a critical role. Without a good audio, your video or the podcast is gone. Having started my podcasting journey, getting a microphone was a priority. However, since I was just starting out, didn't want to invest in a very expensive podcasting microphone. Hence, after doing some research, zeroed in on the Boya BY M1 mic. So is this the cheapest podcasting microphone in India ? Read on to find out more in this Boya BY M1 Review blog post.
Microphone 101 – Basics to get you started
One thing that most of you would agree with me is that only when you start out with something, you learn more about it. Same is the case with me. When I explored Podcasting from close, I realized it does have quite a few things that I'm still not aware of. And since for a podcast, audio is of paramount importance, a good microphone is a must.
However, our smartphone mics or our headphones should do a decent job. But they do allow a lot of background noise to come in which spoils the entire experience of the audience. So before we dive into the Boya By M1 review, let's understand how microphones work.
A typical microphone that most of us have seen are the ones that are black with a silver metallic grill. These are commonly used at public gatherings. Another type of microphones are lavalier microphones. These are smaller microphones that are clipped to your shirts and have a small receiver connected to it. Then we have condenser microphones that are used in studio and for professional setup. Many well established vloggers also use such microphones. Now, every microphone has a specific pattern – an area – from which it picks up the sound. There are 3 types of microphone patterns:
Omni directional – as the name suggested, these type of microphones pick up sounds from 360 degrees – all angles of the microphone. This means, these types of microphones will also collect a lot of noise from background.
Cardoid Microphone – these have a narrow range (100-150 degrees) and tend to pick up less noise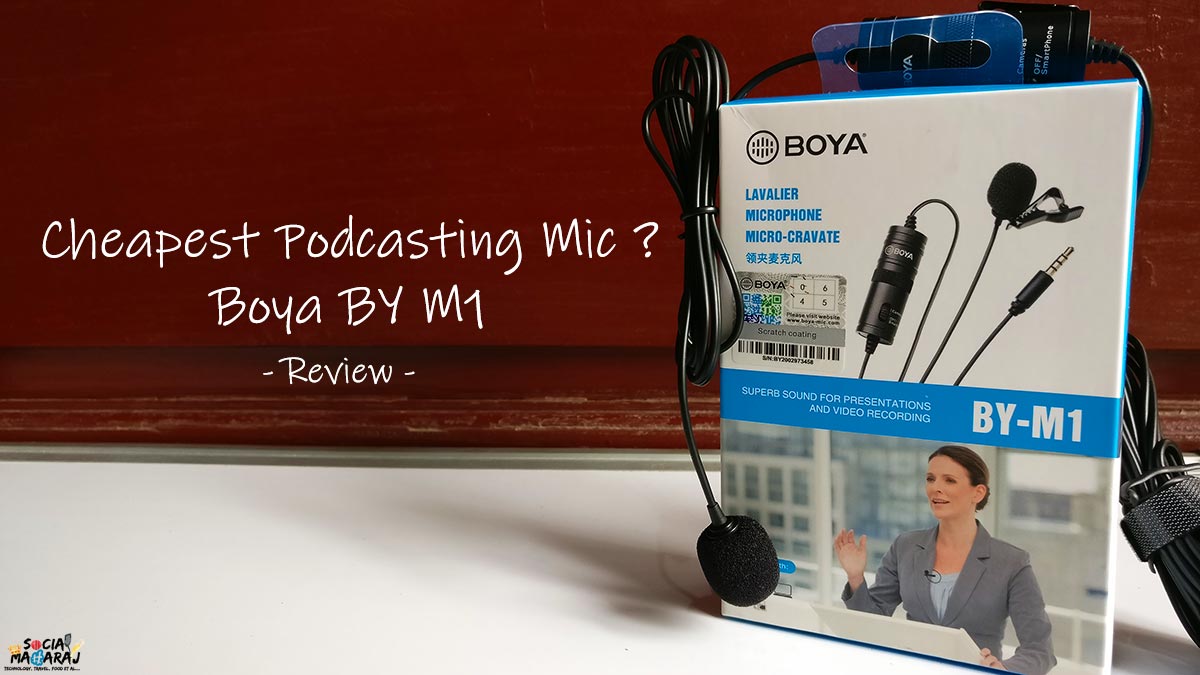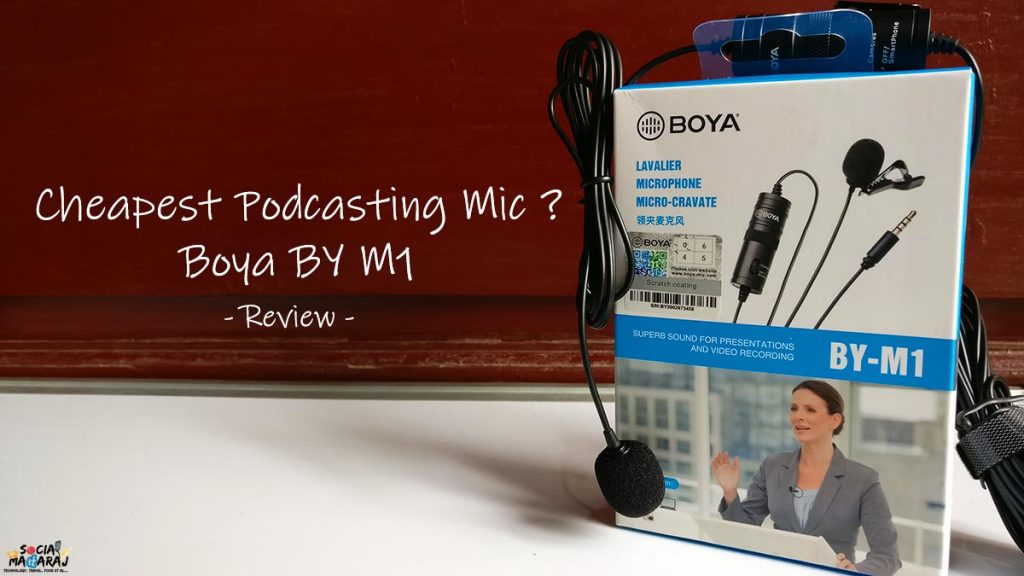 Boya BY M1 Review
Now that you know the basics of microphones, let me start with my Boya BY M1 review. Priced at just over ₹1000, this microphone is a best seller on Amazon and if you google for the cheapest podcasting microphone, you'll probably find this in the list. The Boya BY M1 microphone is an omni directional lavalier microphone sold by Boya (a Chinese company) My Boya BY M1 review will cover the packaging, build quality, audio quality and final thoughts on the microphone.
Packaging and Box Contents
The Boya BY M1 review starts by unboxing the microphone. It comes in a neatly packed box. Thanks to Amazon, this box was packed inside the another amazon box. The box includes the Boya BY M1 microphone itself, a nice leather finish carry pouch, a microphone cover, a clip, button battery and a audio jack converter. Along with these a user guide is provided which is in English.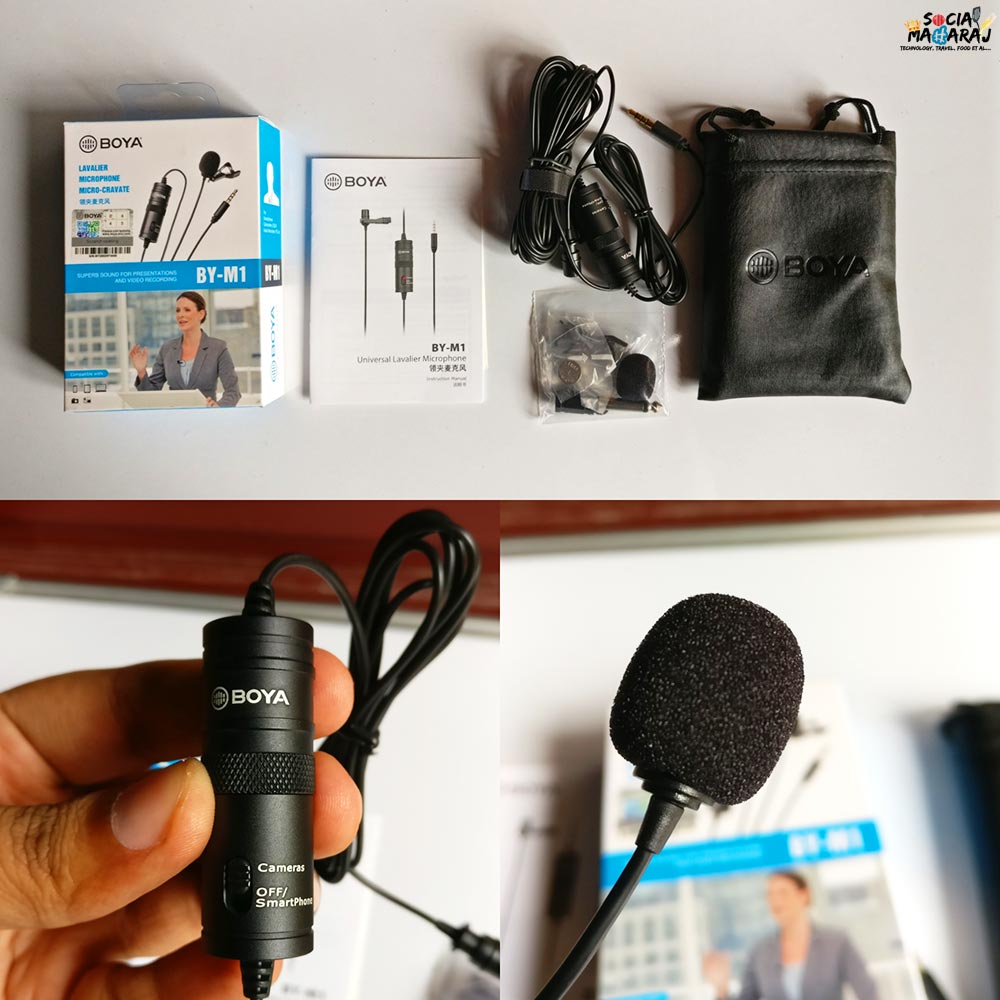 Build Quality
The Boya BY M1 microphone has a 3.5 audio plug which means it works with any smartphone, laptop or desktop. Further, there is an option to use it with a DLSR as well. For that, there is a connector in the cord which has a switch – Cameras / Smartphone. Basically, the Boya BY M1 works perfectly with smartphones, laptops as it gets the power from these devices.
However when using it with a DSLR, it needs power. And hence the button cell is provided. This battery needs to be placed in the connector and switch needs to put to Cameras. For smartphones, it is plug and play. The build quality is ok, but feels flimsy at times.
Boya BY M1 Review – Audio
Coming to the audio quality, the Boya BY M1 as mentioned earlier is an omni directional mic. And that means it will capture a lot of noise from the background. Until unless your room is completely close with the fan switched off. The audio quality is manageable but not great. The output you'll get will have a little echo. You'll feel like the person is talking in an empty room.
Also the audio isn't loud since this doesn't have an audio gain control option. You need to use additional software like audacity to fine tune the audio. For instance you can listen to my first podcast episode below. This was recorded using the Boya BY M1 microphone in a closed room with fan running at minimum.
Should you buy the Boya BY M1 ?
To summarize, I'd say it totally depends on you. There will be times when you'll feel your phone's microphone captures better audio – especially indoors. However, if you are shooting outdoors, the Boya BY M1 will probably do a better job than your phone's mic. Also the cable is pretty long making it ideal for video shoots where you can walk and talk. Being a lavalier mic, it is good for interviews.
So if you are looking to start podcasting or a YouTube channel and if you plan to have a dedicated area for recording, you can try the Boya BY M1. Else, I'd suggest to save up and get a better microphone. That's about what I had to say about this. What are your thoughts on the Boya BY M1 review ? Agree ? Disagree ? Share your thoughts in the comments below or tweet to me at @Atulmaharaj or DM me on Instagram.